FIVE MILE POINT SPEEDWAY 67TH CONSECUTIVE OPENING WEEKEND THIS SATURDAY AND SUNDAY.  CHOW TO BE THE BENEFACTOR OF SATURDAY OPEN TESTING DAY.
Press Release By: DAN HARPELL / FMP SPEEDWAY MEDIA
Photos By: DAVE DALESANDRO / RACERSGUIDE.COM
KIRKWOOD, NY- March 28, 2017- Sixty-seven consecutive years – an amazing accomplishment for any business or operation.  This Saturday and Sunday is the 67th consecutive opening weekend at Five Mile Point Speedway in Kirkwood.  On Saturday, the speedway will collect non-perishable food items to benefit CHOW during the open practice day.  On Sunday, the 67th season gets underway with the opening day race beginning at 5 p.m.
The Saturday open testing for the race teams will begin at 1 p.m.  For spectators, grandstand admission is absolutely FREE with donation of a non-perishable food item to benefit CHOW in the Binghamton area.  Five Mile Point Speedway owner, Andrew Harpell commented, "This is something that we have done for years with our early season open practices.  We are always happing to contribute to the people of our area."
On Sunday, racing gets underway at 5 p.m. with the 67th season opening event.  The GRIT Crate Sportsman Series will compete in a 30 lap opening event for their series this season.  Race teams from all over the northeast will converge on the quarter mile oval for this $1,000 to win special event deemed the third annual "Coldcracker".   Hopefully the recent weather trends continue and temperatures will continue to rise and literally serve as the "Coldcracker".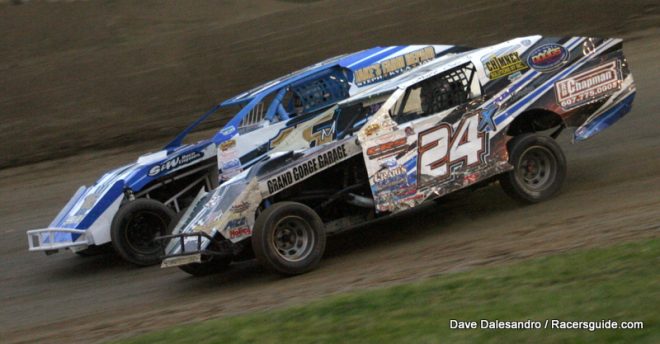 Joining the Crate Sportsman there will be regional touring races for both the Xcel 600 Modifieds and Tobias Slingshots.  The "Tommy Boy 20" annual Factory Stock opener will be joined by race one of the Four Cylinder "Fantastic Five" program slated for this season at Five Mile Point Speedway.
In 1951 Anna and Irving Heath opened the historic Five Mile Point Speedway.  The race is one of the oldest consecutively operated speedway's in the entire Unite States.  This season will mark the 67th consecutive year of racing.  Andrew Harpell, the current owner of the speedway is the grandson of track founders Anna and Irving Heath.
The 67th consecutive season opener is set for Sunday, April 2nd with the GRIT Crate Sportsman season opener headlining the action.  Race time is 5 p.m.  The Modified season opener will take place on Sunday, April 9th with race number one of the Sunday Summer Slam Series at the speedway.
For additional information please phone 607-775-5555 or log on to www.5milepointspeedway.com.  You may also email the speedway directly at fivemilepoint1@aol.com.  Complete pricing, order of events and race rules can be found on our website. Five Mile Point Speedway – "The Home Speedway of the Southern Tier" where kids 12 and younger are admitted FREE to every race event!