Fan-Driver Interactive Events Kick Off The 11th Annual Firecracker 100
Story By: KAYLA MAY / WOO LATE MODEL SERIES MEDIA
Photos By: RACERSGUIDE.COM / PHOTO STAFF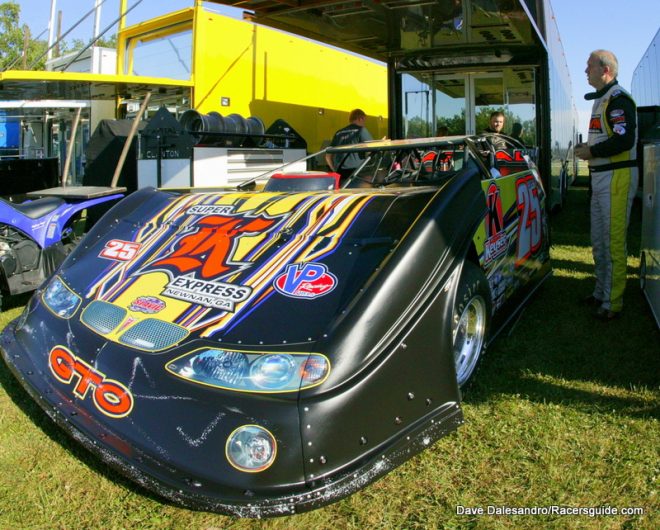 CONCORD, N.C. – June 2, 2017-  The Firecracker 100 at Lernerville Speedway is an event that the World of Outlaw Craftsman® Late Model Series' drivers, officials and fans look forward to every season. The 11th annual Firecracker 100, on June 22-24, continues the tradition of three days of racing and three times the party with three feature races as well as an array of events that allow for fans to interact with the drivers.
"The event is more like a Woodstock for race fans," said Pennsylvania-native and series-veteran, Rick Eckert. "Fans have a really good time while racing is going on and when it's not. It's all about the driver-fan interaction for three days straight. It's pretty cool. Even when the Feature ends on the first two nights they have a band that plays afterwards. It's like never ends even after the racing is over."
The Firecracker offers five main events for driver-fan interaction including a horseshoe and corn hole tournament, kickball game, an autograph session, and a driver memorabilia raffle-ticket auction. All proceeds from the events will be contributed to the Jeff Gordon Foundation benefitting childhood cancer. There will also be two free concerts after the 30-lap features on Thursday and Friday.
"The Firecracker has gotten to be a big event now rather than just a big race," said Shane Clanton. "Every year we enjoy playing horseshoes, the kickball game and all of the events that they put on for the drivers to interact with the fans. The fans have made this event what it is. They get just as involved in the competition as we do. Being there all weekend long makes it a pretty special event."
Eckert and Clanton participated in the inaugural Firecracker 100 in 2007 when the event was only a two-day show and have seen the field of cars, level of competition and fan attendance grow over time.
"It surely has grown fan-wise," said Eckert. "It's pretty amazing. The fans pack that place in there and they get all kinds of campers in there. As a driver, you want to run good all of the time, but you always want to win when the most people are there. On Saturday night the fans come out of the woodwork. It's an awesome place to win at."
Eckert won the Firecracker in 2015 after he fought off a late-race challenge from Shane Clanton. He is also the only Pennsylvania driver to ever win the 100-lap event.
"It's a pretty cool atmosphere because the fans aren't far away from Victory Lane," said Eckert. "They put the stage right there in front of everyone and you can hear the fans yelling as you're pulling up. I was happy I was able to win a race like that in my home state."
Clanton has also had success at Lernerville Speedway and has since been pegged as an adopted home state hero. Clanton's father-in-law, Ron Davies, was a successful Dirt Late Model driver based out of Warren, PA, and his fans have adopted the Georgia Bulldog as one of their own.
"At the time, it was my second biggest win of my career," said Clanton. "It's emotional when you see all of the fans yelling for you and they congratulate you. Anytime you can win a big race it is special but when you have that many fans in one place it's pretty special."
In 2010 Clanton won the Firecracker, 2015 he won the Working Man, and in the last two years he has appeared in the top-10 seven out of his past nine appearances at the high-banked 4/10-mile.
"For so many years that place eluded me, or just that place never was kind to me, and I guess in 2010 when I won it was like man I got that monkey off my back and I can win here. Hopefully we can do that again this year."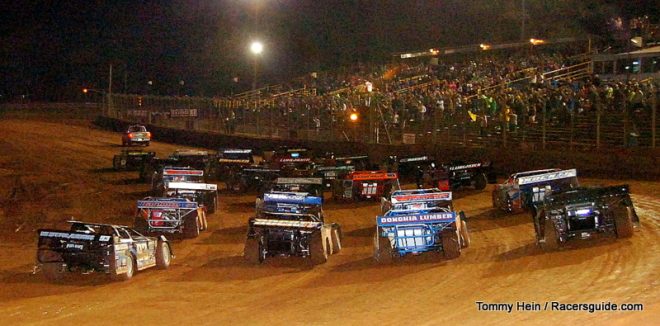 The 11th annual Firecracker 100 at Lernerville Speedway will take place June 22-24. For more information on the schedule of events and frequently asked questions click here. To purchase advanced tickets including reserved seating click here.
The World of Outlaws Craftsman® Late Model Series is brought to fans across the country by many important sponsors and partners, including: Arizona Sport Shirts (Official Apparel Company), Textron Off Road (Official Side-by-Side Vehicle), Craftsman (Official Tool), Extended Stay America (Official Hotel), Hoosier Racing Tire (Official Tire), Morton Buildings (Official Building), Sears (Official Home Store),  The Kenny Wallace Dirt Racing Experience (Official Racing Experience, VP Racing Fuels (Official Racing Fuel) and DirtonDirt.com (Hard Charger Award); in addition to contingency sponsors, including: Cometic Gasket, Comp Cams, Edelbrock, JE Pistons, JRI Shocks, MSD, Penske Shocks, QA1, QuarterMaster, Superflow Dynos and Wrisco Aluminum (Exclusive Racing Aluminum); along with manufacturer sponsors, including: Capital Race Cars, Integra Shocks, Impact Racing Products, Intercomp, Racing Electronics, Rocket Chassis and TNT Rescue.
Founded in 1978, the World of Outlaws®, based in Concord, N.C., is the premier national touring series for dirt track racing in North America, featuring the most powerful cars on dirt, the World of Outlaws Craftsman Sprint Car Series and the World of Outlaws Craftsman Late Model Series. Annually, the two series race nearly 140 times at tracks across the United States and Canada. CBS Sports Network is the official broadcast partner of the World of Outlaws. DIRTVision® also broadcasts all World of Outlaws events over the Internet to fans around the world. Learn more about the World of Outlaws.