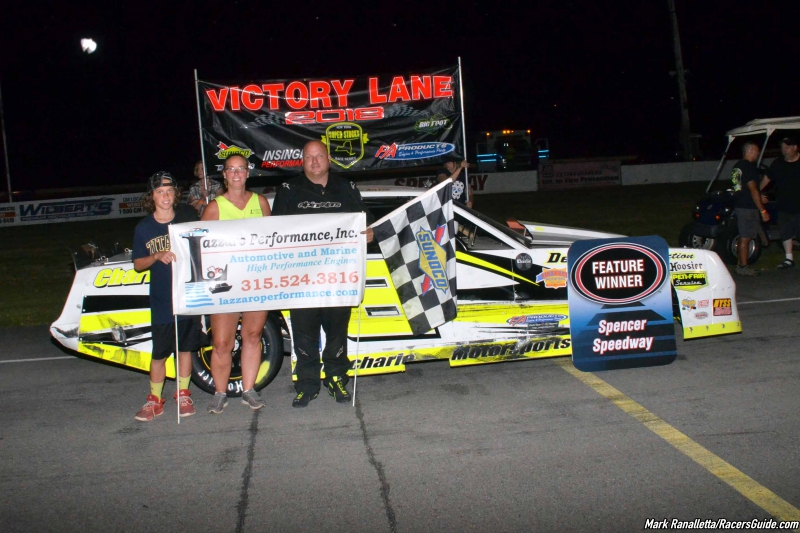 Finocchario Wins His 4th Sunoco New York Super Stocks Race at Spencer Speedway
Story By: Shylo Fuchs/NYSS
Photos By: Mark Ranalletta/RacersGuide.com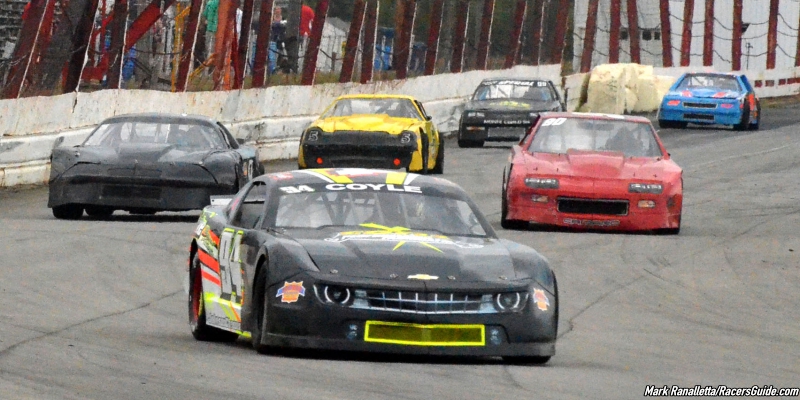 Lazzaro Performance sponsored a beautiful evening in Williamson, NY at Spencer Speedway on Friday night. After a rough start to the feature, including two cautions before the completion of lap one, the field of 26 Sunoco New York Super Stocks by Insinger Performance was able to settle in for an 8 lap green flag stretch. The #94 of Billy Coyle, who had rolled off from the pole, would lead laps one through eight and lose the lead on the restart to the #81 of Tommy Reese who had started in the 6th position.
All the while, Chris Finocchario in his #8 ride would be charging his way from his 12th starting spot through the field and would use the next caution on lap 13 for a spun car in turn four to take the top spot from the #81 of Reese. Heat winner Zach Willis in his #75 would be quickly working his way to the front but would run out of laps and wind up finishing second behind 4 time Spencer Speedway dominator Chris Finocchario.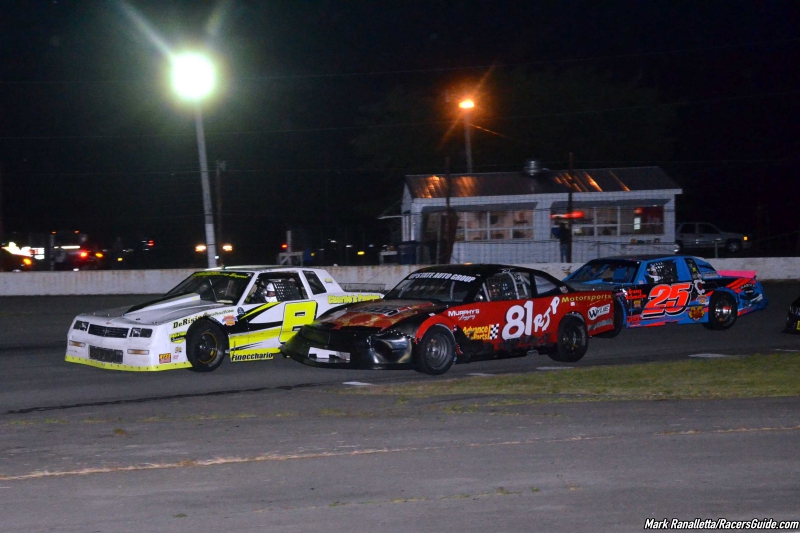 In a post race interview, Chris would say he knew he "had to get to the front before the 75, because he's really stepped up his game this year."
Thank you to Lazzaro Performance for sponsoring the Sunoco New York Super Stocks race.
Join us back at Spencer Speedway in two weeks for the "Computers by JD Twin 20's" to see if anyone has what it takes to challenge Finocchario for the win.
Feature Finish: #8 Finocchario, #75 Willis, #15 Robinson, #25 Gleason, #94 Coyle, #11 Cheetham, #38 Frarey, #7 Hunter, #17 VanOrden, #03 Lazzaro, #5 Rotunda, #51 Vogler, #64 S. Dinzler, #77 Helt, #41 Gavette, #90 Peckham, #9 J. Miller, #91 Bancroft, #40 J. Dinzler, #84 Schoonmaker, #99 Ripley, #6 G. Miller, #87 Hyman, #10 Larner, #12 Larrivee, #81 Reese-DQ
Heat Winners: #94 Coyle, #75 Willis, #11 Cheetham