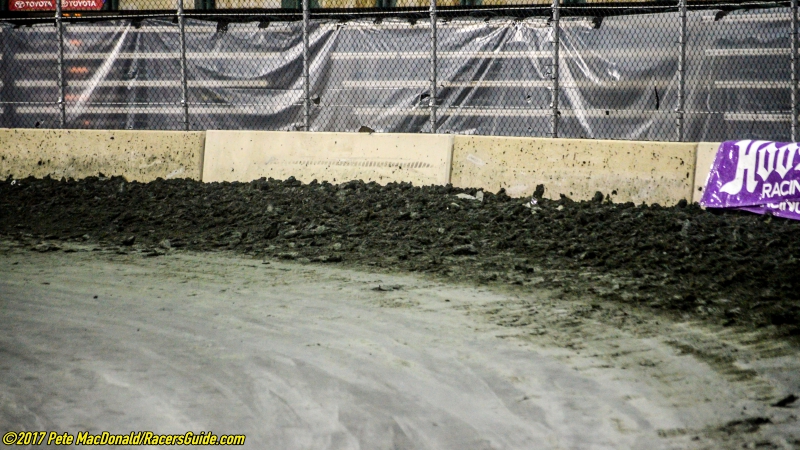 FENCE UP, CLAY DOWN AS TRENTON'S CURE INSURANCE ARENA IS TRANSFORMED INTO INDOOR DIRT SPEEDWAY FOR SECOND EAST COAST DIRT NATIONALS; RACING STARTS THURSDAY NIGHT (DEC. 13)
Story By: Ernie Saxton/Indoor Auto Racing Championship
Photos By: Pete MacDonald/RacersGuide.com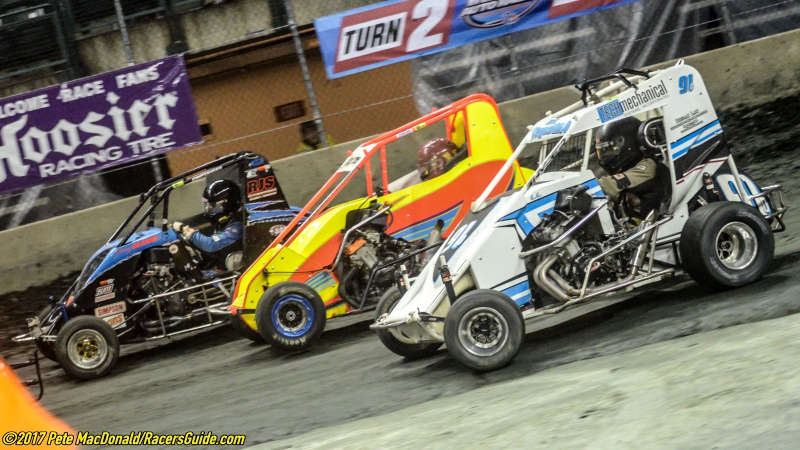 TRENTON, NJ December 12, 2018 . . . Preparations for the Second Annual East Coast Dirt Nationals continued in earnest Wednesday morning inside Trenton, N.J.'s CURE Insurance Arena. Concrete barriers and catch fencing were erected on the arena floor starting at 7 am on Monday morning to create the outside wall. On Tuesday over 60 dump truck loads of black New Jersey clay were trucked to and spread to form the track surface.
The Dirt Nationals for wingless 600 Sprints is set to begin this Thursday and Friday, December 13th and 14th with split group qualifying which includes 60 racers each day running in qualifying features events. On Saturday, December 15th, all 120 competitors will be competing for a spot in the $5,000 to win 50 lap A-Main. Racing starts at 7 PM on Thursday and Friday, 5 PM on Saturday.
Slingshots will run a complete program of racing on Thursday night culminating in a 20-car, 20-lap feature. On Friday, Champ Karts are the co-feature, with the same field, same distance feature on the docket.
The same clay that produced the dustless, multi-groove surface last year has been set in place once again. It was stockpiled in a sandpit since its first use and covered to prevent excess moisture from accumulating.
Inside the building on Tuesday, Ricky Grosso with help from Chuck Palmucci were spreading the clay with bulldozers and front end loaders. The track when finished will be 18 inches in depth on the straightaways and three feet in depth in the corners where considerable banking has been added.
Freiberger Excavating of Allentown, NJ, an event sponsor, provided the heavy equipment which will also be used for the removal of the clay and fence beginning moments after the checkered flag falls Saturday night.
The event will take place in an arena that has undergone a makeover from floor to ceiling to enhance the viewing experience for race fans at this year's Nationals. The goal has been to make the arena one of finest in the state.
This year's schedule calls for heat races with passing points and four A-qualifier feature races for split fields on both Thursday and Friday night. On Saturday, with all 120, 600 Sprints on hand, Alphabet mains are scheduled, with racers having the opportunity to advance from G, F, E, D, C, and B, will precede the 50 lap A-Main paying $5,000 to win.
Information, including a link for advanced tickets, is available at indoorautoracing.com. Tickets are also available each day at the arena box office.