[xyz-ihs snippet="Posts-Ad"]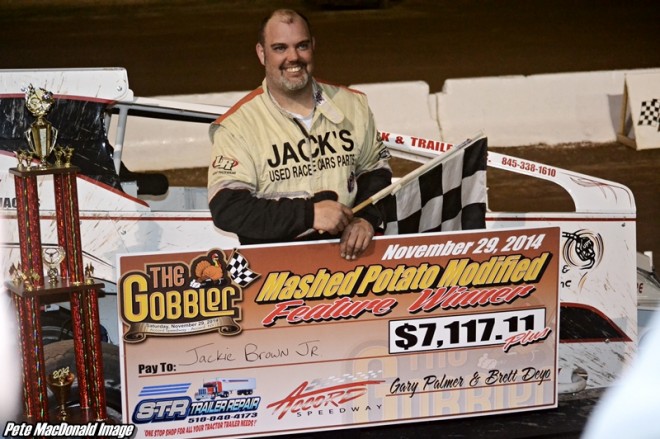 Eat Dinner With The Family, We Provide The Dirt-Track Dessert: Annual 'Gobbler' Set For Saturday, November 28 At Accord Speedway; Modifieds, Sportsman, Street Stocks & Slingshots In Action
ACCORD, NY – Eat dinner with the family. We'll provide the dirt-track dessert.
That has been the motto for the 'Gobbler' post-Thanksgiving special at Accord Speedway as the event is set for its third running Saturday, November 28. A full slate of stock car racing at the Ulster County quarter-mile oval will conclude the 2015 dirt-track season in the Northeast.
Headlining the 'Gobbler' spectacular is a 50-lap main for big-block/small-block Modifieds offering a healthy $5,300 winner's share and $300 just to take the green flag. Sportsman (Open vs. Crate 602) race for 25 laps and $1,200 to win. Completing the program will be Street Stocks, competing in the Ron Wright Memorial with a $500 winner's share for 20 laps and Slingshots doing battle for $300 to win in a 20-lap feature.
The 'Gobbler' has been run twice at Accord Speedway as a co-promotion involving speedway owners Gary and Donna Palmer and Brett Deyo of BD Motorsports Media LLC.
"People have been asking about this race since the middle of the summer," Accord's Gary Palmer said. "It is amazing the following the race has built up. Our fans really look forward to it as something they can do on the holiday weekend."
A quickly run program is again planned for the '15 edition, getting fans and competitors in and out on a potentially brisk afternoon.
General rules and information for all divisions can be found on the BD Motorsports Media website at the following link: http://bdmotorsportsmedia.com/gobbler-general-information-rules-pricing-times/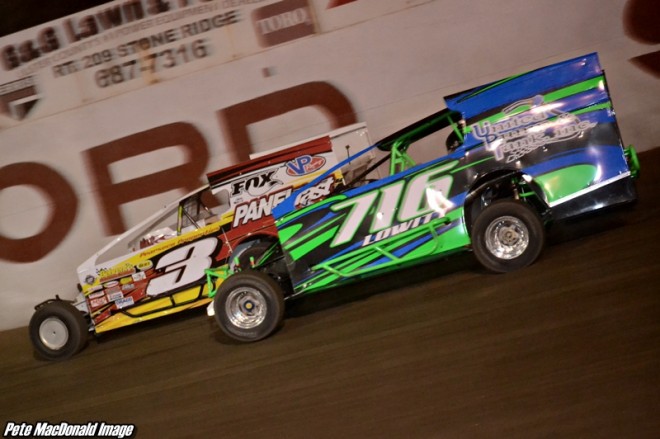 Pit gates will open at 10 a.m., with grandstand gates unlocked at 11 a.m. A drivers' meeting is planned for 12:30 p.m., with hot laps at 1 p.m. and racing at 2 p.m.
Adult admission is $22. Seniors (ages 65 and over) pay $20 and Kids 11 and under pay $5. Limited indoor seating is available for $35 by calling 845.626.1142 in advance of the event. Pit admission is $35, with no license required.
Registration is now open for the Modified, Sportsman and Slingshot divisions. Entry forms have been posted on the BD Motorsports Media website. There is no pre-entry fee for the Street Stock division.
Marketing and lap sponsorship opportunities are now available for the 'Gobbler' event by contacting BD Motorsports Media by phone at 845.728.2781 or via e-mail: bdmotorsportsmedia@gmail.com.
The inaugural 'Gobbler' was contested on Nov. 30, 2013 with Anthony Perrego of Montgomery, N.Y., securing the Modified triumph over Stewart Friesen. Other winners included Rocky Warner (Sportsman) and Charlie Houghtaling (Street Stock).
The '14 version was postponed by weather to April 14, 2015. Jackie Brown Jr., a local Hurley, N.Y., competitor, was the Modified winner. Other victors included Greg McCloskey (Sportsman), Kevin Skelly (Street Stock) and Demetrios Drellos (Slingshot).
Accord previously ran a post-Thanksgiving race very early in the Palmer promotional regime, back in 2002 with Robbie Green of Wallkill, N.Y., the Modified winner.
For updated information, visit the BD Motorsports Media website at www.bdmotorsportsmedia.com, follow @ShortTrackSS on Twitter or visit the Short Track Super Series page on Facebook.
Accord Speedway, a neat-and-tidy quarter-mile clay oval nestled in the hills of Ulster County, is located at 299 Whitfield Road Accord, NY 12404. The speedway is on the web at www.accordspeedway.com.
'Gobbler' Modified Entry Form: http://bdmotorsportsmedia.com/wp-content/uploads/2015/11/2015GobblerModifiedEntryForm.pdf
'Gobbler' Sportsman Entry Form: http://bdmotorsportsmedia.com/wp-content/uploads/2015/11/2015GobblerSportsmanEntryForm.pdf
'Gobbler' Slingshot Entry Form: http://bdmotorsportsmedia.com/wp-content/uploads/2015/11/2015GobblerSlingshotEntryForm.pdf
[xyz-ihs snippet="Posts-Ad"]