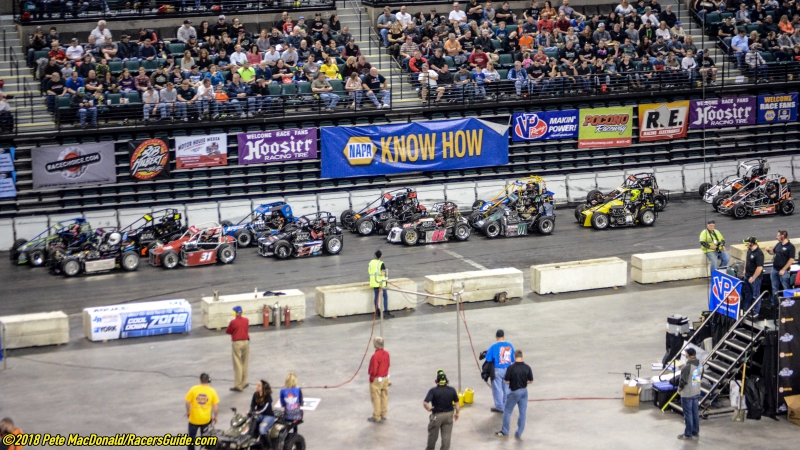 DR. LOWE NON-QUALIFIERS RACE ADDED TO FRIDAY SCHEDULE AT NAPA KNOW HOW WEEKEND IN ATLANTIC CITY, A MAIN STARTING SPOT ON THE LINE
Story By: Ernie Saxton/Indoor Auto Racing Championship
Photos By: Pete MacDonald/RacersGuide.com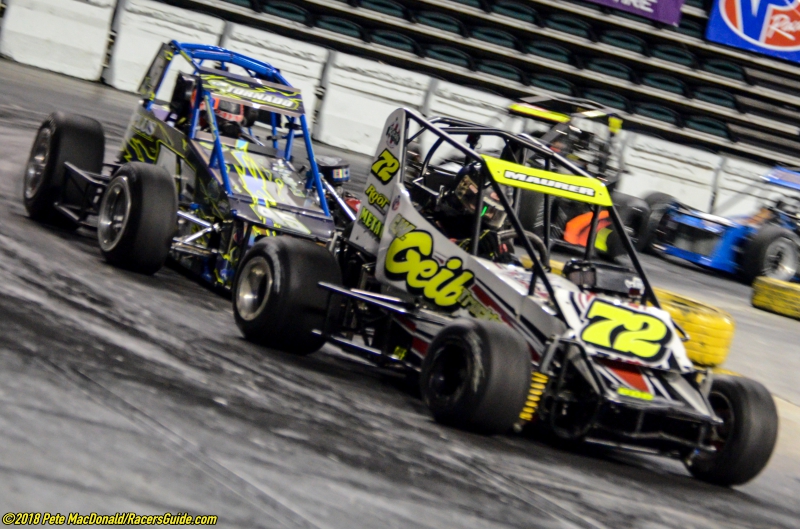 ATLANTIC CITY, NJ January 15, 2019 . . . It isn't often that a bad luck weekend is rewarded. But thanks to long time Indoor Auto Racing Series sponsor Dr. William Lowe, the 19 Three Quarter (TQ) Midget drivers from the January 4-5 races held in Allentown, PA who failed to make the A-Main either night will be given a special opportunity to do so at the next event at Atlantic City's Boardwalk Hall.
The Allentown non-qualifiers will compete against one another in an added event to open the NAPA KNOW HOW weekend on Friday night. The winner of the Dr. Lowe Second Chance 15 will earn the last starting spot in the 17th running of the Gambler's Classic on Saturday, January 26. As a side benefit, the race winner will receive $200 and all starters will receive added track time.
Drivers eligible to compete in the Dr. Lowe's Second Chance 15 for the TQ Midgets are Ryan Bartlett, Bobby Butler, Randy Cabral, Steve Craig, Jeremy Haudricourt, Louie Horvath, Mike Iles, John Ivy, Marc Johnson, Steve Kemery, Jeff Kot, Bruce Leote, Cole Mullen, Ronnie Mullen, Tim Nye, Matt Smith, Joe Toth and Brandon Zavarella.
The lightning-fast TQ Midgets will headline NAPA KNOW HOW Weekend which is highlighted by Saturday night's traditional 40-lap Gambler's Classic feature event. The quick and agile Champ Karts and the unpredictable and rugged Slingshots will once again be part of the triple header.
Friday Night action will include the Dr. Lowe Second Chance 15 followed by four 20 lap A-Main Qualifiers for the TQ Midgets. Champ Karts and Slingshots will also compete in qualifying events.
On Saturday night, heat races for the TQ Midgets will be followed by B-Mains and feature events for the Slingshots and Champ Karts. The program will end with the 40 lap Gambler's Classic.
The Atlantic City event will make up Round 3 of a five-race series for the Indoor Auto Racing Championship Fueled by VP Racing Fuels. Nazareth, PA's Matt Janisch was the winner of Round 1 at Allentown, PA's PPL Center and Cornelius, NC's Ryan Flores – the 2018 Gambler's Classic race winner – was the victor in Round 2, also at the PPL Center.
Past Gambler's Classic TQ Midget feature race winners in addition to 2018 race victor Flores include three-time winners Erick Rudolph (2012, 2015, 2017) and Anthony Sesely (2013, 2014, 2016), the late Ted Christopher (2009, 2011), Lou Cicconi, Jr. (2006, 2010), Joe Payne, Sr. (2004, 2007), Andy Mackereth (2003), Jeff Heotzler (2005) and Mike Tidaback (2008).
Indoor auto racing inside Atlantic City's Boardwalk Hall dates back to the late 1930s. Indoor racing was revived for the first time in 1965 and continued through 1981 when, with the advent of casino gambling, racing ceased. Len Sammons brought the event back to life in 2003.
Following Atlantic City, the series will conclude inside the all-new New York State Fairgrounds Exposition Center in Syracuse, NY on March 8-9. Those tickets are expected to go on sale shortly.
Information, including ticket and hotel links, is available at indoorautoracing.com. Tickets are also available daily and the day of the events at the Boardwalk Hall box office. Other information is available by calling the series office during regular working hours at 609-888-3618.