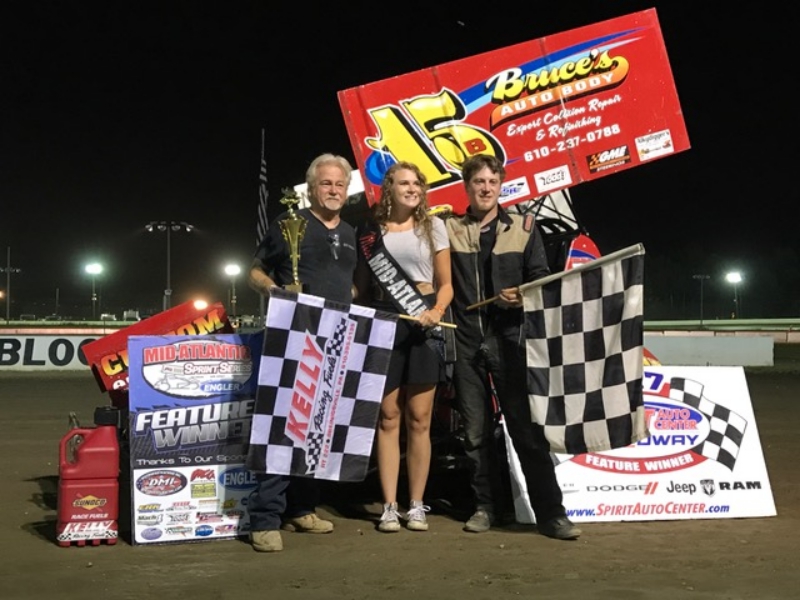 BRYANT DAVIS AND RICK STIEF SPLIT MID-ATLANTIC SPRINT SERIES DOUBLE FEATURES AT BRIDGEPORT SPEEDWAY
Story & Photos By: ERIKA PALMAI WAGNER/MASS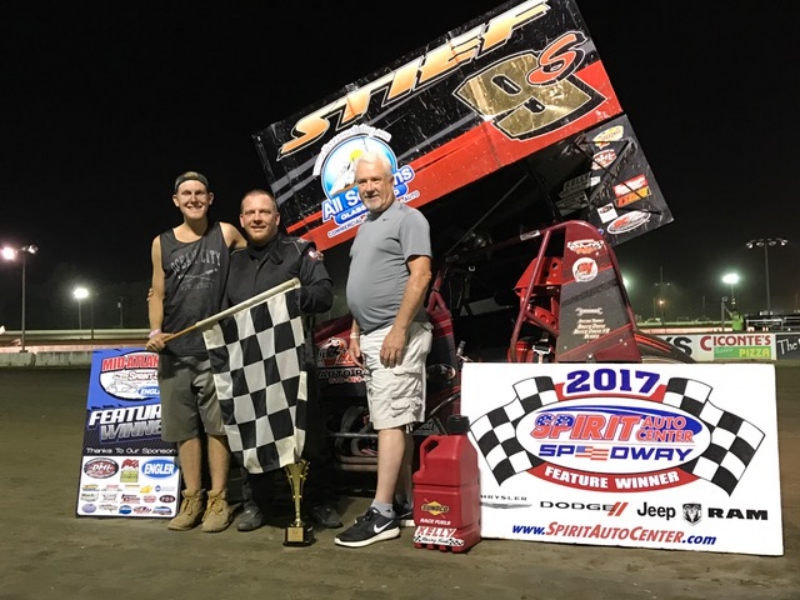 After a wild night of double-features at South Jersey's Bridgeport Speedway, the Mid-Atlantic Sprint Series had a first-time feature winner and a first repeat victor of the 2017 season in victory lane this past Friday night.
Twenty-nine-year-old Bryant Davis of Norwood, PA scored his first career 305 Sprint Car win in the June 17th make-up feature, while Rick Stief of Garnet Valley, PA, who finished second to Davis in the first event, visited victory lane for the second time this season for his efforts in the nightcap A-Main event, making him the first repeat winner of 2017.
Davis, who started on the pole next to Jeff Geiges, was rightfully thrilled while celebrating with his father, Bruce, in victory lane after his win saying post-race "we were so frustrated with this car before this feature, my dad almost stuck a 'for sale' sign to her with a $500 price tag on it. This couldn't have come at a better time for us, and I'm just so happy that we finally got this win!"
Shooting out to the lead when the initial green flag dropped, Davis kept his Bruce's Auto Body #15B out front for the entire race, even after multiple caution flags came out, menacing his first attempt to victory lane. Third place starter Rick Stief, who always poses as a threat especially at Bridgeport Speedway, quickly moved into the runner up spot and was continuing his trek to the front, utilizing all areas of the speedway.
"I was nervous on those restarts because I knew Rick was there the whole time, and we set the car up for a dry track, hoping it was going to be that way, and it's was, so that worked out to our advantage. I just had to make sure I hit my marks, kept the car straight, and focused on what I needed to do to be fast enough so Rick couldn't catch us," Davis explained.
At one point, after a restart, Davis and Stief ran side by side for a nail-biting two laps, battling hard for the lead, but it was Davis who would come out on top using the bottom line after Stief was running on his usually preferred high side.
"I knew he was there, and I was just hoping that he didn't have enough with him being on the outside, and he didn't! We had a little bit more tonight, and I was able to keep the car nice and low and it worked out good," Bryant said.
"It was a good race. I'm so happy to see those guys finally get a win, they put their heart and soul into this. I know earlier tonight, Bruce was pretty disappointed, but now they got themselves a win so this is pretty awesome!" runner up Rick Stief said.
Crossing the finish line behind Davis and Stief was Dave Brown, Eddie Wagner and Tim Tanner Jr.
The second 20 lap event saw Tim Tanner Jr. and Rick Stief square off at the start, each with intentions of earning their second win of the season. Tanner would hold on the top spot heading into the first turn, with Stief, last week's feature winner Mark Bitner, rookie Austin Bishop and Tom Carberry maintaining positions in the top five.
After a lap two restart, there was a handful of battles brewing all throughout the top six running cars, with the battle for the lead between Tanner and Stief heating up and being the one most kept their eyes on. Stief once again tried working the outside groove to get around the leader, but Tanner held onto the top spot, sliding up and stealing the 9s' momentum each time they exited the wide corners of the 5/8-mile superspeedway.
"We had the car dialed in really good, I kept trying to stick it up there on the outside, but I think Tim might have realized we were there, and if I didn't take my time, then we both would have ended up crashing," Stief explained. "So I just kept abiding my time, and I had a few really good runs there and finally, I just didn't let off and we were able to take the lead".
It wasn't until lap seven when Stief finally completed the pass for first place, gaining over a straightaway gap between him and the rest of the cars. Lap traffic didn't pose a threat to the lightning fast K&S Seal Coating Sprinter and with a 5.482 seconds lead on the rest of the field, the checkered flags waved and it would be Stief, Tanner, Bishop, Bitner, and Wagner completing the top five.
"I have to thank my crew man, Chas. Without him, instead of standing here in victory lane tonight, I would be sitting at home looking at this car in the garage. I also want to thank Bruce Davis #2, he comes over and helps me out at the shop to get everything ready, my buddy Greg and his nephew from K&S Seal Coating, all of my sponsors, Bridgeport Speedway for having us tonight, and for the Mid-Atlantic Sprint Series for doing a great job with this program this year. I think they have all done a very good job with running this great series".
Twenty-two cars took part in Friday's event, with Middletown, New York's Tyler Jashembowski making the three-and-a-half-hour tow to run at Bridgeport Speedway with the Mid-Atlantic Sprint Series. Jashembowski started eleventh in the second feature and brought home a tenth place finish. Three heat races were completed, with Austin Bishop, Rick Stief, and Tim Tanner Jr. taking the victories as well as $50 cash courtesy of heat race sponsors Competition Suspension Inc, Freiberger Excavating and Professional Design Services.
Samantha Lieberman and Eddie Wagner collected the $25 Bruce's Auto Body award for advancing the most positions in the first and second features, and and Stefanie Carberry took home $25 for the worst pill draw, courtesy of Professional Design Services. Eddie Wagner also took home the Thayer Performance "Burning Rubber" Hard Charger award which is a brand new Hoosier Racing Tire. Mark Bitner and Rick Steif were the recipients of the $25 Bitner Automotive "Lightning Fast Time of the Night" award in the first and second features. Other contingencies handed out on Friday were a $25 gift certificate to John Webster courtesy of Todd's Performance, a $25 DMI gift certificate to Craig Pellegrini and 5 gallons of FREE fuel to the feature winners Bryant Davis and Rick Stief provided by Kelly Racing Fuels.
The Mid-Atlantic Sprint Series returns on Saturday, July 29st at Bridgeport Speedway for a Engler Machine and Tool sponsored night. For more information on MASS, visit www.masprintseries.com and be sure to follow us on Facebook at Mid-Atlantic Sprint Series.
6/17/2017 Make-up Feature Finish- Bryant Davis, Rick Stief, Dave Brown, Eddie Wagner, Tim Tanner Jr., Jeff Geiges, Mark Bitner, Tommy Carberry, Austin Bishop, Samantha Lieberman, Bobby Butler, Zack Burd, Tom Carberry, Dean Conk Jr., JC Webster DNF:Jamie Kostic, Joe Kay, Stefanie Palmai Carberry, Craig Pellegrini Jr., David Bonner
7/21/2017 Feature Finish- Rick Stief, Tim Tanner, Austin Bishop, Mark Bitner, Eddie Wagner, Jeff Geiges, Tommy Carberry, Dave Brown, Tom Carberry, Tyler Jashembowski, Samantha Lieberman, Bryant Davis, Zack Burd, Joe Kay, Bobby Butler, David Bonner, Keith C Andersen, Dean Conk Jr. DNF: Jamie Kostic, JC Webster DNS: Craig Pellegrini Jr., Stefanie Carberry