Davenport Becomes First Repeat Winner at Hagerstown
Story By: Jeremy Shields/LOLMDS
Photos By: Heath Lawson/LOLMDS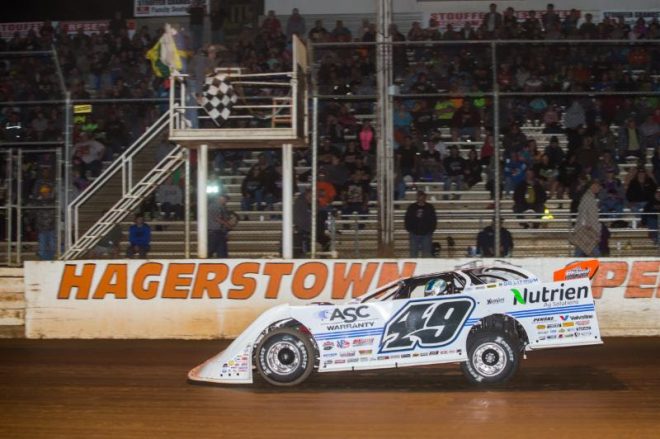 HAGERSTOWN, MD (April 13, 2019) – Jonathan Davenport became the first repeat winner in Lucas Oil Late Model Dirt Series-sanctioned events at Hagerstown Speedway on Saturday night.
Heading into tonight's event at the Dirt Capitol, the series had made 11 appearances and there had been 11 different winners. The defending National Champion led the entire race on his way to winning the 38th Annual Stanley Schetrompf Classic. Davenport now sits at five series wins so far in 2019, and his 41st overall.
Brandon Sheppard roared to a runner-up finish, holding off Jimmy Owens at the line. Rick Eckert was fourth and Tim McCreadie rallied from his 19th starting position to round out the top five.
"It's really great to become the first driver to win twice in series races at Hagerstown, this is such a historic track," said Davenport. I was getting really, really loose on that long green flag run and I got behind those lapped cars. Jimmy [Owens] and Sheppard were right on us. Thank goodness for that caution. It saved us. I haven't raced here many times; but it definitely brings back memories of my asphalt days. You have to drive the track straighter than most. You also have to have a different mindset to drive this track. Thank you to Jason, Tyler, Matt, and everybody who works on the crew."
A caution for Jason Jameson on lap 25 allowed lapped traffic to clear out in front of Davenport after Owens and Sheppard closed to within a car length. On the restart, Davenport pulled away and Sheppard moved around Owens for second.
"A couple of the lap-cars were giving me fits tonight. One of them kept switching lanes on me and I am not sure if he saw me because he was racing me side-by-side. I bumped wheels with him, and I thought here we go. Jack Cornett is here tonight, and he builds a great engine. Thanks to all of the fans for coming out tonight looks like they had a great turnout."
Sheppard had his second straight runner-up finish with the series. "We were all bunched up racing for the lead and then the caution came out. JD and Owens were doing a good job and I was going to have a tough time passing them. It was a lot of fun out there. I had to run my stuff harder than I wanted to. Luckily, on the restart I slipped by Jimmy. I couldn't gain any ground on JD. I was trying all sorts of things to catch him, but I think I burnt my tires up too much. This was a lot better than my last showing at Hagerstown for sure."
Tonight, Owens piloted the same back-up car which got him to victory lane Atomic on Thursday and recorded another podium finish on Saturday night. "JD was really good, and he was making his way through traffic really well. I felt at the time we had gotten to him [Davenport] and we were a little better than him. We had a bird's eye view and I thought we could sneak up on him and then the caution came out and ruined it for us. Our tires didn't refire and it was just a drag race until we got to traffic again."
The winner's Lance Landers Motorsports Longhorn Chassis is powered by a Cornett Racing Engine and sponsored by: Nutrien Ag Solutions, ASC Warranty, Penske Racing Shocks, Spartan Mowers, Go Lithium Batteries, Valvoline, Hoosier Tires, and Mega Plumbing of the Carolinas.
Completing the top ten were Earl Pearson Jr., Josh Richards, Trever Feathers, Gene Knaub, and Jason Covert.
Lucas Oil Late Model Dirt Series
Race Summary
Saturday, April 13, 2019
38th Annual Stanley Schetrompf Classic
Hagerstown Speedway – Hagerstown, Md.
Miller Welders Time Trials
Fast Time Group A: Kyle Bronson / 18.179 seconds (overall)
Fast Time Group B: Gene Knaub / 18.554 seconds
Penske Race Shocks Heat Race #1 Finish (10 Laps, Top 4 Transfer): Jonathan Davenport, Rick Eckert, Josh Richards, Kyle Bronson, Kyle Hardy, Tim McCreadie, Kyle Lee, Jamie Lathroum, Tyler Bare
FK Rod Ends Heat Race #2 Finish (10 Laps, Top 4 Transfer): Jimmy Owens, Tyler Erb ®, Gregg Satterlee, Devin Moran ®, Austin Hubbard, Ryan King, Colton Flinner, Jason Jameson ®, Mason Zeigler, Dan Stone
Simpson Race Products Heat Race #3 Finish (10 Laps, Top 4 Transfer): Gene Knaub, Jason Covert, Brandon Sheppard, Hudson O'Neal, Trever Feathers, Alex Ferree, Shanon Buckingham, Tyler Horst, Gary Stuhler
Lucas Oil Products Penetrating Oil Heat Race #4 Finish (10 Laps, Top 4 Transfer): Earl Pearson, Jr., Billy Moyer, Jr., Dylan Yoder, Don O'Neal, Stormy Scott, Matt Cosner, Justin Kann, Justin Weaver, Jacob Hawkins-DNS
Lucas Oil Products Red "N" Tacky Spray Grease B-Main #1 Finish (12 Laps, Top 3 Transfer): Kyle Hardy, Tim McCreadie, Jamie Lathroum, Austin Hubbard, Tyler Bare, Mason Zeigler, Colton Flinner, Ryan King, Kyle Lee, Dan Stone, Jason Jameson ®
FAST Shafts B-Main #2 Finish (12 Laps, Top 3 Transfer): Trever Feathers, Stormy Scott, Shanon Buckingham, Matt Cosner, Alex Ferree, Gary Stuhler, Tyler Horst, Justin Kann, Justin Weaver, Jacob Hawkins-DNS
Lucas Oil Feature Finish (50 Laps):
| | | | | | |
| --- | --- | --- | --- | --- | --- |
| FINISH | START | CAR # | DRIVER NAME | HOMETOWN | EARNINGS |
| 1 | 1 | 49 | Jonathan Davenport | Blairsville, GA | $13,100 |
| 2 | 10 | 1S | Brandon Sheppard | New Berlin, IL | $5,500 |
| 3 | 3 | 20 | Jimmy Owens | Newport, TN | $4,300 |
| 4 | 5 | 0 | Rick Eckert | York, PA | $2,750 |
| 5 | 19 | 39 | Tim McCreadie | Watertown, NY | $2,950 |
| 6 | 4 | 1 | Earl Pearson, Jr. | Jacksonville, FL | $2,600 |
| 7 | 9 | 14 | Josh Richards | Shinnston, WV | $2,300 |
| 8 | 18 | 20F | Trever Feathers | Winchester, VA | $1,300 |
| 9 | 2 | 1K | Gene Knaub | Dover, PA | $1,200 |
| 10 | 6 | 72C | Jason Covert | York Haven, PA | $1,100 |
| 11 | 13 | 40B | Kyle Bronson | Brandon, FL | $1,775 |
| 12 | 15 | 1M | Devin Moran ® | Dresden, OH | $1,850 |
| 13 | 12 | 24 | Dylan Yoder | Selinsgrove, PA | $1,025 |
| 14 | 7 | 1T | Tyler Erb ® | New Waverly, TX | $1,700 |
| 15 | 14 | 71 | Hudson O'Neal | Martinsville, IN | $1,700 |
| 16 | 21 | 45 | Jamie Lathroum | Mechanicsville, MD | $1,000 |
| 17 | 22 | 50 | Shanon Buckingham | Morristown, TN | $1,000 |
| 18 | 20 | 2s | Stormy Scott | Las Cruses, NM | $1,000 |
| 19 | 17 | 36V | Kyle Hardy | Stephens City, VA | $1,000 |
| 20 | 24 | 1Gk | Ryan King | Seymour, TN | $1,000 |
| 21 | 11 | 22 | Gregg Satterlee | Indiana, PA | $1,000 |
| 22 | 8 | 21 | Billy Moyer, Jr. | Batesville, AR | $1,700 |
| 23 | 25 | 72W | Justin Weaver | Williamsport, PA | $1,000 |
| 24 | 16 | 5 | Don O'Neal | Martinsville, IN | $1,800 |
| 25 | 23 | 12J | Jason Jameson ® | Lawrenceburg, IN | $1,800 |
Race Statistics
Entrants: 37
Lap Leaders: Jonathan Davenport (Laps 1 – 50)
Wrisco Feature Winner: Jonathan Davenport
Margin of Victory: 2.497 seconds
Cautions: Don O'Neal (Lap 6); Jason Jameson (Lap 25)
Series Provisionals: Jason Jameson, Ryan King
Hagerstown Speedway Provisional: Justin Weaver
Optima Batteries Hard Charger of the Race: Tim McCreadie (Advanced 14 Positions)
Midwest Sheet Metal Spoiler Challenge Point Leader: Jonathan Davenport
Allstar Performance Power Move of the Race: Jamie Lathroum
Sunoco Race for Gas Highest Finisher: Brandon Sheppard
Eibach Springs Rookie of the Race: Devin Moran
COMP Cams Engine Builder of the Race: Cornett Racing Engines
Ohlins Shocks Chassis Builder of the Race: Longhorn Chassis
Outerwears Crew Chief of the Race: Jason Durham (Jonathan Davenport)
Dirty Girl Racewear Fastest Lap of the Race: Jonathan Davenport (Lap #1 – 20.446 seconds)
Hot Rod Processing Tough Break of the Race: Jason Jameson
STEEL-IT Most Laps Led: Jonathan Davenport (50 Laps)
PFC Brakes Pole Award: Jonathan Davenport
Time of Race: 23 minutes 49 seconds