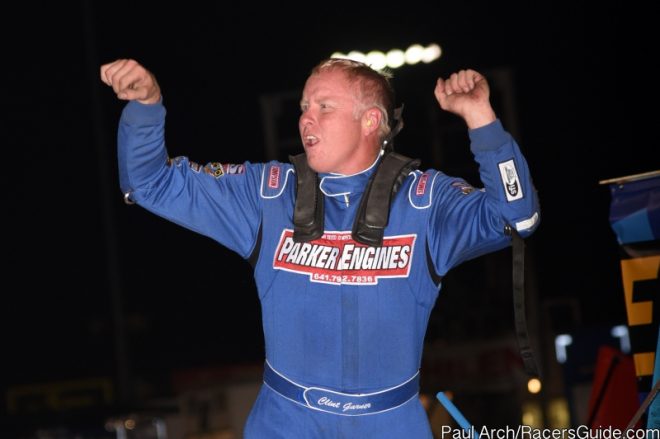 Clint Garner Finally on Top at Knoxville 360 Nationals; Eric Bridger Victorious in 305's
Story By: Bill Wright/Bryan Hulbert/ASCS
Photos By: Tommy Hein & Paul Arch/RacersGuide.com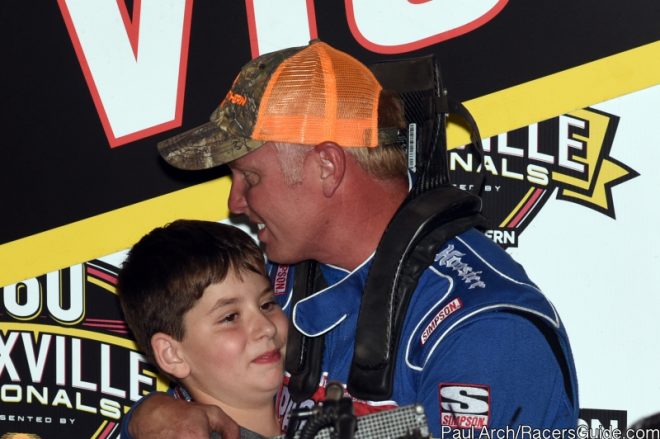 KNOXVILLE, Iowa (August 5, 2017) – One of the greatest 360 sprint pilots ever at the Knoxville Raceway, and indeed, one of the best sprint car drivers at the "Sprint Car Capital of the World", finally broke through and won the 27th Annual Knoxville 360 Nationals presented by Great Southern Bank. Clint Garner, of Sioux Falls, South Dakota held off the field to win the 25-lap $15,000 event at Knoxville on Saturday night in his fourteenth try at the event.
A fairytale evening for the seven time Knoxville Raceway 360 track champion, the win is not only his first in the Knoxville 360 Nationals but first against the Lucas Oil American Sprint Car Series presented by the MAVTV Motorsports Network. With the addition of Garner to the record books, 140 drivers have taken home a win with the National Tour.
Before a lap could be completed, Friday's preliminary winner, Greg Hodnett spun, in turn, one to bring out the caution flag.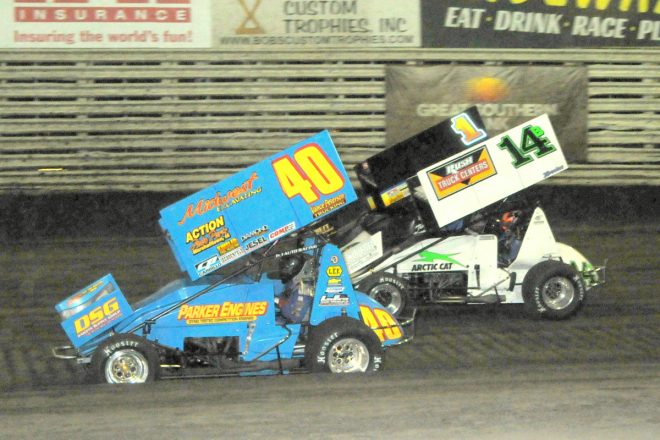 He would restart at the tail, while up front, Garner took the point ahead of two-time event winner Wayne Johnson and Aaron Reutzel. Jamie Ball maneuvered by Reutzel for third on lap two.
Garner used the low side, as he and Johnson separated themselves from the field and entered lapped traffic on the tenth circuit. A lap later, Brian Brown, who started 12th, was into the top five. The last caution came with 13 laps in the books as Calvin Landis slowed to a stop without brakes.
Garner led Johnson, Ball, Reutzel, and Brown back to green flag racing. Johnson got a run under Garner at the cone but was shut down into turn one. That sent him up the track, and Ball got by him for second. Meanwhile, Brown jumped by Reutzel into fourth. Johnson would use the low side to shoot back by Ball.
Brown would slide in front of Ball on lap sixteen to take third. Garner continued his mastery up front on the cushion. Johnson would bobble in the marbles on lap 19, and Brown would reel him in. While Garner sailed away up front, Brown took second with four laps to go.
The win was Garner's 33rd career triumph here in the 360 class, second on the all-time list only to David Hesmer. Brown came home second as the hard-charger, ahead of Johnson, Reutzel, and Ball. Christopher Bell, Sam Hafertepe Jr., Jeff Swindell, Tim Shaffer and Hodnett, who recovered from the tail, rounded out the top ten.
Dusty Zomer led the way in the non-stop 15-lap B Main, while Joey Saldana had an impressive drive to win the C. Lee Grosz won the D main. The C main saw the most incidents. Scott Bogucki came to a stop, in turn, one, and collected Matt Egel, who got upside down. Cody Ledger, who had a minor fire after the D main, was also a flip victim in the C. No one was injured.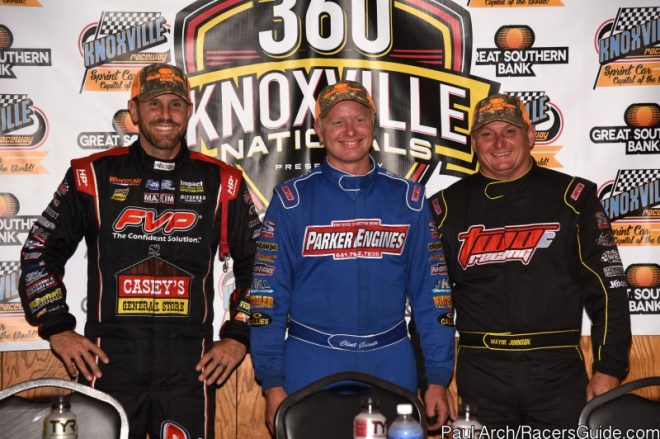 "It did get to the point where it was the 'win it or wear it' moment," said an emotional Garner in Victory Lane. "I ran the heck out of it. It's just a guessing game out front. You have no clue where everyone else is going and what's happening. I wish I could say it's easy, but it's so hard to do. This is definitely the biggest win of my career. I'm so happy, and there are so many people here. A lot of these guys race for a living and they know how hard I try to keep up with them. They know when I can beat them, it is special. I'm proud to be a working man that races on the weekend. I'm more proud that I just beat a bunch of professionals. I think we were 12th quick in hot laps and there were a lot of questions flying. There was a gear change that we had to make. I'm so proud of my guys."
"Clint has been coming here a lot of years," said Brown. "He has a true sprint car family. His brother, his Dad…I'm envious of him. That's what racing's all about. If I can't win it, I'm glad he was able to. He should have won it three times by now. It was a great effort by our team. I was hoping for one more yellow. Twelfth to second is nothing to hang our head about."
"I suckered (Garner) on the first start. I knew I wouldn't get another chance at it. Then he got the lead. He started running the top, and I felt like I was better than him on the bottom. The caution came out with twelve to go and took the lapped traffic away. I wasn't catching him late in the race, so I went to the top. I just opened the door for Brown there to slide me. We've struggled quite a bit at times in the last seven or eight months. So we can't hang our head about finishing third behind the two guys that probably have more laps here than anyone. Congratulations to Clint. Those guys work hard, and they're good friends of mine."
Eric Bridger led early in the 15-lap 305 feature. The current point leader set sail, ahead of Matthew Stelzer and Ryan Leavitt. The only caution of the event came on lap nine when the fourth place car of Joe Simbro slowed.
Bridger would lead the field back to green, dogged by Stelzer. Kade Higday quickly moved into third. Stelzer would use the cushion to work around Bridger and take the lead with two laps to go. When he missed his mark in the middle of the track on the next lap, however, Bridger would retake the point and the rookie would go on to win his second feature of the year here. Stelzer, Higday, Tyler Glass and Leavitt followed. Kelby Watt, Mike Mayberry, Evan Epperson, Chris Walraven and Rob Kubli completed out the top ten. Bridger set quick time, while Glass and Watt were heat winners.
"I about gave that one away," said Bridger in Victory Lane. "I must have gotten slower. I just got looser and looser. Luckily, we started on the front row and got the job done. That was pretty close. We were able to come out on top. He may have made a mistake in turn three and let me get back to the low side. I just have to thank my crew. I didn't do that last time."
The Lucas Oil ASCS presented by the MAVTV Motorsports Network will be off until Sunday, August 20 when the tour hits the "Historic Half-Mile" Missouri State Fair Speedway during the Missouri State Fair. The event is co-sanctioned with the Speedway Motors ASCS Warrior Region presented by Impact Signs, Awnings, and Wraps.
For continued updates on the American Sprint Car Series, from the National Tour to any of the seven regional tours that make up the over 150 races across the ASCS Nation in 2017, log onto http://www.ascsracing.com.
Race Results:
Lucas Oil ASCS National Tour
Knoxville Raceway – Knoxville, Iowa
27th Knoxville 360 Nationals presented by Great Southern Bank
Saturday, August 5, 2017
Event Count: 91
Pizza Express of Okla. D-Main (Top 9 advance to the C)
D Feature (10 Laps): 1. 4J-Lee Grosz, [1]; 2. 95-Matt Covington, [3]; 3. 71C-Stacey Alexander, [2]; 4. 1J-Danny Jennings, [5]; 5. 9N-Wade Nygaard, [4]; 6. 35L-Cody Ledger, [10]; 7. 52-Blake Hahn, [8]; 8. 25-Dylan Peterson, [12]; 9. 12-James Mosher, [6]; 10. 9M-Ricky Montgomery, [14]; 11. 8M-Kade Morton, [15]; 12. 40H-Howard Moore, [9]; 13. 63-Brooke Tatnell, [17]; 14. 93-Dustin Morgan, [18]; 15. 1B-Ryan Leavitt, [7]; 16. 27B-Patrick Bourke, [16]; 17. 22S-Sean McClelland, [13]; 18. X1-Mason Moore, [19]; 19. 7M-Chance Morton, [21]; 20. 33-Alan Zoutte, [20]; 21. 07-Michael Bookout, [11]; 22. 98-Chris Masters, [22]; 23. 9Z-Jared Goerges, [23]; (DNS) 1A-John Anderson, ; (DNS) 10C-Jeremy Campbell,
Hoosier Tire C-Main (Top 7 advance to the B):
C Feature (12 Laps): 1. 71-Joey Saldana, [3]; 2. 3S-Sammy Swindell, [2]; 3. 17-Tyler Groenendyk, [5]; 4. 10H-Chad Kemenah, [7]; 5. 21AU-Jordyn Brazier, [1]; 6. 55-McKenna Haase, [6]; 7. 14-Tony Stewart, [4]; 8. 17H-Jared Horstman, [10]; 9. 3P-Sawyer Phillips, [14]; 10. 95-Matt Covington, [17]; 11. 99-Skylar Gee, [15]; 12. 4J-Lee Grosz, [16]; 13. 9N-Wade Nygaard, [20]; 14. 25-Dylan Peterson, [23]; 15. 1J-Danny Jennings, [19]; 16. (DNF) 17W-Harli White, [8]; 17. (DNF) 52-Blake Hahn, [22]; 18. (DNF) 77X-Alex Hill, [12]; 19. (DNF) 35L-Cody Ledger, [21]; 20. (DNF) 12N-Cole Duncan, [9]; 21. (DNF) 12-James Mosher, [24]; 22. (DNF) 84-Scott Bogucki, [11]; 23. (DNF) 75AUS-Matt Egel, [13]; 24. (DNF) 71C-Stacey Alexander, [18]
BMRS B-Main (Top 5 advance to the A):
B Feature (15 Laps): 1. 82-Dusty Zomer, [2]; 2. 36-Jason Martin, [6]; 3. 24-Terry McCarl, [5]; 4. 2M-Matt Moro, [1]; 5. 26-Tayler Malsam, [8]; 6. 56N-Davey Heskin, [13]; 7. 71-Joey Saldana, [18]; 8. 22-Rager Phillips, [4]; 9. 5H-Cory Eliason, [10]; 10. 6-Carson McCarl, [3]; 11. 3S-Sammy Swindell, [19]; 12. 9-Ryan Giles, [17]; 13. 35-Skylar Prochaska, [9]; 14. 41-Dominic Scelzi, [16]; 15. 10H-Chad Kemenah, [21]; 16. 3K-Tim Kaeding, [11]; 17. 14-Tony Stewart, [24]; 18. 17-Tyler Groenendyk, [20]; 19. 23S-Stuart Snyder, [15]; 20. 45X-Johnny Herrera, [12]; 21. 44-Chris Martin, [7]; 22. 23D-Devon Dobie, [14]; 23. 55-McKenna Haase, [23]; 24. 21AU-Jordyn Brazier, [22]
Protect the Harvest A-Feature:
A Feature (25 Laps): 1. 40-Clint Garner, [1]; 2. 21-Brian Brown, [12]; 3. 2C-Wayne Johnson, [2]; 4. 87-Aaron Reutzel, [5]; 5. 5J-Jamie Ball, [4]; 6. 14B-Christopher Bell, [11]; 7. 15H-Sam Hafertepe Jr, [15]; 8. 94-Jeff Swindell, [14]; 9. 49X-Tim Shaffer, [6]; 10. 27-Greg Hodnett, [7]; 11. 17B-Josh Baughman, [8]; 12. 23-Seth Bergman, [10]; 13. 1M-Danny Lasoski, [18]; 14. 1-Thomas Kennedy, [9]; 15. 55S-Trey Starks, [16]; 16. 82-Dusty Zomer, [20]; 17. 4-Jon Agan, [13]; 18. 3-Nate VanHaaften, [3]; 19. 24-Terry McCarl, [22]; 20. 2M-Matt Moro, [23]; 21. 36-Jason Martin, [21]; 22. 26-Tayler Malsam, [24]; 23. 13V-Seth Brahmer, [17]; 24. (DNF) 70-Calvin Landis, [19]
Lap Leader(s): Clint Garner 1-25
CP-Carrillo Hard Charger: Brian Brown +10
FSR High Point Driver: N/A
Provisional(s):N/A