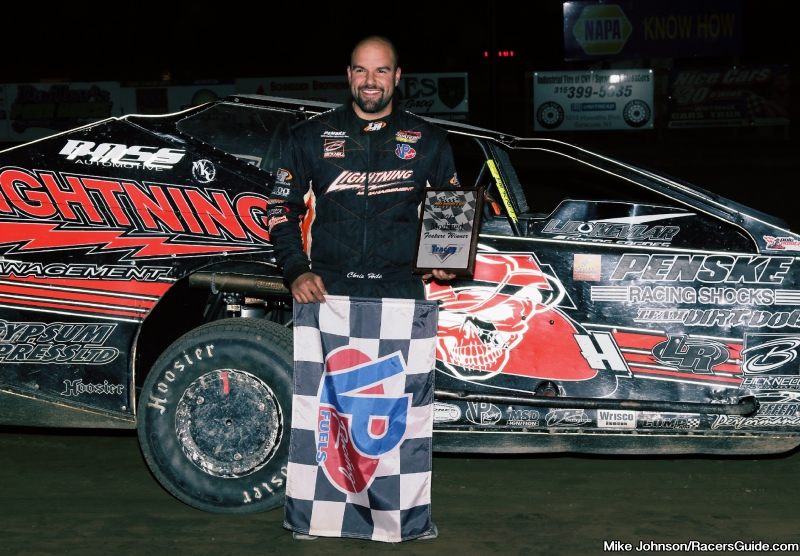 Chris Hile Wins Brewerton Speedway Modified Race Of The Year; Billy Decker Track Champion
Story By: Dave Medler/Brewerton Speedway
Photos By: Mike Johnson & Jay Fish/RacersGuide.com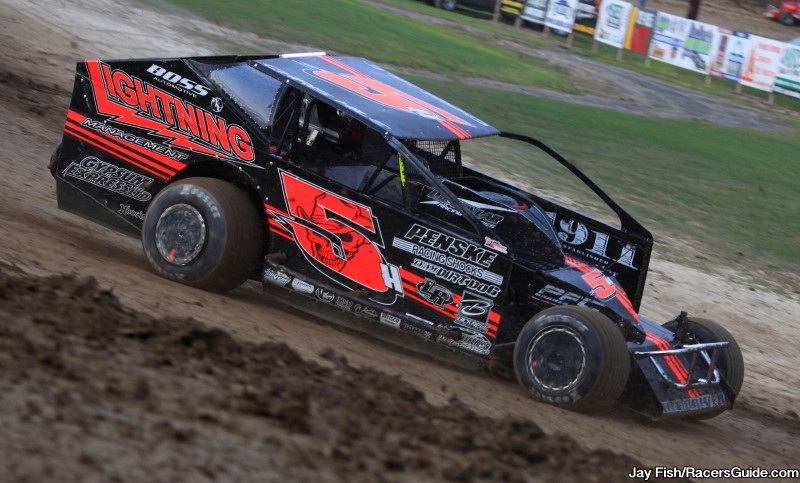 BREWERTON, NY – September 1, 2017 – The old saying, "Saved the best for last," fit the Brewerton Speedway racing right down to the final checkered flag Friday on Championship Night presented by Schneider Packaging Equipment Company.
In the Tracey Road Equipment Big Block Modifieds Chris Hile shook off recent disappointments winning the 35-lap feature in a photo finish victory after an intense battle with Mike Mahaney and Billy Decker.
After season-long battles in the Tracey Road Big Block Modifieds, Billy Decker was crowned the 2017 Track Champion. For Decker, it was his fifth title at the speedway.
Nick Krause had a lot of top runs going this season in the SUNY Canton Sportsman only to come up short. Friday night Krause related it felt great to finally get the monkey off their back, winning the 25-lap feature.
The SUNY Canton Sportsman track championship came down to the final checkers. Alan Fink came into the final race 13 points ahead of Ron Davis III. At the end of 25-laps Davis' second place finish coupled with Fink's eighth place finish gave Davis the track title by a single point. For Ron Davis III it was his second straight championship at the Brewerton Speedway.
Zack Babcock was the class of the field in the 20-lap Mod Lite feature picking up the popular victory.
Justin Williams was crowned the 2017 Firehouse Subs Mod Lite Track Champion, joining his father, Doug as champion in the division. He thanked the Halliday family and Kelly Skinner for letting them drive their cars while waiting for a new motor for his own car late in the season.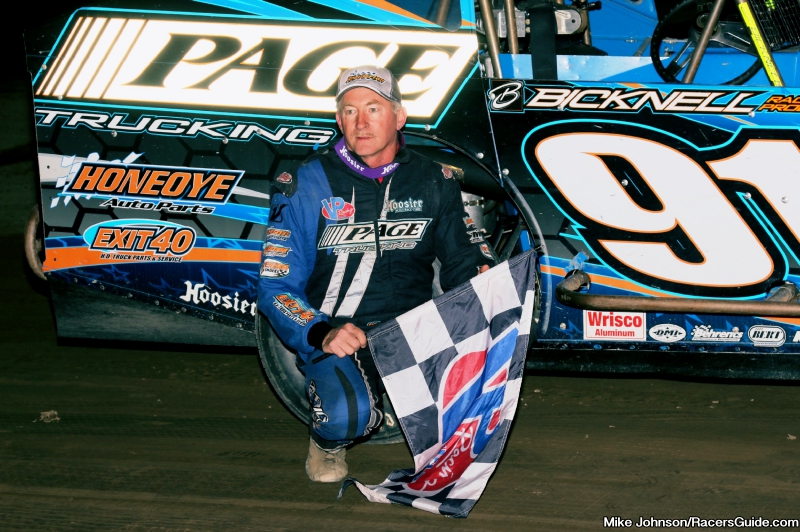 The Lucas Oil Empire Super Sprint 25-lap A-Main was a battle royal at the front of the field. First Larry Wight and Jason Barney had the intensity knob turned up high and the race finished with Barney and Danny Varin with Varin taking the narrow win.
Adam Roberts and Chris Hile would lead the early laps of the 35-lap Tracey Road Equipment Big Block Modified feature with two and three wide racing on the fast and multi-groove track.
With 10-laps complete, Hile had opened a half a straightaway lead with Roberts and Mike Mahaney in his family owned car running in tight quarters for second and third and Tim Kerr and Chad Phelps showing in the top-five just before a quick caution.
At the 15-lap point Hile was still out front running the top-side with Mahaney challenging, using the bottom of the speedway. Behind the top-two there was a tight battle between Roberts, Phelps, Kerr and Billy Decker for third through sixth.
Hile was still quick out front on lap-20. Behind Hile you could have thrown a blanket over Roberts, Phelps, Kerr and Decker and they used every inch of the speedway racing for position.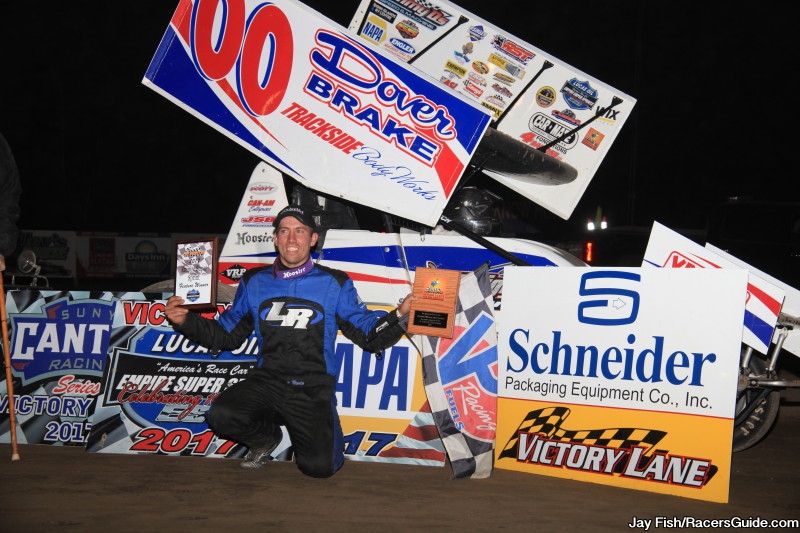 With 10-laps to go Hile was still using the top groove as Mahaney and Decker were quickly reeling in Hile, setting up a dash to the checkers.
One thing Hile didn't want to see was a caution and that is exactly what happened on lap-26 setting up a shootout between Hile, Mahaney, Decker and Jimmy Phelps.
With the top four cars running two and three wide, Decker was able to move into second on lap-32 and was shown in the lead on lap-33. Hile was a man on a mission pulling a slide job going into turn one in front of Decker, forcing Decker to get on the brakes letting Mahaney get back into second.
Hile didn't get a chance to even blink as Mahaney pulled even with Hile exiting turn four for the drag race down the front straight that saw the two fly under the checkers just about dead even. AMB scoring showed Hile the winner by 0.044 of a second. Jimmy Phelps, Billy Decker and Chad Phelps finished third through fifth.
In the 25-lap SUNY Canton Sportsman feature, Chris Cunningham grabbed the early lead and had a ten car-length advantage by lap 5 with Nick Krause, Rich Townsend, Todd Root and Brent Joy in a close race for second through fifth.
At the 10-lap point Cunningham still led as Root and Krause started to cut into Cunningham's lead just before a quick caution would tighten the field up.
On lap-13 exiting turn two on the inside groove Krause would shoot to the lead to be scored the new leader. Over the remaining laps Krause was the class of the field, picking up the win. Ron Davis III, Brent Joy, Rich Townsend and Kyle Fink finished second through fifth.
The points championship battle would see Ron Davis III do all he could do to erase the 13-point deficit behind Alan Fink by finishing second. All eyes were now on Fink and his finish. Exiting turn four, coming down to the finish saw Glenn Forward get by Fink right at the start-finish line. With Davis' second place run and Fink finishing eighth, Ron Davis III won the title by a single point.
Nick Krause earned an extra $500 in honor of Brooke Teachout courtesy of SUNY Canton Sportsman racer Tony Komuda.
Nick Graziano would lead the opening 12-laps of the 20-lap Firehouse Subs Mod Lite feature before a yellow slowed the action. On the restart Zack Babcock grabbed the top spot and would lead the rest of the distance, holding off a quick Brian Meyers. Jeff Sykes, Casey Sykes and Justin Williams finished third through fifth.
Justin Williams said after the feature he knew he had to keep Casey Sykes in sight and drive a smart race for his first ever Mod Lite track title.
The Lucas Oil Empire Super Sprints came out in large numbers with 33 cars signed into the pit area.
In the 25-lap A-Main Matt Billings would lead the opening 6 laps when Larry Wight would take the top-spot on the restart.
The red would wave on lap-9 after a four-car incident in turn one with all drivers okay after exiting their cars to survey the damage.
Wight, Billings, Danny Varin, Jason Barney from 21st and Scott Holcomb would be the top-five when the race went back to the green.
After a lap-14 yellow and restart it looked like Wight was going to cruise to the win as he pulled away from the field until a caution on lap-22 changed the whole race.
On the restart Barney would grab a narrow lead as the entered turns one and two. Going into turns three and four and hard racing Barney and Wight tried occupying the same space and would see Wight get turned around bringing out a yellow.
When the green came back out Barney and Varin put on a show running side by side and within inches of each other that would see Varin picking up the narrow win over Barney at the checkers. Matt Billings, Billy VanInwegen and Scott Holcomb finished third through fifth.
The Brewerton Speedway will come back to life in a huge way on Friday night, September 15 when Gilliee's CITGO Lubricants will present "The Duel at the Demon" 100 lap Modified Super DIRTcar Series plus the DIRTcar Sportsman Championship Series. Please check www.brewertonspeedway.com frequently and the Facebook page www.facebook.com/BrewertonSpeedway for more information in the coming days.
Any questions you might have and for 2018 marketing opportunities please contact Cory Reed at (315) 593-6531 or cory@brewertonspeedway.com.
Schneider Packaging Equipment Company, Inc. September 1 Championship Night
(Tracey Road Equipment Modifieds 35 Laps) – CHRIS HILE, Mike Mahaney, Jimmy Phelps, Billy Decker, Chad Phelps, Max McLaughlin, Tim Sears Jr., Larry Wight, Pat Ward, Adam Roberts, Tom Sears, Tim Kerr, Mike Bowman, Matt Hulsizer, Lee Gill, Andrew Ferguson, Matt Hitchcock, Dan Vauter, Jeff Blackburn, Roy Bresnahan, Jim Witko
(2017 Tracey Road Equipment Modified Track Champion) – Billy Decker
(SUNY Canton Sportsman 25 Laps) – NICK KRAUSE, Ron Davis III, Brent Joy, Rich Townsend, Kyle Fink, Amy Holland, Glenn Forward, Alan Fink, Zach Sobotka, Mike Stanton Jr., Stephen Denton, Joe Isabell, Tyler Thompson, Tyler Trump, Chris Hulsizer, Chris Cunningham, Tim Schneider, Rocco Leone, Earl Rudy, JJ Courcy, Ricky Yelle, Jeff Taylor, Jackson Gill, Jake Petiit, Todd Root.
(2017 SUNY Canton Sportsman Track Champion) – Ron Davis III.
(Brooke Teachout $500 Winners Bonus) – Nick Krause.
(SUNY Canton Sportsman B-Main 15 Laps 6-Qualified) – Jeff Taylor, Tim Schneider, Joe Isabell, Ricky Yelle, Jake Petit, Jackson Gill, Tony Komuda, Joe Sobotka, Dan Dupra, Torrey Stoughtenger, Kenny Ryder.
(Firehouse Subs Mod Lites 20 Laps) – ZACK BABCOCK, Brian Meyers, Jeff Sykes, Casey Sykes, Justin Williams, Mike Mullen, Nick Graziano, Lowell Zehr, Dave Brown, Tucker Halliday, Kelly Skinner, Peter Siravolo, Sam Usborne.
(2017 Firehouse Subs Mod Lite Track Champion) – Justin Williams.
(Lucas Oil Empire Super Sprints 25 Laps) – DANNY VARIN, Jason Barney, Matt Billings, Billy VanInwegen, Scott Holcomb, Sam Reakes, Brandon Kidd, Jeff Cook, Tommy Wickham, Matt Tanner, Dave Axton, Larry Wight, Paul Kinney, Kelly Hebing, Erick Karlsen, Chad Miller, Brett Wright, Darryl Ruggles, Dalton Harrick, Paulie Colagiovanni, Pete Richardson, Jonathan Preston, Shawn Donath, Coleman Gulick.