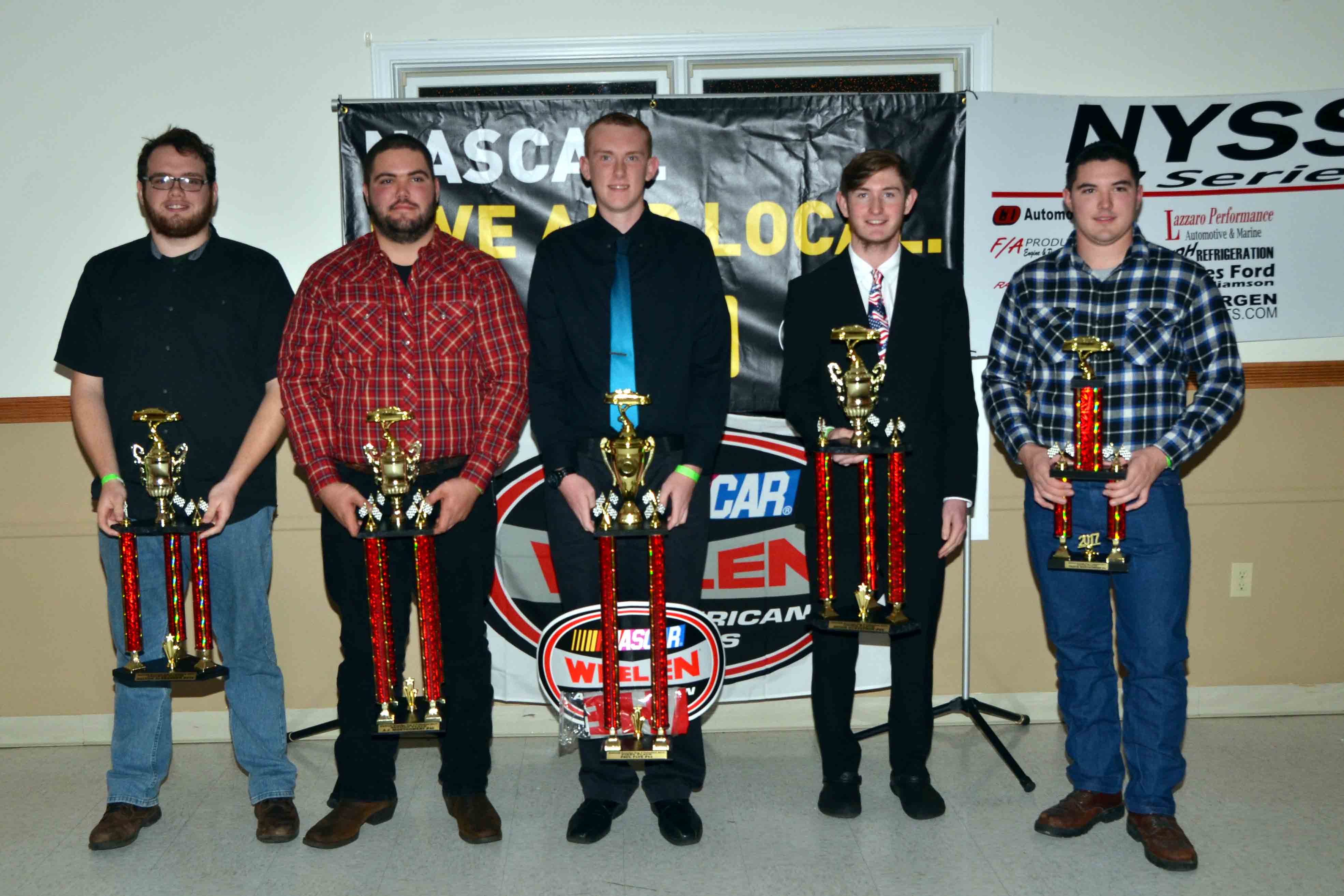 TOMMY CATALANO PICKS UP FIRST SPENCER NASCAR SUNOCO MODIFIED CHAMPIONSHIP; CHRIS VOGLER TOPS NEW YORK SUPERSTOCKS
Story By: Gary Spaid/Spencer Speedway
Photos By: Mark Ranalletta/RacersGuide.com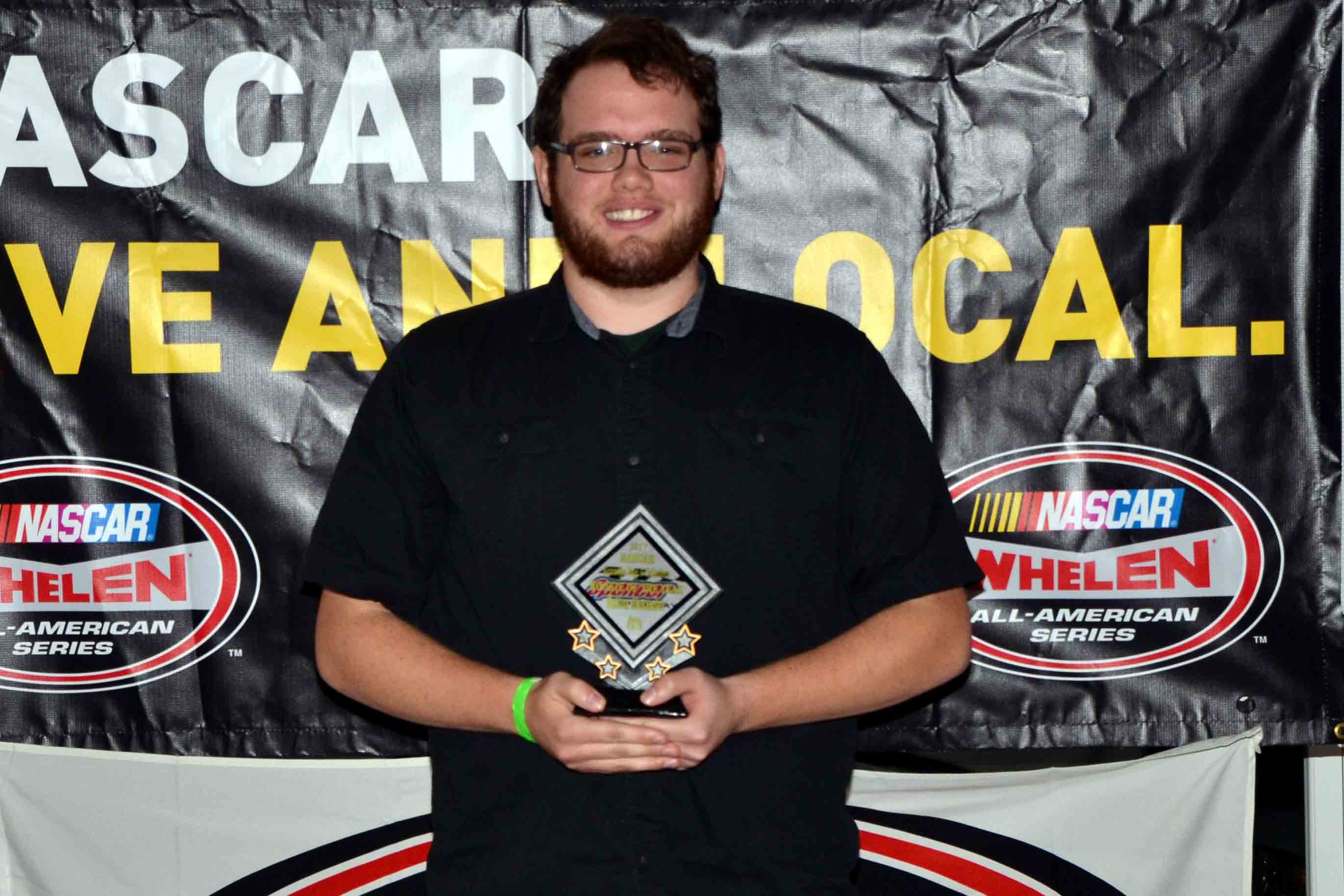 PALYMRA, NY…On Friday, November 3, a combined New York SuperStock and Spencer Speedway banquet was held at the VFW Post just outside of town. This year's banquet was put together by Bobby Lippa and was very well attended. The banquet also included honors for the NY SuperStocks, including their 2017 champion, Chris Vogler. Tommy Catalano earned his first NASCAR Sunoco Modified Track Championship at Spencer.
The top ten in each NASCAR division were honored, despite a somewhat appreciated season, running only seven races due to wet weather on Fridays throughout the summer.
"I am humbled to receive such an award from NASCAR," stated Catalano. "Winning the title at Spencer I join the likes of my uncle Buck and my mom, Amy."
Multi-time track champion Mike Leaty came home in second followed by last year's champion Kevin Timmerman. Rounding out the top five in the Sunoco Modifieds were Eddie Hawkins and Daryl Lewis Jr.
Amy Catalano was unable to attend the banquet so when her name was announced, her six year old son Troyer Catalano came forward to accept her award. Troyer did an excellent job during the interview on stage. When asked if he wanted to be a race driver like mom, he replied he "was" a race car driver, competing at the local microd track in Sodus.
In the NASCAR Super Six class, Barrett Schenk repeated as champion, having won his first division title last year. Schenk only one once in 2017, but he had six top fives to back up his championship.
Coming home in second in the Super Six class was the 2014 division champion, Brandon Allen. Third went to Ashley Schoonmaker. Rounding out the top five were one time champion Bill Hallett and two time track champion Tim Faro.
The Grandpa Dog Four Cylinder class saw Paul Flye win his first track title. Flye won twice in 2017. He also backed up his wins with all top five finishes. A.J. Montgomery, Jacob Gustafson, Dalton Alexander and Travis Montgomery made up this year's top five in NASCAR track points.
On the New York SuperStock side of the banquet, that division ran eight races in 2017. Chris Vogler took top honors claiming his first series title. Again the top ten were honored with awards.
Special awards were also announced.
SuperStock champion, Chris Vogler, picked up the new John Flock Memorial Award for helping others. John and his wife were always at the track handing out candy, so what better award then a special candy dish.
This year's Award for Dedication went to Dave Catalano, who sacrificed his own rides to keep his entire family behind the wheel of their race cars. Dave also earned the Sportsmanship Award for the year.
The Outstanding Office Staff went to the Toal/D'Hondt family; Marilyn Toal, Colleen and Meghan D'Hondt. Both Doug Montgomery and Dave Johnston picked up Outstanding Service Awards, while Dave's wife Liz earned a special recognition award for her help on race nights.
Jody London received a special Award for Excellence for his work on aligning sponsors for his father, Dave London's Memorial race for NY SuperStocks. He was also honored by the Grandpa Dog Four Cylinders.
Greg Gustafson, who wrenched his son, Jacob's six cylinder car picked up The Mechanic of the Year Award and a special Super Six Sportsmanship award. Jacob also received the special NASCAR College award from UNOH for Youth Achievement.
NEW YORK SUPERSTOCKS TOP 10 in POINTS
1) Chris Vogler 375, 2) Zach Willis 345, 3) Dylan Bancroft 342, 4) Steve Pesarek 326, 5) Chris Finocchario 324, 6) Nate Peckham 286, 7) Mike Hyman 265, 8) Billy Coyle 258, 9) Josh Schoonmaker 239, 10) Kenny Atkins 230
2017 SPENCER SPEEDWAY POINTS
NASCAR SUNOCO MODIFIEDS: 1) Tommy Catalano 413, 2) Mike Leaty 389, 3) Kevin Timmerman 376, 4) Eddie Hawkins 372, 5) Daryl Lewis Jr. 360, 6) Amy Catalano 336, 7) Andy Lewis 314, 8) Chris Finocchario 276, 9) Timmy Catalano 267, 10) Kreig Heroth 248.
NASCAR SUPER SIXES: 1) Barrett Schenk 416, 2) Brandon Allen 410, 3) Ashley Schoonmaker 392, 4) Brian Hallett 370, 5) Tim Faro 355, 6) Andy Cocilova 310, 7) Alison Knoepfler 308, 8) Bill Inch 287, 9) Chris Connors 283, 10) Van Grant 271.
NASCAR GRANDPA DOG FOUR CYLINDERS: 1) Paul Flye 420, 2) A.J. Montgomery 381, 3) Jacob Gustafson 379, 4) Dalton Alexander 364, 5) Travis Montgomery 348, 6) Corey Copeland 342, 7) Dave Heimes 317, 8) Allie Montgomery 245, 9) Ryan Brown 229, 10) Maddy Virts 187.