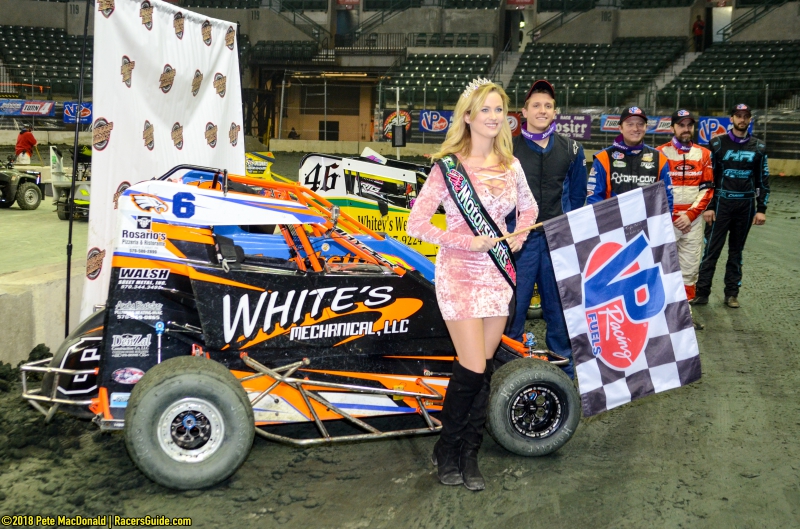 CARBER, KIDD III, RUDOLPH AND WHITE WIN WINGLESS 600 SPRINT INDOOR DIRT FEATURES THURSDAY NIGHT AT TRENTON'S CURE ARENA, WHITMOYER TOPS IN SLINGSHOTS; ACTION CONTINUES ON FRIDAY NIGHT AT 7 PM AND SATURDAY NIGHT AT 5 PM
Story By: Ernie Saxton/East Coast Indoor Nationals
Photos By: Pete MacDonald/RacersGuide.com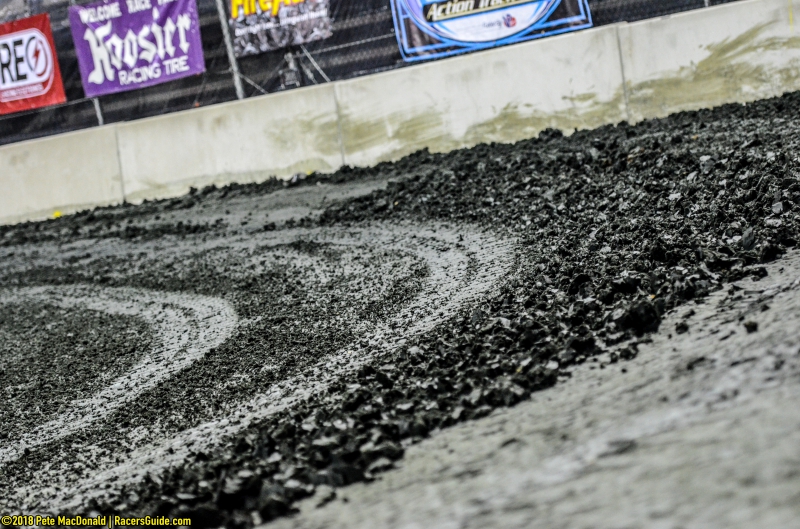 TRENTON, NJ December 13, 2018 . . . Brian Carber, Whitey Kidd III, Erick Rudolph and Collin White were the four winners of the 20-lap A-Main Wingless Sprint Qualifiers on Night One of the Second Annual East Coast Dirt Nationals inside Trenton, NJ's CURE Insurance Arena.
In Slingshot feature action, Craig Whitmoyer, an accomplished Sportsman and Small Block Modified campaigner, won the 20-lap feature ahead of Danny Buccafusca, Anthony Raisner, Brett Bieber and Austin Silfee.
Earlier Wingless 600 Sprint racing, consisting of six 10-lap heat races that determined the starting order for the A Main Qualifiers were won by Joe Dopke, Jack Conover, Rudolph, Andrew Hannula, White and Austin Quick.
Slingshot heat races were won by Jared Silfee and Joe Toth.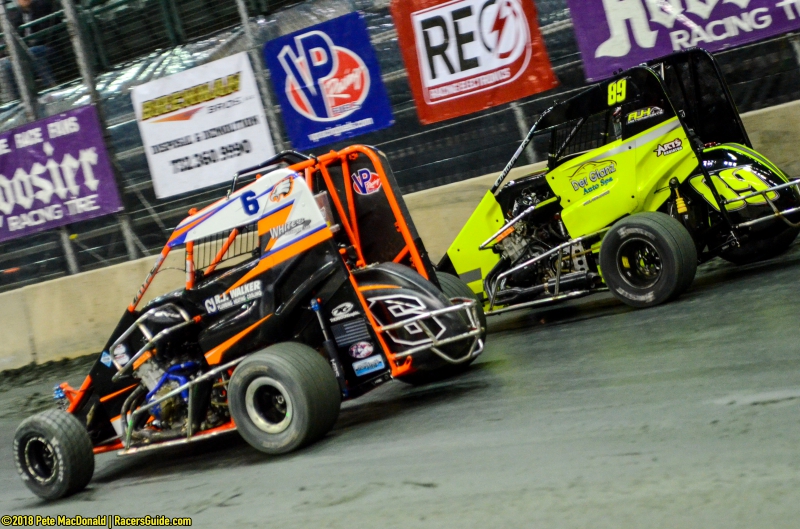 The Dirt Nationals for Wingless 600 Sprints continues Friday, December 14th with the second round of split group qualifying which showcases the second 60 entrants running in qualifying feature events. Champ Karts are the co-feature Friday highlighted by a 20-lap feature.
On Saturday, December 15th, all 120 Wingless 600 Micro competitors will be competing for a spot in the $5,000 to win 50 lap A-Main. Racing starts at 7 PM on Friday and 5 PM on Saturday.
On Saturday, with all120, 600 Sprints on hand, Alphabet Mains are scheduled, with racers having the opportunity to advance from G, F, E, D, C, and B, that will precede the 50-lap A-Main paying $5,000 to win.
Information, including a link for advanced tickets, is available at indoorautoracing.com. Tickets are also available each day at the arena box office.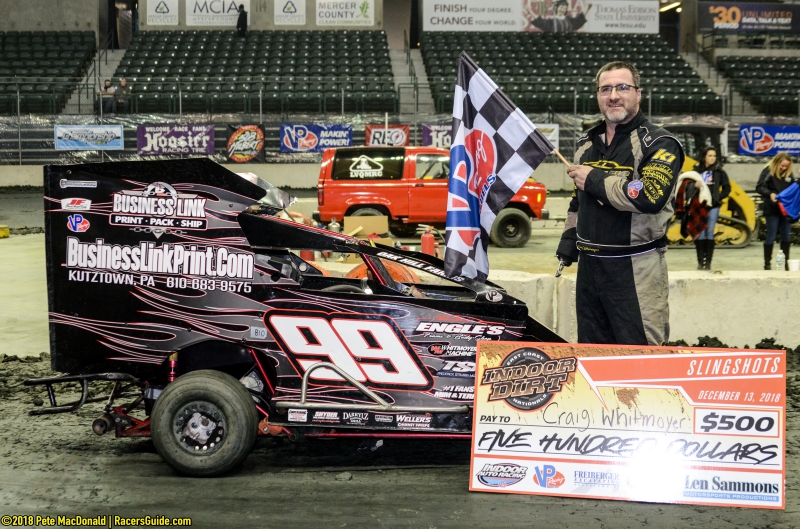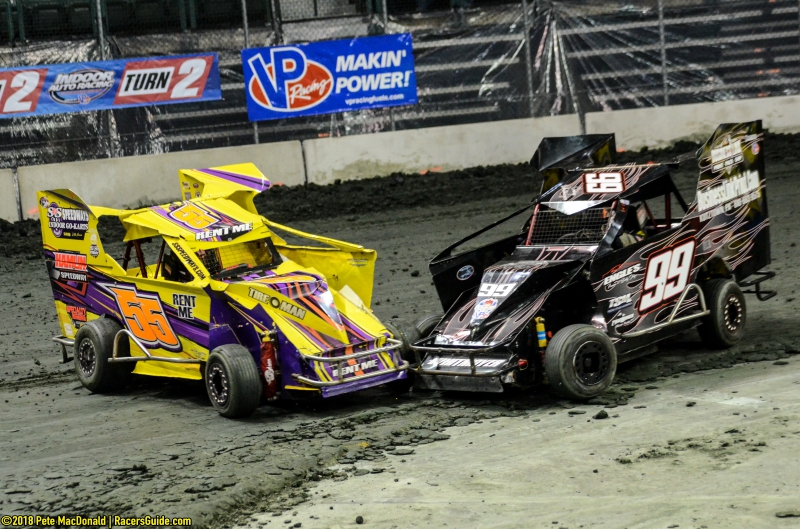 Slingshot A Main Finish (20 Laps): 1. Craig Whitmoyer, 2. Danny Buccafusca, 3. Anthony Raisner, 4. Brett Bieber, 5. Austin Silfee, 6. Cody Kline , 7. Seth Spayd, 8. Kurt Bettler, 9. Tom Arntz, 10. Kyle Herve, 11. Joe Toth, 12. Thomas Mowery, 13. Mike McLaughlin, 14. Jared Silfee, 15. Neil Rutt III, 16. Dan Morgiewicz Jr., 17 Brett Putnam, 18. Dylan Hoch, 19. Dakota Kessler, 20. Steve Svanda.
First Wingless Sprint Qualifier (20 Laps – Top 2 Qualify For Sat. A Main ): 1. Brian Carber, 2. Billy Covert, 3. LaVar Scott, 4. Mike Butler, 5. Ayrton Gennetten, 6. Joe Trenca, 7. Luke Schosetwitz, 8. Jason Swavely, 9. Christopher Robinson, 10. Johnny Smith Jr., 11. Zach Bealer, 12. Austin Quick, 13. Brad Smith, 14. David Schilling.
Second Wingless Sprint Qualifier (20 Laps – Top 2 Qualify For Sat. A-Main): 1. Whitey Kidd III, 2. Doug Snyder, 3. Pat Bealer, 4. Aiden Borden, 5. DJ Shuman, 6. Joe Dopke, 7. Jason Muldowney, 8. Brendon Bright, 9. Zach Fisher, 10. Wayne Scott, 11. Scotty Smith, 12. Connor Leoffler, 13 Ryan Berenty.
Third Wingless Sprint Qualifier (20 Laps – Top 2 Qualify For Sat. A-Main): 1.Erick Rudolph, 2. Brett Altemose, 3. Damon Paul, 4. Hunter Metzger, 5. Chris Locuson, 6. Jimmy Glenn, 7. Ryan Flores, 8. Anthony Sesely, 9. Jack Conover, 10. Kameron Morral, 11. Steve Svanda, 12. Seve Bracall.
Fourth Wingless Sprint Qualifier (20 Laps – Top 2 Qualify For Sat. A Main): 1. Collin White, 2. Ryan Greth, 3. Andrew Hannula, 4. Richie Hartman, 5. Carl Locuson, 6. Billy Murphy, 7. Will Butler, 8. Mike Austin, 9. Fred Hehnly, 10. Matt Pfanter, 11. Donald Bochelle, 12. Lucas Wolfe.