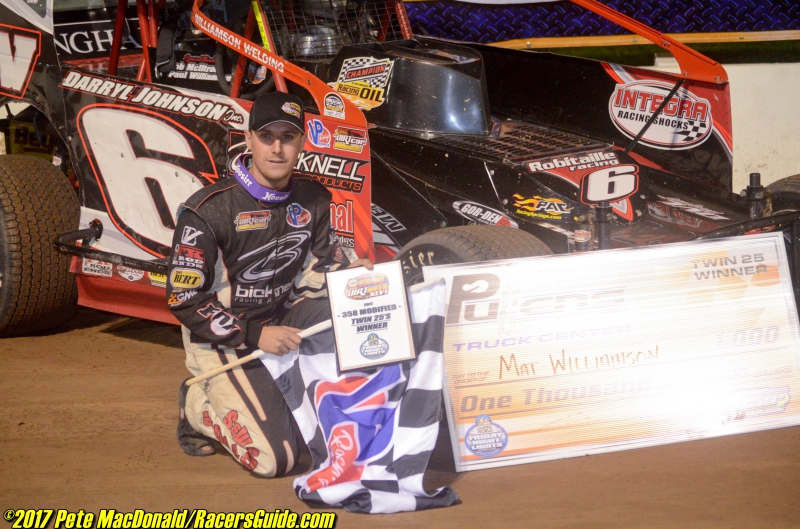 Canadian Williamson and Australian Britten Make Late Race Passes to Score Pullen Truck Center 358 Twin 25s
Story By: Colby Gornewicz/DIRTcar
Photos By: Pete MacDonald/RacersGuide.com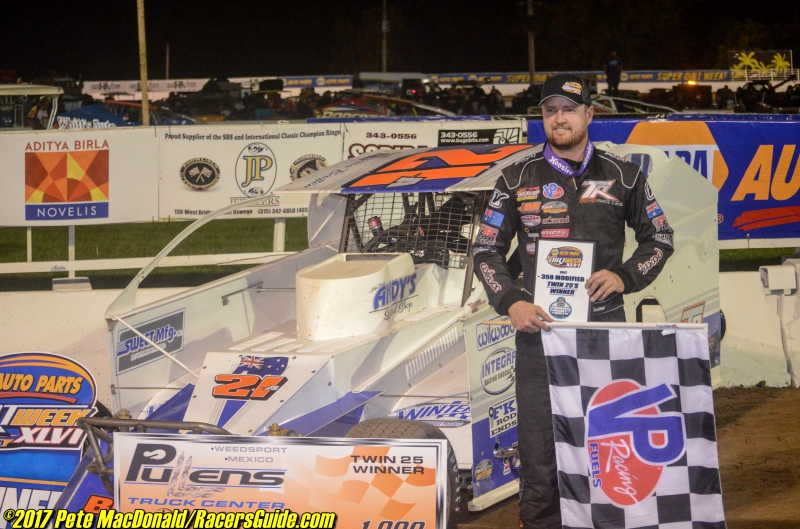 Oswego, NY — October 6, 2017 — Mat Williamson continued his outstanding NAPA Super DIRT Week performance with a thrilling victory in the first of the 358 Modified Twin 25s. Tim Fuller set the pace from the pole and led the first handful of laps comfortably before reaching heavy-lapped traffic on the 10th circuit.
Fuller was masterful in traffic as it became clear that Williamson was quicker than the Watertown native in clean air. Each time Williamson would close in, Fuller would flex his muscles in lapped traffic and re-extend his lead.
With five to go, Williamson was once again on the back bumper of the 3RS machine. On lap 22, Williamson made his move. The Canadian dazzled the packed house, splitting a lapped car and Fuller for the lead off of turn four. Fuller did his best to turn back under Williamson to no avail, crossing the finish line .657 seconds after the St. Catherines, Ontario native.
"Later in the race we got better, and it looked like [Fuller] got a little freer. Luckily, we were able to capitalize on it," an excited Williamson said in Victory Lane. Williamson, who won Tuesday's satellite show at Utica-Rome, had high praise for the NAPA Super DIRT Week track crew. "This was one of the best places I've ever raced at. It's pretty awesome how great the surface is this year," he added.
Fuller settled for second. "It was a good practice run," he said. "We just need to make a few adjustments before tomorrow."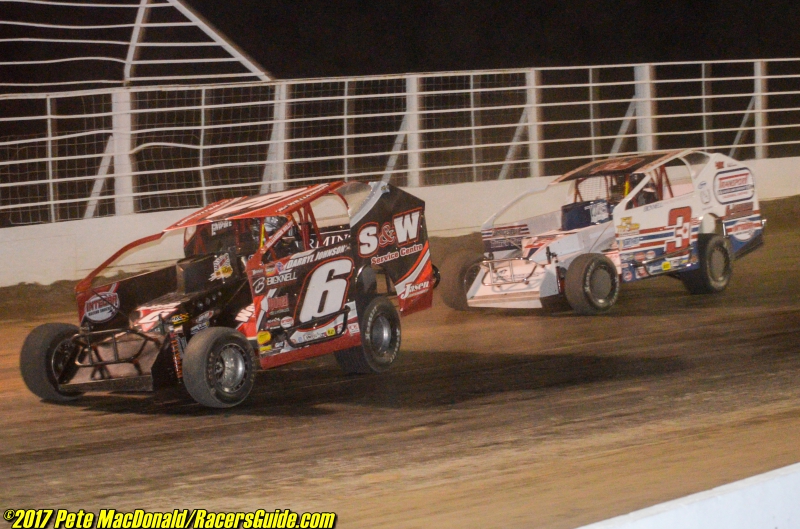 While all eyes focused on the hectic battle for the lead, Billy Dunn continued his surge forward from twelfth to third. Alan Johnson and Pat Ward completed the top five.
Gary Lindberg, Tommy Flannigan, Marc Johnson, Danny Johnson, Billy Decker, Ron Davis III, Kenny Tremont Jr., Tyler Meeks, Mario Clair, Kody Graham and Corey Wheeler rounded out the transfers into Saturday's Great Outdoors RV 150.
The second Pullen Truck Center Twin 25 got off to a hairy start with cautions on laps three and four and a pair of red flags on laps six and seven. The lap six Red Flag was result of a 15-car melee on the backstretch after Larry Wight and Erick Rudolph got together battling for third. Subsequently, Michael Parent spun and the melee ensued.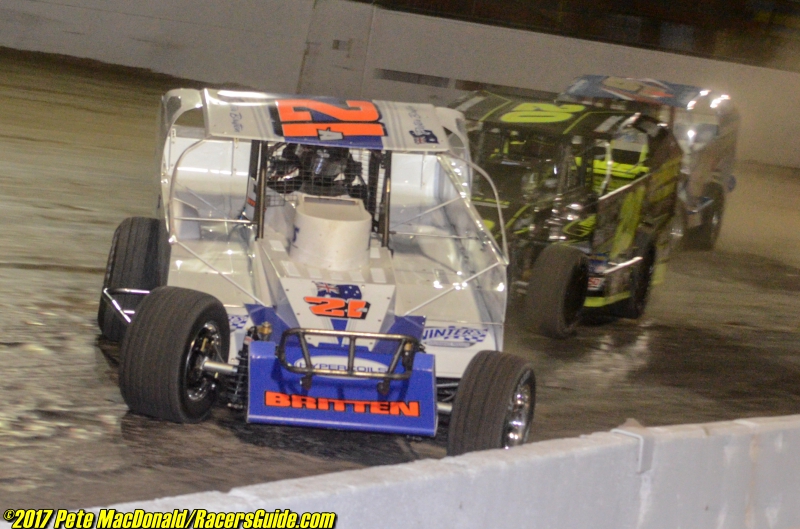 Once action resumed, Matt Sheppard continued to show the way, he and Peter Britten clearly establishing themselves as the class of the field extending a sizeable advantage over third-place runner Stewart Friesen, who started tenth. Britten stayed right with Sheppard as the duo reached traffic.
Sheppard and Britten went side by side down the backstretch on lap 20 with the latter looking to get by on the bottom. Sheppard tried to slam the door shut in turn three, but slid across the track allowing Britten to hook the bottom and take the lead down the long front stretch. After taking the lead, Britten drove away convincingly for the victory.
"I could see Matt (Sheppard)'s car getting progressively looser," a relieved Britten said. "I felt I had a good shot at him all race. My car was great all night. I could roll the bottom; I could roll the top."
Sheppard and Friesen completed the podium. Eleventh-starting Brett Hearn and Chris Raabe completed the top five. Carey Terrance, who finished third in last year's Big-Block Champsionship Feature, charged from 15 to finish sixth.
Billy Whittaker, Matthew Janiak, Mike Butler, Wight, Dominic Buffalino, J.R Heffner, Ryan Godown and Mike Maresca all transferred to Saturday's Great Outdoors RV 150.
The 358 Modifieds will have a Last Chance Qualifier setting the field for Saturday afternoon's Great Outdoors RV 150. The winner will receive a lucrative $20,000 payday.