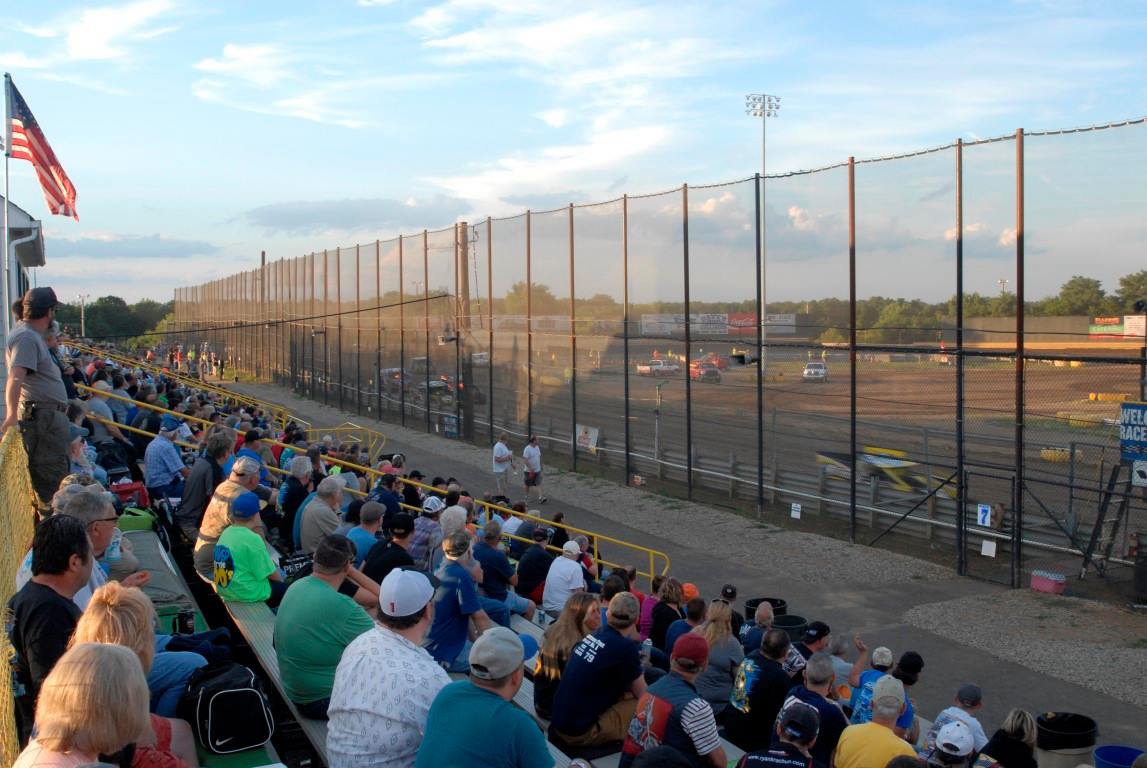 BUFFALINO AND STANGLE OUTDUEL COMPETITION IN FRONT OF HUGE CROWD TO GAIN VICTORIES AT NEW EGYPT SPEEDWAY'S GARDEN STATE GUNFIGHT
Story By: Mike Wisniewski/New Egypt Speedway
Photos By: Dave Kovacs & John John Lane/RacersGuide.com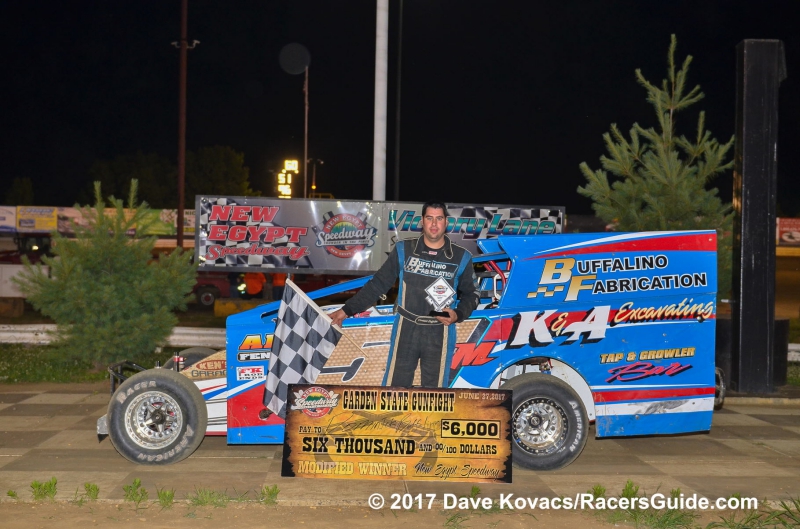 New Egypt, NJ (June 28, 2017) – At New Egypt Speedway's Garden State
Gunfight, Dominick Buffalino fought off his rivals to win the 60-lap
Modified feature while Matt Stangle bested the field in the 25-lap Sportsman
event.
As the Modified feature got underway, Wade Hendrickson grabbed the lead with
Steve Davis and Ryan Godown next in line. Godown would advance into the
runner-up spot with six circuits completed. With ten laps recorded, Godown
was cutting into Hendrickson's margin with Davis in third and Anthony
Perrego in fourth. Godown pulled even with Hendrickson on the twelfth lap
and took over the lead one tour later. As the green flag circuits clicked
away, Godown began to approach the tail end of the field on the eighteenth
lap with Perrego in second. With the top two runners in the midst of lapping
cars, Billy Pauch, Jr. and Dominick Buffalino were making moves to gain
third and fourth place respectively by the twenty-first revolution. As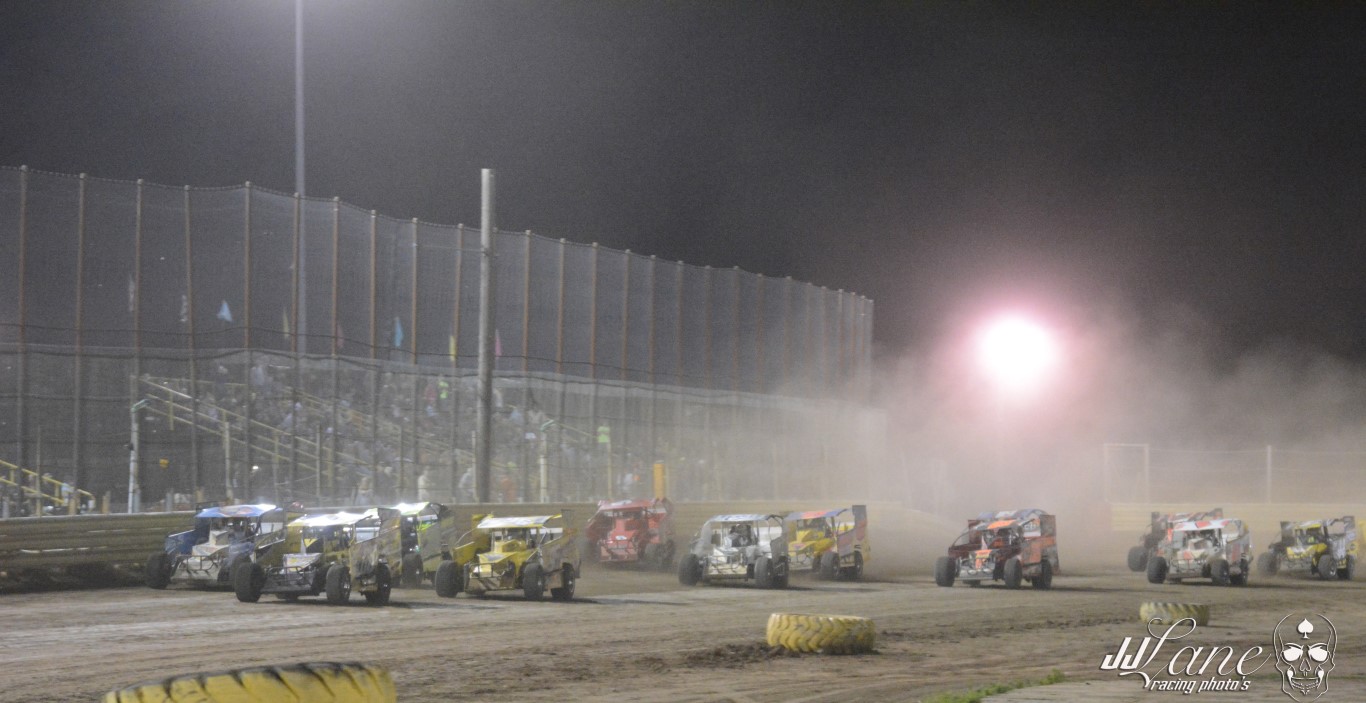 Perrego was closing in on Godown, the first caution of the event took place
as Rick Laubach collided hard with the outside wall in turn one and
collected Brett Kressley in the incident. On the ensuing restart, Godown
maintained his edge with Buffalino jumping into second, Pauch, Jr. staying
in third and Perrego dropping back into fourth. The high line running
Buffalino began to challenge Godown for the top spot when PJ Oliver's ride
slowed on lap twenty-eight. When green flag racing resumed, Godown and
Buffalino dueled for two tours with Buffalino switching to the inside lane
to take command of the contest just before the caution flag waved for the
mid-race fuel stop. At the halfway point, the top five runners were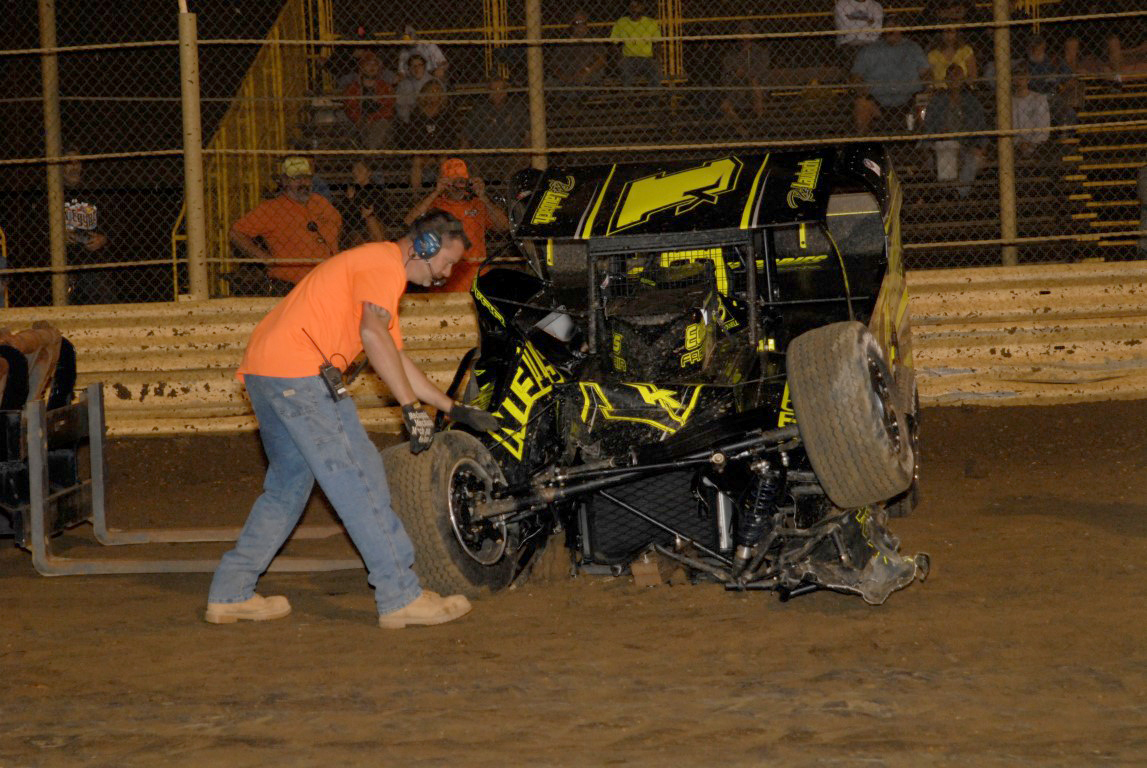 Buffalino, Godown, Perrego, Pauch, Jr. and Davis. After the brief break,
action returned with Buffalino still on top but Pauch, Jr. taking over
second. Pauch, Jr., who started the event in fourteenth, catapulted to the
front on the thirty-third lap following a caution period for Ryan Krachun.
Once on top, Pauch, Jr. began to distance himself from his foes with
Buffalino and Godown dicing for second with twenty laps remaining in the
contest. Five tours later, Buffalino was slowly carving into the comfortable
margin that Pauch, Jr. had established. By the forty-sixth lap, the top two
began to enter lap traffic. Over the next several revolutions, Buffalino
began to slice into the leader's advantage. With only four tours left,
Buffalino had reeled in Pauch, Jr. and was ready to contend for the lead. On
lap fifty-seven, Buffalino motored by Pauch, Jr. to assume the front running
spot. Buffalino paced the field for the final circuits to claim the $6,000
first place prize. Pauch, Jr. came home in second with Godown claiming
third. Duane Howard drove up from his twelfth place start to finish in
fourth. Perrego's strong run netted him fifth. The Modified heat winners
were Danny Bouc, Rick Laubach, Ryan Godown and Dominick Buffalino. Frank
Cozze and Jeff Strunk were victorious in the consolation races.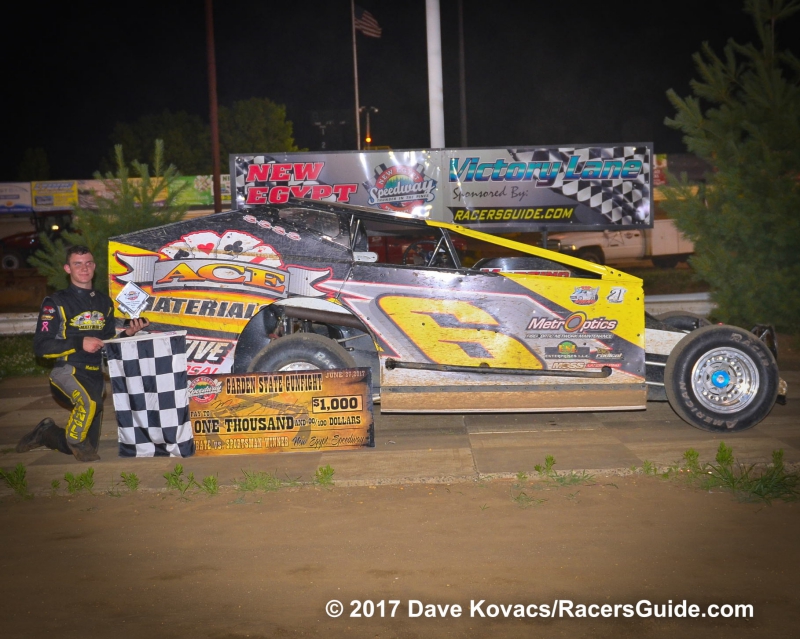 In the 25-lap Sportsman event, Matt Stangle gained the lead on the sixteenth
lap and remained on top to collect the victory. Steve Davis led the opening
fifteen tours before Stangle assumed the advantage following a restart.
Second place was taken by Mike Lyons. Involved in a caution on the eighth
circuit, JR Fulper came from the back of the pack to finish in third place.
Jim Housworth, who started the race in eighteenth, was fourth with Jason
Dunn taking fifth. Mike Lyons, Steve Davis, Jason Bittner and Jason Dunn won
the Sportsman qualifying races. The consolation contests were taken by Tommy
Tanner and Jim Housworth.
On Saturday, July 1 at New Egypt Speedway, the Firecracker 40, presented by
48 Barriers.com, will see the 358 Modifieds competing in a 40-lap feature.
The Northeast Wingless Sprint Cars, Hammer Sportsman and an amazing
fireworks display will be on the docket as well. The grandstand and pit
gates open at 4:00 p.m. Warm-ups get underway at 6:00 p.m. and racing starts
at 7:00 p.m. Admission to the grandstand is $25, $23 for seniors 65 & older,
$15 for teens 12-15, $15 for military personal and their spouses with ID,
and kids 11 & under are FREE. Pit admission is $30 with a New Egypt Speedway
license and $40 with no license.
New Egypt Speedway is located on Route 539 just minutes from Six Flags Great
Adventure and the New Jersey Turnpike. A racy 7/16-mile D-shaped dirt
oval, New Egypt Speedway serves Garden State race fans with some of the best
competition in the country. New Egypt's state-of-the-art facilities feature
daylight-quality lighting and excellent sightlines from any seat in the
house. The grandstands are fully wheelchair accessible with wide, clear,
and well-groomed walkways. Concession facilities serve up everything from
Jersey Burgers to ice cream treats at family-friendly prices.
For more information, visit online: www.newegyptspeedway.net, "Like" us on
Facebook at www.facebook.com/newegyptspeedwayofficial, or follow us on
Twitter @nesspeedway.
NEW EGYPT SPEEDWAY RESULTS – TUESDAY, JUNE 27, 2017 – GARDEN STATE GUNFIGHT
Modifieds
Heat 1 – 1. Danny Bouc 2. Anthony Perrego 3. Brett Kressley 4. Jimmy Horton
Heat 2 – 1. Rick Laubach 2. Duane Howard 3. Wade Hendrickson 4. Billy Pauch,
Jr.
Heat 3 – 1. Ryan Godown 2. Ryan Krachun 3. John McClelland 4. David Van Horn
Heat 4 – 1. Dominick Buffalino 2. Steve Davis 3. Tim Buckwalter 4. Jimmy
Blewett
Consolation 1 – 1. Frank Cozze 2. Lou Cicconi 3. PJ Oliver 4. Kevin
Vaclavicek
Consolation 2 – 1. Jeff Strunk 2. Ryan Watt 3. Andrew Bohn 4. Keith Hoffman
DNQ: Chris Grbac, Brandon Grosso, Bryan Kuhl, Chad Barney, John Pakenham,
Willie Osmun, Rich Rutski, Sam Martz, John Willman, Steve Young
MODIFIEDS – 60 LAPS FEATURE
1. DOMINICK BUFFALINO 2. Billy Pauch, Jr. 3. Ryan Godown 4. Duane Howard 5.
Anthony Perrego 6. David Van Horn 7. John McClelland 8. Frank Cozze 9. Danny
Bouc 10. Lou Cicconi 11. Jimmy Blewett 12. Brett Kressley 13. Andrew Bohn
14. Steve Davis 15. Wade Hendrickson 16. PJ Oliver 17. Jeff Strunk 18. Jimmy
Horton 19. Ryan Krachun 20. Keith Hoffman 21. Tim Buckwalter 22. Rick
Laubach 23. Kevin Vaclavicek 24. Ryan Watt
Sportsman
Heat 1 – 1. Mike Lyons 2. Jeremy Martino 3. Cale Ross 4. JR Fulper
Heat 2 – 1. Steve Davis 2. Matt Stangle 3. John Aumick 4. Frank Dorry, Jr.
Heat 3 – 1. Jason Bittner 2. Tom Princiotta 3. Ryan Simmons 4. John
Criscione
Heat 4 – 1. Jason Dunn 2. David Burns 3. Dan Fleming 4. Pat Wall
Consolation 1 – 1. Tommy Tanner 2. Eric Palmer 3. Kyle Kania 4. Dakota
Kessler
Consolation 2 – 1. Jim Housworth 2. Will Dupree 3. Aaron Weaver 4. Mickey
Kessler
DNQ: Joe Dill, Jesse Dill, Bill Liedtka, Johnny Bangs, Marty Resnick, Walt
McIntyre, Billy Osmun, III, George Gareis, Jr., Jason Kosch, Justin Moench,
Jimmy Amato
SPORTSMAN – 25 LAPS FEATURE
1. MATT STANGLE 2. Mike Lyons 3. JR Fulper 4. Jim Housworth 5. Jason Dunn 6.
Frank Dorry, Jr. 7. Jason Bittner 8. John Criscione 9. Kyle Kania 10. John
Aumick 11. David Burns 12. Tommy Tanner 13. Jeremy Martino 14. Cale Ross 15.
Dakota Kessler 16. Tom Princiotta 17. Mickey Kessler 18. Dan Fleming 19.
Steve Davis 20. Will Dupree 21. Pat Wall 22. Ryan Simmons 23. Aaron Weaver
24. Eric Palmer