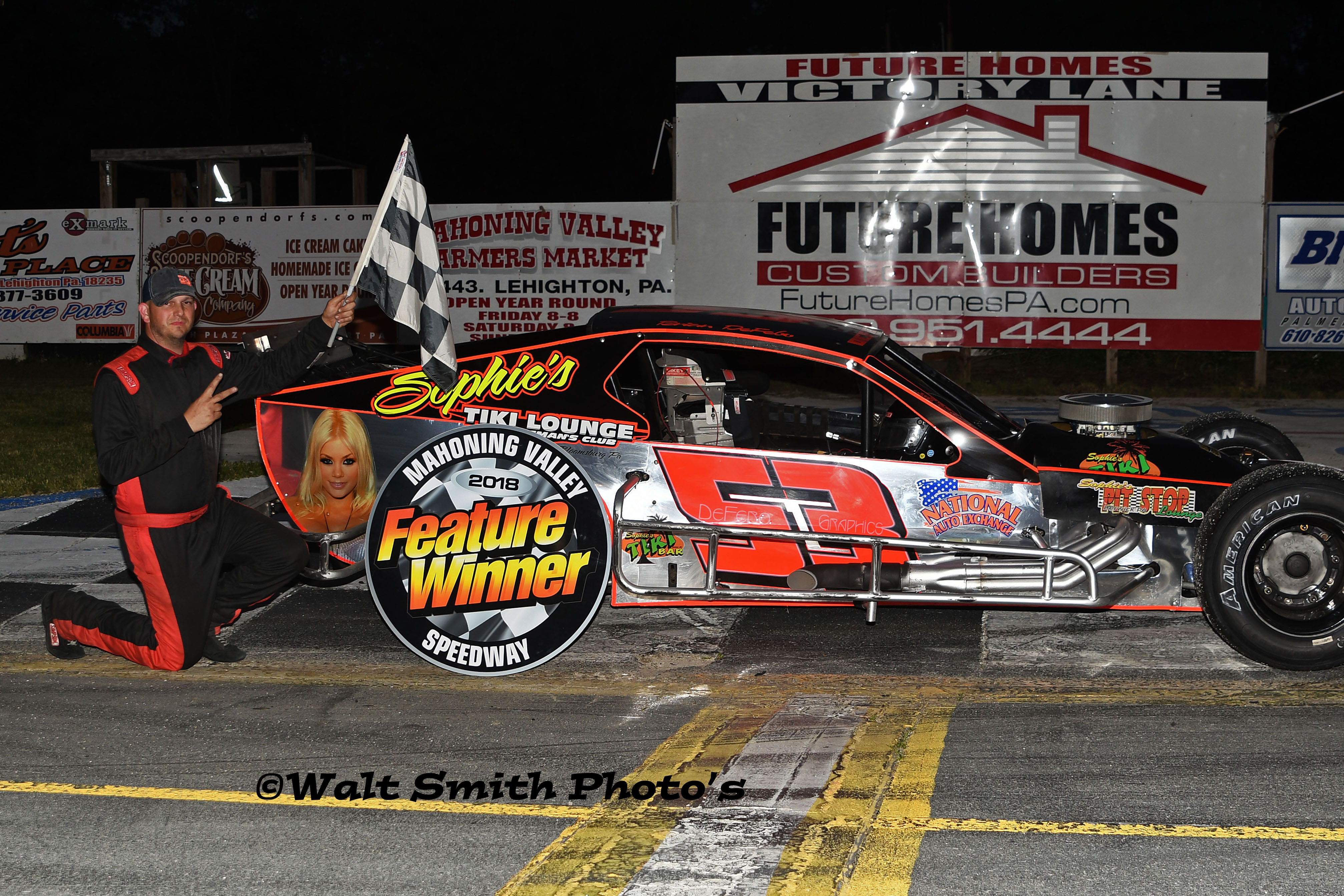 Brian DeFebo rolls to 2nd Mahoning Modified win; Jeremy Miller wins controversial Late Model main
Story By: DINO OBERTO/Mahoning Valley Speedway
Photos By: Walt Smith/RacersGuide.com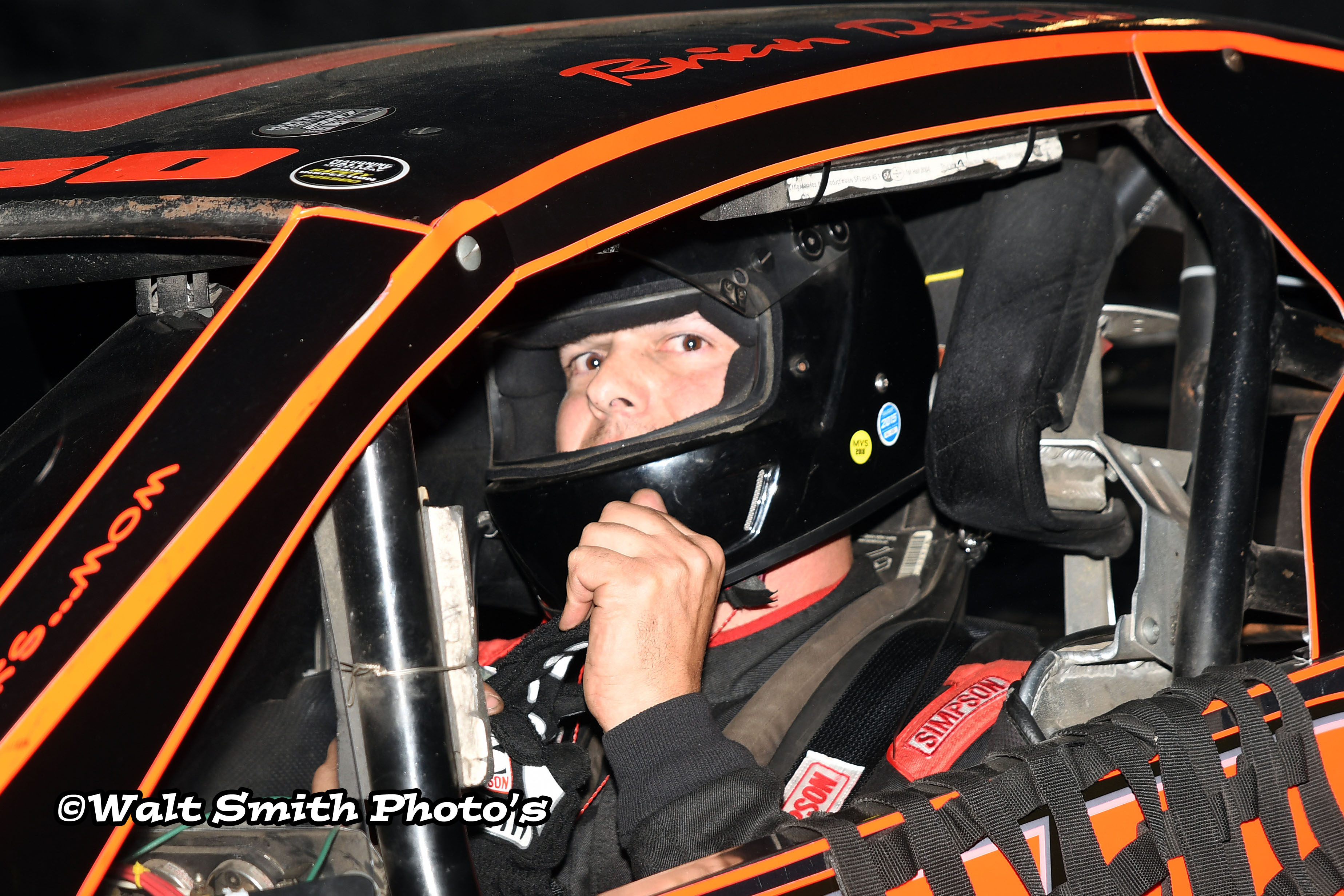 (LEHIGHTON, PA. 6-9-18) Defending Mahoning Valley Speedway Modified champion Brian DeFebo is clearly hitting his stride. For the second time in six races DeFebo raced to victory and in doing so padded his point lead over Bobby Jones.
"You just don't know how long it's going to take to win another race here. It gets me wound up because I drove for 10 years at this track and every time I hop in the car I have that drive that I want to win," said DeFebo who is closing in quickly on 100 career victories, needing only three to attain that milestone.
"I would love to get to that by the end of June."
The win didn't come easy. Gene Bowers took the lead from Nick Baer on lap three and once there was demonstrating excellent power. Thanks to a 20 lap stretch of nonstop racing Bowers was able to pull away from the pack, setting a torrid pace in the process.
Meanwhile Bear, DeFebo and Earl Paules where all busy vying for the runner-up spot. Much credit goes to Baer who did a laudable job of holding back the seasoned vets.
On lap 20 BJ Wambold had a spin and right in front of oncoming Bowers who did a nice headsup job of avoiding him. The caution was out and with it went away the commanding lead.
When the field was ready to re-go, DeFebo, who had just taken over second place, was lined up next to Bowers with Baer and Paules right behind. No sooner did the race resume DeFebo was able to race into the lead where he would stay the rest of the distance.
"He (Bowers) raced me real clean on that restart and I always try to give him as much room as I can. You give respect where it's given and you know who you can give it to and Gene is definitely one of those guys," offered DeFebo.
"I can't thank my mom (Sophie Welsh) enough for giving me the best equipment and the awesome crew, without those guys this car wouldn't go around the track."
Bowers settled for a very solid second, his best finish to date. He continues to show that the winning combination is in short order.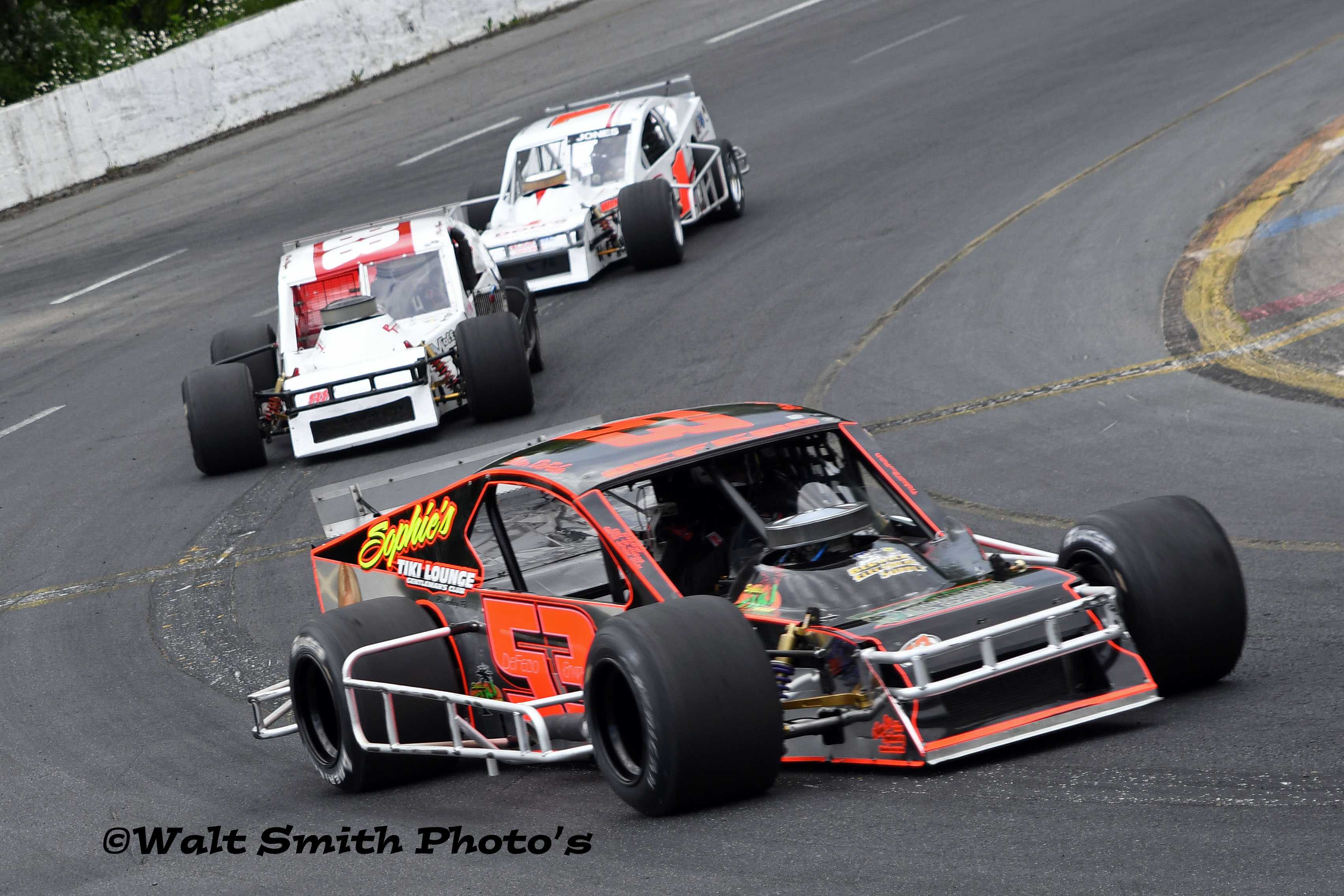 "Brian (DeFebo) is just the class of the field right now. I had a feeling he would be rolling up second to me," said Bowers.
"My guys gave me a great car tonight. It's not quite what it needed to be and we've been struggling some. Today we made a lot of changes and got it better. We're going to work hard in the shop this week and make sure this doesn't happen again."
When it comes to drama in a feature outcome you can't beat Mahoning Valley and the Late Model show was all that and more.
Jerry Miller and Broc Brown had the house on their feet during the final laps. Miller had taken the lead from Brown midway through the 25-lapper.
Brown was not about to back down and despite having to hold off Paul Koehler Jr., he remained fixed on the leader. Over the final few tours it became a scorching battle as Miller protected the inside line, leaving Brown to do his bidding from the topside.
The action then came to a full head on the final lap. With the checkers in sight Brown pulled even with Miller and as they crossed the stripe it would be a photo finish.
After a review of time and scoring it was determined that Brown won the race. That did not bode so well with Miller as he reached out to officials in a protest and race review. As it turned out Brown was found to have an issue with his transponder in terms of proper positioning. He was then placed at the tail end of the lead lap cars and Miller was awarded the verdict.
In the Street Stocks Mark Deysher has shown all kinds of speed this season, running among the leaders almost each week.
This time, after inheriting the lead when Jared Ahner crashed out on lap 12, Deysher was able to seal the deal but not before a fast charging Shayne Geist made a last ditch run to the inside heading towards the finish line. Deysher was able to hold him off by less than a half car length for his first 2018 win.
Mike Stofflet, the reigning Dirt Mod champion, is letting is be known that he is still the man to beat. After a sizzling duel with Billy Lowden Jr., Stofflet got the lead with six laps to go and went on to win for the third time in the last four races.
The Pro 4 race was a bit of an odyssey to say the least as caution fever was prevalent. It effected just about everyone in the field with the exception of young Johnny Bennett who was able to secure the lead on lap five and then stay clear of the chaos and claim the win.
In the Hobby Stocks Trisha Connolly made good use of her pole starting spot as she jumped out front from the outset and never looked back, cruising to a solid first win of the year.
Modified Feature Finish (35 Laps): 1. Brian DeFebo, 2. Gene Bowers, 3. Earl Paules, 4. Bobby Jones, 5. Joey Jarowicz, 6. Roger Coss, 7. Kyle Strohl, 8. Lou Strohl, 9. Nick Baer, 10. Terry Markovic, 11. Avery Arthofer, 12. Cody Geist, 13. BJ Wambold, 14. Rick Kirkendall, 15. Kassidy Altemose, 16. Ron Haring Jr., 17. Roger Heffelfinger Jr., 18. John Markovic
Late Model Feature Finish (25 Laps): 1. Jeremy Miller, 2. Paul Koehler Jr., 3. Franke Althouse, 4. Mike Sweeney, 5. Kenny Hein, 6. Jacob Kerstetter, 7. Rick Smith, 8. Brandon Turbush, 9. Geno Steigerwalt, 10 Broc Brown
Street Stock Feature Finish (30 Laps) 1. Mark Deysher, 2. Shayne Geist, 3. Jon Moser, 4. Jamie Smith, 5. Cody Geist, 6. Ken Erney III, 7. Stacey Brown, 8. Todd Ahner, 9. Jillian Long, 10. BJ Wambold, 11. Lonnie Behler, 12. Jeremy Scheckler, 13. Devin Schmidt, 14. Jared Ahner, 15. Corey Edelman
Dirt Modified Feature Finish (25 Laps): 1. Mike Stofflet, 2. Billy Lowden Jr., 3. Ray Deemer, 4. Corey Edelman, 5. Rick Yetter, 6. Bill Sittler Jr., 7. Vince Fegley Jr., 8. Colton Perry DNS: Dave Chapman
Pro 4 Feature Finish (18 Laps): 1. Johnny Bennett, 2. Jake Kibler, 3. Bobby Kibler Sr., 4. Randy Schaffer, 5. Jeremy Guerra, 6. Steven McDonough, 7. Bill Rooney, 8. Josh Kuronya, 9. Tyler Stangle, 10. Cody Kohler, 11. Tucker Muffley
Hobby Stock Feature Finish (20 Laps): 1. Trisha Connolly, 2. Michael Wambold, 3. Tiffany Wambold, 4. Lyndsay Buss, 5. Travis Solomon, 6. Al Arthofer, 7. Ryan Berger, 8. Beau Drobot, 9. Shawn Kistler, 10. Peyton Arthofer, 11. Hunter Iatalese, 12. Justin Merkel, 13. Devin Schmidt, 14. Tyler Nemeth, 15. Peter Maier, 16. Shayne Geist, 17. Tad Snyder, 18. Colton Breiner DNS: Cody Boehm, Jacob Boehm DNQ: Jake Young