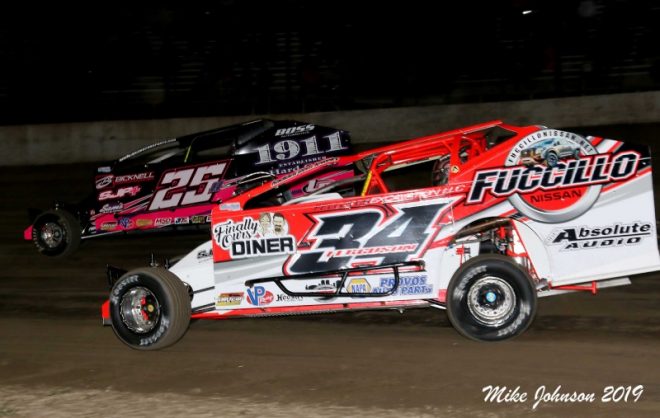 Brewerton Speedway Has Seven Different Modifieds Winners In Eight Races Coming Into Friday, July 19 Race Night
Story By: Dave Medler/Brewerton Speedway
Photos By: Mike Johnson/RacersGuide.com
BREWERTON, NY – If there is one constant in the 800 horsepower Tracey Road Equipment DIRTcar Modified division in 2019 at the Brewerton Speedway is the biggest winners are the fans as they don't know who will end up in victory lane on Friday nights.
Coming into this Friday, July 19 racing, rookie Ron Davis III, Jimmy Phelps, Tim Sears Jr., Pat Ward, Rob Bellinger, Chris Hile have all won a feature event. Tom Sears Jr. is the only driver with more than one win at two.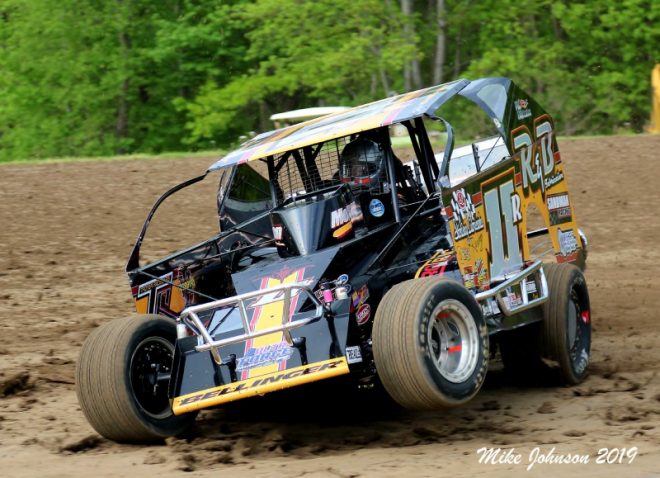 Joining the Modifieds this Friday is the DOT Foods DIRTcar Sportsman, U.S Air Force Mod Lites and the Fleet Repairs Truck & Trailer Repair 4-Cylinders presented by VP Small Engine Fuels & Ferris Mowers.
Admission for the fastest, family affordable fun in Central New York is $12 Adults, 18 years old and younger is free. Pit admission is $27 Participant, $30 Non-Participant. Grandstands open at 5:30 pm with racing at 7:30 pm.
If you're going to the Syracuse Nationals, bring your ticket stub this Friday for half price grandstand admission.
Top Five Division Point Standings:
(Modifieds) – 83x – Tim Sears Jr. (400) 62s – Tom Sears Jr. (396) 91 – Billy Decker (396) 99L – Larry Wight (388) 98H – Jimmy Phelps (364).
(Sportsman) – 8 – Alan Fink (430) 34R – Kevin Root (397) 1 – Mark Yorker (394) 3 – Chris Mackey (392) 38 – Zach Sobotka (384).
(Mod Lites) – 16x – Casey Sykes (364) 10w – Justin Willioams (352) 06 – Mike Mullen (320) 50 – Doug Williams (318) 55 – Joe Garafolo (284).
(4-Cylinder) – 113B – Chris Bonoffski (380) 17 – Chuck Powelczyk (372) 21w – Quinn Wallis (368) 41 – Evan Wright (368).
Brewerton Speedway welcomes Ferris Industries & VP Small Engines Fuels.
Ferris Industries are the commercial mower specialists. They have earned their reputation by delivering their customers high quality products and solutions for over 100 years. You can be sure Ferris will keep you on the cutting edge, with innovative mower designs and technology, for years to come.
Ferris mowers are the only mowers in the industry that offer patented suspension technology. Experience the difference suspension makes! Ferris…Go The Extra Yard!
To see all that Ferris has to offer, and to find a dealer near you please visit www.ferrisindustries.com. As always, remember to support those who support racing.
Why is VP Small Engine Fuel the Perfect Fuel?
First, understand that ethanol in street gas absorbs moisture, forms deposits and degrades the fuel system in your outdoor power tools, making them difficult to start and ultimately requiring expensive repairs.
Prevent ethanol-related problems/ Provide easier, more dependable starts/ remain stable in storage through the off-season and beyond/ Extend engine life/ Avoid costly repairs and rebuilds. VP Small Engine Fuel is available in three blends: 4-Cycle Unleaded Fuel/ 2-Cycle Premixed Fuel +Oil (40:1)/ 2-Cycle Premixed Fuel+ Oil (50:1). To see everything VP Small Engine Fuels can do for you please visit their website at www.vpracingfuels.com/small-engine-fuels/
Any questions you might have and for marketing opportunities contact Cory Reed at (315) 668-6906 or cory@brewertonspeedway.com .
For all the latest news go to www.brewertonspeedway.com and like the speedway Facebook and Twitter pages.