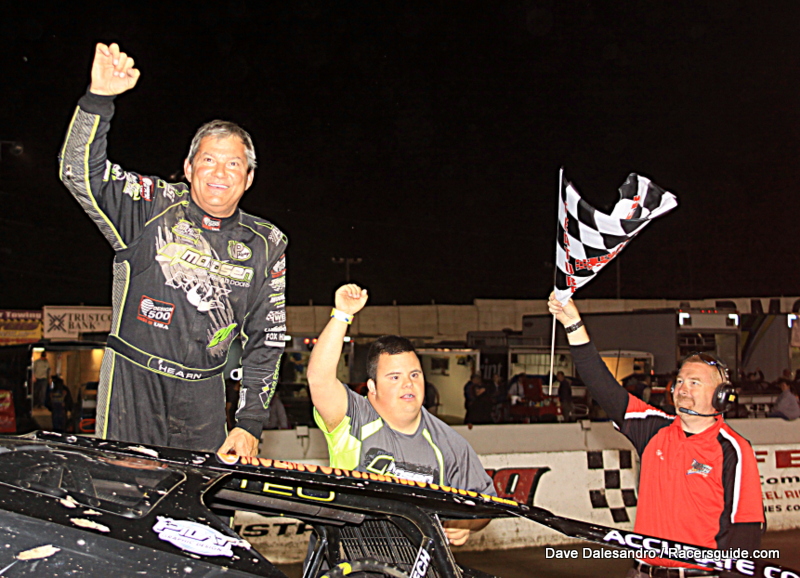 Brett Hearn Blasts Field for 2nd Lebanon Valley Win of 2017
Story By: Phil Allaway/Lebanon Valley Speedway
Photos By: Dave Dalesandro/RacersGuide.com
West Lebanon, NY – Last week, Brett Hearn indicated that he and Madsen Motorsports needed to up their game. They most definitely came to play on Saturday night.
Mike King inherited the pole after Rob Pitcher voluntarily dropped to the rear and led early. However, Andy Bachetti was hot on King's heels. On lap 5, Bachetti was able to sneak past to take the lead.
At the same time, Hearn was on the move. By the time Bachetti took the lead, Hearn was already up to fifth. From there, it was a methodical move to the front. He dispatched of Brian Berger for fourth. Then it was Eddie Marshall (driving Kolby Schroder's backup car) who was dropped like a bad habit.
Hearn eventually ran down Bachetti and made short work of him for the lead on lap 14. From that point on, Hearn pulled away from the pack.
Further back, Kenny Tremont Jr. was quick in his No. 115, but starting 14th really hurt him. With no cautions, he was a long way behind by the time he got to the top five.
Hearn held on through the second half of the feature to claim his second win of the season. Afterwards, Hearn was amazed at the ease in which he claimed victory.
"I thought that my car was good from the start," Hearn said in the pits. "I ran three really hard laps to get myself some distance, then I settled in. They're rarely this easy."
Bachetti, who was strong in his own right, finished second. Eddie Marshall finished third in the Schroder backup. Marshall has taken delivery of a new Teo chassis on Sunday to replace the one thrashed on 5/20. He plans to debut it next weekend at Lebanon Valley.
Tremont ended up finishing in a distant fourth, while Keith Flach was fifth. Through five races, Flach and Bachetti are tied for the points lead.
In the Small Block Modifieds, Peter Carlotto led the field to green and showed a lot of pace. However, he didn't get a chance to show it before heck broke loose.
On the first lap, Jason Herrington got out of shape in turn 4, triggering a chain reaction incident. Sean Mandel, Jason Tompkins, Chad Pierce and Harold Robitaille piled up in turn 4 to bring out the yellow, but they weren't the only ones to get damage. Tremont took a big hit to the right rear that bent a tie rod. Demetrios Drellos cut a tire and was forced to pit to replace it. Herrington was forced to retire from the race due to the incident, but everyone else continued.
Despite a series of early cautions that were semi-related to the early reaction incident, Carlotto was able to maintain his good pace. Bryan McGuire turned some heads with his pace as well.
Sure enough, the faster drivers made their presence known. Brett Haas came up from 13th to battle for the lead. A short battle ensued before the Pittsfield native was able to get past on lap 8. Once he got the lead, Haas believed that he had the race won. Not so fast.
J.R. Heffner was hot on Haas' trail the whole time. Heffner got to Haas just after he took the lead. The two racers spent multiple laps fighting for the lead. On lap 13, Heffner was finally able to make a move for the lead that stuck. From there, Heffner pulled away to take the Small Block victory.
Tremont passed Haas with four laps to go to take second. Drellos came back from his early flat tire to finish in fourth, while Olden Dwyer was fifth.
In Pro Stock, a bumper crop of 27 cars took the green. Unfortunately, it took a little while to get going. Rich Crane spun on the first lap in turn 4 and hit by Jason Casey, making his first start in a regular Lebanon Valley Pro Stock feature since 2013. Both drivers would continue.
On the restart, Dan Cote spun out in turn 1 to draw another caution. Later on, Nick Hilt spun exiting turn 2 to draw another yellow. Later on, Rick Dempsey spun in turn 4 after contact from Jay Corbin. Officials sent Corbin to the rear for causing the spin.
Through all of that action, pole sitter Hugh Page was at the front of the field and setting the pace. However, Rob Yetman was on the move once again, charging up from the 14th starting spot to second by lap 8.
Page gave it his all, but Yetman was able to get past to take the lead on lap 11. From there, Yetman pulled away into the distance. A couple of cautions brought him back to the field, but Yetman held on to take his third win of the year.
Page held on for second in his best race in many years. Jason Meltz was third, followed by Jon Routhier, who started 24th. Victor Hopkins was fifth.
In Pure Stock, Jay Casey, Tom Murphy and Jeff Meltz Jr. The 4-Cylinders had double features. James Street and Joey Morey won Single-Cam features, while Chris Vandeputte and Kenny Stager each won in Dual-Cam.
County Waste/Wohrle's Foods Modified Feature Results (30 laps): 1) Brett Hearn, 2) Andy Bachetti, 3) Eddie Marshall, 4) Kenny Tremont Jr., 5) Keith Flach, 6) Mike King, 7) Brian Berger, 8) Chad Jeseo, 9) Kyle Armstrong, 10) J.R. Heffner, 11) Wayne Jelley, 12) Jeff Heotzler, 13) Matt Pupello, 14) L.J. Lombardo, 15) Kyle Sheldon, 16) Paul Gilardi, 17) Demetrios Drellos, 18) Ken McGuire, 19) Kolby Schroder, 20) Olden Dwyer, 21) Dave McFeeters, 22) Rob Pitcher, 23) Denny Soltis, 24) Mike Keeler
Small Block Modified Feature Results (24 laps): 1) J.R. Heffner, 2) Kenny Tremont Jr., 3) Brett Haas, 4) Demetrios Drellos, 5) Olden Dwyer, 6) Peter Carlotto, 7) Brian Sandstedt, 8) Brandon Pitcher, 9) Bryan McGuire, 10) Frank Harper, 11) Timothy Davis, 12) Jason Tompkins, 13) Sean Mandel, 14) Allison Ricci, 15) Brian Peterson, 16) Alan Houghtaling, 17) Chad Pierce, 18) Frank Hoard III, 19) Ricky Davis, 20) Ray Hall Jr., 21) Jason Herrington
Pro Stock Feature Results (20 laps): 1) Rob Yetman, 2) Hugh Page, 3) Jason Meltz, 4) Jon Routhier, 5) Victor Hopkins, 6) Paul LaRochelle, 7) Todd Hoffman, 8) Rick Duzlak, 9) Jason Meltz, 10) Ed Bishop, 11) Nick Hilt, 12) Jay Corbin, 13) Joe LaFlamme, 14) Rich Crane, 15) Sparky Reilly, 16) Jeff Kelmel, 17) Chuck Towslee, 18) Dan Cote, 19) Brian Keough, 20) Tom Dean, 21) Rick Dempsey, 22) Tom O'Connor, 23) Steven LaRochelle, 24) Jay Casey, 25) Jay Fitzgerald, 26) Matt Cross, 27) Don Collins, 28) Norm Loubier
Pure Stock Feature No. 1 Results (8 laps): 1) Jay Casey, 2) Larry Perez, 3) Doug Olds, 4) Zach Sorrentino, 5) Dave Stickles, 6) Phil Sherman, 7) John Denue, 8) Wuggie Burdick, 9) Jordan Miller, 10) Tim Meltz
Pure Stock Feature No. 2 Results (8 laps): 1) Tom Murphy, 2) Nick Reilly, 3) Scott Morris, 4) Clifford Booth, 5) Mark Dwyer, 6) Brian Walsh, 7) Rich Roger, 8) Lou Gancarz, 9) Mike Arnold, 10) Dennis O'Connor Jr.
Pure Stock Feature No. 3 Results (12 laps): 1) Jeff Meltz Jr., 2) Jeff Meltz Sr., 3) Ed Hatch, 4) Ray Hall Sr., 5) Al Relyea, 6) Gary O'Brien, 7) Jeff Kreutziger, 8) Bill Deak Jr., 9) John Devine, 10) Dom Denue, 11) Shawn Perez, 12) Zach Seyerlein, 13) Tim Thompson, 14) Jesse Murphy
4-Cylinder Single-Cam Feature No. 1 Results (15 laps, rescheduled from 5/6): 1) James Street, 2) Brandon Ely, 3) Jim Williams, 4) Joey Morey, 5) Jethro Rossman, 6) John Sheppard, 7) Gary Malloy, 8) Victor Duncan Jr.
4-Cylinder Single-Cam Feature No. 2 Results (10 laps): 1) Joey Morey, 2) Jim Williams, 3) James Street, 4) Chris White, 5) Devine Besze, 6) Bradley Batho, 7) Jethro Rossman, 8) Brandon Ely, 9) John Sheppard, 10) Gary Malloy, 11) Victor Duncan Jr.
4-Cylinder Dual-Cam Feature No. 1 Results (15 laps, rescheduled from 5/6): 1) Chris Vandeputte, 2) P.J. Bleau, 3) Shawny Hazel, 4) Jake Gomm, 5) Matt Thompson, 6) Jim Guertin, 7) Mike Dianda, 8) Mike Duncan, 9) John Wright, 10) Derek Quintero, 11) Tomm Gomm, 12) William Sass Jr.
4-Cylinder Dual-Cam Feature No. 2 Results (10 laps): 1) Kenny Stager, 2) P.J. Bleau, 3) Chris Vandeputte, 4) Jake Gomm, 5) Shawny Hazel, 6) Derek Quintero, 7) Jim Bleau, 8) Jim Guertin, 9) John Wright, 10) Tomm Gomm, 11) Chris Calabro, 12) William Sass Jr., 13) Mike Duncan, 14) David White, 15) Rick Hodges, 16) Johnathan Taylor, 17) Matt Thompson, 18) Mike Dianda