Devin Moran Makes Impressive Hard Charge from 19th to Finish Second
Story By: KAYLA MAY / WOO LATE MODEL SERIES MEDIA
Photos By: PAUL ARCH / RACERSGUIDE.COM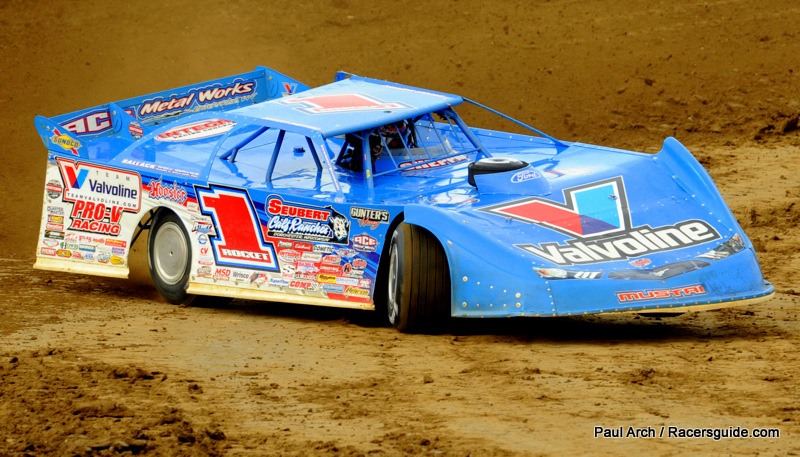 Orrville, Ohio- May 28, 2017- During the World of Outlaws Craftsman® Late Model Series event at Wayne County Speedway, a fan in attendance decided to support the Series further than the purchase of his ticket. Joe Seins, from JD Empire Trucking, posted an extra $2,500 towards the to-win-amount of an already $10,000 prize. Series powerhouse, Brandon Sheppard, was the lucky winner of the evening as he found his way to Victory Lane for the first time since the beginning of the month.
"We've had a good car every time we've hit the track, we just haven't had things go our way and that's why it's called racing and not winning" said Sheppard. "We couldn't do this without all of our help and all of our sponsors."
Sheppard started sixth in the feature and found his way past five cars to claim the lead on lap 21. Further proving that no matter what number the Rocket 1 driver pulls in the redraw, he can still find his way to the front.
Yet, the most impressive hard charger of the evening was Devin Moran, who started 19th in the feature and found his way to Sheppard's bumper by lap 34. With several cautions throughout the event, Moran was hoping to pass the no. 1 during the restarts but Sheppard was able to significantly pull away from the field every time.
"Just to start back that far and be able to come up to second just shows how good the race track was to race on," said Moran. "I really thought we had a shot to win this thing once we got in to second but Brandon and them guys were really good and I used up my tires a little bit too much. Starting 19th and running second, it was a good night. I can't complain."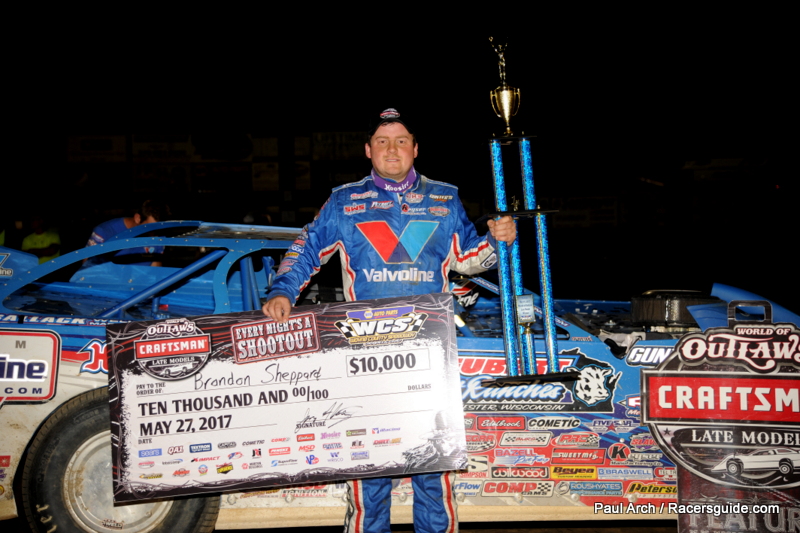 Moran and his crew worked diligently throughout the day in order to land on the podium for the second night in a row. Unlike the previous night at Atomic Speedway, the stars did not align quite as nice for Moran as he had some mechanical issues during his heat which would place him eighth in the Last Chance Showdown. Between the heat and the Showdown the Tye Twarog/ DMR team was able to dial in the Rocket XR1 as Moran went on pass seven cars to win the Showdown.
Shane Clanton also had his hands full getting ready for the feature after he lost the right side and nose of his car during his heat race. He and Brian Shirley were running door-to-door on the front straightway towards the checker flag when the pair got tangled.
Despite damages, Clanton's momentum kept him going, ultimately putting him in the redraw. Luckily, for Clanton the damage was mostly cosmetic so it was all hands on deck for him and his crew to get ready for the big show.
Frank Heckenast Jr. and his crew chief Axle Wicker helped put the nose of their 99jr machine on the Capital Race Car. Clanton was trying to avoid using his backup car at all costs because it would ultimately cost him his redraw position which was a guaranteed top-six start in the feature. The crews' hard work paid off as Clanton went on to make an steady run during the feature where he stayed among the top-five every lap. He finished fifth.
Chris Madden rounded out the podium at Wayne County Speedway after making a last-lap pass around young gun, Tyler Erb. Madden also set a new track record of 16.580. The previous track record was 16.737 held by Russ King.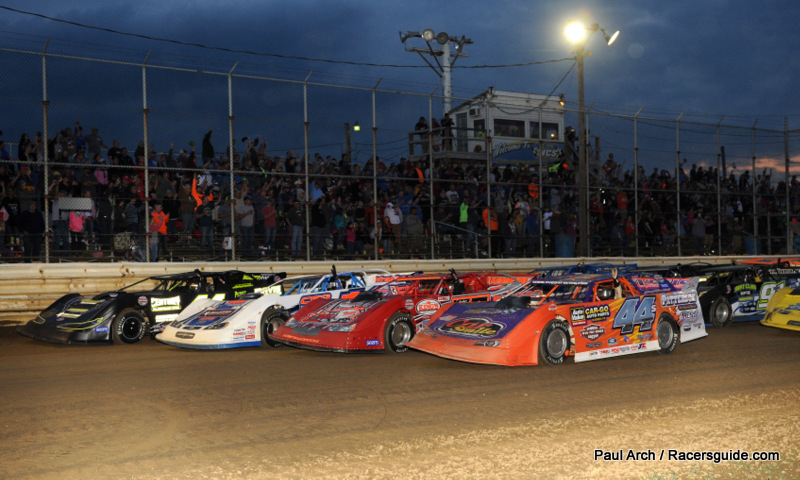 Next up for the World of Outlaws Craftsman® Late Model Series is the Ray Varner 50 at Tazewell Speedway on June 2 followed by the Billy Clanton Classic at Senoia Raceway on June 3.
Atomic Speedway Results:
Craftsman Club Feature: 1. 1- Brandon Sheppard[6]; 2. 9- Devin Moran[19]; 3. 44- Chris Madden[2]; 4. 91- Tyler Erb[7]; 5. 25- Shane Clanton[5]; 6. 18- Eric Wells[21]; 7. 3s- Brian Shirley[23]; 8. 14m- Morgan Bagley[16]; 9. 27- Michael Lake[11]; 10. 44s- Dave Hess Jr[1]; 11. 99jr- Frank Heckenast Jr[8]; 12. 19- Cody Scott[20]; 13. 5m- Ryan Markham[15]; 14. 240- Doug Drown[10]; 15. 14- J.R. Gentry[18]; 16. 1*- Chub Frank[4]; 17. H1- Jared Miley[12]; 18. 2c- Joey Coulter[13]; 19. 7- Rick Eckert[9]; 20. 56- Russ King[3]; 21. 1m- Benjamin Mott[22]; 22. 111- Matt Lux[14]; 23. 36- Matt Irey[17]; 24. 93- Donald Bradsher[24]
The World of Outlaws Craftsman® Late Model Series is brought to fans across the country by many important sponsors and partners, including: Arizona Sport Shirts (Official Apparel Company), Textron Off Road (Official Side-by-Side Vehicle), Craftsman (Official Tool), Extended Stay America (Official Hotel), Hoosier Racing Tire (Official Tire), Morton Buildings (Official Building), Sears (Official Home Store),  The Kenny Wallace Dirt Racing Experience (Official Racing Experience, VP Racing Fuels (Official Racing Fuel) and DirtonDirt.com (Hard Charger Award); in addition to contingency sponsors, including: Cometic Gasket, Comp Cams, Edelbrock, JE Pistons, JRI Shocks, MSD, Penske Shocks, QA1, QuarterMaster, Superflow Dynos and Wrisco Aluminum (Exclusive Racing Aluminum); along with manufacturer sponsors, including: Capital Race Cars, Integra Shocks, Impact Racing Products, Intercomp, Racing Electronics, Rocket Chassis and TNT Rescue.
Founded in 1978, the World of Outlaws®, based in Concord, N.C., is the premier national touring series for dirt track racing in North America, featuring the most powerful cars on dirt, the World of Outlaws Craftsman Sprint Car Series and the World of Outlaws Craftsman Late Model Series. Annually, the two series race nearly 140 times at tracks across the United States and Canada. CBS Sports Network is the official broadcast partner of the World of Outlaws. DIRTVision® also broadcasts all World of Outlaws events over the Internet to fans around the world. Learn more about the World of Outlaws.