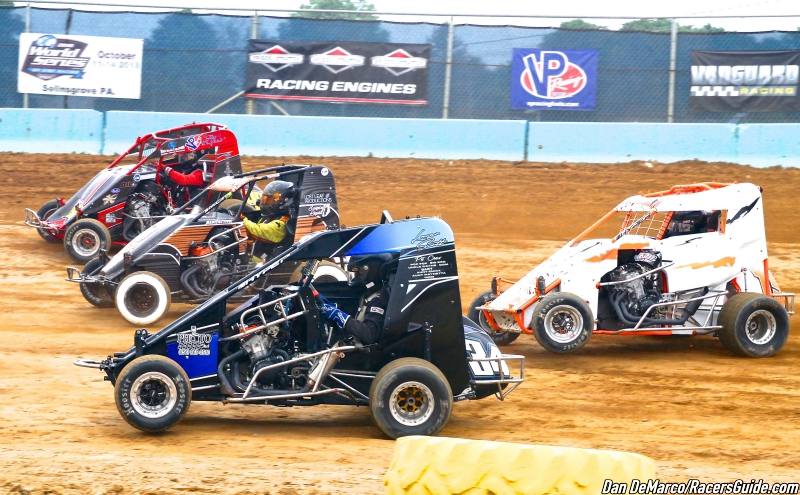 Boy Scout Balliet Will Lead 600 Sprints To Green This Sunday at Kutztown's Action Track USA
June 10 Is Scout Night; All Boy Scouts & Girl Scouts In Uniform Get Free Admission
Story By: Barry Angstadt/Action Track USA
Photos By: Dan DeMarco/RacersGuide.com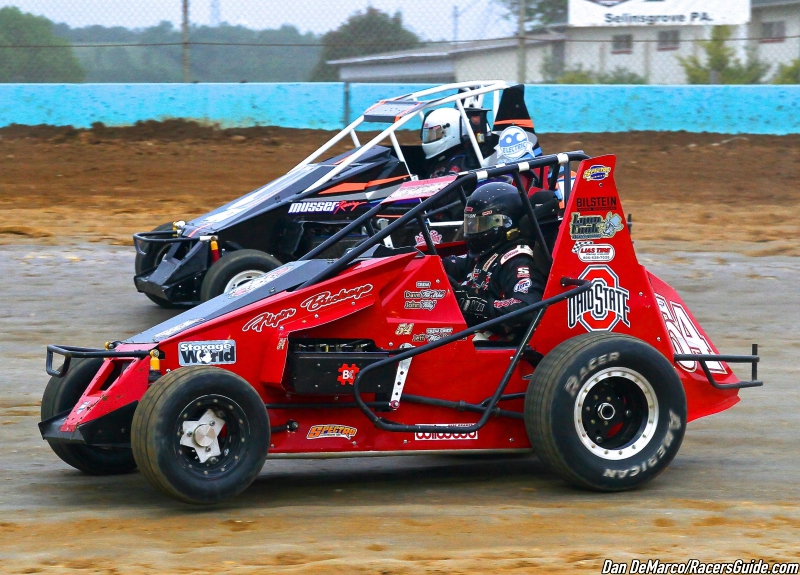 Kutztown, PA (June 6) – This Sunday, June 10, Championship Energy Action Track USA on the Kutztown Fairgrounds presents Scout Night, when all Boy Scouts and Girl Scouts (who wear their uniforms) will receive free admission to the evening of high speed adventure. And, in a most appropriate coincidence, a Boy Scout will lead the 600 Sprint field to the green in the make-up feature that was postponed by rain on June 3rd.
Jacob Balliet, from Drums, PA, is a 1st Class Boy Scout who aspires to be an Eagle Scout. The 14-year-old, who has advanced through the ranks from Cub Scout to Webelo to Boy Scout, finished second to Damon Paul in a qualifying heat last Sunday. The handicapping procedure utilized at Action Track USA placed him on the pole of the 25-lap feature prior to the inclement weather.
Now in his third season of 600cc Sprint competition, Balliet, who also swims competitively for the Hazleton YMCA to stay in shape during racing's off-season, is looking to take advantage of his prime starting position and win his first Hyper Racing 600 Sprint main at the Berks County oval.
Balliet racked up over 400 starts in Quarter-Midgets, winning races all over the country. When he made the move to the 600 Sprints, the Drums Middle School student competed in the Rookie Division at Hamlin Speedway in 2016. He won twice and finished third in the 600 Rookie Class that season. Last year Balliet moved up to the regular 600cc class and began racing at Action Track USA in addition to Hamlin. He was named the Checkered Flag Fan Club's Most Improved Open Wheel Driver of 2017. This Sunday, he will attempt to join Billy Pauch Jr. and Alex Bright as 2018 feature winners in the Hyper Racing 600 Sprint division at Championship Energy Action Track USA.
On Sunday, the 600 Sprints and All Star Slingshots will make up the features that were rained out last week. They will then be joined by the USAC All Pro SpeedSTRs in a full program of qualifying races and main events, making Scout Night a huge FIVE FEATURE event!
Fans and competitors should take note that the Sunday, June 10 event will have an earlier starting time. Pit Gates will open at 2:30 PM, Grandstand Gates at 3:30 PM and warm-ups will start at 4:30 PM, followed by the 600cc Mad Scramble – for cars that didn't qualify on June 3 – then the Slingshot and 600cc Sprint Car make-up features, followed by a full program for the USAC SpeedSTRs, Hyper Racing 600s, and All Star Slingshots.
Fans will receive the benefit of dual features for the 600cc Sprint Cars and Slingshots with an Adult General Admission price of $14, Senior Citizens $12, Kids (6-12) $5, and Children 5 and Under FREE! That's right; there will be five big main events for the normal price of three!
Championship Energy Action Track USA is located on the grounds of the Kutztown Fair in Kutztown, Pennsylvania. For specific directions and more information fans can visit online at www.actiontrackusa.com. Race fans are also encouraged to engage on Facebook by searching Action Track USA and on Twitter and Instagram @actiontrackusa.
Upcoming Events:
Sunday, June 10 – Scout Night: Scouts in Uniform receive Free grandstand admission. SpeedSTRs, 600cc Sprint Cars, and Slingshots PLUS! Make-Up features for the 600cc Sprint Cars and Slingshots
Wednesday, June 13 – Flying Farmer 40, 40-Lap, $3,000-to-Win event for the USAC SpeedSTRs featuring USAC National Sprint Car Series racers in the Aqua Duck Water Transport/Low Down and Dirty Challenge, 600cc Sprint Cars, and Slingshots.Plus! The Old Time Plow Boys
Sunday, June 17 – USAC SpeedSTRs, 600cc Sprint Cars, and Slingshots Plus Bike Give-away for Young Race Fans!