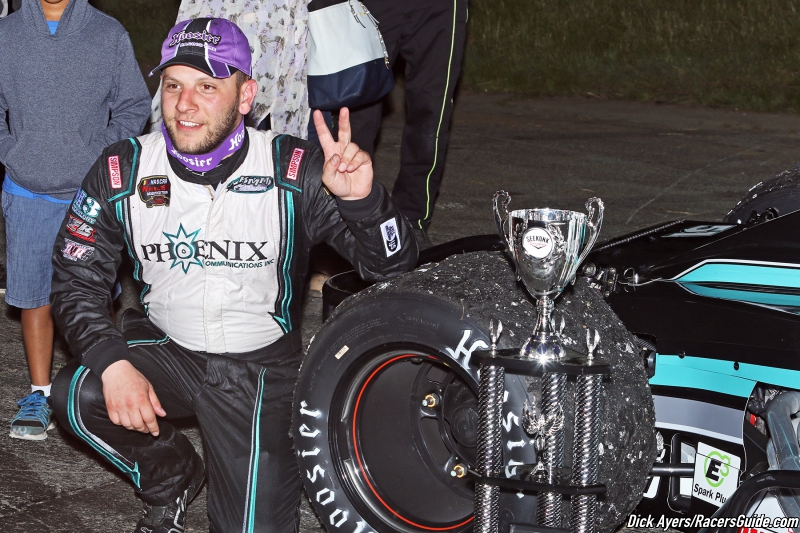 Bonsignore Stars In Seekonk Mod Run
Story By: Kyle Souza/NASCAR Whelen Modified Tour
Photos By: Dick Ayers/RacersGuide.com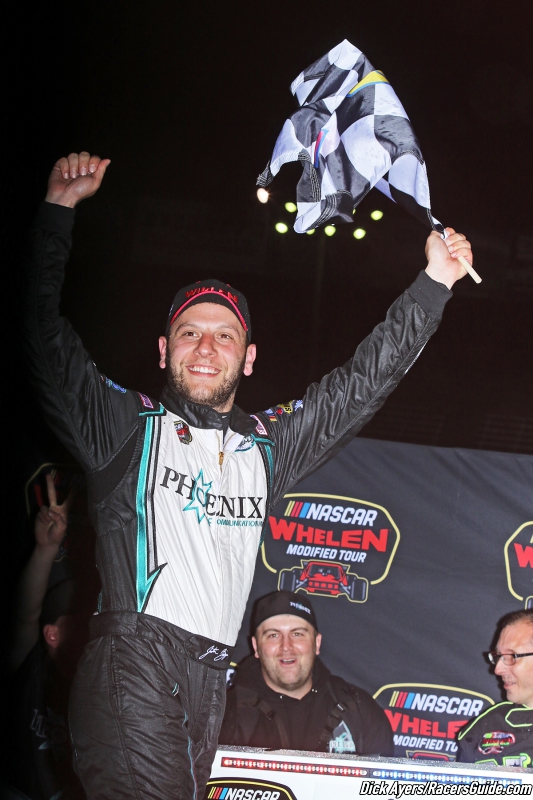 SEEKONK, Mass. — Justin Bonsignore has quickly proven that he is going to be the man to beat during the NASCAR Whelen Modified Tour season.
The New York driver scored his second win of the young season on Saturday at Seekonk Speedway, holding off a late charge from rising star Chase Dowling in the final circuits at the third-mile oval.
The victory was the 14th career for Bonsignore in Whelen Modified Tour competition, and his second of the season behind the wheel of the No. 51 Phoenix Communications Chevrolet for Kenneth Massa Motorsports.
"It was a great day, we came off the truck first in practice, got my first pole in a long time, and we had a really good car," Bonsignore said. "I just can't thank everyone enough. This is a total team effort, and I am just the lucky guy that gets to drive this car right now."
Bonsignore's run to the victory may have seemed easy at first glance, strictly because he started from the pole and ended up carrying the checkered flag at the end of the 150-lap distance. However, a fierce battle with Matt Hirschman put Bonsignore's equipment to the test in the second half of the race.
The two modified veterans swapped the lead back and forth multiple times throughout the race, but on lap 127, Hirschman was able to edge out at the front of the field at lap 127, but on the next lap, Bonsignore took the lead, and never looked back.
In the midst of the battle between Bonsignore and Hirschman, Dowling made a late charge through the field after starting 13th, and was locked on the back bumper of Bonsignore's car in the final laps. He finished second, scoring his fourth consecutive top 10 finish to open the season.
Bonsignore led a race-high 100 laps, while Hirschman was at the point for 50 circuits. They were the only two drivers who led the race, and both of them started on the front row.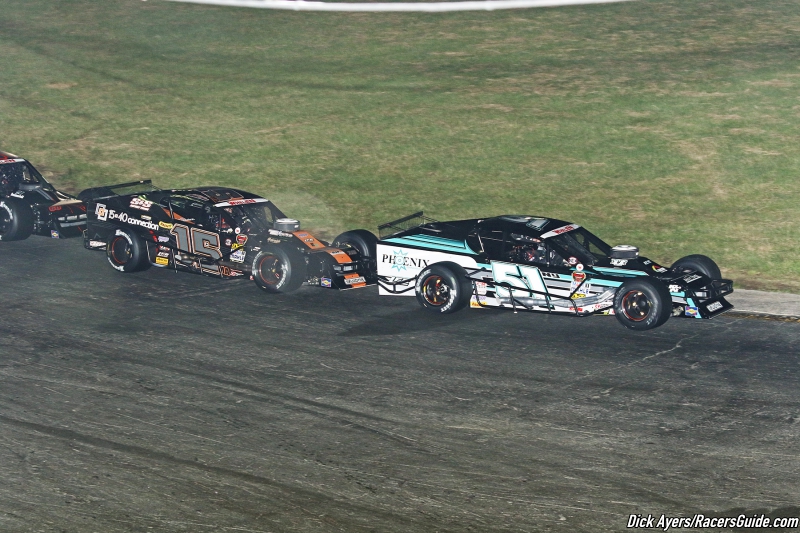 "When I had the lead, I was just a little bit tight," Hirschman, who finished third, said. "It was a good night. We are always in contention to win. Just not quite (there)."
Rowan Pennink finished fourth, while Ron Silk was fifth. Ronnie Williams was sixth, followed by Timmy Solomito, Tommy Catalano, Dave Sapienza and Craig Lutz.
Bonsignore leads Dowling by seven points in the championship standings, while Lutz is 19 points back.
The finish:
1.(1) Justin Bonsignore, Holtsville, NY, Chevrolet, 150 laps, 62.902 mph.
2.(13) Chase Dowling, Roxbury, Conn., Chevrolet, 150.
3.(2) Matt Hirschman, Northampton, PA, Chevrolet, 150.
4.(4) Rowan Pennink, Huntingdon Valley, Pa., Chevrolet, 150.
5.(8) Ron Silk, Norwalk, CT, Chevrolet, 150.
6.(7) Ronnie Williams, Ellington, Conn., Chevrolet, 150.
7.(17) Timmy Solomito, Islip, N.Y., Ford, 150.
8.(21) Tommy Catalano, Ontario, N.Y., Chevrolet, 150.
9.(9) Dave Sapienza, Riverhead, N.Y., Chevrolet, 150.
10.(14) Craig Lutz, Miller Place, N.Y., Chevrolet, 150.
11.(18) Rob Summers, Manchester, CT, Chevrolet, 150.
12.(12) Doug Coby, Milford, Conn., Chevrolet, 150.
13.(6) Andrew Krause, Holmdel, N.J., Toyota, 150.
14.(22) Blake Barney, Lakewood, N.J., Chevrolet, 150.
15.(11) Chris Pasteryak, Lisbon, Conn., Chevrolet, 150.
16.(30) Ken Heagy, Calverton, N.Y., Chevrolet, 150.
17.(27) Gary Putnam, Vernon, Conn., Chevrolet, 150.
18.(23) Gary McDonald, Ronkonkoma, N.Y., Chevrolet, 150.
19.(10) Eric Goodale, Riverhead, N.Y., Chevrolet, 150.
20.(3) Anthony Nocella, Woburn, Mass., Chevrolet, 148.
21.(25) Joe Degracia, Nutley, N.J., Chevrolet, 146.
22.(28) Melissa Fifield, Wakefield, N.H., Chevrolet, 135.
23.(24) Wade Cole, Hartland, Conn., Chevrolet, 116, parked.
24.(16) Calvin Carroll, Newton, N.J., Chevrolet, 106.
25.(5) Jon McKennedy, Chelmsford, Mass., Chevrolet, 80, power steering.
26.(26) Woody Pitkat, Stafford, Conn., Chevrolet, 48, ignition.
27.(15) Ryan Preece, Berlin, Conn., Chevrolet, 41, engine.
28.(19) Jeff Rocco, Meriden, Conn., Chevrolet, 40, brakes.
29.(29) Kyle Ellwood, Riverhead, N.Y., Chevrolet, 40, suspension.
30.(20) Matt Swanson, Acton, Mass., Ford, 40, accident.
31.(31) Walter Sutcliffe Jr., East Haven, Conn., Chevrolet, 0, did not start.