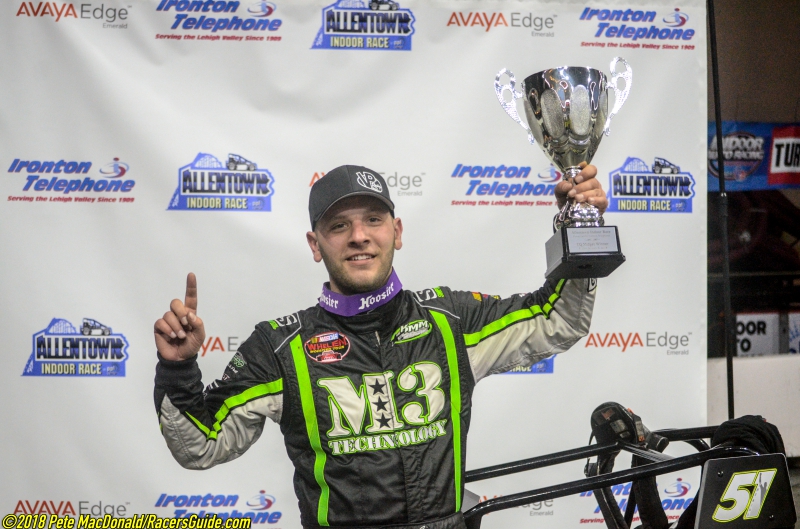 JUSTIN BONSIGNORE CLAIMS OPENING NIGHT ALLENTOWN INDOOR AUTO RACING SERIES THREE QUARTER MIDGET CHECKERED; CALE ROSS IS CHAMP KART WINNER
Story By: Ernie Saxton/Allentown Indoor Race
Photos By: Pete MacDonald/RacersGuide.com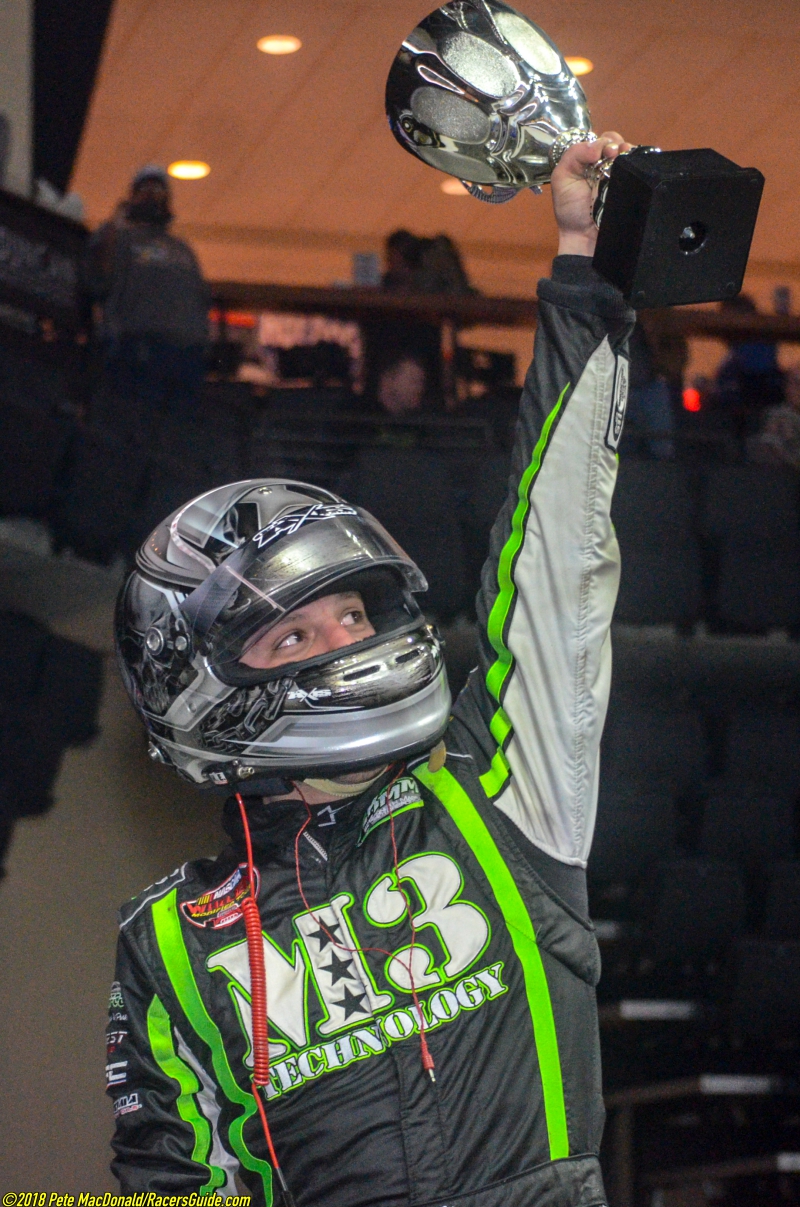 ALLENTOWN, PA January 6, 2018 . . . NASCAR Whelen Modified Touring Series competitor Justin Bonsignore of Holtsville, Long Island, N.Y., raced his way to the win in the first Ironton Telephone Allentown, Pa., Three Quarter (TQ) Midget feature of the weekend Friday night.
The race was the first of the three event Indoor Auto Racing Series Fueled By VP Racing Fuels.
Bonsigore also earned the E.F. Schneider & Son Hard Charger Of The Race award, worth an additional $150. Bonsignore started 20th in the 25-car field.
"I had to start way back when the front end of my car broke in my heat race," Bonsignore said. "I had to win the B Main to even start 20th. But the car was always fast. It was just a matter of having the luck to get through the wrecks."
Attrition claimed several front runners early in the competition. Bobby Holmes led early until his car suffered mechanical problems while leading, under yellow. Erick Rudolph, an eight-time career Indoor Auto Racing Series past winner, got airborne and spun to a stop, and went to the back of the field as a result. He charged back through the pack to finish third.
Ryan Flores was the leader at mid-race, chased by Matt Janisch. But Flores, winner of the last two Allentown Indoor Auto Racing Series events, slowed as the laps unreeled, eventually pulling off with what proved to be a slowly deflating tire.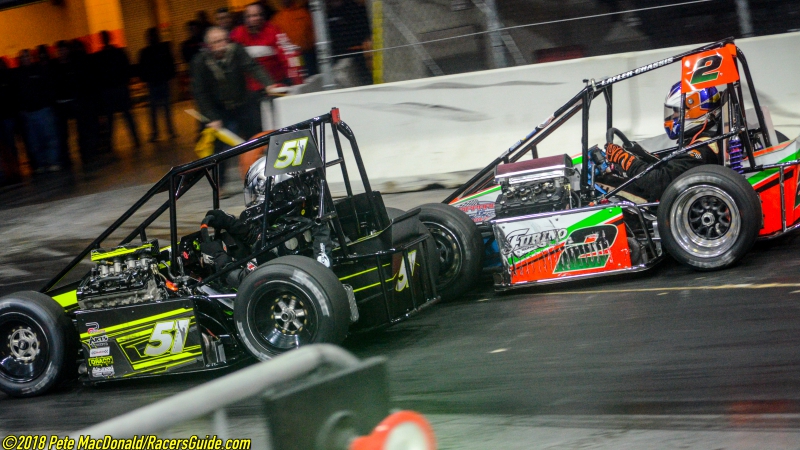 Bonsignore took the lead with fourteen laps left in the race after Flores dropped out. Matt Janisch gained second spot and finished there, while a late race tangle between Jon Reid and Scott Kreutter cost both a top five finish. Instead, Rudolph shot to third and 2017 ATQMRA Outdoor TQ driving champion Ryan Tidman assumed fourth. Earl Paules gained fifth.
Rounding out the top ten in the event were Timmy Catalano, Joey Payne, Kreutter, Geoffrey Sutton and Billy Whittaker.
In the companion race, Cale Ross of Lambertville, N.J., was the winner of the Champ Kart feature.
Ross led the entire distance challenged initially by EJ Holz. When Holz faded at mid-distance, Mike Perry and Richie Davidowitz took up the chase. Back in the field, Tyler Thompson, who had lined up in the eighth row initially, had also clawed his way into the top five.
Despite some seven caution flags and restarts, Ross was never passed. Perry held for second, Thompson grabbed third late after Davidowitz's car proved balky on the next-to-last restart, and Ryan Kendall moved to fourth at the checkered. James Shutt was fifth. Davidowitz was seventh.
"Every one of the restarts concerned me because you never know if somebody will drive under you," Ross said. "That and lapped traffic. But no problems with either one in this race," Ross smiled.
The win was Ross's third Indoor Auto Racing Series Champ Kart career victory. Previous scores were registered in Atlantic City, N.J. and Trenton, N.J.
Tommy Catalano and Bobby Holmes led the field into the first turn for the start of the 40-lapper with Erick Rudolph, Earl Paules, Tim Buckwalter and Andy Jankowiak in tow.
Six ten- lap TQ Midget heat races were won by Rudolph, Holmes, Buckwalter, Jankiowiak, Catalano and Paules. Three 12-lap TQ B-Mains were run to complete the 24-car starting field. Timmy Catalano, Justin Bonsignore and Bobby Butler won these frenetic affairs.
Ronnie Mullen escaped injury in a wild flip into the outside fence during the third TQ Midget B-Main. "I flew through the air, that's all I know," Mullen quipped in a post-crash on-the-spot interview. Mullen's crash was of sufficient velocity to temporarily dislodge the concrete barrier.
Three eight-lap Champ Kart prelims were earned by Ed Holz, William Davis and Cale Ross. The 10-lap Champ Kart B Main was snared by Eric Zeh.
The first of the two-day Ironton Telephone Indoor Auto Racing Series races drew a 51-car TQ Midget race and a 27-car field of Champ Karts.
TQ Midgets will return tonight Saturday night, January 6, for another 40 lap feature race paired with the Slingshot division that will run a 20 lap event.
TQ Midget Feature (40 Laps): 1. Justin Bonsignore, 2. Matt Janisch, 3. Erick Rudolph, 4. Ryan Tidman, 5. Earl Paules, 6. Timmy Catalano, 7. Joey Payne, 8. Scott Kreutter, 9. Geoffrey Sutton, 10. Billy Whittaker, 11. Jon Reid, 12. Matt Roselli, 13. Bobby Butler, 14. Bfret Conkling, 15. Ryan Flores, 16. Ryan Flores, 17. Andy Jankowiak, 18. Bobby Holmes, 19. Anthony Sesely, 20. Tim Buckwalter, 21. Shawn Nye, 22. Tommy Catalano, 23. Zane Zeiner, 24. Ryan Preece, 25. Tim Nye.
Champ Kart Feature (20 Laps): 1. Cale Ross, 2. Mike Perry, 3. Tyler Thompson, 4. Ryan Kendall, 5. James Shutt, 6. TJ Reed, 7. Richie Davidowitz, 8. Matt Jarosz, 9. EJ Holz, 10. Anthony Colandro, 11. Ron Midford Jr., 12. Chris Hirt, 13. Stephen Beattie, 14. Gene Gregoric, 15. William Davis, 16. Tyler Tank, 17. Dominic Roselli, 18. Ryan Swartz, 19. Eric Zeh, 20. Dalton Rivera.