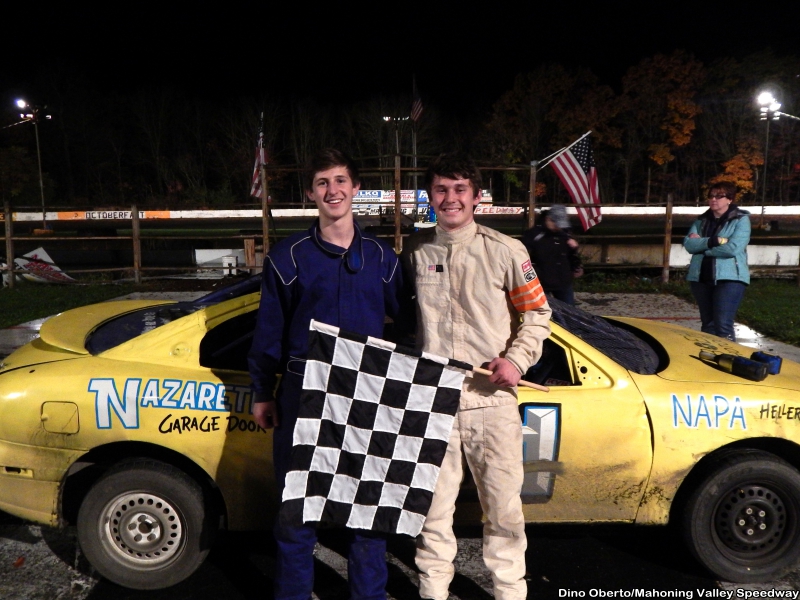 Boehm Boys dominate Mahoning Valley Speedway Enduros to close out season
Story & Photo By: Dino Oberto/Mahoning Valley Speedway
LEHIGHTON, PA. 11-5-17 –  Mahoning Valley Speedway closed out the 2017 season on Sunday afternoon with a program of Enduros and Demo Derbies.
Considering the wet and damp conditions, the Enduros proved quite entertaining to say the least while in typical Demo fashion it was a slam bang affair of metal mashing and mudslinging.
There were three Enduros run, a Big Car, Small Car and Jr. Car class but amazingly the same vehicle won each feature.
Brothers Jacob and Cody Boehm each put on individual driving clinics in capturing the first place finishes.
Jacob was up first, leading all but two laps en route to his second straight Jr. Enduro verdict over Cassidy Altemose.
He then signed into the Big Car race with the same car and would continue his dominating performance, this time going the distance as the leader for all circuits.
While enjoying his second stop in Victory Lane, the team then fueled up the No. 81 while there and taking the controls was Cody.
While it took 30 laps to get the front spot over Mark Schwalm, there would be no looking back from there on as lapped all but runner up BJ Wambold on his cruise to victory.
Gary Woodring was the last man standing in the Big Car Demo, beating Travis Levan. With that done Woodring also staked claim to the 2017 Demo title as he won all three events held this season.
In the Small Car Demo Mark Schwalm won a tug of war over Tanner Strohl. Trisha Connelly was named as Small Car Demo champion.