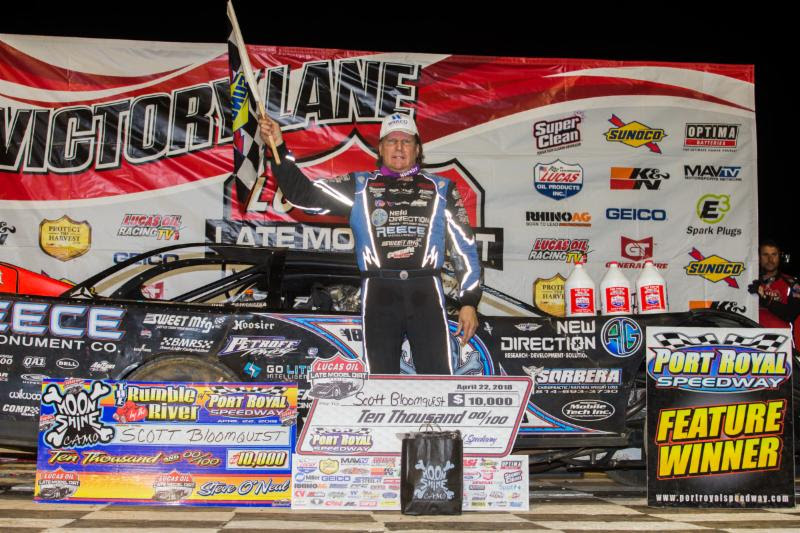 Bloomquist Banks First Port Royal Victory
Story By: Jeremy Shields/LOLMDS
Photos By: Heath Lawson/LOLMDS
PORT ROYAL, PA (April 22, 2018) – Scott Bloomquist continued his hot-streak on the Lucas Oil Late Model Dirt Series, winning Sunday night's Rumble by the River at Port Royal Speedway. Bloomquist took the lead on lap two and never looked back en route to his 88th career series victory.
Josh Richards fought back to finish in second with Earl Pearson Jr. taking third. Tim McCreadie and Darrell Lanigan completed the top five drivers.
Jimmy Owens led the first lap until Bloomquist, who started fourth on the grid, wrestled the lead away from him on the second circuit. Owens maintained the second spot until a coil spring broke on lap 17, ending his night. McCreadie picked up the second spot as he and Richards then dueled it out for the runner-up position.
The final caution of the race bunched the field up with 2 laps remaining. Richards tried valiantly in the green-white-checker finish, but Bloomquist was just too strong as he held on for his first career win at Port Royal Speedway. "We have run really well since Florida. Last weekend, we had a win and a second-place finish, and this weekend a second and a win. The car, the engine, the shocks, everything is working well," said the 54-year-old Bloomquist in Lucas Oil Victory Lane.
"We had good rotation, it carried around the high-line tonight. The car could work low, the middle, or high. I tried to run up high in three and four because my momentum would be really good off the turn-4 corner. When we had to go to the bottom to pass lapped cars we could. Thanks to Randy Sweet and everybody at Sweet Manufacturing."
"This really is a great race track. We hadn't had a victory here, but I really enjoyed running on it. There were some crumbs on the track early. It has a lot of character, and you really have to be up on the wheel to drive this place. I think I figured out the high-line pretty good tonight."
Richards maintains second-place in the points with his runner-up finish. "We had a great car tonight; those restarts weren't very good for us, but we recovered and gave the Best Performance Team a good finish tonight. Last night at Hagerstown we had a rough night. We worked on some things today. If it could have gone caution free it might have been a different story. This place is so fun to drive on. Thanks to all the fans for coming out tonight. I wish we could race here tomorrow."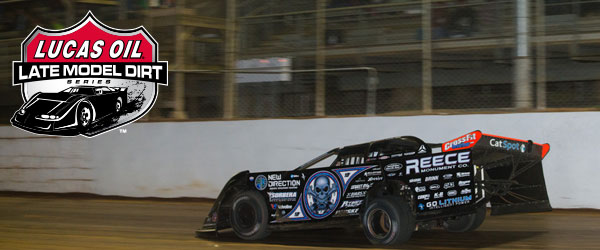 It was a hard-fought third-place finish for Pearson. "Josh and I had a good race for second there at the end. McCreadie and him ran side-by-side there for a long-time. Thanks to everybody here at Port Royal and thanks to all the fans who came out on a Sunday night to watch us race. This is a heck of a race track, wish we could do a two-day show here."
The winner's Sweet-Bloomquist Chassis is powered by an Andy Durham Racing Engine and sponsored by: New Direction Ag, Reece Monument Company, Sweet Manufacturing, Sorbera Chiropractic, Horton Coal, Penske Shocks, Valvoline, Crossfit by Overton, CatSpot, Petroff Towing, and VP Fuels.
Completing the top ten were 18th starting Jonathan Davenport, Bobby Pierce, Hudson O'Neal, Alex Ferree, and Mason Zeigler.
Lucas Oil Late Model Dirt Series
Race Summary
Sunday, April 22nd, 2018
Rumble by the River
Port Royal Speedway – Port Royal, PA
Miller Welders Time Trials
Fast Time Group A: Dan Stone / 19.306 seconds
Fast Time Group B: Austin Hubbard / 19.179 seconds (overall)
Eibach Springs Heat Race #1 Finish (10 Laps, Top 4 Transfer): Tim McCreadie, Trent Brenneman, Alex Ferree, Dan Stone, Michael Maresca, Hudson O'Neal, Chris Casner, Matt Cosner, Dave Brouse, Jr., Justin Kann, Austin Berry-DNS
FK Rod Ends Heat Race #2 Finish (10 Laps, Top 4 Transfer): Josh Richards, Rick Eckert, Kenny Moreland, Don O'Neal, Jeff Rine, Mike Lupfer, Colton Flinner, Gregg Satterlee, Hayes Mattern, Brett Schadel, Coleby Frye-DNS
Simpson Performance Products Heat Race #3 Finish (10 Laps, Top 4 Transfer): Jimmy Owens, Austin Hubbard, Earl Pearson, Jr., Dylan Yoder, Jonathan Davenport, Tyler Bare, Jason Covert, Tim Smith, Jr., Dennis Erb, Jr., Daniel Green, Reese Masiello
QA1 Heat Race #4 Finish (10 Laps, Top 4 Transfer): Scott Bloomquist, Bobby Pierce, Darrell Lanigan, Mason Zeigler, Kyle Bronson, Kyle Lee, Bryan Bernheisel, Matt Cochran, Tim Wilson, Michael Lake
Penske Racing Shocks B-Main #1 Finish (12 Laps, Top 3 Transfer): Hudson O'Neal, Colton Flinner, Mike Lupfer, Michael Maresca, Dave Brouse, Jr., Gregg Satterlee, Matt Cosner, Hayes Mattern, Brett Schadel, Chris Casner, Jeff Rine, Justin Kann-DNS, Austin Berry-DNS, Coleby Frye-DNS
FAST Shafts B-Main #2 Finish (12 Laps, Top 3 Transfer): Jonathan Davenport, Jason Covert, Kyle Bronson, Kyle Lee, Tyler Bare, Matt Cochran, Tim Smith, Jr., Dennis Erb, Jr., Daniel Green, Reese Masiello, Tim Wilson, Bryan Bernheisel, Michael Lake-DNS
Race Statistics
Entrants: 43
Lap Leaders: Jimmy Owens (Lap 1); Scott Bloomquist (Laps 2 – 50)
Wrisco Feature Winner: Scott Bloomquist
Margin of Victory: 0.976 seconds
Cautions: Jimmy Owens (Lap 17); Austin Hubbard (Lap 28); Gregg Satterlee (Lap 38); Don O'Neal (Lap 38); Dennis Erb Jr. (Lap 48)
Series Provisionals: Gregg Satterlee, Dennis Erb Jr.
Series Emergency Provisionals: n/a
Port Royal Speedway Provisional: Tim Smith
Optima Batteries Hard Charger of the Race: Jonathan Davenport (Advanced 12 Positions)
Midwest Sheet Metal Spoiler Challenge Point Leader: Jonathan Davenport
Allstar Performance Power Move of the Race: Jonathan Davenport
Sunoco Race for Gas Highest Finisher: Josh Richards
Hot Rod Processing Rookie of the Race: Mason Zeigler
COMP Cams Engine Builder of the Race: Durham Racing Engines
Ohlins Shocks Chassis Builder of the Race: Sweet-Bloomquist Race Cars
Outerwears Crew Chief of the Race: Cody Mallory (Scott Bloomquist)
Fastest Lap of the Race: Scott Bloomquist (Lap #3 – 20.612 seconds)
STEEL-IT Most Laps Led: Scott Bloomquist (49 Laps)
Dirty Girl Racewear Farthest Traveler: Kyle Bronson
PFC Brakes Pole Award: Tim McCreadie
Time of Race: 35 minutes 02 seconds
Lucas Oil Feature Finish (50 Laps):
| | | | | | |
| --- | --- | --- | --- | --- | --- |
| FINISH | START | CAR # | DRIVER NAME | HOMETOWN | EARNINGS |
| 1 | 4 | 0 | Scott Bloomquist | Mooresburg, TN | $10,800 |
| 2 | 3 | 1R | Josh Richards | Shinnston, WV | $6,500 |
| 3 | 10 | 1 | Earl Pearson, Jr. | Jacksonville, FL | $4,300 |
| 4 | 1 | 39 | Tim McCreadie | Watertown, NY | $3,450 |
| 5 | 12 | 14 | Darrell Lanigan | Union, KY | $2,950 |
| 6 | 18 | 49 | Jonathan Davenport | Blairsville, GA | $2,700 |
| 7 | 8 | 32 | Bobby Pierce | Oakwood, IL | $2,200 |
| 8 | 17 | 71 | Hudson O'Neal | Martinsville, IN | $2,000 |
| 9 | 9 | 4 | Alex Ferree | Valencia, PA | $1,200 |
| 10 | 16 | 25Z | Mason Zeigler ® | Chalk Hill, PA | $1,200 |
| 11 | 13 | 2 | Dan Stone | Thompson, PA | $1,075 |
| 12 | 20 | 72C | Jason Covert | York Haven, PA | $1,050 |
| 13 | 7 | 7 | Rick Eckert | York, PA | $1,025 |
| 14 | 23 | 22 | Gregg Satterlee | Indiana, PA | $1,700 |
| 15 | 22 | 40B | Kyle Bronson ® | Brandon, FL | $1,650 |
| 16 | 14 | 24 | Dylan Yoder | Selinsgrove, PA | $925 |
| 17 | 21 | 06 | Mike Lupfer | Shermansdale, PA | $900 |
| 18 | 5 | 33 | Trent Brenneman | Port Royal, PA | $875 |
| 19 | 19 | 75 | Colton Flinner | Allison Park, PA | $850 |
| 20 | 24 | 28 | Dennis Erb, Jr. | Carpentersville, IL | $825 |
| 21 | 15 | 5 | Don O'Neal | Martinsville, IN | $1,600 |
| 22 | 6 | 11 | Austin Hubbard | Bridgeville, DE | $800 |
| 23 | 11 | 24m | Kenny Moreland | Waldorf, MD | $800 |
| 24 | 2 | 20 | Jimmy Owens | Newport, TN | $1,600 |
| 25 | 25 | 39T | Tim Smith, Jr. | McVeytown, PA | $800 |