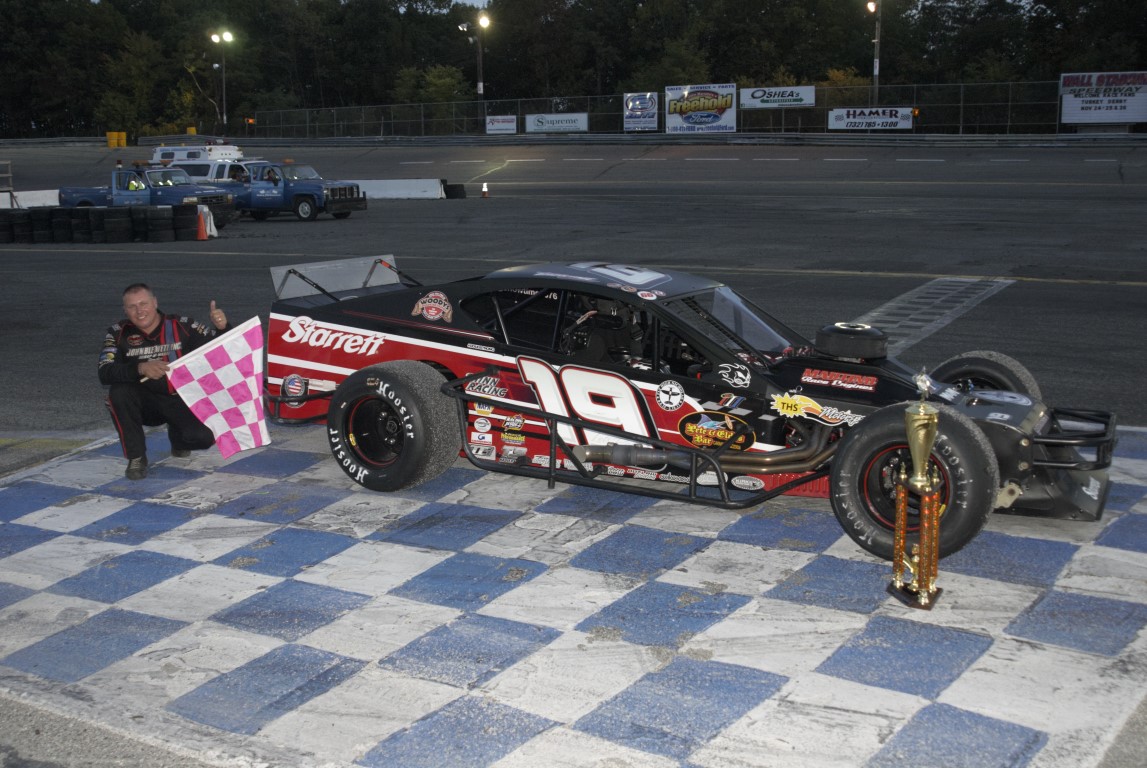 BLEWETT WINS WALL'S SPOOKY MOD 75 SATURDAY
Story By: Jeff Gravatt/Wall Stadium
Photos By: John John Lane/RacersGuide.com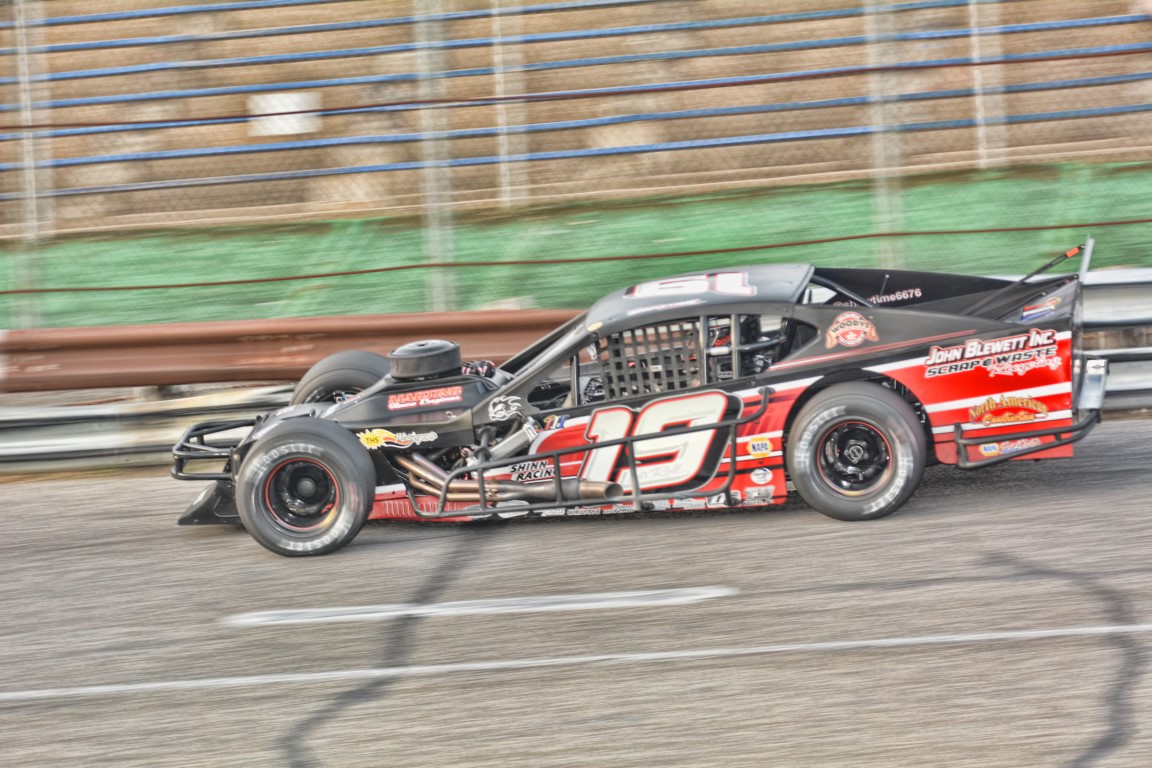 WALL TOWNSHIP, N.J. ~ 2017 Freehold Ford Modified stock car driving champion Jimmy Blewett of Howell pocketed $3,000 Saturday evening by winning the 75-lap main event at Wall Stadium Speedway's annual "Spooky Spectacular" stock car event. The post season victory was Blewett's seventh Modified feature race win of 2017 and his first since clinching his third track driving title in September.
Blewett started eighth on the grid and slowly bean to work his way to the front from the initial green flag. Zack Alspach of Willingboro jumped to the lead at the outset and raced in close formation with Howell's Eric Mauriello who ran second. By the 20 lap mark Holmdel's Andrew Krause and Blewett advanced to third and fourth before ducking to the pit area for new right rear tires on lap 44. Both Alspach and Mauriello elected not to stop for tires and continued to lead the way.
As the race wore on Blewett put his new tire to good use and charged to the front. On lap 54 Blewett raced past Mauriello for second before diving to the inside lane on lap 63 to take the lead from Alspach. Blewett then cruised for the final 12 laps to take the win over Mauriello. Krause drove home third with Derek Hopkinson of Toms River and Jackson's Blake Barney fourth and fifth. Due to his worn tire and the resulting ill handling Alspach slipped to sixth in the closing laps.
"I owe this win to my grandfather," Blewett said after the race. "We lost a little speed in the final weeks of the regular season and he gave me a little time off to work on the car. He also gave me a lot of advice like when to stop for tires. I owe a lot to him."
The post season race meet was obviously good to newly crowned champions as Tyler Truex of Mayetta raced to victory in the companion 25-lapper for the Snap On Sportsman cars. It was his fourth win on the year. Truex led the entire way while Jarret DiGiantomasso of Jackson slipped into second in the closing laps to challenge. Jonathan Laureigh of Lanoka Harbor, Tuckerton's Robby Walton and Howell's Kevin Davison were third through fifth.
The theme of race winning newly crowned champions continued in the second 25-lapper for the O'Shea's Auto Repair Factory Stocks as Manchester's Scott Riggleman won just a few weeks after winning the crown. Following the six-time winner across the line were Elliott Wohl of Beachwood, Union's Joey Helberg, Mike Montano of Fort Myers, Fla., and Brian Brown of Long Island. Wohl won the first Factory Stock 25-lapper over Riggleman, Wall's Bob Haberstick, Montano and Helberg.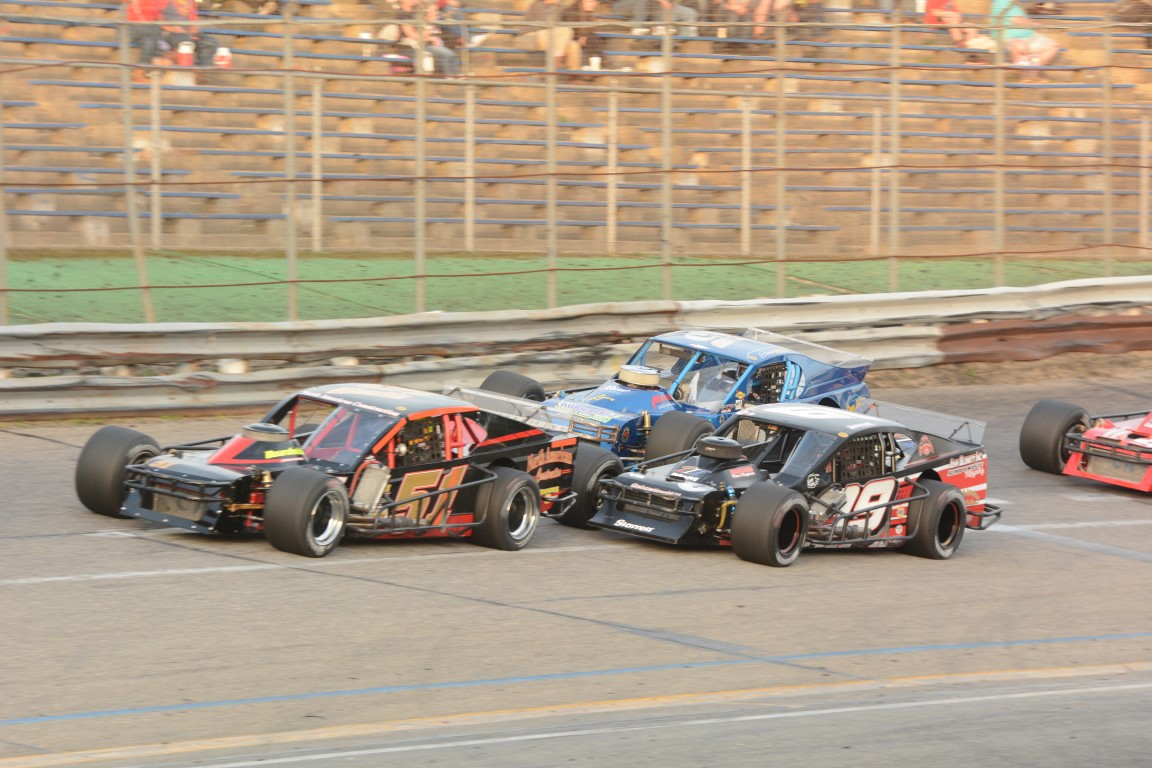 Christian LaCicero of Lavalette won by a bumper in a photo finish over Wall's TJ Graves who came charging in the closing lap in the Surfside Collision 4 Cylinder Stock 25 lap main. Former champ Todd Pilla of Beachwood, Jackson's Darren Burdge and Dan Birdsall completed the top five.
Mike Alcaro of West Milford made it eight wins in as many starts in the 25-lapper for the Green Flag Driving Experience Legend Cars. Richie Davidowitz, Kevin Nowak, Matt Maring and Rob Silver wrapped up the top five.
The 2017 post season will conclude on Friday, Saturday and Sunday of Thanksgiving weekend with the annual running of Turkey Derby XLIV. Details and event schedules will be announced soon.
More information on Wall Stadium can be obtained by visiting the website at wallspeedwayracing.com.
Wall Stadium is located on Route 34 in Wall Township, N.J., just one mile north of Garden State Parkway exit 98 and Interstate 195 exit 35B. The speedway hotline number is 732-681-6400 and email address is CKMotorsports@aol.com.
RACE RESULTS
MODIFIED FEATURE – 75 Laps – 1. JIMMY BLEWETT, HOWELL, 2. Eric Mauriello, 3. Andrew Krause, 4. Derek Hopkinson, 5. Blake Barney, 6. Zack Alspach, 7. Shanon Mongeau, 8. Anthony Sesely, 9. Adam LaCicero, 10. Joey Merlino, 11. Chris Reynolds, 12. Trevor Alspach, 13. Steven Reed, 14. Shawna Ingraham
SPORTSMAN FEATURE – 25 Laps – 1. TYLER TRUEX, MAYETTA, 2. Jarret DiGiantomasso, 3. Jonathan Laureigh, 4. Robby Walton, 5. Kevin Davison, 6. Kyle Scisco, 7. Carsten DiGiantomasso, 8. Jake Nelke, 9. Robert Vassilatos, 10. Dom Fattarusso, 11. Howie Conk, 12. Nick Shaw, 13. Dave Bailey, 14. Louie Keraitis, 15. Todd Dige, 16. Joe Cocca, 17. Larry Thompson, 18. John Blewett IV, 19. Mike Rising
1ST FACTORY STOCK FEATURE – 25 Laps – 1. ELLIOTT WOHL, BEACHWOOD, 2. Scott Riggleman, 3. Bob Haberstick, 4. Mike Montano, 5. Joey Helberg, 6. Joe Mongeau, 7. Steve West, 8. Jerry Stanzione, 9. Tim Majek, 10. Brian Brown, 11. Matt Badessa, 12. Whitey Miller, 13. Bill Stockert, 14. Bryan O'Shea, 15. Tom Rajkowski, 16. Tim O'Shea, 17. Nancy Riggleman, 18. Marty Van Druten, 19. Neil Rutt, 20. Robert Ptaszynski, 21. Waylon Speer, 22. Richie Byrne, 23. Ray Fattarusso
2ND FATORY STOCK FEATURE – 25 Laps – 1. SCOTT RIGGLEMAN, 2. Wohl, 3. Helberg, 4. Montano, 5. Brown, 6. Byrne, 7. Stanzione, 8. West, 9. Miller, 10. Rajkowski, 11. Majek, 12. Van Druten, 13. Ptaszynski, 14. Speer, 15. Rutt, 16. Tim O'Shea, 17. Nancy Riggleman, 18. Bryan O'Shea, 19. Haberstick, 20. Mongeau, 21. Stockert
4 CYLINDER STOCKS – 25 Laps – 1. CHRISTAIN LACICERO, LAVALLETTE, 2. TJ Graves, 3. Todd Pilla, 4. Darren Burdge, 5. Dan Birdsall, 6. Jason lane, 7. Chris Silvestri, 8. Nicole Razzano, 9. Mike Lavery, 10. Randy Hart, 11. Jennifer Schultz, 12. Mike Mee, 13. Brian DeSarno, 14. Matt Malachatka, 15. Stan Patterson, 16. Jeff Loesch, 17. Darianne McLaren, 18. Brian Osborn
LEGEND CARS FEATURE – 25 Laps – 1. MIKE ALCARO, WEST MILFORD, 2. Richie Davidowitz, 3. Kevin Nowak, 4. Matt Maring, 5. Rob Silver, 6. Vinny Delaney, 7. Jon Parsons, 8. Ed Cheslak, 9. Dennis Kurras, 10. Kevin Anderson, 11. Jeff Otto