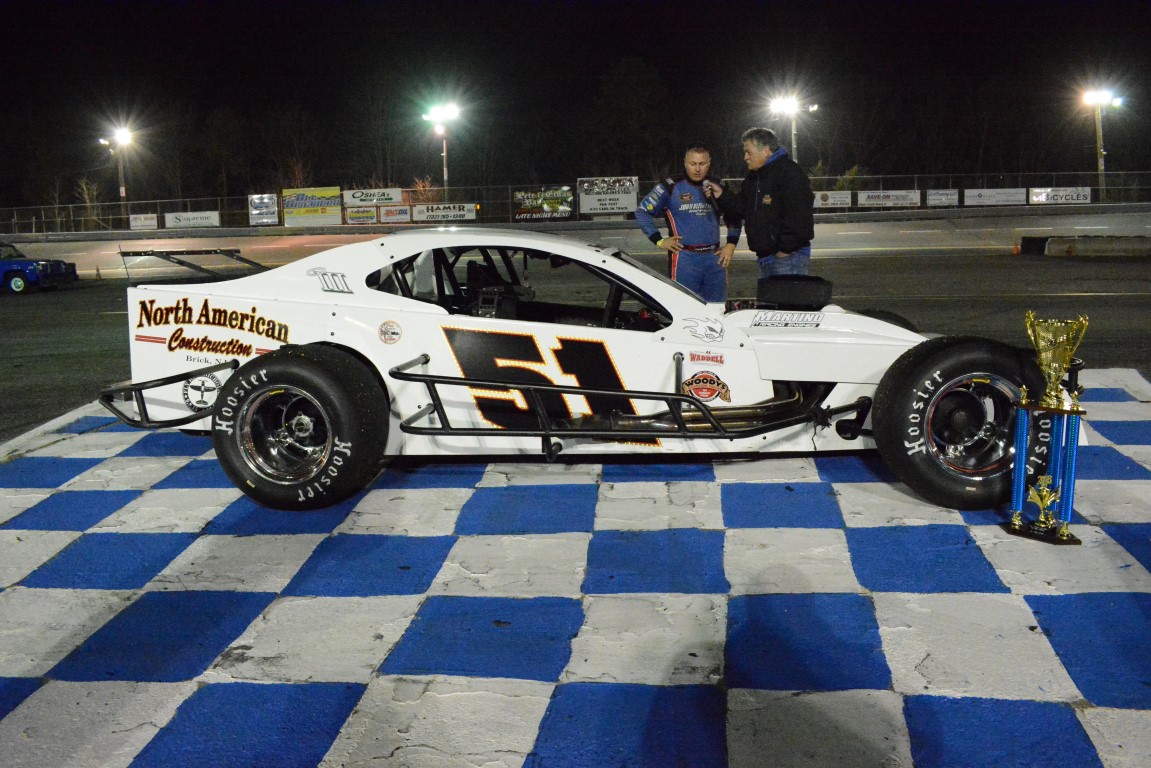 BLEWETT WINS WALL STADIUM MODIFIED OPENER
Story By: Jeff Gravatt/Wall Stadium Speedway
Photos By: John John Lane/RacersGuide.com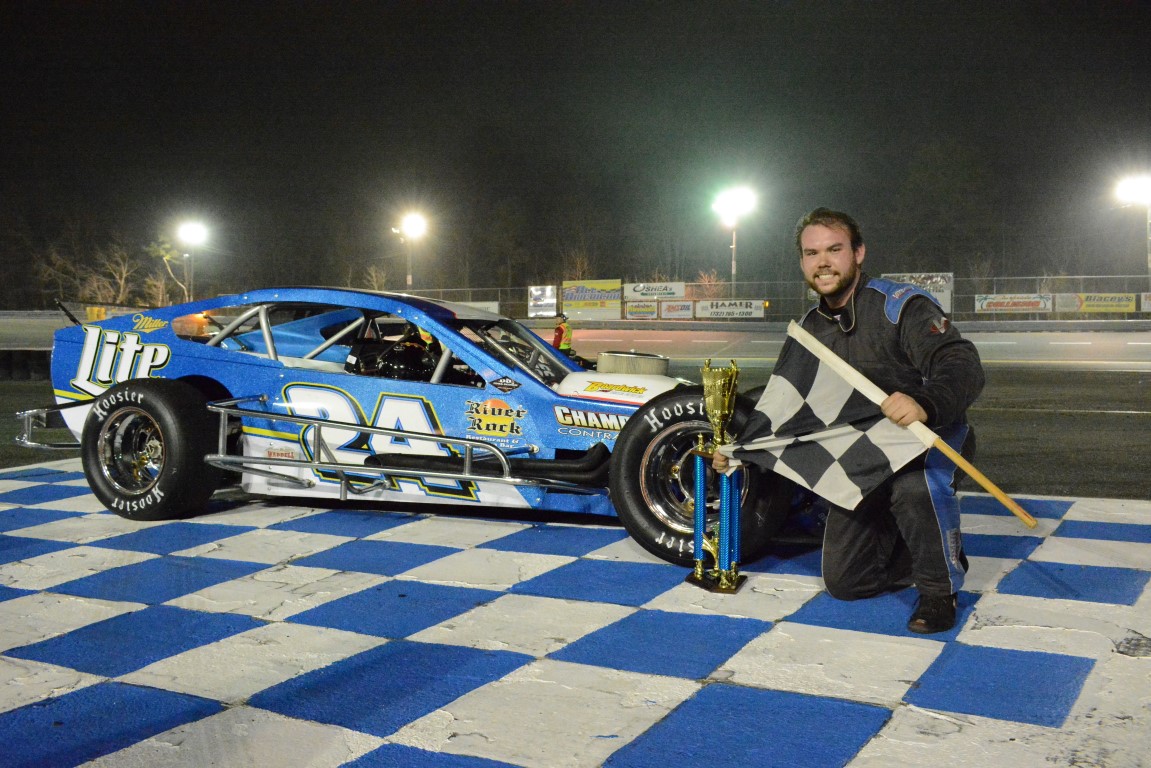 WALL TOWNSHIP, N.J. ~ His race car may have had a new paint scheme, sponsor and number, but the final results were the same as Jimmy Blewett raced to the opening night win in the Pete and Elda's Bar/Carmen's Pizzeria Modified 40-lap feature at Wall Stadium Speedway Saturday night. The All American Auto Group Racing Series victory moved the Howell speedster to second spot on the all-time Modified win list.
With opening night qualifying determined by time trials, Blewett started at the front and never looked back. The race for second was frantic, however, as Jackson's Steven Reed and Holmdel's Andrew Krause wrestled for the spot most of the way before Krause nailed down the finish. Howell's Eric Mauriello was also impressive as he slipped into third in the closing laps after pitting in the first half of the race when his window net became unlatched. Reed was fourth and Freehold's Chas Okerson was fifth.
"Up until a few days ago we had no sponsors," Blewett said in regards to the number and color change of his car. "Then North American Construction stepped up.
"The way the weather went from hot to cold in a matter of minutes worked out for us in a way. We used our Turkey Derby set up and the car was near perfect."
Before the race new division sponsor Pete and Elda's Bar/Carmen's Pizzeria distributed decals to the race teams. When it was announced during the race that the first car across the finish line displaying a decal would earn a bonus, Krause's team was rewarded $500 for being the first across the line with the new decal on his car.
Howell's Eric Lane raced to victory in the companion 25-lapper for the Center State Engineering Sportsman cars. Jarret DiGiantomasso of Jackson led early but left the race with mechanical trouble with just five laps remaining. Lane, who was running second, was able to avoid the trouble and grab the checker flag. Howell's Rob Silver, Jonathan Laureigh of Lanoka Harbor, Kevin Davison of Howell and Jackson's Kyle Scisco wrapped up the top five.
Wall's Bob Haberstick was the opening night winner in O'Shea's Auto Repair Factory Stock action leading defending champ Scott Riggleman of Manchester most of the way. Mike Montano of Freeport, N.Y., Bayville's Elliott Wohl an Bryan O'Shea of Wall were third through fifth.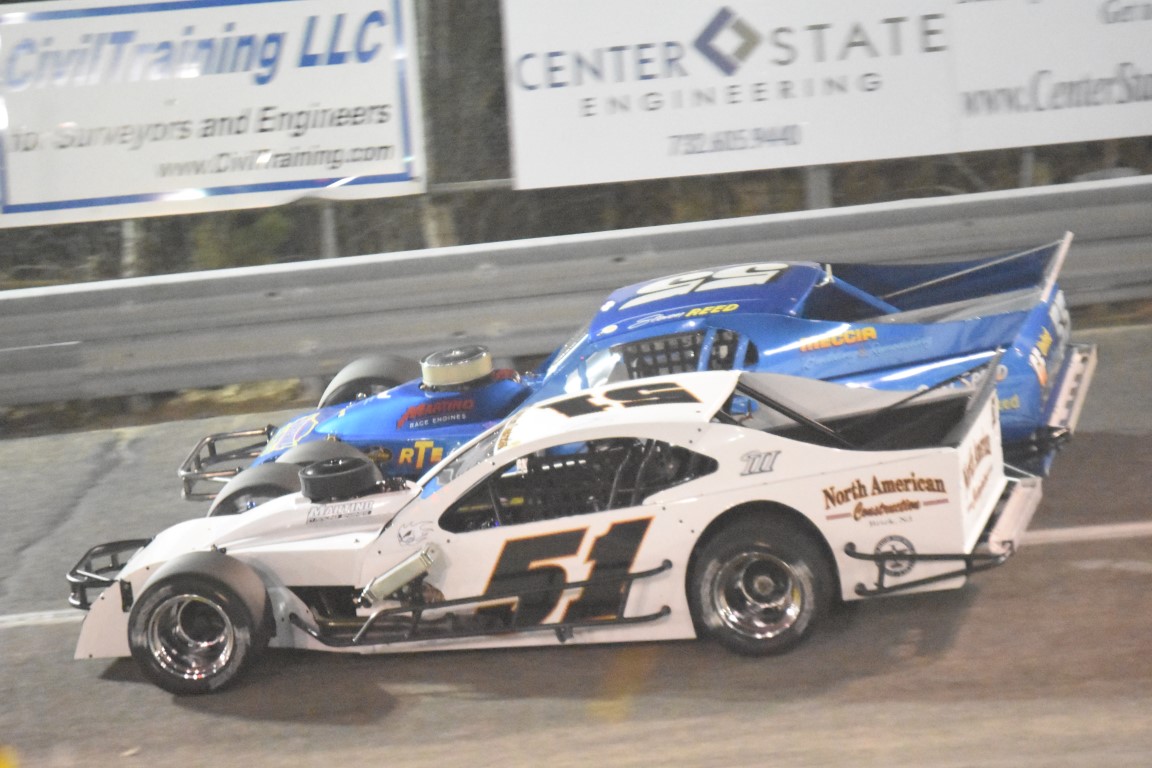 Defending Surfside Collision 4 Cylinder Stock champion Brian Osborn of Howell started his title defense off with a win in the 25-lapper. Nicole Razzano of Cookstown crossed the line second but her car failed a post race inspection. That moved Chris Silvestri of Hazlet, Darianne McLaren of Edison, Jennifer Schultz of Jackson and Bill Schwartz of Howell into second through fifth spots.
Shannon Mongeau of of Manchester took the win in the Mike's Performance Center Limited Late Model 20-lapper followed by Joe Mongeau of Brick, Harry Schaeffer of Carteret and Greg Gastelu of Jackson.
Mike Alcaro of West Milford crossed the line first in the 20-lapper for the Green Flag Driving Experience Legend Cars, but when his car failed post race inspection Vinny Troia of Browns Mills got the win. Nick Van Wickle of Edgewater Park, Peter Bruno of Little Silver, Tony Hodgson of Southampton and Brick's Roger Nickerson were second through fifth.
The 2018 Saturday night regular season continues this Saturday evening with the Modifieds, Sportsman cars, Factory Stocks, 4 Cylinder Stocks, Legend Cars and the Limited Late Models in action The pit area will open at 1:00 p.m. Grandstands will open at 4:00 p.m. and a special "Fan Fest" on track party is set for 4:30 p.m. Qualifying starts at 5:45 p.m. and main event action starts at 7:00 p.m.
Saturday night racing action continues through early October with schedule details at wallspeedwayracing.com.
Wall Stadium is located on Route 34 in Wall Township, N.J., just one mile north of Garden State Parkway exit 98 and Interstate 195 exit 35B. The speedway hotline number is 732-681-6400 and email address is ckmotorsports@aol.com.
RACE RESULTS
MODIFIED FEATURE – 40 Laps – 1. JIMMY BLEWETT, HOWELL, 2. Andrew Krause, 3. Eric Mauriello, 4. Steven reed, 5. Chas Okerson, 6. Tyler Truex, 7. Jonathan Mandato, 8. Derek Hopkinson, 9. Anthony Sesely, 10. Kenny Van Wickle, 11. Tom Catanzaro, 12. Jason Hearne, 13. Joey Merlino, 14. Zack Alspach, 15. Ricky Collins, 16. Blake Barney, DNS Shaun Carrig
SPORTSMAN FEATURE – 25 Laps – 1. ERIC LANE, HOWELL, 2. Rob Silver, 3. Jonathan Laureigh, 4. Kevin Davison, 5. Kyle Scisco, 6. Robby Walton, 7. Michael Rising, 8. Jake Nelke, 9. Joey King, 10. Dom Fattarusso, 11. Roland DeMartino, 12. Jarret DiGiantomasso, 13. Robert Sutphin, 14. Joe Cocca, 15. Mike Brennan, 16. Louie Keraitis, 17. Carsten DiGiantomasso, 18. Eddie McCarthy, 19. Dave Bailey, 20. Howie Conk
FACTORY STOCK FEATURE – 25 Laps – 1. BOB HABERSTICK, WALL, 2. Scott Riggleman, 3. Mike Montano, 4. Elliott Wohl, 5. Bryan O'Shea, 6. Tony Bartone, 7. John Bowers, 8. Jerry Koenig, 9. Robert Ptaszynski, 10. Matt Badessa, 11. Nancy Riggleman, 12. Whitey Miller, 13. Theresa Collins, 14. Robert DePonte, 15. John Carpenter, 16. Kenny Green, 17. Matt Malachatka, 18. Tom Rajkowski
4 CYLINDER STOCKS – 25 Laps – 1. BRAIN OSBORN, HOWELL, 2. Chris Silvestri, 3. Darianne McLaren, 4. Jennifer Schultz, 5. Bill Schwarz, 6. Jay Conrad, 7. Randy Hart, 8. Ian Ashford, 9. Chuck McDonald, 10. Richard Smith, 11. Mike Carr, 12. Sal Liguori, 13. Cody Burbank, 14. Darren Burdge, 15. JC Duvall, 16. Jeff Loesch, 17. Tom Stavola, 18. Doug Ashford, 19. Neil Rutt, DQ Nicole Razzano
LIMITED LATE MODEL FEATURE – 20 Laps – 1. SHANNON MONGEAU, MANCHESTER, Joe Mongeau, 3. Harry Schaeffer, 4. Greg Gastelu
LEGEND CARS FEATURE – 25 Laps – 1. VINNY TROIA, BROWNS MILLS, 2. Nick Van Wickle, 3. Peter Bruno, 4. Tony Hodgson, 5. Roger Nickerson, 6. Joe Fresco, DQ Mike Alcaro