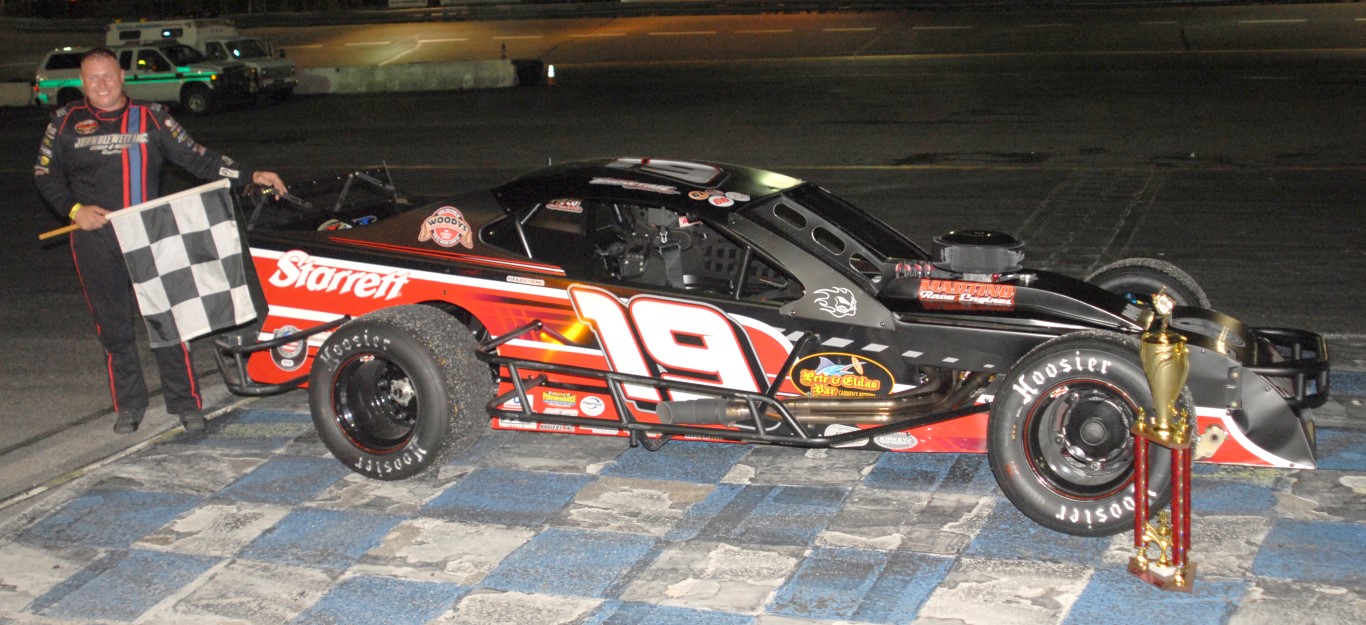 BLEWETT WINS WALL MODIFIED OPENER SATURDAY IN FRONT OF LARGE CROWD
Story By: Jeff Gravatt/Wall Stadium
Photos By: John John Lane/RacersGuide.com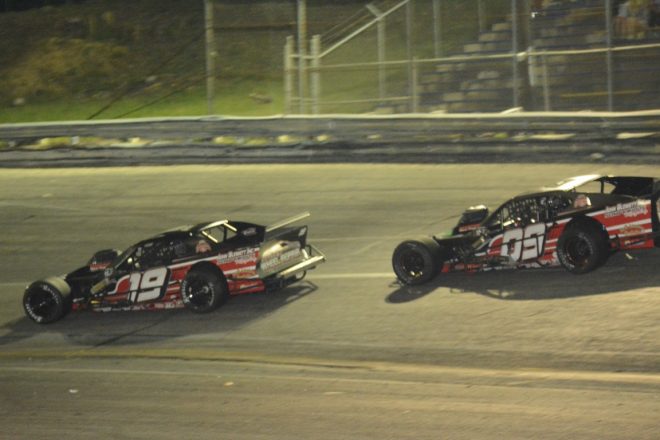 WALL TOWNSHIP, N.J. ~ Before one of the largest opening night crowds in recent memory Jimmy Blewett of Howell raced to victory in the headlining 40-lap feature race for the Freehold Ford Modified stock cars at Wall Stadium Speedway Saturday night. It was Blewett's 58th career main event win at the shore speedway.
  After setting fast time in time trial qualifying Blewett rocketed to the lead at the outset. Although he was never headed Blewett fought off challenges from Derek Hopkinson of Toms River, Holmdel's Andrew Krause and his very own teammate, Eric Mauriello of Howell. Just a few cautions slowed the race, but one red flag waved when rookie Tom Catanzaro slammed the first turn rail. Although both the guardrail and the car sustained severe damage, no injury was reported.
  At the checker flag Mauriello chased Blewett across the finish line with Krause, defending champion Steven Reed and Shanon Mongeau of Manchester completing the top five.
"Winning on opening night is big," Blewett said after the race. "The car was good until the end of the race. It picked up a little suspension problem and I had to take it easy near the end. A lot of people help with this team and I have to thank them all."
  Defending Snap On Sportsman champion Kevin Davison began his title defense on a positive note as he won a crash filled main event. Although Davison stayed well ahead of the trouble, officials eventually called the race official with 27 of the scheduled 30 laps completed. Tuckerton's Robby Walton, Jonathan Laureigh of Lanoka Harbor, Wall's Mike Carr and Kyle Scisco of Jackson wrapped up the top five.
Former champ Scott Riggleman of Manchester won the season opening 25-lapper for the O'Shea's Auto Repair Factory Stocks after early leader Richie Byrne dropped from the race in the closing laps. Joey Helberg of Union, Mike Montano of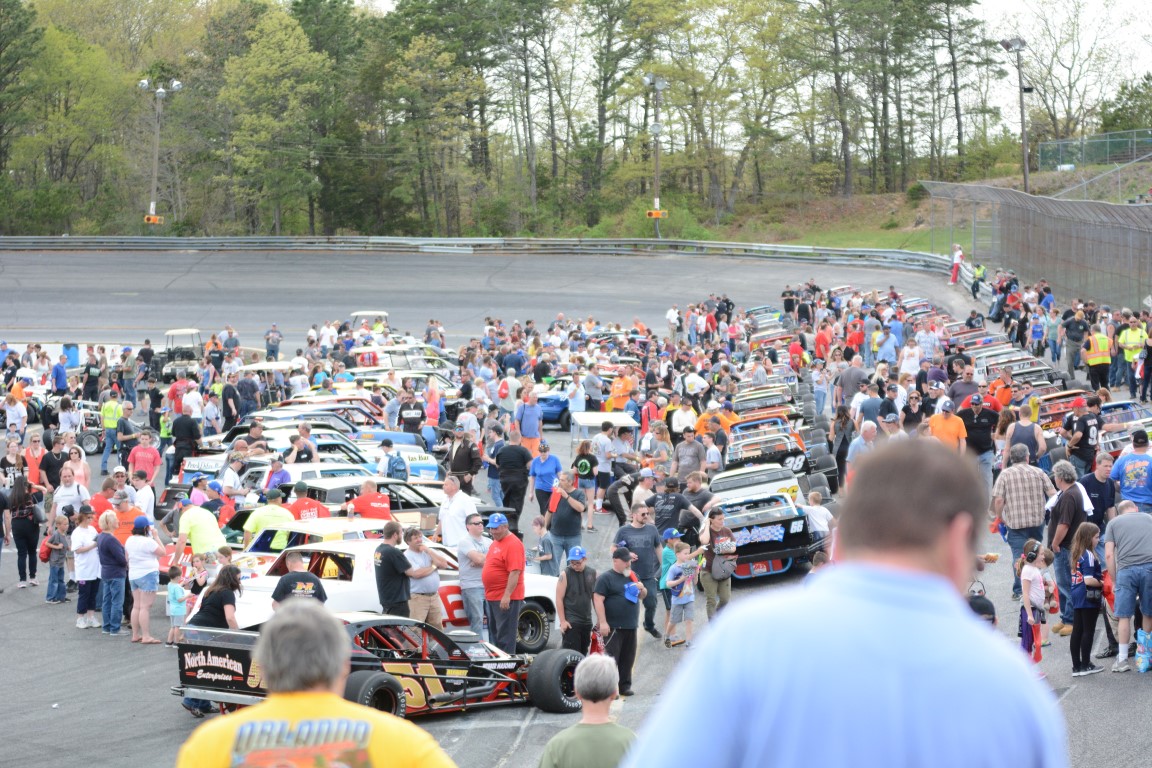 Freeport, N.Y., Gerry Koenig of Seaford, N.Y. and Elliott Wohl of Bayville were second through fifth.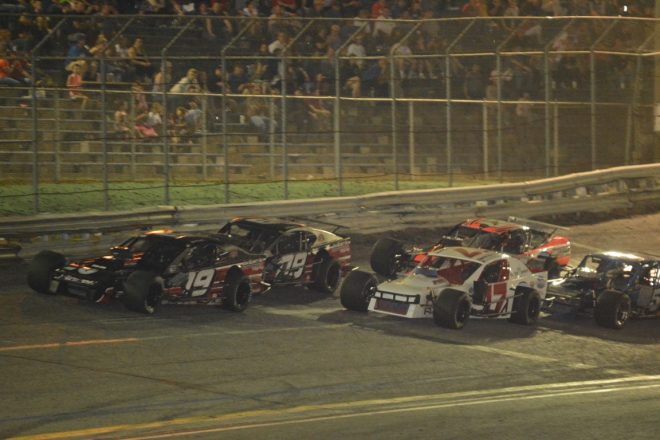 Kevin Nowak of Medford, N.Y. won the 25-lapper for the Green Flag Driving Experience Legend Cars over Richie Davidowitz, also of Medford, N.Y., Wall's Robert French, defending champ Louie Keraitis of Toms River, and Mitchell Dowd of Pottstown, Pa.
Brian Doyle of Ronkonkoma, N.Y. tasted his first win in over a season in the 25-lapper for the Elite Maintenance Limited Late Models over Wall's Cole Ormsbee, Greg Miranda of Hazlet, Jackson's Glen Conk and Jim Moorman.
  Defending Surfside Collision 4 Cylinder Stock champ Todd Pilla of Beachwood won his main event over Brick's Robert Sutphin, Darren Burdge of Jackson and Darianne McLaren of Edison.
; Buddy Sload of West Chester, Pa. won the 25-lap race for the touring TQ Midgets.
  Racing continues this Saturday evening with cone races offered for the speedway's regular divisions. Grandstand seating will open at 5:00 p.m. Qualifying will then start at 5:45 p.m. before the seven main events begin at 7:00 p.m.
The Freehold Ford Modifieds are set for a 40-lap main event and the Snap On Sportsman cars will battle in a 30-lapper. The O'Shea's Auto Repair Factory Stocks and the Green Flag Driving Experience Legend Cars will compete in 25-lap feature races on the third mile high-banked paved oval. Also on the card will be the open cockpit Three Quarter Midgets on the fifth mile inner oval.
More information on Wall Stadium and the 2017 Saturday night schedule can be obtained by visiting the website at wallspeedwayracing.com.
Wall Stadium is located on Route 34 in Wall Township, N.J., just one mile north of Garden State Parkway exit 98 and Interstate 195 exit 35B. The speedway hotline number is 732-681-6400 and email address is CKMotorsports@aol.com.
RACE RESULTS 4-29-17
MODIFIED FEATURE – 40 Laps – 1 JIMMY BLEWETT, HOWELL, 2. Eric Mauriello, 3. Andrew Krause, 4. Steven Reed, 5. Shanon Mongeau, 6. Derek Hopkinson, 7. Jason Hearne, 8. Ron Frees, 9. Blake Barney, 10. Kenny Van Wickle, 11. Shaun Carrig, 12. Jason Treat, 13. Jonathan Mandato, 14. Ricky Collins, 15. Shawna Ingraham, 16. Ryan Cottrell, 17. Joey Merlino, 18. Zack Alspach, 19. Trevor Alspach, 20. Tom Catanzaro, 21. Chas Okerson
SPORTSMAN FEATURE – 27 Laps – 1. KEVIN DAVISON, HOWELL, 2. Robby Walton, 3. Jonathan Laureigh, 4. Mike Carr, 5. Kyle Scisco, 6. Joe Cocca, 7. Mike Tidaback, 8. Rob Silver, 9. Roland DeMartino, 10. Matt Langbein, 11. Jarret DiGiantamasso, 12. Tyler Truex, 13. Dave Bailey, 14. John McCormack, 15. Nick Shaw, 16. Tim Stephan, 17. Kenny Green, 18. Jake Nelke
FACTORY STOCK FEATURE – 25 Laps – 1. SCOTT RIGGLEMAN, MANCHESTER, 2. Joey Helberg, 3. Mike Montano, 4. Gerry Koenig, 5. Elliott Wohl, 6. Joe Mongeau, 7. Tom Rajkowski, 8. Whitey Miller, 9. Bob Haberstick, 10. Bryan O'Shea, 11. Matt Badessa, 12. Tim Majek, 13 Tony Bartone, 14. John Bowers, 15. Richie Byrne, 16. Theresa Collins, 17. Scott Maher, 18. Nancy Riggleman
LEGEND CARS FEATURE – 25 Laps – 1. KEVIN NOWAK, MEDFORD, N.Y., 2. Richie Davidowitz, 3. Robert French, 4. Louie Keraitis, 5. Mitchell Dowd, 6. Artie Pederson, 7. Peter Bruno, 8. Nick Van Wickle, 9. Tom Stavola, 10. Tony Hodgson, 11. Roger Nickerson, 12. Chris Gall
LIMITED LATE MODEL FEATURE – 25 Laps – 1. BRIAN DOYLE, RONKONKOMA, N.Y., 2. Cole Ormsbee, 3. Greg Miranda, Glen Conk, Jim Moorman, 6. Bill Vanderveen, 7. Greg Gastelu