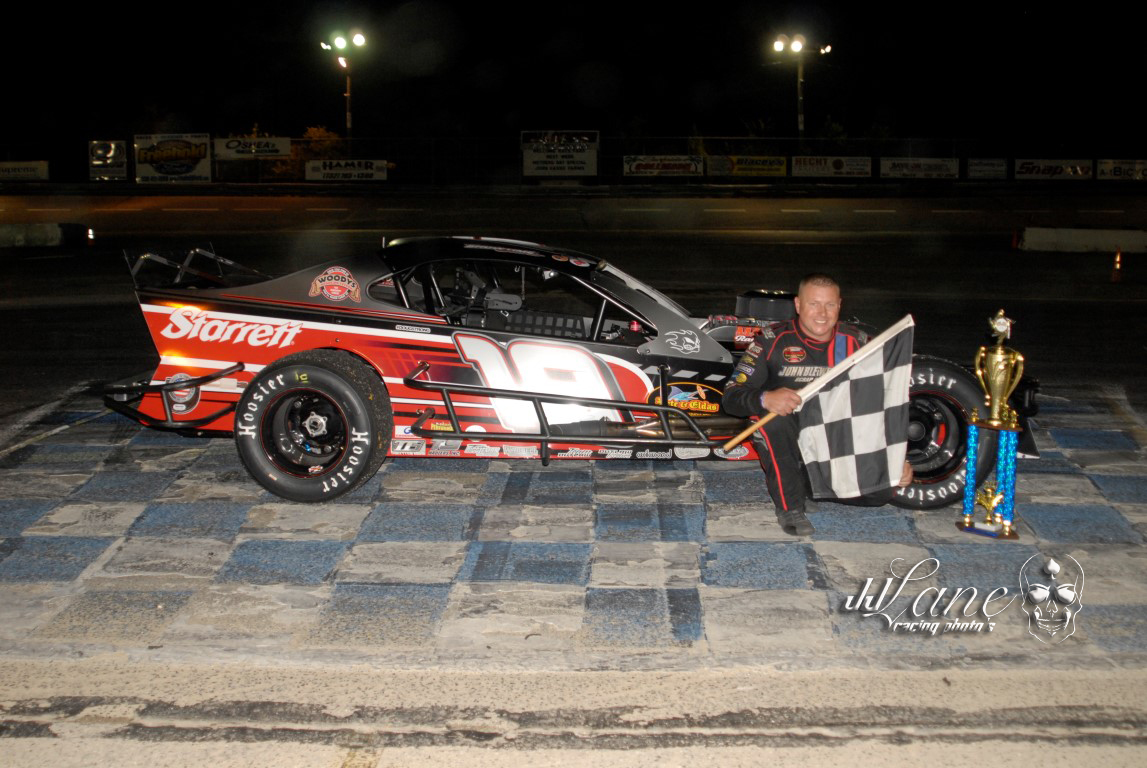 BLEWETT WINS SECOND STRAIGHT WALL MODIFIED RACE SATURDAY
Story By: Jeff Gravatt/Wall Stadium
Photos By: John John Lane/RacersGuide.com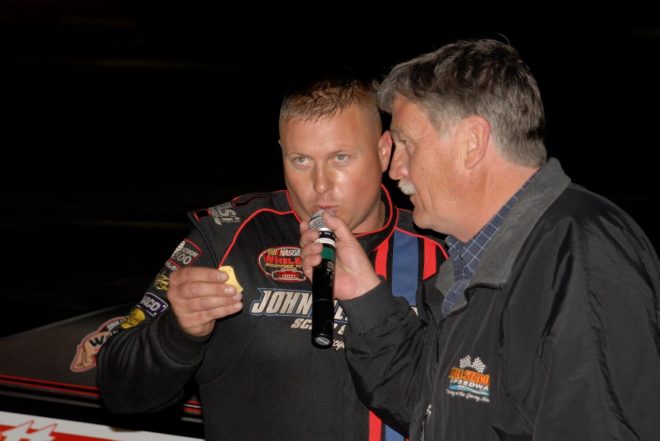 WALL TOWNSHIP, N.J. ~ Jimmy Blewett returned to the winner's circle for the second straight Saturday night at Wall Stadium Speedway topping the 40-lap main event for the Freehold Ford Modified stock cars. The win moved the Howell resident to a fourth place tie on the all-time speedway win list with standout racer Tony Siscone with 59 wins. The win also moved Blewett out of a 58 win tie with legendary driver Tommie Elliott.
When the green flag dropped on this one two-time defending champion Steven Reed of Jackson was the leader but Blewett wasted no time in moving to second with Manchester's Shanon Mongeau running third. The race was stopped soon after when Brick's Shawna Ingraham got out of shape exiting turn two and forced Holmdel's Andrew Krause into the guardrail. The mishap collected six cars but no injuries were reported.
Reed continued to pace the field on the restart with Blewett and Mongeau close behind. The turning point in this event came on lap nine with Reed's car washed up the backing in turn one and Blewett was able to dive to the inside lane and into the lead. Mongeau soon followed Blewett through for second.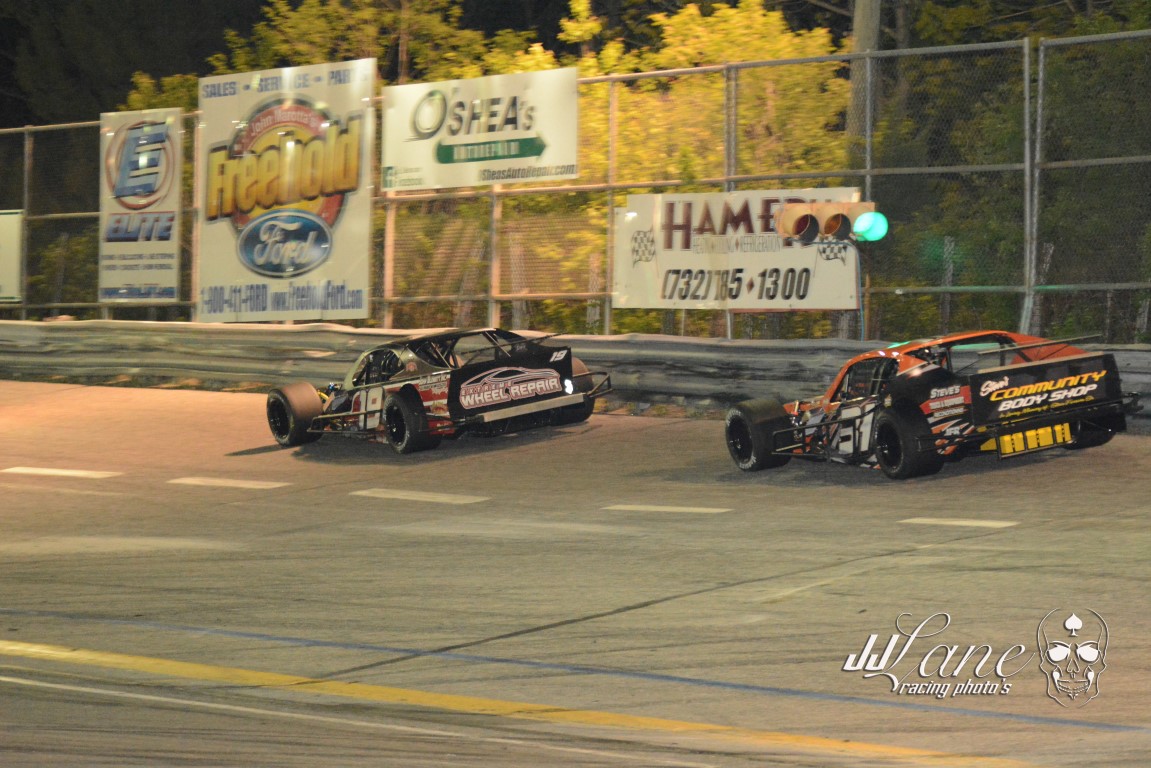 From then on it was a high-speed chase before Blewett took the win with Mongeau a close second. Reed, Adam LaCicero of Lavallette and Toms River's Derek Hopkinson completed the top five.
"I watched Tony Siscone get a lot of wins here so I guess this is a pretty big accomplishment," Blewett said. "The car was great tonight thanks to everyone who supports this team. They work hard and our sponsors really help. I can't stress that enough."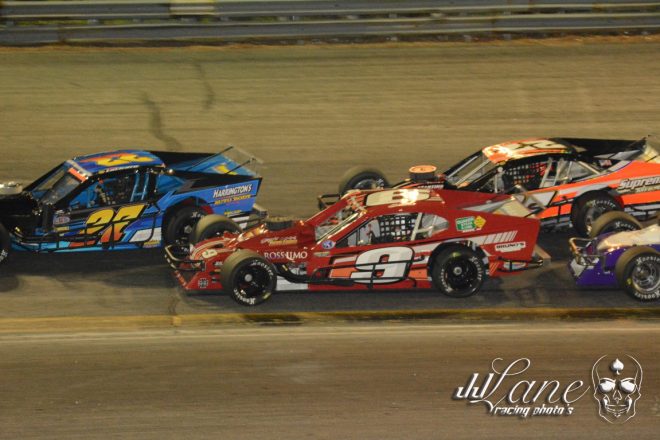 After missing opening night racing the week before due to a trip to Mexico for a friend's wedding, Dom Fattarusso of Brick posted the fastest time, started sixth and raced on to the 25-lap Snap On Sportsman main event win.
Tyler Truex of Mayetta was the early leader of the race with opening night winner Kevin Davison of Howell close behind. Meanwhile, Fattarusso passed cars to advance to third before risking his spot by moving to the outside lane in the cone race format. On that restart Fattarusso gained second spot and then dove to the inside lane in turns one and two to take the lead and eventual win.
Truex and Davison were second and third while Tuckerton's Robbie Walton and Mike Carr of Wall completed the top five.
Joey Helberg of Union jumped to the lead early and raced on to win the 25-lap feature race for the O'Shea's Auto Repair Factory Stocks. Opening night winner Scott Riggleman of Manchester and Brick's Joe Mongeau made up the tight top three, while Elliott Wohl of Bayville and Mike Montano of Ft. Myers, Fla. were fourth and fifth.
Defending champ Lou Keraitis of Toms River grabbed the lead on lap three and then raced to victory in the 25-lapper for the Green Flag Driving Experience Legend Cars. Howell's Robert French borrowed a car to race through the pack for second. Mitchell Dowd of Pottstown, Pa., Nick Van Wickle of Edgewater Park and Vinny Troia of Browns Mills were third trough fifth.
Ryan Tidman of Levittown, Pa. won the 25-lapper for the touring Three Quarter Midgets and Dalton Rivera won a 15-lapper for Sunday Series Champ Karts.
Racing continues this Saturday evening (May 13). John Gasko and Son Farm and Greenhouses will not on honor mom's on this Mother's Day weekend by presenting flowers while supplies last, but will also be the presenting trophy sponsor for all divisions. Grandstand seating will open at 5:00 p.m. Qualifying will then start at 5:45 p.m. before the seven main events begin at 7:00 p.m.
The Freehold Ford Modifieds are set for a 40-lap main event and the Elite Maintenance Limited Late Models are set for a pair of feature races. The O'Shea's Auto Repair Factory Stocks, Surfside Collision 4 Cylinder Stocks and the Green Flag Driving Experience Legend Cars will compete in 25-lap feature races on the third mile high-banked paved oval.
More information on Wall Stadium and the 2017 Saturday night schedule can be obtained by visiting the website at wallspeedwayracing.com.
Wall Stadium is located on Route 34 in Wall Township, N.J., just one mile north of Garden State Parkway exit 98 and Interstate 195 exit 35B. The speedway hotline number is 732-681-6400 and email address is CKMotorsports@aol.com.
RACE RESULTS 5-6-17
MODIFIED FEATURE – 40 Laps – 1 JIMMY BLEWETT, HOWELL, 2. Shanon Mongeau, 3. Steven Reed, 4. Adam LaCicero, 5. Derek Hopkinson, 6. Jason Hearne, 7. Jason Treat, 8. Blake Barney, 9. Shaun Carrig, 10. Ryan Cottrell, 11. Ron Frees, 12. Andrew Krause, 13. Shawna Ingraham, 14. Ricky Collins, 15. Kenny Van Wickle, 16. Chas Okerson
SPORTSMAN FEATURE – 25 Laps – 1. DOM FATTARUSSO, BRICK, 2. Tyler Truex, 3. Kevin Davison, 4. Robby Walton, 5. Mike Carr, 6. Jarret DiGiantamasso, 7. Eric Lane, 8. Rob Silver, 9. Mike Tidaback, 10. Roland DeMartino, 11. Joe Cocca, 12. Jonathan Laureigh, 13. Matt Langbein, 14. Kyle Scisco, 15. Jake Nelke, 16. Todd Dige, 17. Dave Bailey
FACTORY STOCK FEATURE – 25 Laps – 1. JOEY HELBERG, UNION, 2. Scott Riggleman, 3. Joe Mongeau, 4. Elliott Wohl, 5. Mike Montano, 6. Tom Rajkowski, 7. Rob Haberstick, 8. Ray Fattarusso, 9. Whitey Miller, 10. Gerry Koenig, 11. Matt Badessa, 12. John Bowers, 13. Tim Majek, 14. Tony Bartone, 15. Bryan O'Shea, 16. Richie Byrne, 17. Tim O'Shea, 18. Nancy Riggleman, 19. Theresa Collins, 20. Eric Bodenschatz
LEGEND CARS FEATURE – 25 Laps – 1. LOU KERAITIS, TOMS RIVER, 2. Robert French, 3. Mitchell Dowd, 4. Nick Van Wickle, 5. Vinny Troia, 6. Artie Pederson, 7. Chris Gall, 8. Tom Stavola, 9. Tony Hodgson, 10. Roger Nickerson