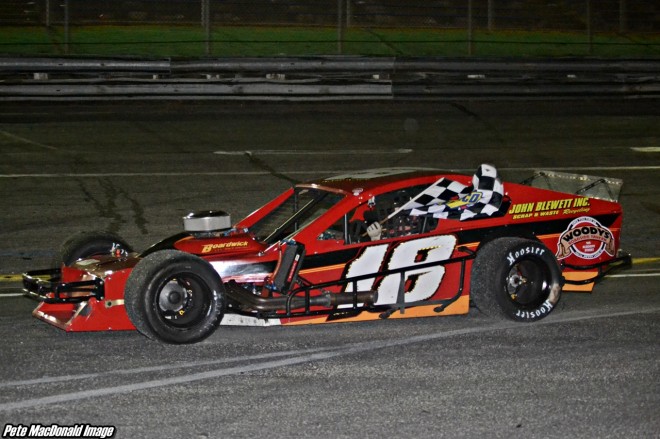 BLEWETT TOPS WOODY'S 105 FOR MODIFIEDS AT WALL STADIUM SATURDAY
WALL TOWNSHIP, N.J. ~ Howell's Jimmy Blewett found inspiration in the fact that his sponsor, Woody's Roadside Tavern in nearby Farmingdale, was also the race sponsor at Wall Stadium Speedway Saturday night and raced from deep in the field to win the "Woody's High Banks 105" for Downs Ford Modified stock cars. The win, Blewett's first of the season here was worth $5105.
Howell's Eric Mauriello jumped to the lead from the front row after posting fast time in time trials. While Mauriello led the early laps Blewett immediately went to work advancing from his 13th starting spot. Using both the high and low lanes on the third mile paved oval Blewett advanced to fifth by lap 20, third by lap 31 and into second with an outside lane pass on lap 35. Blewett then cruised in the runner-up spot until lap 89 when he made an outside lane pass for the lead over Mauriello.
The final 15 laps saw a flurry of caution flags but Blewett was able to hold off Mauriello on every restart. Chas Okerson of Freehold was third at the finish, while Anthony Sesely of Matawan came from 19th to finish fourth. Adam LaCicero of Lavallette was fifth.
"We didn't time very well, started 13th and my grandfather wasn't happy," Blewett said after the race. "I just decided to run hard and pass cars for my grandfather. I didn't know if I would burn the tires off it or not. In reality the car was real good and I think I had some extra left at the end of the race."
Brick's Joe Mongeau won the 25 lap main event for the O'Shea's Auto Repair Factory Stocks, taking the lead from Manchester's Scott Riggleman with eight laps remaining. The winner's brother, Rich Mongeau of Brick, was the runner-up with Riggleman, Steve West of Howell and Brick's Ronnie Mullen completing the top five.
Tyler Truex of Mayetta won his first ever main event taking top honors in the 25-lapper for the Snap-on Sportsman cars. Shanon Mongeau of Manchester chased Truex most of the way before finishing second, with Holmdel's Andrew Krause, Howell's Kevin Davison and Parlin's Larry Thompson wrapping up the top five.
Fred Cannock of Port Monmouth won his third straight Green Monster Insulation 4 Cylinder Stock feature race after Mike Lavery, who crossed the finish line first, could not pass post-race inspection. Todd Dige, Jay Conrad, Darren Burdge and Mike Bilello were second through fifth.
Buddy Sload won the 25-lapper for the TQ Midgets taking the lead late in the event from Geoff Sutton. Matt Roselli was third
Dalton Rovira won the 25-lapper for the Sunday Series Champ Karts over Jarrett DeGiantomasso and Kerry Irwin.
Wall Stadium returns to action this Saturday (August 29) featuring twin Elite Maintenance Limited Late Models 25 lappers, twin Factory Stock 20-lappers, twin Legend Cars 20-lappers and a Sportsman main event. Spectator seating opens at 5:00 p.m. and qualifying is set for 5:30 p.m. followed by main events.
Wall Stadium presents professional motorsports events on Saturdays and Sundays through September with special post-season races in October and November. The speedway is located on Route 34 in Wall Township, N.J., just one mile north of Garden State Parkway exit 98 and Interstate 195 exit 35B. The speedway hotline number is 732-681-6400, whileCKMotorsports@aol.com is the track's email address. More information is also available atwww.wallspeedwayracing.com.
–         THE END –
MODIFIED FEATURE – 105 Laps – 1. JIMMY BLEWETT, HOWELL, 2. Eric Mauriello, 3. Chas Okerson, 4. Anthony Sesely, 5. Adam LaCicero, 6. Steven Reed, 7. Justin Gumley, 8. Shawna Ingraham, 9. Ron Frees, 10. Zack Alspach, 11. Ken Matlach, 12. Scott Brannick, 13. Trevor Alspach, 14. Derek Hopkinson, 15. Chris Lane, 16. Jason Hearne, 17. Andrew Krause, 18. Jason Treat, 19. Shanon Mongeau, 20. Jonathan Mandato, 21. Kevin Davison, 22. Matt Hirschman
FACTORY STOCK FEATURE – 25 Laps – 1. JOE MONGEAU, BRICK, 2. Rich Mongeau, 3. Scott Riggleman, 4. Steve West, 5. Ronnie Mullen, 6. Bob Haberstick, 7. Tiffany Olejnik, 8. Whitey Miller, 9. Neil Rutt, 11. Dan Springfield, 12. Joey Helberg, 13. Jerry Stanzione, 14. Josh Matthews, 15. Richie Byrne, 16. Lee Allen, 17. Tom Rajkowski, 18. Matt Badessa, 19. Ron Booth, 20. Matt Truppo, 21. Tony Bartone, 22. Gerry Koenig, 23. Tim O'Shea, 24. John Bowers
SPORTSMAN FEATURE – 25 Laps – 1. TYLER TRUEX, MAYETTA, 2. Shanon Mongeau, 3. Andrew Krause, 4. Kevin Davison, 5. Larry Thompson, 6. Chris Lane, 7. Matt Langbein, 8. Kenny Van Wickle, 9. Jarrett DeGiantomasso, 10. Jason Caruso, 11. Joe Cocca, 12. Dave Bailey, 13. Robert Vassilatos, 14. Eric Lane, 15. Scott Brannick, 16. Roland DeMartino
4 CYLINDER STOCKS FEATURE – 25 Laps – 1. FRED CANNOCK, PORT MONMOUTH 2. Todd Dige, 3. Jay Conrad, 4. Darren Burdge, 5. Mike Bilello, 6. TJ Graves, 7. Jason Lane, 8. Ronnie Mullen, 9. Darianne McLaren, DQ Mike Lavery