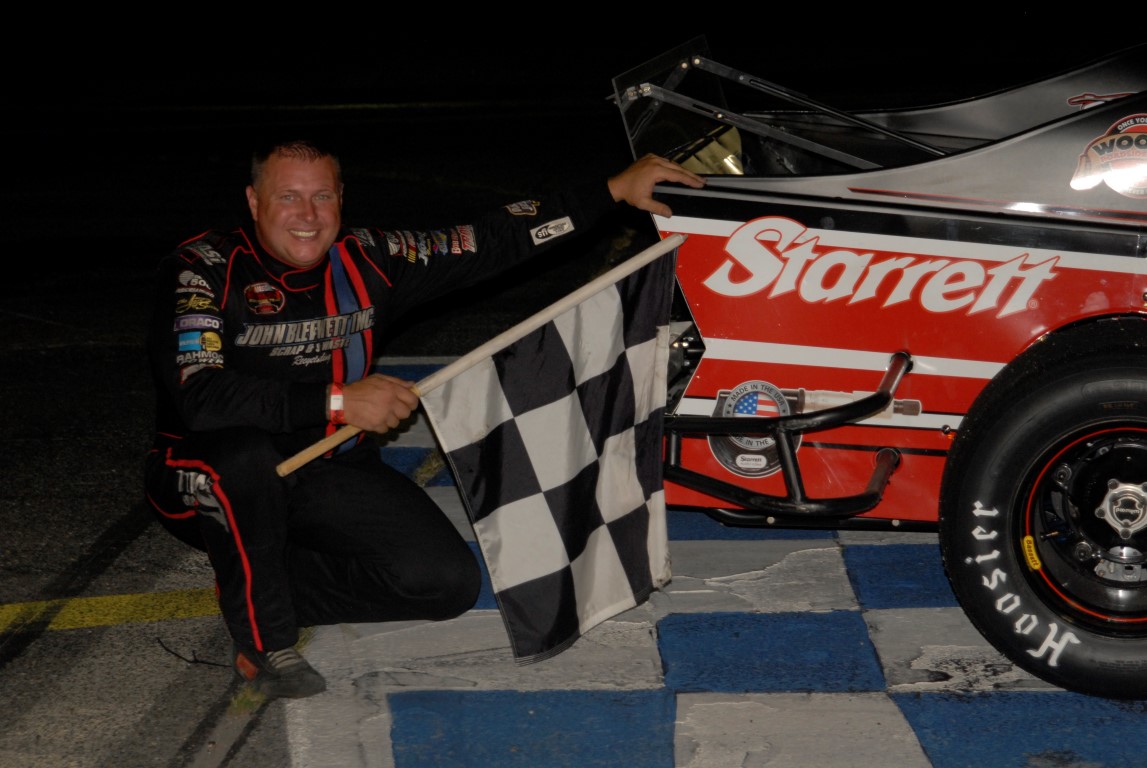 BLEWETT POCKETS WOODY'S $5105 IN WALL MODIFIED WIN
Story By: Jeff Gravatt/Wall Stadium
Photos By: John John Lane/RacersGuide.com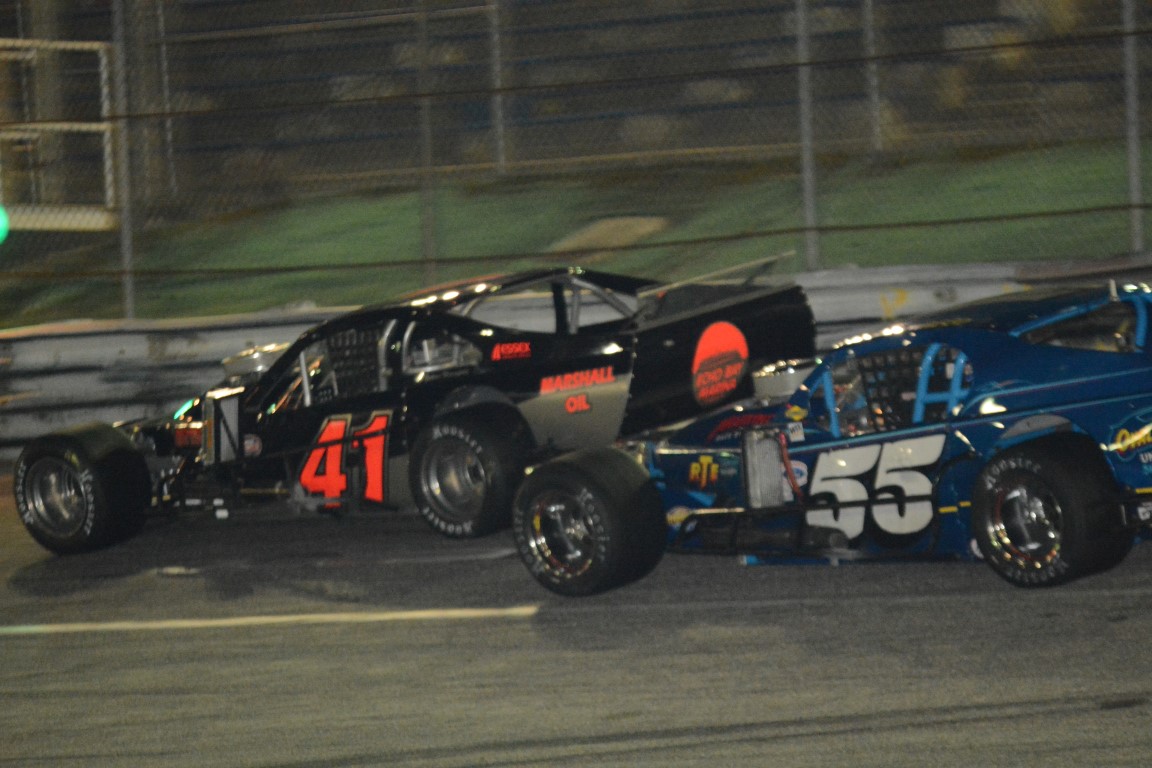 WALL TOWNSHIP, N.J. ~ Jimmy Blewett earned $5105 by racing through the pack and into the lead during the closing laps of the Woody's High Banks 105 for Freehold Ford Modified stock cars at Wall Stadium Speedway Saturday night. It was sixth win of the season for the current championship point leader.
By virtue of a pole starting spot by turning the fastest lap in time trials Blewett jumped to the lead at the outset with Holmdel's Andrew Krause offering plenty of pressure. Invader Matt Hirschman of Northampton, Pa. slipped into second on a lap 15 restart and chased the top runner until a red flag waved on lap 43 for a backstretch tangled between Jackson's Jason Treat and Ricky Collins of Willow Grove, Pa. At this point contenders Hirschman, Jackson's Steven Reed and Derek Hopkinson of Toms River ducked in the pit area for new tires.
Blewett continued to lead when action resumed until a lap 76 caution allowed him, Krause, Howell's Eric Mauriello and Danny Bohn of Mooresville, N.C. to stop for new tires. Hirschman took up the lead on the restart but Blewett was charging as he raced into second by lap 80 and closed to the leader's bumper on lap 84. Blewett went right to work looking for a path into the lead and dove to the inside lane on lap 86 to take the top spot. Blewett was not alone in his charge, however, as his team mate Mauriello followed him through for second.
The final 20 laps offered a spirited battle for the win between Blewett and Mauriello before the team cars crossed the finish line first and second. Hirschman was third at the stripe with Krause and Bohn finishing fourth and fifth.
"When Eric (Mauriello) joined this team I told him to race for the win no matter who is in front of him," Blewett said of the late race battle for the win. "This makes for a great finish for this team. We really needed that because this has been a long week for my family. We lost my brother John on August 16 ten years ago."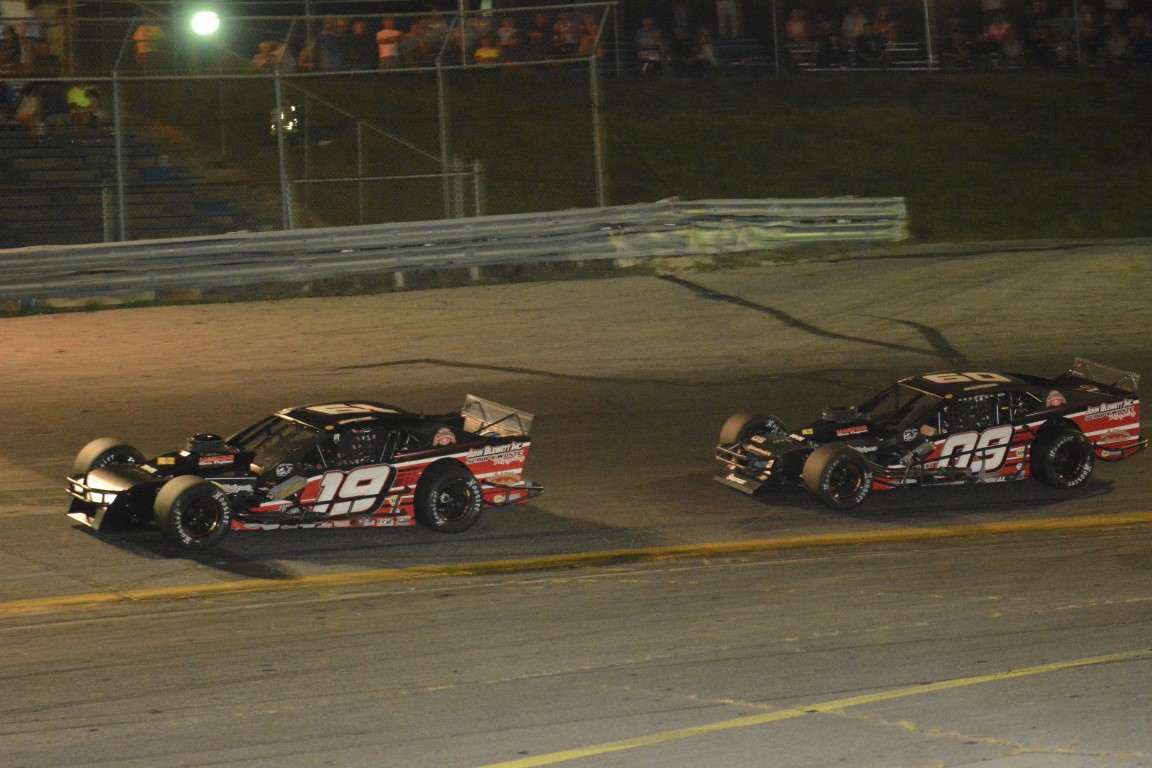 Carsten DiGiantomasso of Jackson won the companion 25-lapper for the Snap On Sportsman cars leading from start to finish. It was the first ever stock car win for the 16 year old and it came in his rookie season. The Sunday Series graduate was followed by point leader Tyler Truex of Mayetta with Jarrett DiGiantomasso of Jackson, John McCormick of Farmingdale and Tuckerton's Robby Walton wrapping up the top five.
Howell's Richie Byrne crossed the finish line first in the 25-lapper for the O'Shea's Auto Repair Factory Stocks but when a post-race inspection showed his motor's vacuum level to be below specs according to rules the win was handed to the second place finishing Scott Riggleman of Manchester. Union's Joey Helberg, Elliott Wohl of Beachwood, Mike Montano of Fort Myers, Florida and Wall's Bryan O'Shea completed the top five.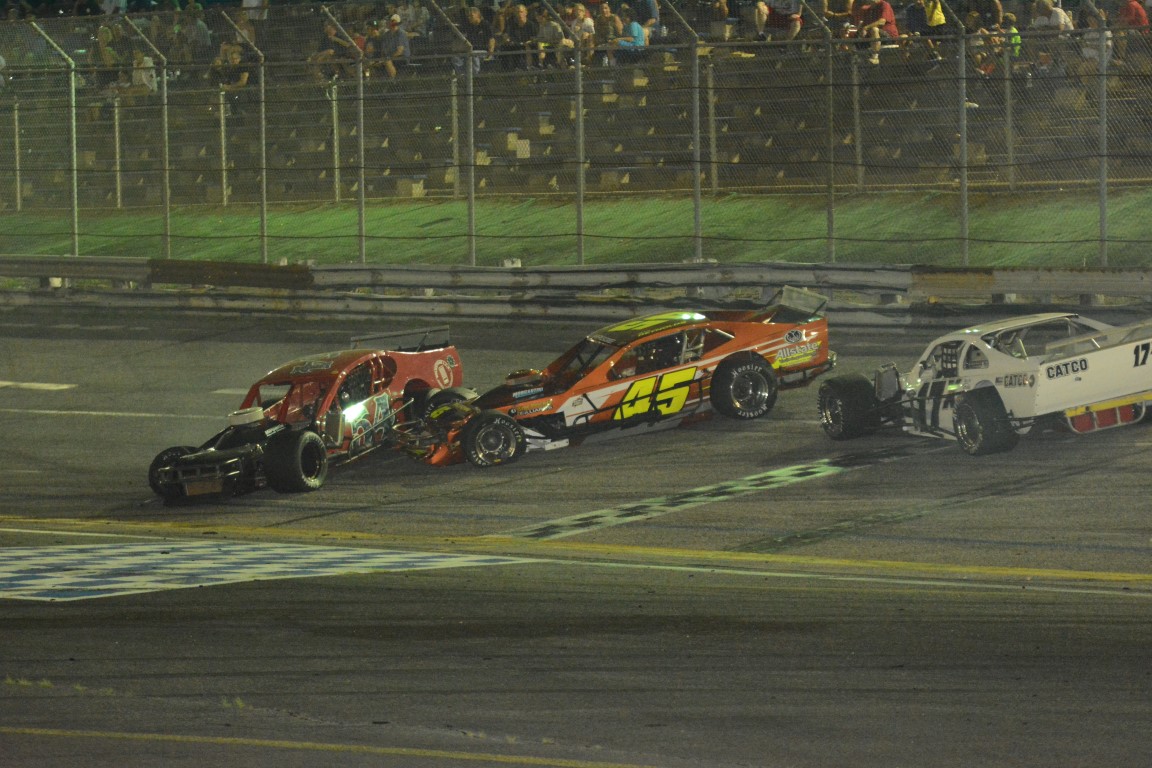 The Surfside Collision 4 Cylinder Stocks battled in two 25-lappers with Mark Tischler jumping into the Todd Pilla No. 19 and racing to the win in the first race. Christian LaCicero of Lavalette, Jay Conrad, Brian Osborn of Howell and Fred Cannock of Port Monmouth completed the top five.
In the second 4 Cylinder Stock 25-lapper Cannock took the win over LaCicero, Osborn, TJ Graves and Brian DeSarno, both of Wall.
Racing returns this Saturday night August 26 with "Pack the Track Night" which features a discounted grandstand admission of $10 for adults and $5 for children. The card will feature the Sportsman cars in a 50-lapper, two feature races for the Factory Stocks and the Green Flag Driving Experience Legend Cars and a 25-lapper for the 4 Cylinder Stocks. Pit area will open at 1:00 p.m. with practice running from 3:00 p.m. until 5:00 p.m. Grandstands will open at 5:00 p.m. Qualifying starts at 5:45 p.m. and main event action starts at 7:00 p.m.
More information on Wall Stadium and the 2017 Saturday night schedule can be obtained by visiting the website at wallspeedwayracing.com.
Wall Stadium is located on Route 34 in Wall Township, N.J., just one mile north of Garden State Parkway exit 98 and Interstate 195 exit 35B. The speedway hotline number is 732-681-6400 and email address is CKMotorsports@aol.com.
RACE RESULTS
MODIFIED FEATURE – 105 Laps – 1. JIMMY BLEWETT, HOWELL, 2. Eric Mauriello, 2. Matt Hirschman, 4. Andrew Krause, 5. Danny Bohn, 6. Shanon Mongeau, 7. Steven Reed, 8. Derek Hopkinson, 9. Kenny Van Wickle, 10. Marc Rogers, 11. Chas Okerson,12. Tom Catanzaro, 13. Trevor Alspach, 14. Scott Brannick, 15. Ed DeLage, 16. Blake Barney, 17. Shaun Carrig, 18. Chris Reynolds, 19. Ricky Collins, 20. Jason Treat, 21. Adam LaCicero, 22. Zack Alspach
SPORTSMAN FEATURE – 25 Laps – 1. CARSTEN DIGIANTOMASSO, JACKSON, 2. Tyler Truex, 3. Jarret DiGiantomasso, 4. John McCormick, 5. Robby Walton, 6. Eric Lane, 7. Jonathan Laureigh, 8. Jake Nelke, 9. Nick Shaw, 10. Joe Cocca, 11. John Blewett IV, 12. Matt Langbein, 13. Kenny Green, 14. Robert Vassilatos, 15. Kyle Scisco, 16. Kevin Davison
FACTORY STOCK FEATURE – 25 Laps – 1. SCOTT RIGGGLEMAN, MANCHESTER, 2. Joey Helberg, 3. Elliott Wohl, 4. Mike Montano, 5. Bryan O'Shea, 6. Gerry Koenig, 7. Whitey Miller, 8. Tom Rajkowski, 9. Tony Bartone, 10. Matt Badessa, 11. Tim Majek, 12. Theresa Collins, 13. Robert Ptaszynski, 14. Nancy Riggleman, 15. Rob Haberstick, 16. Ray Fattarusso, 17. Waylon Speer, 18. John Bowers, 19. Bill Stockert, DQ Richie Byrne
1ST 4 CYLINDER STOCK FEATURE – 25 Laps – 1. MARK TISCHLER, 2. Christian LaCicero, 3. Jay Conrad, 4. Brian Osborn, 5. Fred Cannock, 6. Brian DeSarno, 7. TJ Graves, 8. Chris Silvestri, 9. Darren Burdge, 10. Darianne McLaren, 11. Jennifer Schultz, 12. Chuck McDonald, 13. JC Duvall, 14. Nicole Razzano, 15. Jeff Loesch, 16. Max Montijo, 17. Mike Lavery
2ND 4 CYLINDER STOCK FEATURE – 25 Laps – 1. FRED CANNOCK, PORT MONMOUTH, 2. LaCicero, 3. Osborn, 4. Graves, 5. DeSarno, 6. Burdge, 7. Todd Pilla, 8. McLaren, 9. Conrad, 10. Duvall, 11. McDonald, 12. Loesch, 13. Schultz, 14. Razzano, 15. Montijo, 16. Silvestri, 17. Lavery