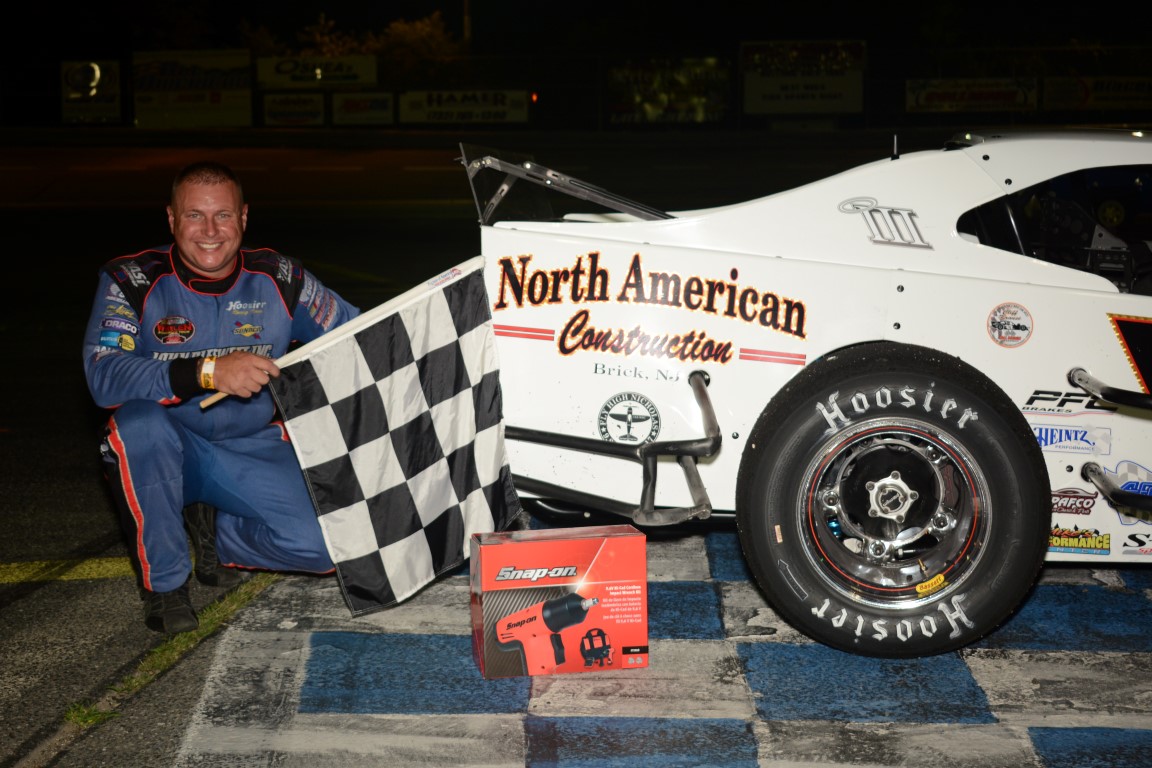 BLEWETT (MODS), WOHL, BYRNE AND BOWERS (FACTORY STOCKS) EARN WALL WINS SATURDAY
Story By: Jeff Gravatt/Wall Stadium
Photos By: John John Lane/RacersGuide.com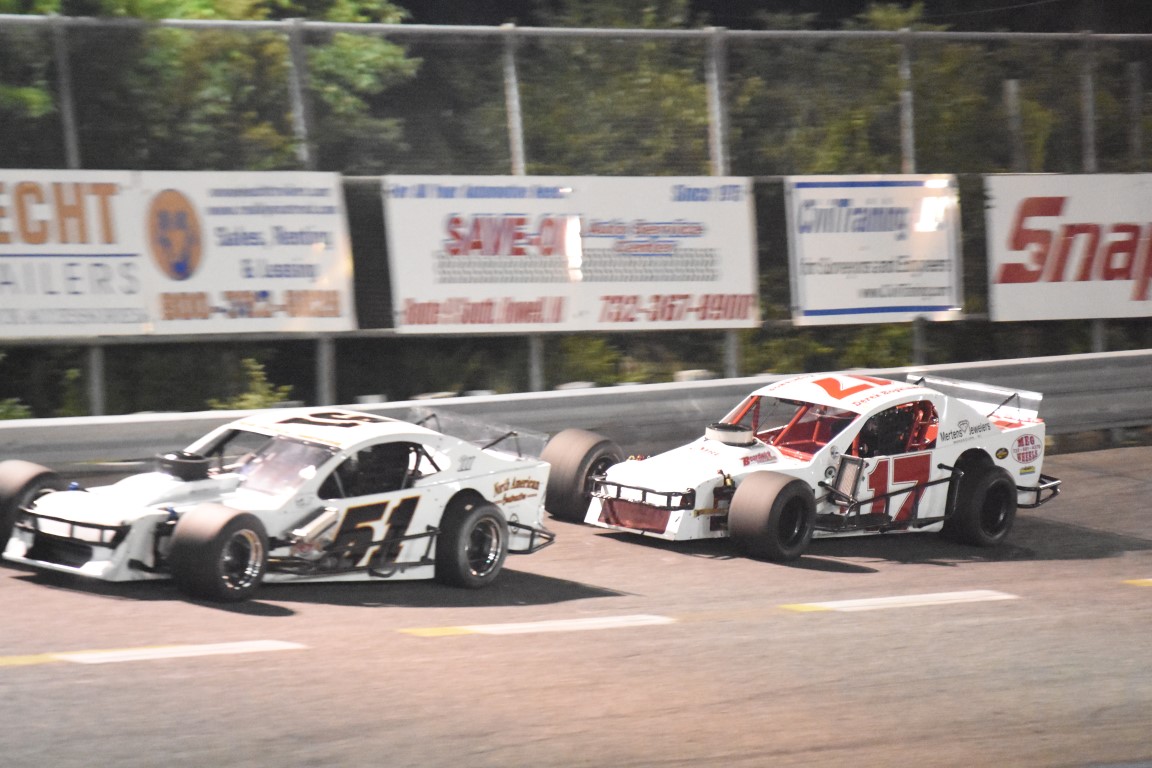 WALL TOWNSHIP, N.J. ~ One of the largest crowds of the 2018 All American Auto Group Racing Series witnessed seven feature races at Wall Stadium Speedway Saturday night with Howell's Jimmy Blewett taking his eighth Modified win of the year. With three main events on the schedule for the Factory Stocks Beachwood's Elliot Wohl, Howell's Richie Byrne and John Bowers of Pt. Pleasant were all winners on Snap On Tools Night.
Blewett started deep in the field in the Pete and Elda's Bar/Carmen's Pizzeria Modified 40-lapper and immediately started his run to the front. An early race scramble then claimed Blewett who was forced to duck into the pit area for repairs. Derek Hopkinson of Toms River and Manasquan's Kenny Van Wickle then wrestled for the top spot before Blewett completed his run to the front and took over the top spot on lap eight. Blewett then led the rest of the way but was forced to fight off several attacks from Hopkinson. Howell's Eric Mauriello and Steven Reed and Jason Treat, both of Jackson, wrapped up the top five.
"Tonight was for everyone who says we can't pass on the outside," Blewett said after the race. "Derek (Hopkinson) has a team on a budget and they do a great job. He gave me a lot of pressure."
Elliot Wohl came from deep in the field to win the first of three 25-lappers for the O'Shea's Auto Repair Factory Stocks. He finally powered to the top spot for good on lap 21 and was chased across the finish line by point leader Mike Montano of Freeport, N.Y., Howell's Steve West, Byrne and Tom Rajkowski of Fords.
After a season of bad fortunes third generation driver Byrne also passed a lot of cars to grab his victory in the second Factory Stock feature. Byrne took the lead on lap seven and was chased across the line by Manchester's Scott Riggleman, Wohl, Montano and West.
Bowers jumped to the lead early and never looked back to claim his first win on five years in the Factory Stock nightcap. Wohl, Riggleman, Ron Booth of Eatontown and Montano were second through fifth in this one.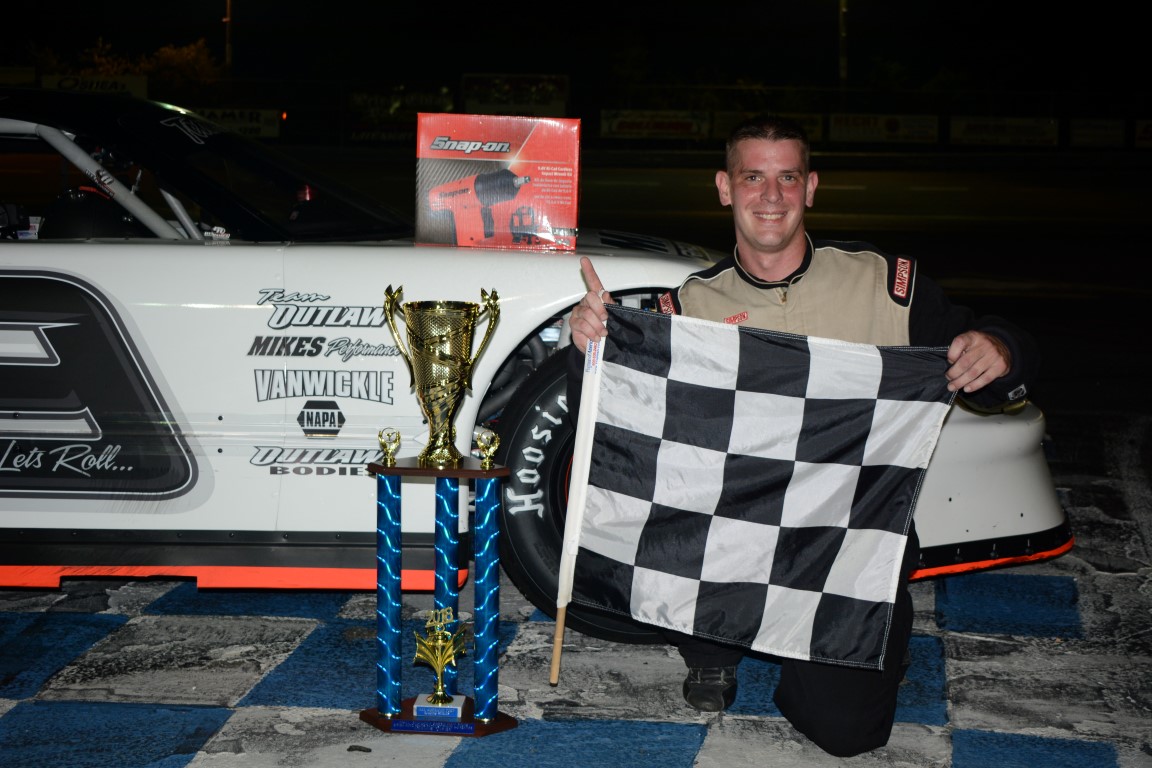 Kyle Scisco of Jackson raced to his first victory of the year in the 25-lap Center State Engineering Sportsman feature event. Louie Keraitis of Toms River led early before spinning from the top spot near halfway. Scisco then raced into the lead and on to the win followed by a top five of Jake Nelke of Manahawkin, Farmingdale's John McCormick, Mike Brennan of Morristown and Jackson's Carsten DiGiantomasso.
Shannon Mongeau of Manchester beat his uncle Joe Mongeau of Brick to the finish line after a torrid battle to win the Mike's Performance Center Limited Late Model 25-lap main event. Holmdel's Dom Casola, Mike Tillett of Bayville and Jackson's Greg Gastelu wrapped up the top five.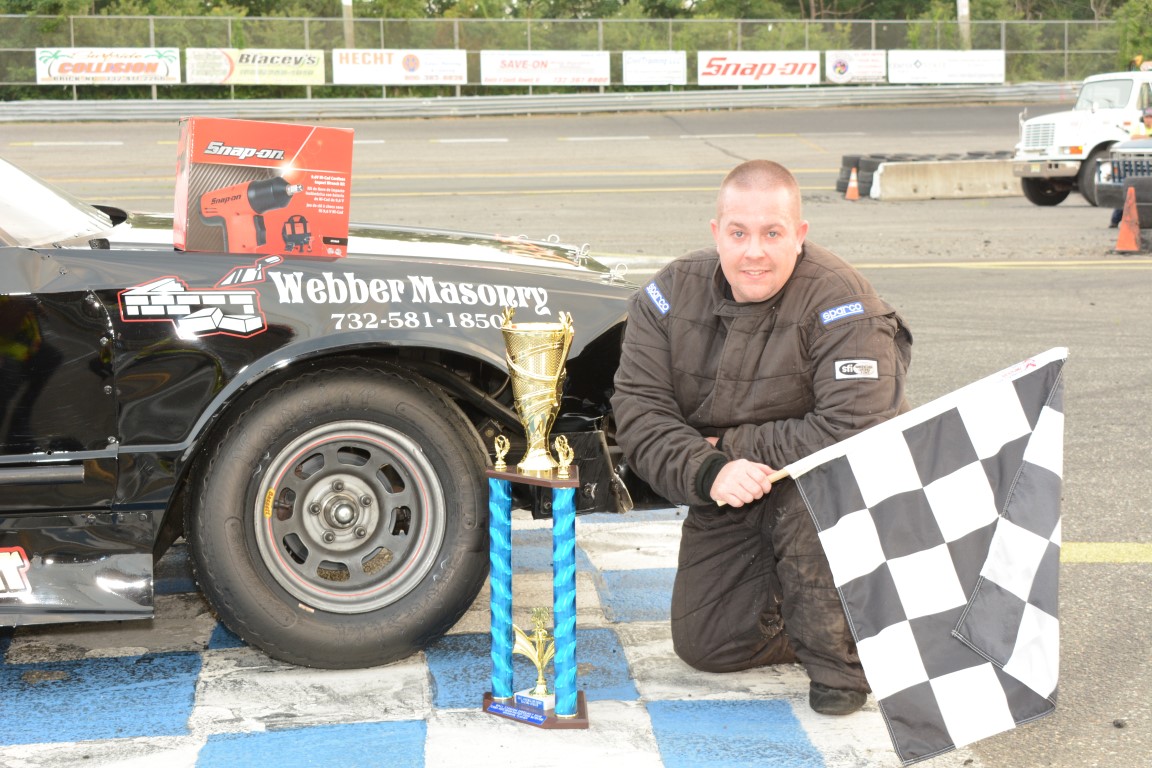 Nick Van Wickle of Edgewater Park won his third Green Flag Driving Experience Legend Cars 25-lapper Saturday night over Chris Gall of Brick and Peter Bruno of Little Silver.
The All American Auto Group Racing Series continues this Saturday evening (Aug. 4) on "Kids Sports Night" where any child up to 17 years old wearing their youth sports jersey or shirt will be admitted free of charge. Modified, Sportsman and Surfside Collision 4 Cylinder Stocks competitors are all slated for main event action, while the Legend Cars will race in twin features. Grandstands open at 5:00 p.m., with qualifying set for 5:45 p.m. and feature race action set for 7:00 p.m.
Saturday night racing action continues through early October with schedule details at wallspeedwayracing.com.
Wall Stadium is located on Route 34 in Wall Township, N.J., just one mile north of Garden State Parkway exit 98 and Interstate 195 exit 35B. The speedway hotline number is 732-681-6400 and email address is ckmotorsports@aol.com.
RACE RESULTS
MODIFIED
FEATURE – 40 Laps – 1. JIMMY BLEWETT, HOWELL, 2. Derek Hopkinson, 3. Eric Mauriello, 4. Steven Reed, 5. Jason Treat, 6. Shaun Carrig, 7. Andrew Krause, 8. Kenny Van Wickle, 9 Joey Merlino, 10. Marc Rogers, 11. Dom Fattaruso, 12. Tyler Truex
FACTORY STOCK
1ST FEATURE – 25 Laps – 1. ELLIOT WOHL, BEACHWOOD, 2. Mike Montano, 3. Steve West, 4. Richie Byrne, 5. Tom Rajkowski, 6. Gerry Koenig, 7. Whitey Miller, 8. Scott Riggleman, 9. Robert Ptaszynski, 10. Matt Badessa, 11. Tim Majek, 12. Josh Merlino, 13. Bryan O'Shea, 14. Tony Bartone, 15. Nancy Riggleman, 16. Matt Malachatka, 17. Robert DePonte, 18. John Bowers, 19. Kenny Green, 20. Ron Booth, 21. Shanon Mongeau, 22. Waylon Speer.
2ND FEATURE – 25 Laps – 1. RICHIE BYRNE, HOWELL, 2. Scott Riggleman, 3. Wohl, 4. Montano, 5. West, 6. Koenig, 7. Majek, 8. Bowers, 9. Rajkowski, 10. Miller, 11. O'Shea, 12. Ptaszynski, 13. Mongeau, 14. Nancy Riggleman, 15. Bartone, 16. DePonte, 17. Malachatka, 18. Merlino, 19. Green
3RD FEATURE – 25 Laps – 1. JOHN BOWERS, PT. PLEASANT, 2. Wohl, 3. Scott Riggleman, 4. Booth, 5. Montano, 6. Byrne, 7. Green, 8. Koenig, 9. Rajkowski, 10. O'Shea, 11. Ricky Collins, 12. Majek, 13. Ptaszynski, 14. Miller, 15. Malachatka, 16. West, 17. Nancy Riggleman, 18. Merlino, 19. Bartone
SPORTSMAN
FEATURE – 25 Laps – 1. KYLE SCISCO, JACKSON, 2. Jake Nelke, 3. John McCormick, 4. Mike Brennan, 5. Carsten DiGiantomasso, 6. Louie Keraitis, 7. Eddie McCarthy, 8. Eric Lane, 9. John Blewett IV, 10. Kevin Davison, 11. Joe Cooley, 12. Roland DeMartino, 13. Todd Dige, 14. Tommy Martino, 15. Micheal Rising, 16. Larry Thompson, 17. Jarret DiGiantomasso
LIMITED LATE MODELS
FEATURE – 25 Laps – 1. SHANON MONGEAU, MANCHESTER, 2. Joe Mongeau, 3. Dom Casola, 4. Mike Tillett, 5. Greg Gastelu, 6. James Moorman, 7. Rick Kopf, 8. Harry Schaeffer, 9. Greg Miranda, 10. Sal Liguori
LEGEND CARS
FEATURE – 25 Laps – 1. NICK VAN WICKLE, EDGEWATER PARK, 2. Chris Gall, 3. Peter Bruno, 4. James Van Wickle, 5. Joe Przybylinski, 6. Roger Nickerson