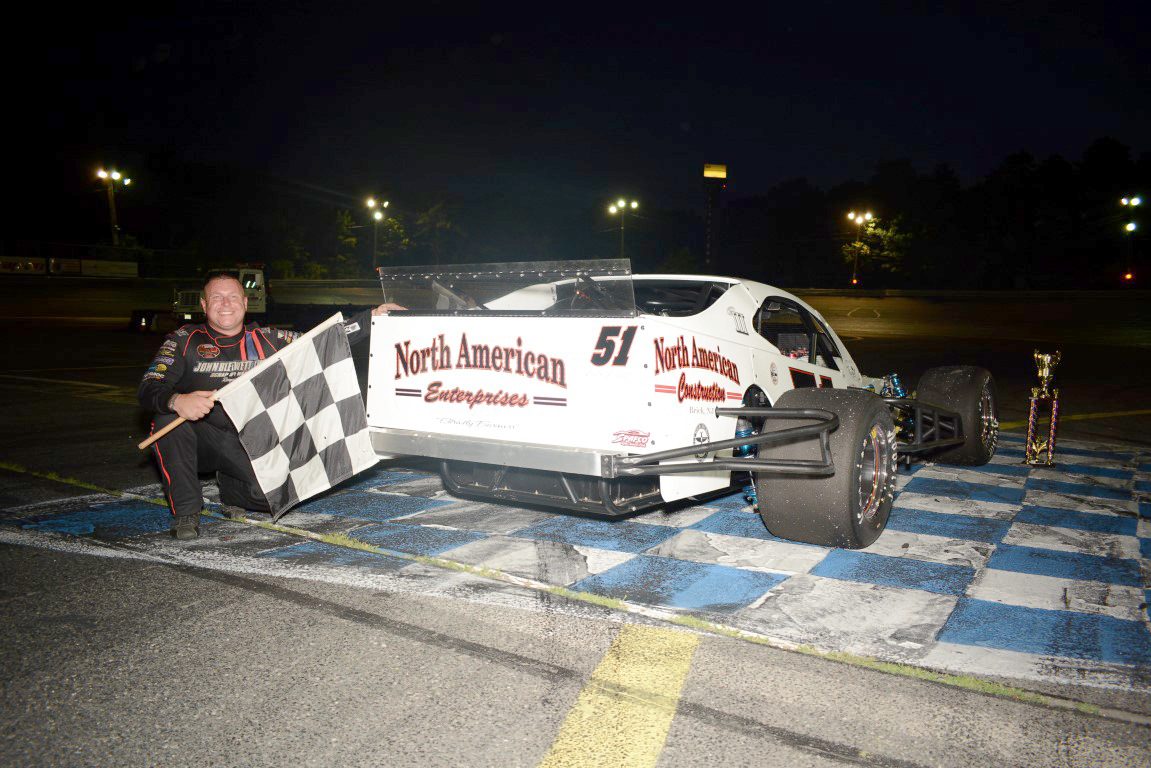 BLEWETT (MODS), GRAVES (4 CYLINDER) AMONG WALL WINNERS SATURDAY
Story By: Jeff Gravatt/Wall Stadium
Photos By: John John Lane/RacersGuide.com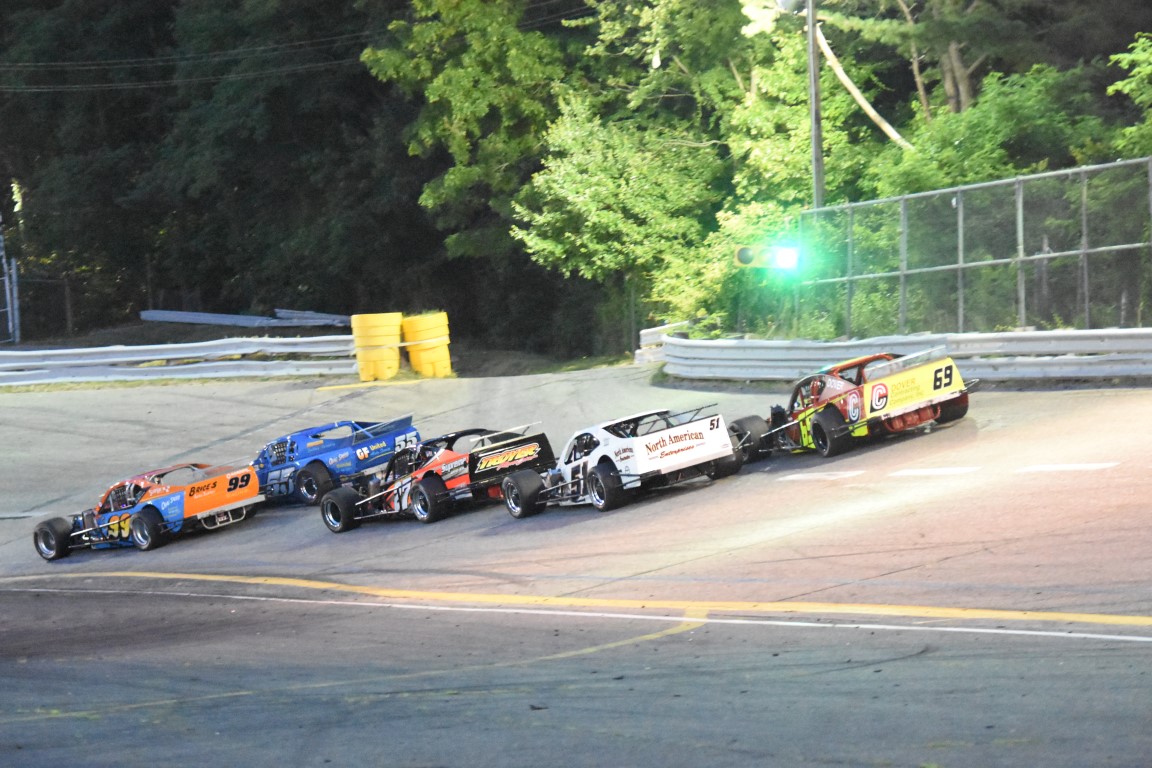 WALL TOWNSHIP, N.J. ~ Jimmy Blewett of Howell in the Modified division and Wall's TJ Graves in the 4 Cylinder Stocks were among the five feature race winners in All American Auto Group Racing Series at Wall Stadium Speedway on Saturday night.
In the Pete and Elda's Bar/Carmen's Pizzeria Modified 40-lapper multi-time champ Chas Okerson rocketed to the front at the outset and appeared to be on his way to victory until the halfway point when his motor soured and he dropped from the race. Jackson's Steven Reed and Blewett then took over the top two spots as Tyler Truex of Mayetta and Holmdel's Andrew Krause moved into the top four.
With the the top runners racing in tight formation this one boiled over with a handful of laps remaining. Exiting turn two Reed's car appeared to slip. Blewett seemed to check up but Truex's car appeared to push Blewett's car into Reed forcing him to complete the spin. On the restart Krause advanced to second and hounded Blewett to the finish. Joey Merlino of Pine Hill, Truex and Blake Barney of Jackson wrapped up the top five.
"When Steven got loose exiting the second turn I tried to check up but the cars were just running hard behind me and pushed me into him," Blewett said after the race. "I think we got lucky tonight. I think Andrew had the car to beat. A lot of guys are doing their homework. This win is for my son James for his birthday!"
Graves led the 50-lapper for the Surfside Collision 4 Cylinder Stocks the entire way and had his most challenging moments in the final five laps after the event's only caution. For those final laps Sal Liguori of Hazlet and Jeffrey Loesch of Neptune were in a position to strike, but instead wrestled each other for second before Loesch nailed down the spot. AJ Jadacki of Howell and Chuck McDonald wrapped up the top five.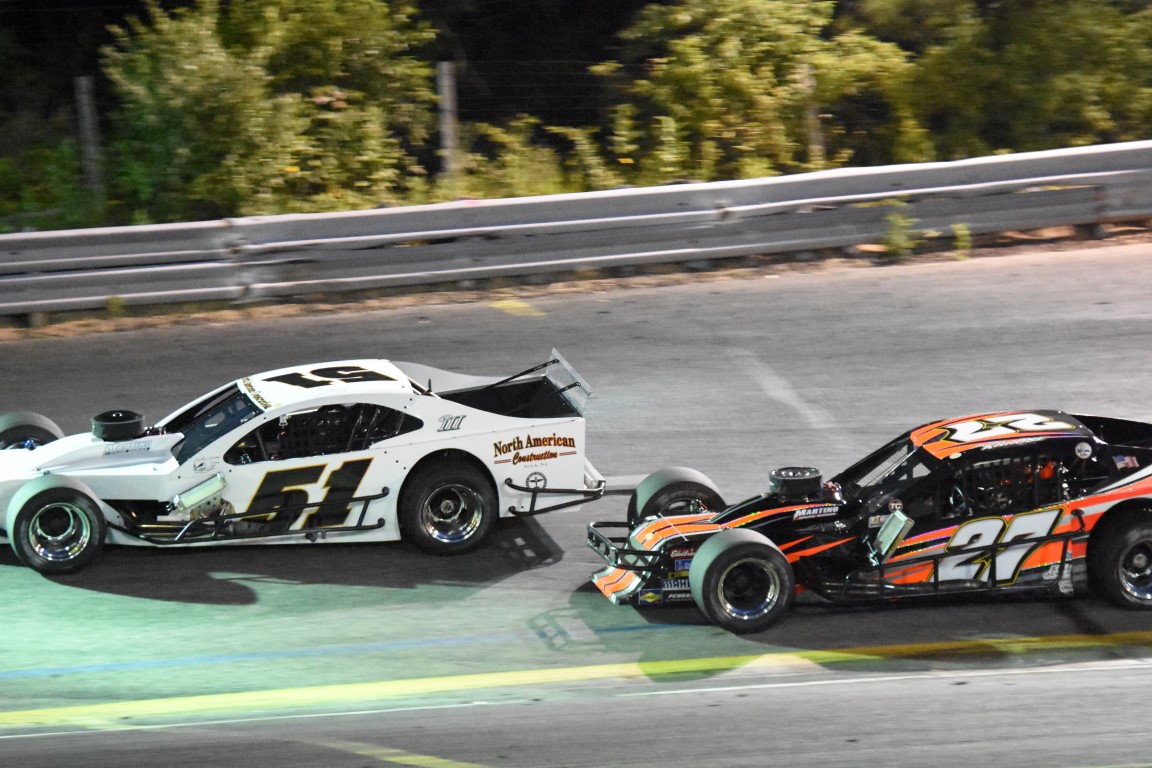 The Center State Engineering Sportsman cars battled in two 20-lap main events. The first race came down to a battle between Louie Keraitis of Toms River and Howell's Kevin Davison for the win. This fight for first raged until Keraitis tagged the second turn guardrail on the final lap and Davison raced in to his first win of the season. Carsten DiGiantomasso of Jackson, Micheal Carr and Eddie McCarthy, both of Pt. Pleasant, and Freehold's Howie Conk wrapped up the top five.
The second Sportsman feature saw Carr return to take the victory on the first night of running a brand new car. Kyle Scisco of Jackson offered plenty of pressure before settling for second, with Davison, Carsten DiGiantomasso and McCarthy wrapping up the top five.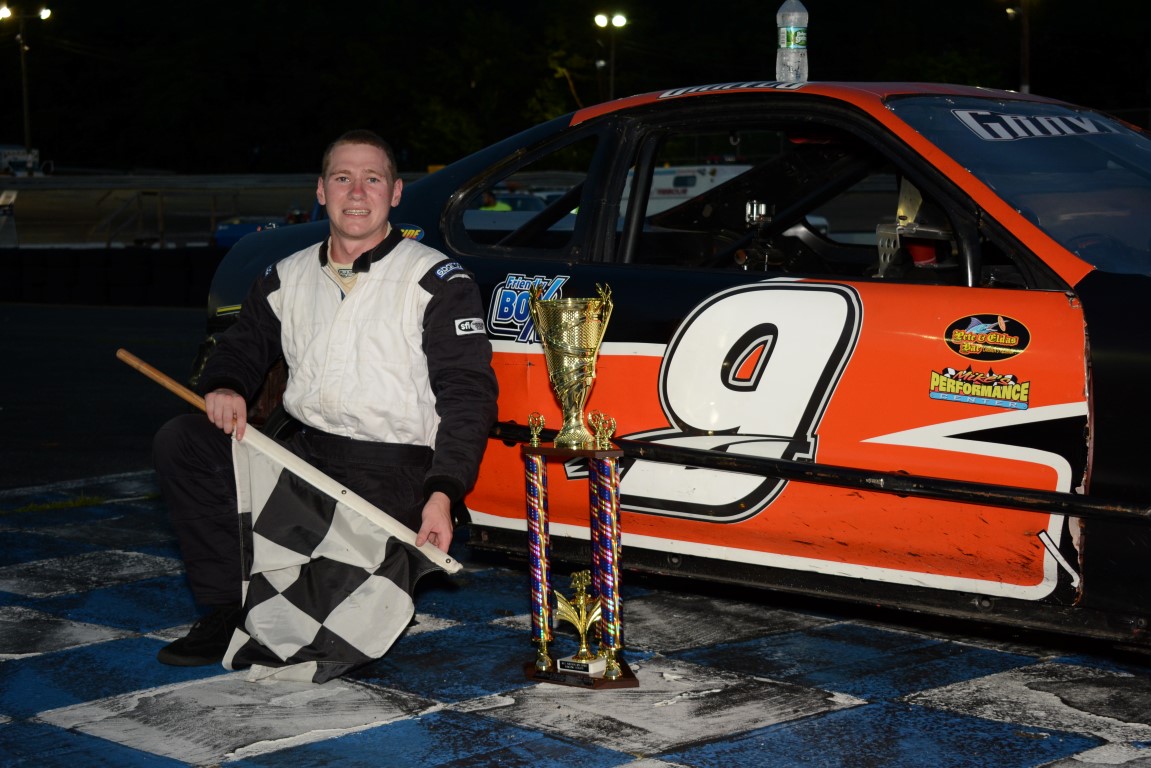 Nick Van Wickle of Edgewater Park took the lead on lap seven and raced on to win the Green Flag Driving Experience Legend Cars 25-lapper over early leader Peter Bruno of Little Silver. Joe McGrath of Middletown, Eugene Drew of Oakland and James Van Wickle of Edgewater Park were third through fifth.
The All American Auto Group Racing Series continues this Saturday evening (July 7) with First Responders Night where all first responders will be admitted free to the grandstand when showing proper identification. The Modifieds will race in a 40-lapper and the Center State Engineering Sportsman cars, O'Shea's Auto Repair Factory Stocks, Legend Cars and the Mike's Performance Center Limited Late Models are all scheduled for 25-lappers. The touring Three-Quarter Midgets are also on the card. Grandstands open at 5:00 p.m., with qualifying set for 5:45 p.m. and feature race action set for 7:00 p.m.
Saturday night racing action continues through early October with schedule details at wallspeedwayracing.com.
Wall Stadium is located on Route 34 in Wall Township, N.J., just one mile north of Garden State Parkway exit 98 and Interstate 195 exit 35B. The speedway hotline number is 732-681-6400 and email address is ckmotorsports@aol.com.
RACE RESULTS
MODIFIED FEATURE – 40 Laps – 1. JIMMY BLEWETT, HOWELL, 2. Andrew Krause, 3. Joey Merlino, 4. Tyler Truex, 5. Blake Barney, 6. Steven Reed, 7. Jason Treat, 8. Chas Okerson 9. Derek Hopkinson
4 CYLINDER STOCK FEATURE – 50 Laps – 1. TJ GRAVES, WALL, 2. Jeffrey Loesch, 3. Sal Liguori, 4. AJ Jadacki, 5. Chuck McDonald, 6. Brian Osborn, 7. Brian Desarno, 8. Chris Silvestri, 9. Nicole Razzano, 10. Darianne McLaren, 11. Jennifer Schultz, 12. Ian Ashford, 13. Darren Burdge, 14. JC Duvall, 15. Neil Rutt
1ST SPORTSMAN FEATURE – 25 Laps – 1. KEVIN DAVISON, HOWELL, 2. Carsten DiGiantomasso, 3. Michael Carr, 4. Eddie McCarthy, 5. Howie Conk, 6. Eric lane, 7. Kyle Scisco, 8. Joe Cooley, 9. Jake Nelke, 10. John McCormick, 11. John Blewett IV, 12. Stefan Nickolof, 13. Roland DeMartino, 14. Louie Keraitis, 15. Jonathan Laureigh, 16. Jarrett DiGiantomasso, 17. Michael Rising, 18. Mike Brennan, 19. Larry Thompson
2ND SPORTSMAN FEATURE – 25 Laps – 1. MICHAEL CARR, PT. PLEASANT, 2. Scisco, 3. Davison, 4. Carsten DiGiantomasso, 5. McCarthy, 6. Lane, 7. Blewett, 8. Conk, 9. Laureigh, 10. Cooley, 11. McCormick, 12. Jarret DiGiantomasso, 13. Nelke, 14. Brennan, 15. DeMartino
LEGEND CARS FEATURE – 25 Laps – 1. NICK VAN WICKLE, EDGEWATER PARK, 2. Peter Bruno, 3. Joe McGrath, 4. Eugene Drew, 5. James Van Wickle, 6. Vinny Colletti, 7. Joe Przybylinski, 8. Roger Nickerson, 9. Bill Petrolino