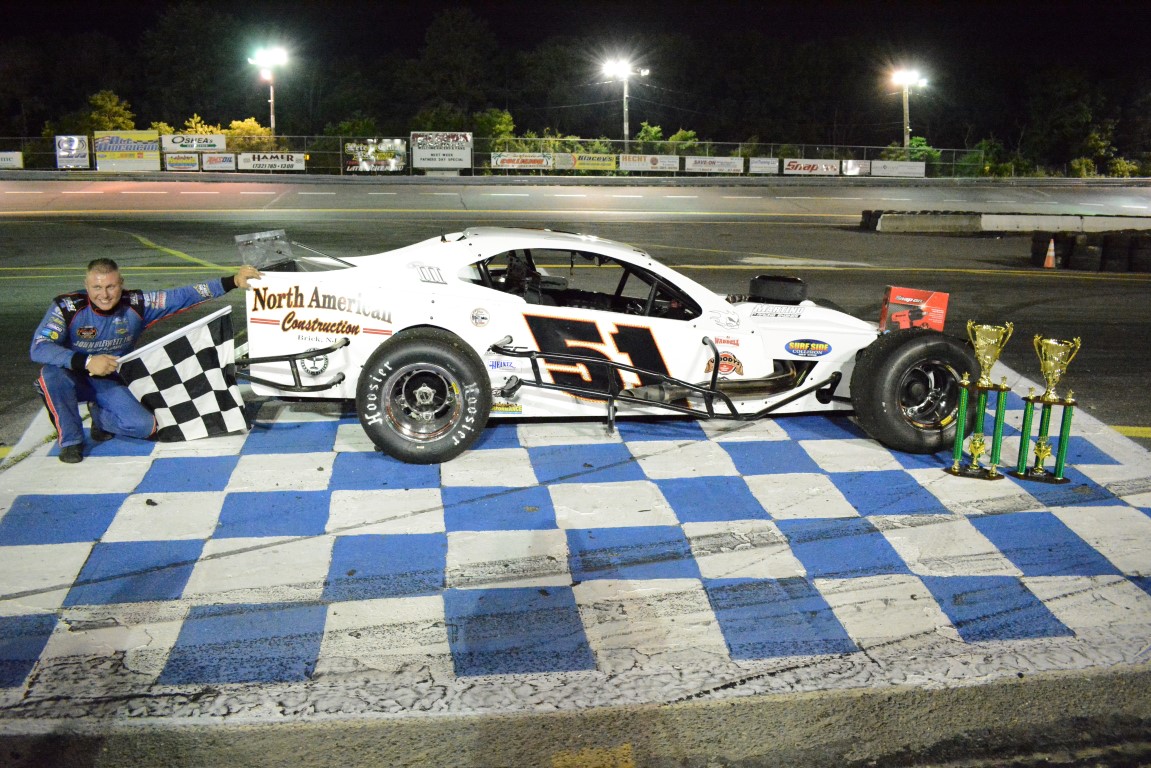 BLEWETT CLAIMS FIFTH GARDEN STATE CLASSIC AT WALL
Story By: Jeff Gravatt/Wall Stadium Speedway
Photos By: John John Lane/RacersGuide.com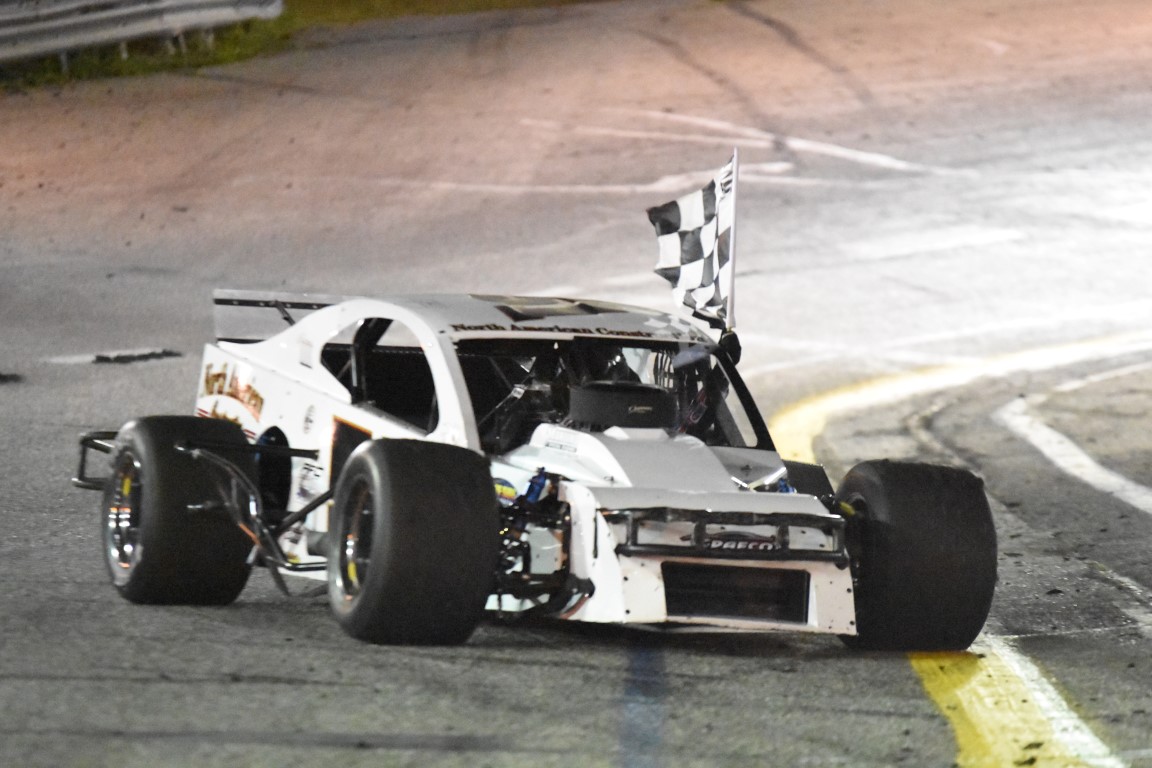 WALL TOWNSHIP, N.J. ~ Jimmy Blewett continued his winning ways in the All American Auto Group Racing Series at Wall Stadium Speedway Saturday night by taking his record setting fifth victory in the 125-lap Garden State Classic for the Pete and Elda's Bar/Carmen's Pizzeria Modified stock cars. It was also his second straight classic win and his fifth Modified win of the 2018 season.
Blewett started tenth on the grid and began his charge to the front as Jason Treat of Jackson and Ricky Collins of Willow Grove, Pa. took turns leading the early circuits. Blewett then pitted on the tenth lap with a flat right front tire before rejoining the race at the rear of the field.
Holmdel's Andrew Krause, Steven Reed of Jackson and Howell's Blewett then moved into the top four just past the 40-lap mark as Treat continued to lead the way. By lap 50 Krause, Blewett and Howell's Eric Mauriello advanced to the top three while Reed held down the fourth spot.
Soon most of the field pitted for the allowed two tires while Reed elected to stay on the speedway. The fresh rubber was an obvious benefit on the restart as Krause, Blewett and Mauriello rocketed to the front while Reed faded. As the race wore on Krause and Blewett wrestled for the lead until the duo tangled and spun on the backstretch on lap 109. Mauriello then took over the lead but crashed on a lap 115 restart. While several cars were tied up in this mishap, Blewett was able to slip through for the lead and the win.
Marc Rogers of Forked River, the recovering Mauriello, Shanon Mongeau of Manchester and Krause completed the top five.
"It gets tougher and tougher the more you win," Blewett said. "But no matter what, we work hard and never give up. This fifth win in this race is real special for me, my family, my crew and my sponsors. I had plans of missing a few races here for tour races, but that might change. I might just settle in here for the season."
Former champion Scott Riggleman of Jackson won the companion 25-lapper for the O'Shea's Auto Repair Factory Stocks taking the lead after a ninth lap caution flag. Mike Montano of Freeport, N.Y., Farmingdale's Kenny Green, Elliott Wohl of Bayville and John Bowers of Pt. Pleasant wrapped up the top five.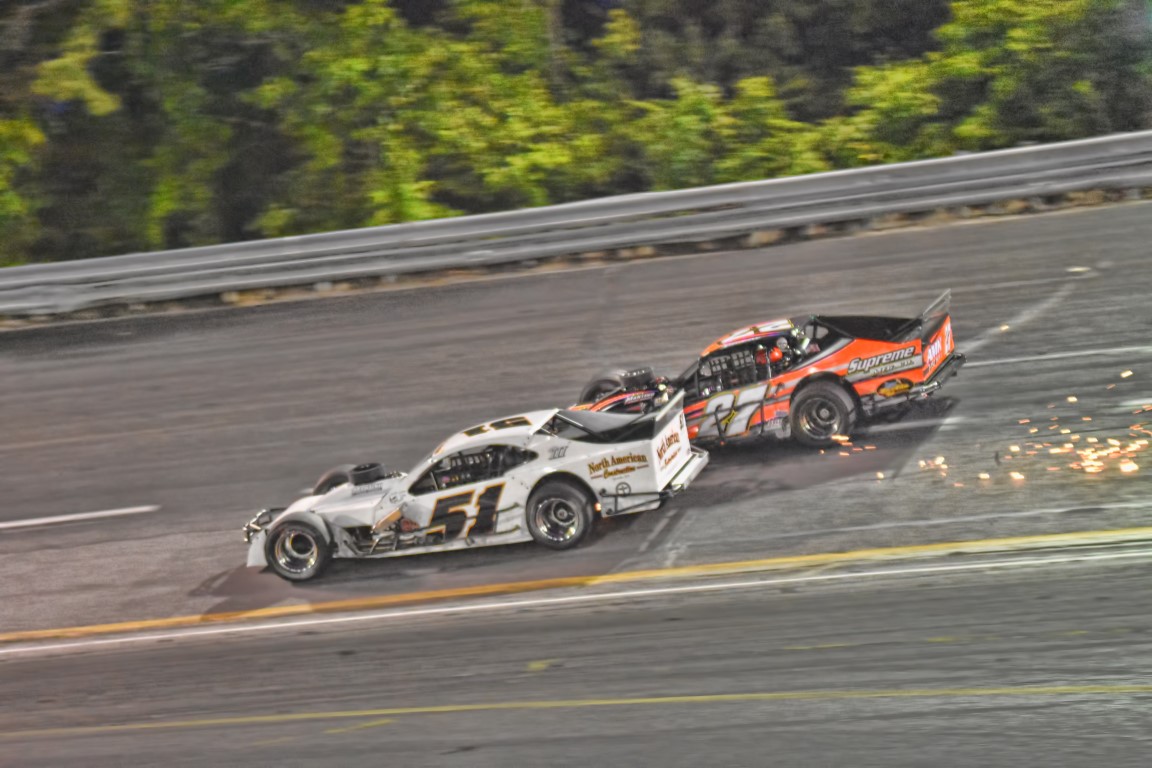 Sal Liguori of Union Beach overcame an early race tangle and a pit stop for repairs to win the 25-lapper for the Surfside Collision 4 Cylinder Stocks. Early leader Darianne McLaren of Union was impressive leading until lap 23 and finishing second. Jay Conrad of Jackson, Howell's Brian Osborn and Chris Silvestri of Hazlet completed the top five.
Nick Van Wickle of Edgewater Park looked strong in leading the 20-lapper for the Green Flag Driving Experience Legend Cars until the final lap, but when his motor soured at the end Peter Bruno of Little Silver raced in for the win. Eugene Drew of Oakland, Nick Van Wickle, Brick's Roger Nickerson and James Van Wickle were second through fifth.
The All American Auto Group Racing Series continues this Saturday evening (June 16) with the Modifieds, Center State Engineering Sportsman cars, Mike's Performance Center Limited Late Models, Legend Cars, 4 Cylinder Stocks and the Factory Stocks all in racing action. Dads and Grand Dads will be honored during this Father's Day weekend event. Grandstands open at 5:00 p.m., with qualifying set for 5:45 p.m. and feature action set for 7:00 p.m.
Saturday night racing action continues through early October with schedule details at wallspeedwayracing.com.
Wall Stadium is located on Route 34 in Wall Township, N.J., just one mile north of Garden State Parkway exit 98 and Interstate 195 exit 35B. The speedway hotline number is 732-681-6400 and email address is ckmotorsports@aol.com.
RACE RESULTS
MODIFIED FEATURE – 125 Laps – 1. JIMMY BLEWETT, HOWELL, 2. Marc Rogers, 3. Eric Mauriello, 4. Shanon Mongeau, 5. Andrew Krause, 6. Jonathan Mandato, 7. Adam LaCicero, 8. Kyle Scisco, 9. Jason Treat, 10. Tyler Truex, 11. Shaun Carrig, 12. Steven Reed, 13. Ricky Collins, 14. Chas Okerson, 15. Kenny Van Wickle
FACTORY STOCK FEATURE – 25 Laps – 1. SCOTTT RIGGLEMAN, MANCHESTER, 2. Mike Montano, 3. Kenny Green, 4. Elliott Wohl, 5. John Bowers, 6. Richie Byrne, 7. John Carpenter, 8. Tony Bartone, 9. Tim Majek, 10. Bryan O'Shea, 11. Gerry Koenig, 12. Tom Rajkowski, 13. Waylon Speer, 14. Robert Ptaszynski, 15. Nancy Riggleman, 16. Theresa Collins, 17. Matt Badessa, 18. Whitey Miller, 19. Robert DePonte, 20. Matt Malachatka, 21. Ron Booth
4 CYLINDER STOCK FEATURE – 25 Laps – 1. SAL LIGUORI, UNION BEACH, 2. Darianne McLaren, 3. Jay Conrad, 4. Brian Osborn, 5. Chris Silvestri, 6. Nicole Razzano, 7. TJ Graves, 8. Darren Burdge, 9. Willie Davis, 10. Jennifer Schultz, 11. Jeff Loesch, 12. Cody Burbank, 13. Neil Rutt, 14. Mike Lavery, 15. Richard Smith
LEGEND CARS FEATURE – 20 Laps – 1. PETER BRUNO, LITTLE SILVER, 2. Eugene Drew, 3. Nick Van Wickle, 4. Roger Nickerson, 5. James Van Wickle