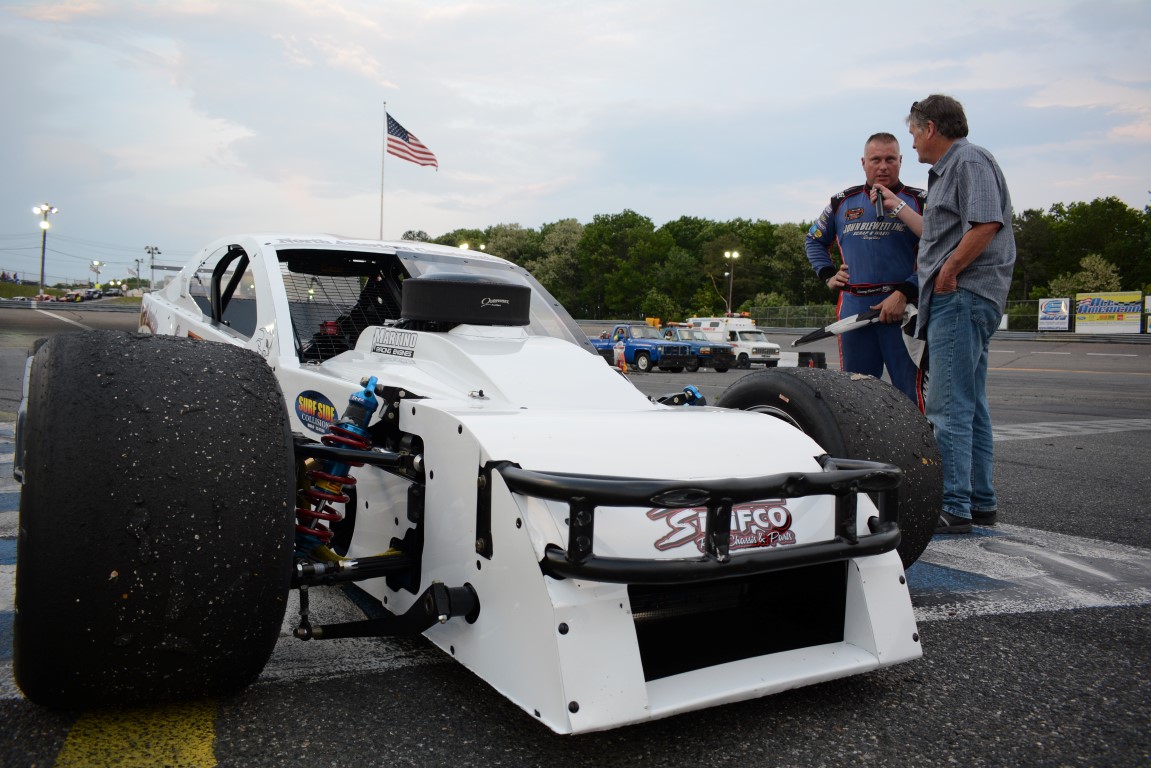 BLEWETT AND RAIN CLAIM WALL MODIFIED RACES
Story By: Jeff Gravatt/Wall Stadium
Photos By: John John Lane/RacersGuide.com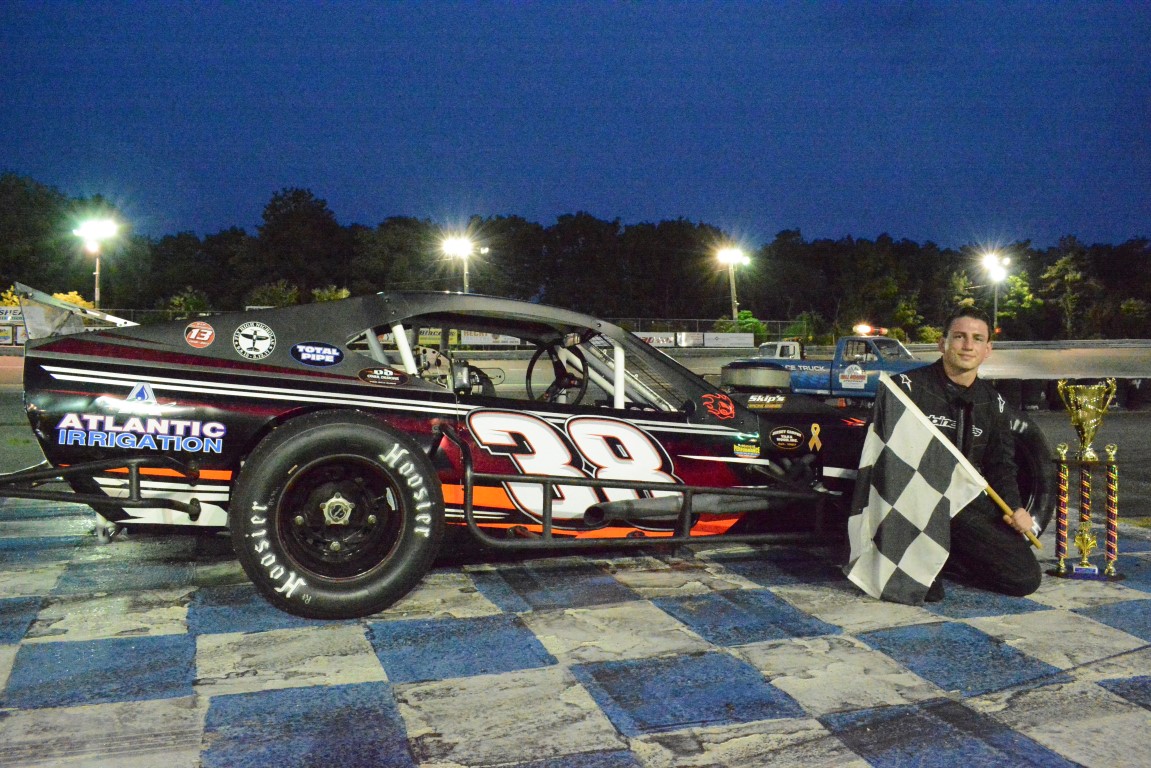 WALL TOWNSHIP, N.J. ~ Jimmy Blewett continued his winning ways in the All American Auto Group Racing Series at Wall Stadium Speedway Saturday night by taking the victory in the first of two scheduled 35-lap main events for the Pete and Elda's Bar/Carmen's Pizzeria Modified stock cars. The second planned 35-lapper, along with two other main events, fell victim to sudden heavy rain.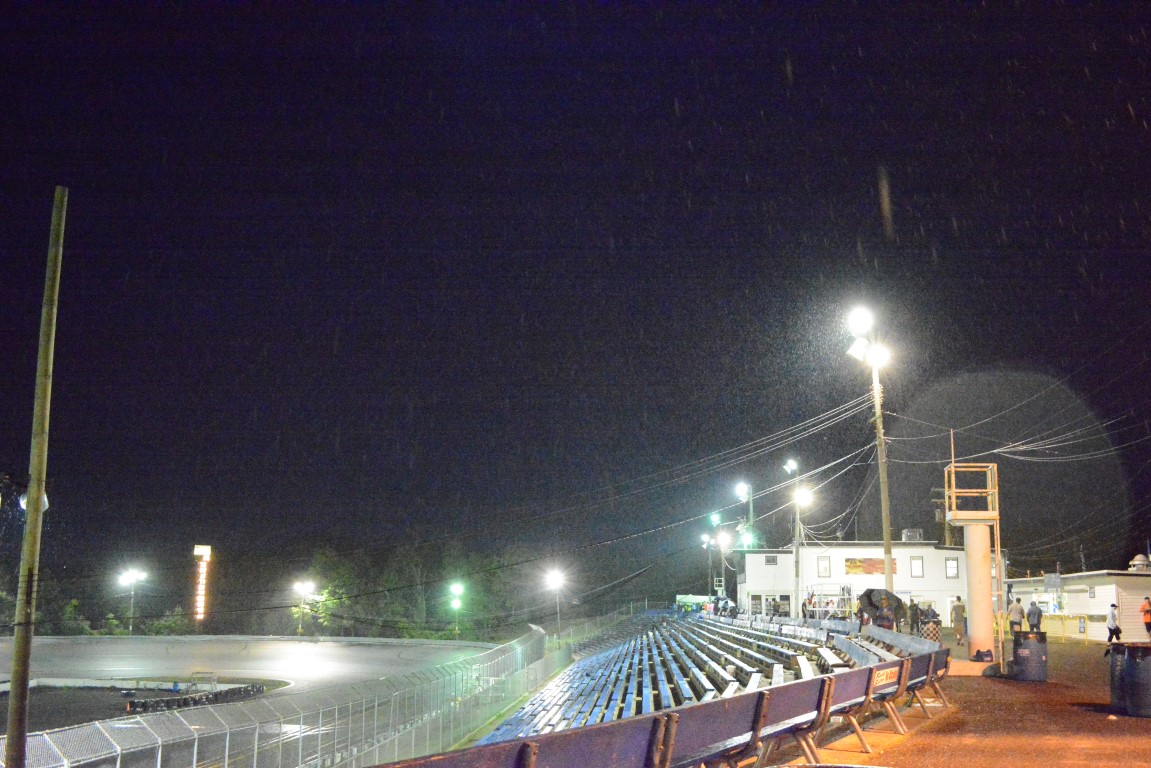 Blewett started the first feature race from mid-pack and immediately started his march to the front while Howell's Eric Mauriello led the early going. Action then slowed on lap 12 when Lavallette's Adam LaCicero spun in turn four. Officials then instructed Blewett to go to the rear of the field as they felt that he contributed to LaCicero's miscue.
Mauriello continued to lead as Holmdel's Andrew Krause and Jackson's Steven Reed applied pressure. Soon Krause spun with a flat tire as Blewett throttled into second spot. Blewett then raced past Mauriello for the lead and eventual win. Blake Barney of Jackson and Shaun Carrig of Little Falls were second and third, while Reed and Manasquan's Kenny Van Wickle wrapped up the top five.
"This win is real special for my family," Blewett said after he race. "This is the 300th win for my family. My father raced and won a lot and of course my brother won many races. My grandfather has been there for every one of those wins. This is very important to us."
Jarret DiGiantomasso of Jackson took the lead on the second lap and then paced the field to the end of the companion 25-lapper for the Center State Engineering Sportsman car. The race was red flagged on lap 11 when Louie Keraitis of Toms River got caught in a skirmish on the front stretch, hit the guard rail and flipped his car and then slid upside down into the first turn. Fortunately, he was not injured.
DiGiantomasso held his ground to the finish over Howell's Howie Conk, Jackson's Kyle Scisco, Jonathan Laureigh of Lanoka Harbor and Eddie McCarthy of Pt. Pleasant.
Tim Proctor won he 25-lap main event for the visiting Three Quarter Midgets over Ryan Tidman and Buddy Sload.
The rain postponed O'Shea's Auto Repair Factory Stock and Mike's Performance Center Limited Late Model races, along with the second Modified main event, will be made up at a later date.
Stock car racers in the All American Auto Group Racing Series will have this Saturday evening (June 2) off as competitors in the the Formula Drift Series visit the speedway for their annual event. The stock car series will then return on June 9 with the annual running of the Garden State Classic for the Modified cars.
Saturday night racing action then continues through early October with schedule details at wallspeedwayracing.com.
Wall Stadium is located on Route 34 in Wall Township, N.J., just one mile north of Garden State Parkway exit 98 and Interstate 195 exit 35B. The speedway hotline number is 732-681-6400 and email address is ckmotorsports@aol.com.
RACE RESULTS
MODIFIED FEATURE – 35 Laps – 1. JIMMY BLEWETT, HOWELL, 2. Blake Barney, 3. Shaun Carrig, 4. Steven Reed, 5. Kenny Van Wickle, 6. Tom Catanzaro, 7. Adam LaCicero, 8. Andrew Krause, 9. Chas Okerson, 10. Eric Mauriello, 11. Tyler Truex, 12. Joey Merlino
MODIFIED FEATURE – 35 Laps – rain postponed
SPORTSMAN FEATURE – 25 Laps – 1. JARRET DIGIANTOMASSO, JACKSON, 2. Howie Conk, 3. Kyle Scisco, 4. Jonathan Laureigh, 5. Eddie McCarthy, 6. Shannon Mongeau, 7. Jake Nelke, 8. Michael Rising, 9. Kevin Davison, 10. Carsten DiGiantomasso, 11. Stefan Nikolaf, 12. Louie Keraitis, 13. Eric Lane, 14. Rob Silver, 15. Larry Thompson
FACTORY STOCK FEATURE – 25 Laps – rain postponed
LIMITED LATE MODEL FEATURE – 25 Laps – rain postponed