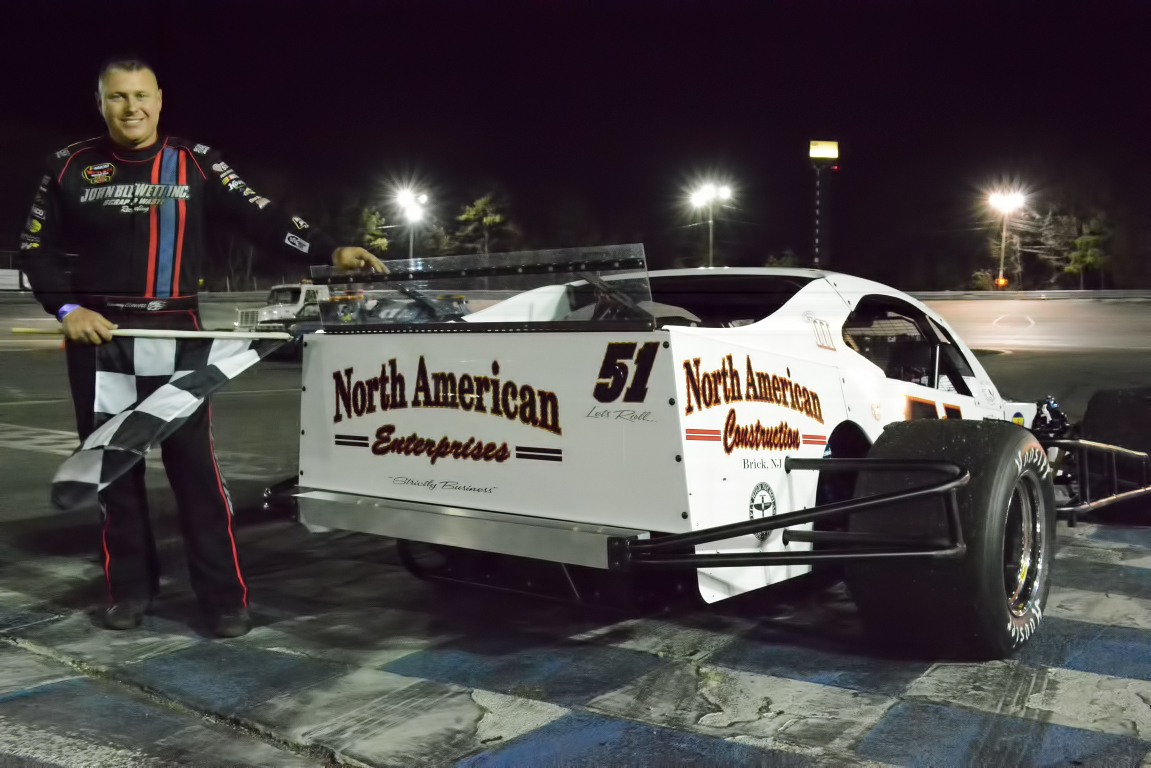 BLEWETT AGAIN IN WALL STADIUM MODIFIED RACE
Story By: Jeff Gravatt/Wall Stadium
Photos By: John John Lane/RacersGuide.com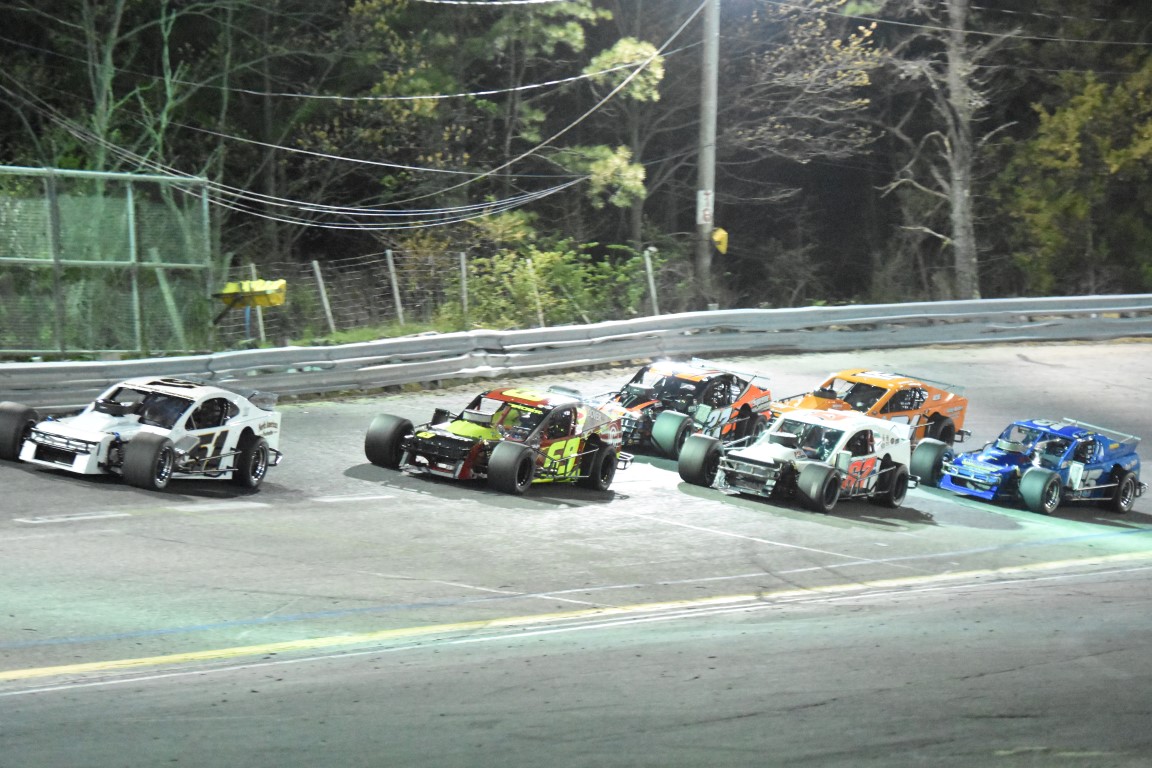 WALL TOWNSHIP, N.J. ~ Defending Pete and Elda's Bar/Carmen's Pizzeria Modified champion Jimmy Blewett raced to his third All American Auto Group Racing Series feature race win in as many 2018 starts at Wall Stadium Speedway Saturday night. It was the Howell resident's 69th career Modified stock car win at the speedway.
Winning his qualifying race from a last place starting spot was a key on this night as that victory set him up on the front row for the feature race. Blewett then rocketed to the lead on the green flag and never looked back in the non-stop test. Zack Alspach of Willingboro, who chased Blewett the entire distance, found his runner-up finish to be a personal victory because he crashed hard after hitting oil in afternoon testing forcing his crew to make extensive repairs to his car for the night's race.
Howell's Eric Mauriello chipped his way through the field to finish third, with Steven Reed of Jackson and Holmdel's Andrew Krause wrapping up the top five.
"I didn't think I would be here tonight," Blewett, who was also racing in Connecticut on both Saturday and Sunday, said. "My grandfather arranged for me to get a plane ride back for tonight so here I am!"
Dom Fattarusso won the companion 25-lapper for the Center State Engineering Sportsman racers in dramatic fashion. The Brick racer came through he pack early and then seemed to be involved in almost every controversial incident on the track. Kyle Scisco of Jackson also survived some contact to race from mid pack to second, while Jarrett DiGiantomasso of Jackson survived trouble for third. Louie Keraitis of Toms River and Stephan Nikolof wrapped up the top five.
Bayville's Elliott Wohl battled race leader Kenny Green of Farmingdale most of the way in the O'Shea's Auto Repair Factory Stock 25-lapper before slipping into the lead with just three laps remaining. Wohl drove home to the win with Green and Mike Montano of Freeport, N.Y. finishing a tight second and third. Wall's Rob Haberstick and Gerry Koenig of Seaford, N.Y. were fourth and fifth.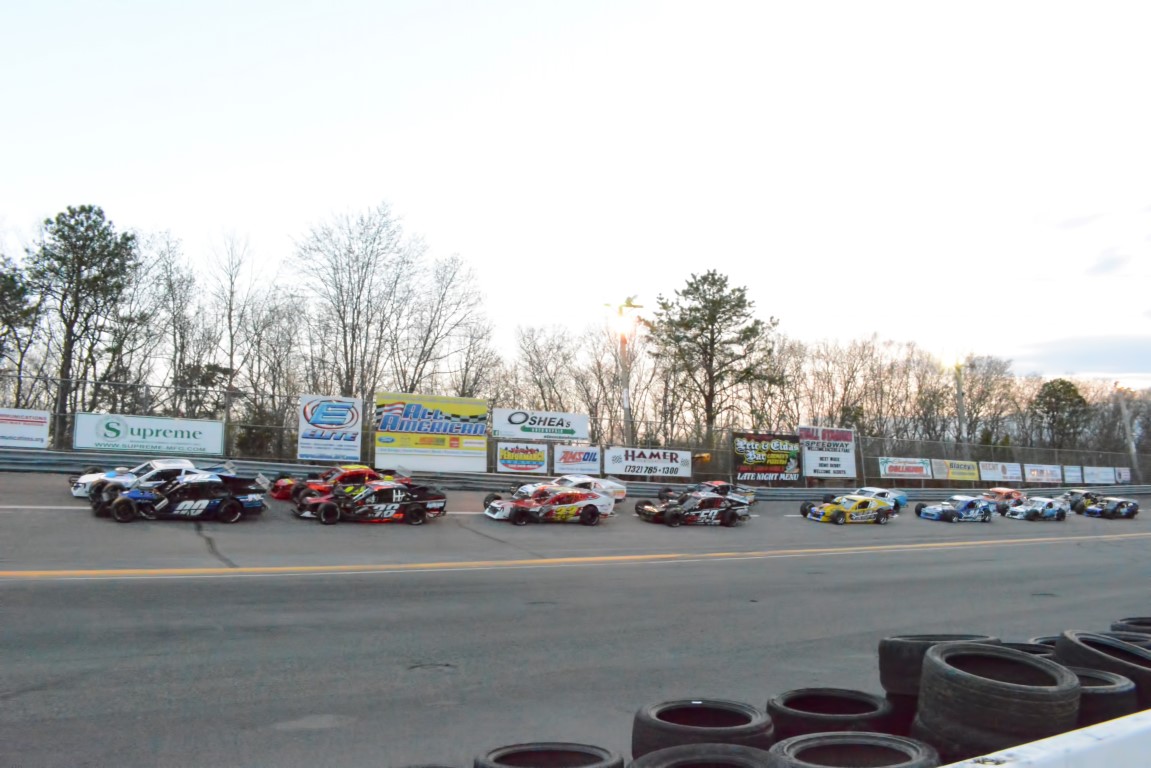 Defending Surfside Collision 4 Cylinder Stock champion Brian Osborn of Howell won his third straight 25-lapper after tracking down and passing eventual runner-up TJ Graves of Wall. Sal Liguori of Union Beach, Edison's Darianne McLaren and Chuck McDonald were third through fifth.
Mike Alcaro of West Milford won the 20-lap main event for the Green Flag Driving Experience Legend Cars over Nick Van Wickle of Edgewater Park. Alex McCollum of Phillipsburg, two-time early season winning Vinny Troia of Browns Mills and Tony Hodgson of Southampton wrapped up the top five.
The 2018 Saturday night regular season continues this Saturday evening (May 5) with the 4 Cylinder Stocks in twin feature races and the Sportsman cars and the Factory Stocks in racing action. This "Crasho De Mayo" pack the track night event, with a discount adult admission of just $10, will also feature two Demolition Derbies, one for 8 cylinder cars and one for 4 cylinder cars. The pit area will open at 1:00 p.m. Grandstands will open at 5:00 p.m. Qualifying starts at 5:45 p.m. and main event action starts at 7:05 p.m.
Saturday night racing action continues through early October with schedule details at wallspeedwayracing.com.
Wall Stadium is located on Route 34 in Wall Township, N.J., just one mile north of Garden State Parkway exit 98 and Interstate 195 exit 35B. The speedway hotline number is 732-681-6400 and email address is ckmotorsports@aol.com.
RACE RESULTS
MODIFIED FEATURE – 40 Laps – 1. JIMMY BLEWETT, HOWELL, 2. Zack Alspach, 3. Eric Mauriello, 4. Steven Reed, 5. Andrew Krause, 6. Chas Okerson, 7. Jonathan Mandato, 8. Shaun Carrig, 9. Tyler Truex, 10. Derek Hopkinson, 11. Trevor Alspach, 12. Joey Merlino, 13. Tom Catanzaro, 14. Jason Hearne
SPORTSMAN FEATURE – 25 Laps – 1. DOM FATTARUSSO, BRICK, 2. Kyle Scisco, 3. Jarret DiGiantomasso, 4. Louie Keraitis, 5. Stephan Nikolof, 6. Kevin Davison, 7. Carsten DiGiantomasso, 8. Eric Lane, 9. Jonathan Laureigh, 10. Joey King, 11. Michael Rising, 12. Eddie McCarthy, 13. John McCormick, 14. Howie Conk, 15. Todd Dige, 16. Jake Nelke, 17. Shannon Mongeau, 18. Robby Walton
FACTORY STOCK FEATURE – 25 Laps – 1. ELLIOTT WOHL, BAYVILLE, 2. Kenny Green, 3. Mike Montano, 4. Rob Haberstick, 5. Gerry Koenig, 6. Whitey Miller, 7. Bryan O'Shea, 8. Scott Riggleman, 9. John Bowers, 10. Theresa Collins, 11. Tom Rajkowski, 12. Robert Ptaszynski, 13. Tony Bartone, 14. Richie Byrne, 15. Tim Majek, 16. Waylon Speer, 17. Peter DePonte, 18. Matt Malachatka, 19. Matt Badessa, 20. Nancy Riggleman, DQ John Carpenter
4 CYLINDER STOCKS – 25 Laps – 1. BRAIN OSBORN, HOWELL, 2. TJ Graves, 3. Sal Liguori, 4. Darianne McLaren, 5. Chuck McDonald, 6. Chris Silvestri, 7. Scott Brannick, 8. JC Duvall, 9. Jennifer Schultz, 10. Neil Rutt, 11. Jeff Loesch, 12. Mike Lavery, 13. Cody Burbank, 14. Richard Smith, 15. Bub Marshall, Nicole Razzano
LEGEND CARS FEATURE – 20 Laps – 1. MIKE ALCARO, WEST MILFORD, 2. Nick Van Wickle, 3. Alex McCollum, 4. Vinny Troia, 5. Tony Hodgson, 6. Rob Silver, 7. Eugene Drew, 8. James Van Wickle, 9. Roger Nickerson, 10. Peter Bruno, 11. Bill Petrolino, 12. Joe Przybylinski, 13. Chris Hammett