Shane Clanton's Roots Run Deep at Senoia Raceway
Story By: CLAYTON JOHNS / WOO LATE MODEL SERIES MEDIA
Photos By: DAVE DALESANDRO / RACERSGUIDE.COM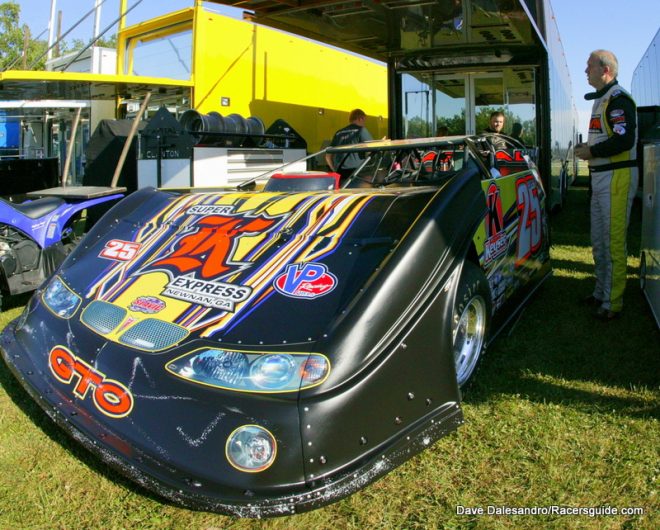 CONCORD, N.C. – May 12, 2017 – The World of Outlaws Craftsman® Late Model Series will roll into Senoia (Ga.) Raceway for its inaugural visit on June 3, but when Shane Clanton pulls into the pits it will be far from his first time at the 3/8-mile bullring.
For Clanton, racing has been a family tradition stemming from the head of the household, his father Billy Clanton. The family of six would load up and head to a racetrack three nights out of the week when Shane was growing up. On Friday nights, that meant a trip to Senoia.
"From the time all of us siblings were born, racing has been in our blood," Shane said. "My dad worked directly out of the back of our house, where he would build cars for customers. When we would get off the school bus, the first thing we wanted to do was head to the shop; we weren't worried about doing our homework. The main thing he taught us was that you get out of it what you put into something. If you don't put hard work into it, you won't get anything out of it. If it wasn't for my Dad, we probably wouldn't be doing this."
Bill Massey, the current track promoter at Senoia Raceway, started working at the track in 1969. He has been around the Clanton family for more than 40 years and has watched as Shane, along with his brothers Rusty and Joey, make a name for themselves in the racing industry.
"When I was an official at Senoia they were just little guys coming to the racetrack with their Dad. They would be out there working on the car like a grown man when they were six, seven, eight, nine years old," said Massey. "They would be out there running around with jacks, tire wrenches, lug wrenches and everything else just working like a NASCAR pit crew with their Daddy. They would be running around with little grease rags out of their back pockets. Their Dad taught them from young ages about racing."
Rusty and Joey led successful asphalt racing careers. Joey Clanton went on to race in the NASCAR Camping World Truck Series before hanging up his helmet to focus on his son's racing career. Rusty Clanton operates an auto shop for Legend racecars and helps coach a new generation on the track, including his nephew Christopher.
Despite their different surface preferences, all three Clanton men have been able to enjoy a race at one of their father's favorite tracks, Senoia Raceway, as the track has seen both asphalt and dirt throughout its existence.
The track Billy knew was red clay and high-banked. In the 1990s the track was asphalt for Rusty and Joey, and in the 2000s the track returned to its red-clay roots. More recently, Senoia Raceway has adopted an interesting look and unique feel for the drivers with a "gray gumbo clay" surface.
"When you walk up and look at the track you think it's asphalt or concrete," said Massey. "It makes for a great multi-groove track. It's not follow-the-leader, and that's what our fans love about it. It maintains the moisture really well, and it's really easy on tires. It also puts the driver back in the car. When I say that, it's not all about putting it on the floor, or putting it on the mat and just turning left. It takes a lot of skill for the driver to set up the car off the corners a little bit and drive them a little bit different."
Senoia Raceway held the inaugural Billy Clanton Classic in 2015, the same year of his induction to the Georgia Late Model Hall of Fame. That year also marked the first season the track had seen Late Model racing in nearly 30 years due to the changing track surfaces.
"The [clay] there makes a big deal. There is not a distinct line of where you need to be," said Shane.  "When the Series is there, the line will change throughout the night, so if you don't keep up with it you will be left behind. It's just a unique place in its own."
The World of Outlaws Craftsman Late Model Series is excited to be a part of a race honoring Billy Clanton at Senoia Raceway on June 3. The third annual Billy Clanton Classic is a 50-lap, $10,025-to-win feature event. Tickets are available online here including general admission, reserved seating and trackside parking.
Following the event at Senoia, the Series will head into Ontario, Canada, where it will race Saturday, June 17, at Brighton Speedway and Sunday, June 18, at Cornwall Motor Speedway.

The World of Outlaws Craftsman® Late Model Series is brought to fans across the country by many important sponsors and partners, including: Arizona Sport Shirts (Official Apparel Company), Textron Off Road (Official Side-by-Side Vehicle), Craftsman (Official Tool), Extended Stay America (Official Hotel), Hoosier Racing Tire (Official Tire), Morton Buildings (Official Building), Sears (Official Home Store),  The Kenny Wallace Dirt Racing Experience (Official Racing Experience, VP Racing Fuels (Official Racing Fuel) and DirtonDirt.com (Hard Charger Award); in addition to contingency sponsors, including: Cometic Gasket, Comp Cams, Edelbrock, JE Pistons, JRI Shocks, MSD, Penske Shocks, QA1, QuarterMaster, Superflow Dynos and Wrisco Aluminum (Exclusive Racing Aluminum); along with manufacturer sponsors, including: Capital Race Cars, Integra Shocks, Impact Racing Products, Intercomp, Racing Electronics, Rocket Chassis and TNT Rescue.
Founded in 1978, the World of Outlaws®, based in Concord, N.C., is the premier national touring series for dirt track racing in North America, featuring the most powerful cars on dirt, the World of Outlaws Craftsman Sprint Car Series and the World of Outlaws Craftsman Late Model Series. Annually, the two series race nearly 140 times at tracks across the United States and Canada. CBS Sports Network is the official broadcast partner of the World of Outlaws. DIRTVision® also broadcasts all World of Outlaws events over the Internet to fans around the world. Learn more about the World of Outlaws.