[xyz-ihs snippet="Posts-Ad"]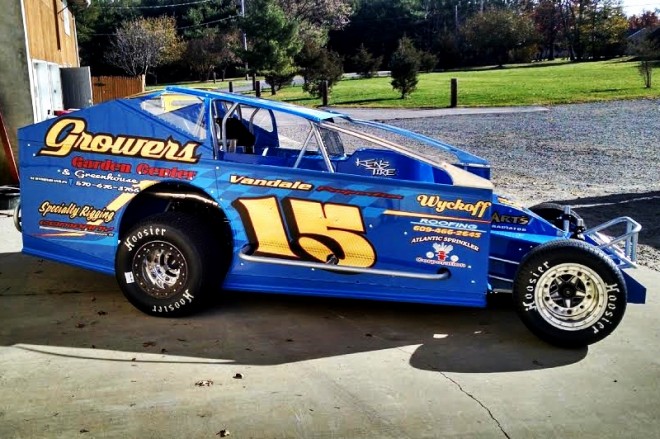 Billy Pauch Jr. Hoping Throwback Brings Good Luck To Charlotte
By: Pete MacDonald
In light of the ever so popular throwback paint schemes at Syracuse during last month's "Finale at the Fairgrounds", Billy Pauch Jr. decided that he wanted to pay tribute to his favorite car that his legendary father at this year's World of Outlaws World Finals at The Dirt Track at Charlotte.
After flipping and destroying his own No.15 at the Outlaw 200 at Fulton Speedway back on Saturday October 3rd a new Bicknell frame was ordered and assembly began on the new mount.
"This was my favorite car as a kid and if I was ever going to do one, that was the one I wanted to do. Plus my dad is a legend and I thought it would be a nice tribute to an impressive career," said Pauch Jr.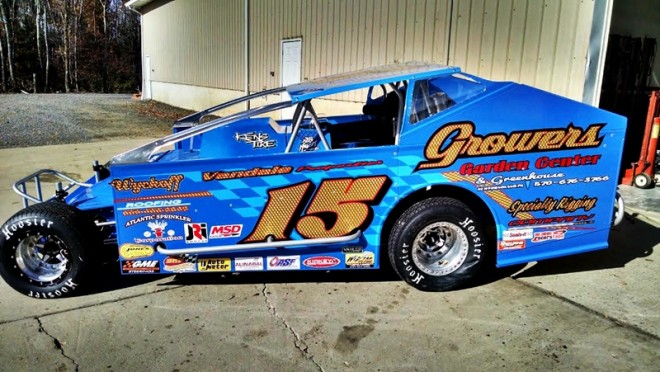 "The Kid's Kid" shook down his new car at Grandview Speedway over the weekend just to get a feel before heading south to compete with some of the best Big-Block Modified drivers in the game on the sport's biggest stage. "It ran really well," answered Pauch Jr." The motor is a Precision Big-Block that we built and we really happy with the way it ran."
As far as specific goals heading into this week "A win would mean a ton, I set three goals this year, one was to win ten races, which we did, the next was two championships which we did at Kutztown and Big Diamond and the third which was my 'reach for the stars' goal was to win at Charlotte," explained Pauch Jr. who has only one start at The Dirt Track at Charlotte back in 2011 in a Rick Clay owned mount.
What makes Charlotte so special? "Charlotte has an atmosphere like nothing else with all the people that are there, I get to see people that I don't see all year, " answered Pauch who will begin his trek south on Tuesday afternoon.
Plans call for this weekend to be the last for the 2015 season for Billy. "It's getting too cold for me, After this we're going to start to rebuild and come out swinging for 2016," laughed Pauch.
Regardless how this weekend goes, it's by far been an excellent year for Billy Pauch Jr., countless wins, two championships and a baby on the way soon.
What do you think of Billy Pauch Jr's throwback scheme? Tell us over on the RacersGuide.com discussion forums. I can be reached by email at racersguide@gmail.com or found on Twitter @PMacDonald51. Thanks for reading!
[xyz-ihs snippet="Posts-Ad"]