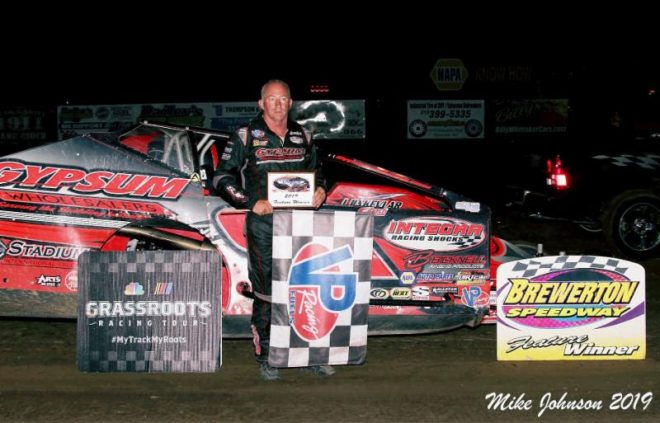 Billy Decker Wins First Of 2019 Becoming Tenth Different Brewerton Speedway Modified Feature Winner
Story By: Dave Medler/Brewerton Speedway
Photos By: Mike Johnson/RacersGuide.com
BREWERTON, NY – Mother Nature threw her best punch at the Brewerton Speedway Friday night as a heavy shower hit the speedway just when the first heat race of the night was lined up in the pits.
With black storm clouds all around the speedway the track crew went to work with track packing coupled with help from over 50 cars to put the finishing touches on the speedway. Once racing got underway, the entire five-division show was completed in 2 hours and 17 minutes.
Billy Decker turned around recent results not up to his or his race team standards with a dominating win in the caution free 35-lap Tracey Road Equipment DIRTcar Modified feature. It was Decker's first win at the speedway this season and he became the tenth different feature winner in 2019.
Other winners on NAPA Auto Parts Night: Fifteen-year-old Tyler Murray won his first career DOT Foods DIRTcar Sportsman feature. Tucker Halliday won his first ever feature in the U.S Air Force Mod Lites. Chris Bonoffski continued his winning ways in the Fleet Repairs Truck & Trailer Repair 4-Cylinders and Dale Caswell took the popular win in the Billy Whittaker Cars & Trux RUSH Late Models.
In the 35-lap Modified feature Billy Decker took advantage of a front row starting spot and would have a half-a-straightaway lead by lap 5 leaving teammate Pat Ward, Jimmy Phelps, Roy Bresnahan and Tom Sears Jr. to race for second through fifth.
Ward would cut Decker's lead in half on lap 10 in a two-car breakaway at the front of the filed as Phelps, Tom Sears Jr. and Tim Sears Jr. slugged it out behind the top-two.
On lap 15 Decker and Ward were still setting a fast pace as they started to put cars a lap down. Phelps, Sears and Sears were still using every inch of the race track almost under a blanket.
With 10 laps to go in the caution free race Decker was still on rails on the top-side of the speedway about ten car lengths ahead of Ward. Phelps, Tim Sears Jr. and now Larry Wight, who started deep in the pack, raced for third through fifth.
Over the final laps Billy Decker cruised to his first win of the season and 65th overall win at the speedway. Pat Ward, Tim Sears Jr., Jimmy Phelps and Chris Hile rounded out the top-five.
In the 25-lap Sportsman feature Tyler Murray would take the lead at the start and would open a full straightaway lead by lap 5 while Quinn Wallis, Colby Herzog, Bailey Groves and Stephen Denton raced in the top-five.
By lap 10 Murray was flying, opening up a 3.3 seconds lead with Wallis, Herzog and Tim Devendorf showing on the scoring tower.
A yellow on lap 16 changed the whole complexion of the race, erasing the 4.6 lead Murray had.
The last 2 laps were 'edge of your seat' exciting as veteran racer and defending track champion Kevin Root took the lead but the race was far from over. In only his second year racing a Sportsman, 15-year-old Tyler Murray was not intimidated and fought back as there was hard racing contact between the two in turns three and four setting up a drag race to the checkers. With both cars having tires going flat, Murray somehow found room between Root's car and the wall to win his first ever Sportsman race in a photo finish. Timing and scoring showed Murray winning by 0.005.
The Billy Whittaker Cars & Trux RUSH Late Models made their second appearance of the season one that fans will not soon forget.
In the 20-lap feature Dale Caswell and Kyle Sopaz ran almost the entire distance side-by-side within inches of each other, never touching, while swapping the lead back and forth all over the speedway. In the later laps, Chad Homan joined the battle up front.
The difference in the race came down to a late caution and single file restart that allowed Dale Caswell to drive away for the win. Kyle Sopaz, Chad Homan, Brian Knowles and Kevan Cook finished second through fifth.
Doug Williams would jump out to an early narrow advantage in the 20-lap Mod Lite feature and by lap 5 would have a ten-car length advantage over his son Justin Williams. Behind the top-two you could have thrown a blanket over Kyle Demo, Tom Mackey and Tucker Halliday.
At the halfway point Doug Williams, Justin Williams, Casey Sykes, Tucker Halliday and Brian Meyers ran in a tight pack fight in the top-five.
One lap later Justin Willams and Casey Sykes made contact spinning both cars. On the restart Halliday got a run on the top of the speedway exiting turn four to be scored the new leader.
Many times in the past Tucker Halliday has knocked on victory lane's door at the speedway. Once in the lead Halliday kicked that door open holding off Mike Mullen by 0.187 of a second at the checkers for his first career 'D-Shaped Dirt Demon' victory. Behind Halliday and Mullen, Kyle Demo, Clayton Brewer and Tom Mackey completed the top-five.
Sam Curcie, Jacob Dupra and Quinn Wallis all led laps before Chris Bonoffski took the lead on lap 6 and cruised to the win in the 15-lap 4-Cylinder feature. Quinn Wallis, Nate Powers, Chuck Powelczyk and Ray Bechler finished second through fifth.
This Friday, August 16th the Modifieds will have the night off, but the need for speed will see the winged warriors of the Lucas Oil Empire Super Sprints do battle on the 'D-Shaped Dirt Demon.'
Joining ESS for the night of racing thrills presented by Fleet Repairs Truck & Trailer Repair will be the DOT Foods DIRTcar Sportsman, U.S Air Force Mod Lites and Fleet Repairs Truck & Trailer Repair 4-Cylinders.
Adult grandstand admission is $16 with everyone 18 years old and younger free. Pit admission is $27 Participant, $30 Non-Participant. Grandstands open at 5:30 pm with racing at 7:30 pm.
Any questions you might have and for marketing opportunities please contact Cory Reed at (315) 668-6906 or cory@brewertonspeedway.com .
For all the latest news visit www.brewertonspeedway.com and like the speedway Facebook & Twitter pages.
NAPA Auto Parts August 9 Results
(Tracey Road Equipment DIRTcar Modifieds 35 Laps) – BILLY DECKER, Pat Ward, Tim Sears Jr., Jimmy Phelps, Chris Hile, Larry Wight, Tom Sears Jr., Roy Bresnahan, Tyler Trump, Chad Phelps, Ron Davis III, Jim Witko, Tim Harris, Katelyn Hile, Nick Krause, Matt Hulsizer, Andrew Ferguson, Jason Occhino.
(DOT Foods DIRTcar Sportsman 25 Laps) – TYLER MURRAY, Kevin Root, Mark Yorker, Quinn Wallis, Chris Mackey, Colby Herzog, Tim Devendorf, Jim Spano, Bailey Groves, Dylan Zacharias, Zach Sobotka, Billy Clark Jr., JJ Courcy, Willy Decker Jr., Mike Fowler, Corey Barker, Brandon Carvey, Bob Henry Jr., Alan Fink, Earl Rudy, Jeff Prentice, Stephen Denton, Jeff Taylor, Amy Holland, Joe Sobotka, Rich Townsend, DNS John Strickler, Mike Prentice.
(DOT Foods DIRTcar Sportsman B-Main 15 Laps) – Amy Holland, Corey Barker, Jeff Taylor, Jeff Prentice, Austin Germinio, Ryan Dolbear, Joe Sobotka, Brian Evenden, John Strickler, Riley Rogala, DNS Alan Fink, Mike Prentice.
(U.S Air Force Mod Lites 20 Laps) – TUCKER HALLIDAY, Mike Mullen, Kyle Demo, Clayton Brewer, Tom Mackey, Joe Garafolo, Casey Sykes, Justin Williams, Zack Babcock, Hunter Lawton, Harley Brown, Brian Meyers, Kelly Skinner, Doug Williams, Ian Bressette, Roger Olschewske.
(Fleet Repairs Truck & Trailer Repair 4-Cylinders 15 Laps) – CHRIS BONOFFSKI, Quinn Wallis, Nate Powers, Chuck Powelczyk, Ray Bechler, Jake Dupra, Tim Balins, Sam Curcie, David DeNova, Clayton Koch, Dante Mancuso, Damien Bechler, Brian Hoisington.
(Billy Whittaker Cars & Trux RUSH Late Models 20 Laps) – DALE CASWELL, Kyle Sopaz, Chad Homan, Brian Knowles, Kevan Cook, Bret Belden, Alan Chapman, JJ Mazur, Chris Fleming, David Pangrazio, Matt Kitts, Kyle Murray, TJ Downs, Sean Beardsley, Max Hill.