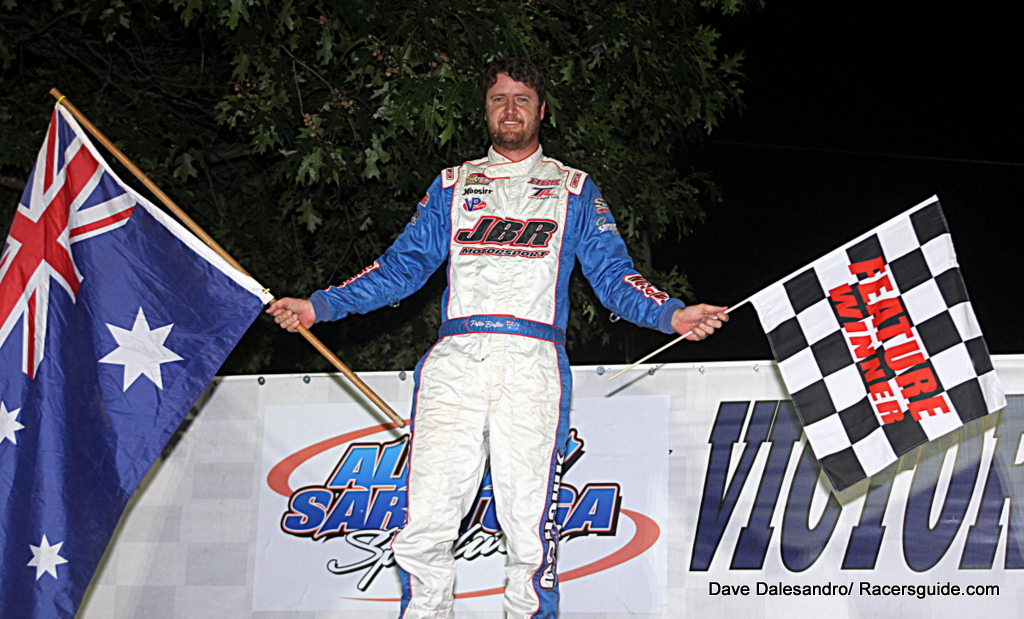 'Batman' Peter Britten Goes Back-To-Back
Story By: Mandee Pauch/MPR
Photos By: Dave Dalesandro/RacersGuide.com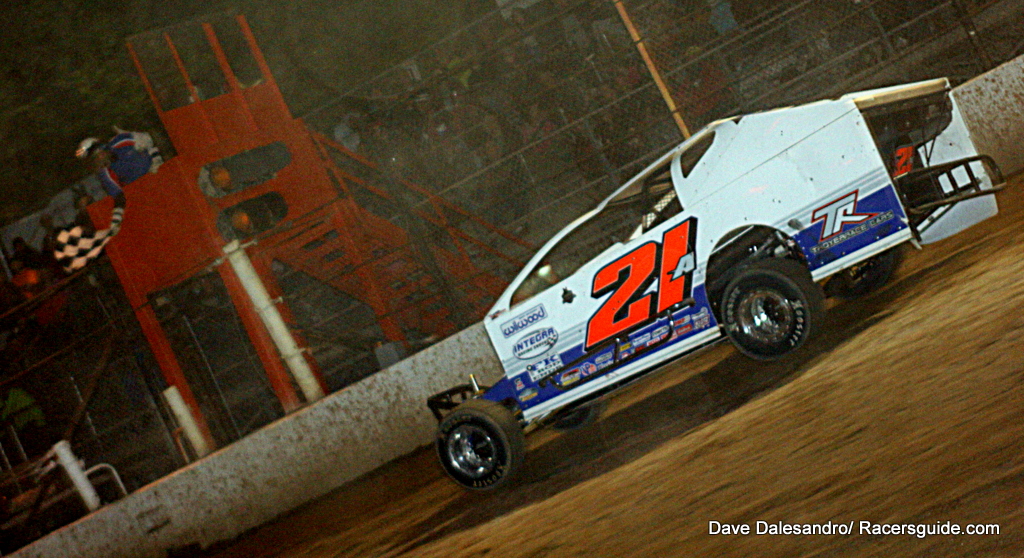 Mandee Pauch Relations – August 28, 2017 – The Australian Native, Peter Britten, picked up his first victory Friday evening at Albany-Saratoga in his No.21a Big Block Modified then traveled five hours West to dominate Sharon Speedway on Saturday in the Weller's No.31 Big Block Modified.
To say Britten was pleased with his weekend performance would be an understatement.
Britten's three-day race week opened Thursday evening at Ohsweken Speedway with the Super DIRTcar Series.
Britten started fourth in his heat and qualified second, placing him in the redraw.
Britten drew tenth for the main event. "Obviously that wasn't what I was looking for," Britten said.
Throughout the evening, the track had several rain delays putting quite the curve ball on the track surface come feature time for many drivers.
"The track conditions started to change a bit," Britten added. "We probably didn't make the changes we should have after the rain."
On top of track changes, Britten ran into some minor motor issues. "It wasn't running right," he said. "The first half I slipped back a little bit then when the track started to get slick our setup came to us and we were able to pass a few cars."
Despite a few set backs Britten was able to cross the line in tenth for the 100-lap main event.
Friday evening saw Britten at his weekly home track, Albany-Saratoga Speedway.
Britten and the Romano team made the decision to bring Britten's No.21a car instead of the familiar Friday night car.
"The motor was getting a little tired on the 97," noted Britten. "With the championship coming down to the wire we made the decision to go as a team and try my car."
Britten started sixth in his heat race, captured the lead by the second lap and drove away with the win.
"We won by half a lap," he said. "We kind of obliterated them. That was definitely a good confidence booster going into the feature."
Britten rolled off on the outside of the fourth row for the main event.
"I was able to pick my way though the field," he said. "We got to second with relative ease."
When Britten overtook second, Jesse Mueller had a steady lead.
"He was doing a good job," Britten said. "It was kind of hard to catch him. I kind of figured he'd start slowing down eventually. Then he started wearing out his stuff. I was patient on the bottom and was able to get around him and carry on to the win."
Friday evening's victory was Britten and the Romano's first win of the season together.
"I felt we were so close a lot of times this year," he said. "Leading the track points I didn't want to be known as that guy to potentially win the championship without winning a race there."
Britten was ecstatic to be able to get the Romano's a win at their Friday night home track.
"To get them guys in victory lane is a really good feeling going into the final race at Malta."
Britten now holds a 15-point lead going into the final weekend at Albany-Saratoga.
"I still have to go out there and do well," he said. "We just have to focus on having a good run and treat it like a regular Friday night. There are so many things that could go wrong it's best to not overthink it. Hopefully we'll keep our nose clean."
Britten has never captured a track championship before but is excited and hopeful leading into this upcoming weekend.
After a strong performance Friday evening, Britten traveled west to Sharon Speedway on Saturday for his first return since his Super DIRTcar Series win back in July.
Britten finished second in his heat race from sixth.
"They don't do handicap down there," added Britten. "They do an inversion for starting spots. The inversion pill was four and that put me on the pole for the feature."
Britten rolled off on the pole for the 25-lap main event and led every lap to the checkered.
"I was never really challenged," he said. "We had a really good car. That was one of the new TD4 Trover's as well. The track was very similar to how it was when we were there with the Series. It gave me the right confidence."
Britten put on a dominating performance in the Weller's No.31 Big Block Modified and took home his second victory of the weekend.
"It was good to get a win for the Weller's," Britten said. "They brought me in at the start of the year to help them. We were having some struggles at the start of the year so it's good to look back and notice things come full circle. To end the year there with a win in dominating fashion was great."
Next on tap for Britten is Lebanon Valley Speedway on Thursday with the Super DIRTcar Series then Friday evening at Albany-Saratoga for their final points night and then Weedsport Speedway on Monday with the Series for a Labor Day Special.
PETER BRITTEN RACING QUICK RESULTS –
Thursday, August 24 – Ohsweken Speedway; Heat: 2 (4); Feature: 10 (10)
Friday, August 25 – Albany-Saratoga; Heat: 1 (6); Feature: 1 (8)
Saturday, August 26 – Sharon Speedway; Heat: 1 (6); Feature: 1 (1)
PETER BRITTEN RACING SEASON STATS –
38 races – 3 wins, 18 top 5's, 27 top 10's
UP NEXT –
Thursday, August 31 – Lebanon Valley Speedway
Friday, September 1 – Albany-Saratoga Speedway
Monday, September 4 – Weedsport Speedway
MEDIA LINKS –
Website: www.peterbrittenracing.com
Facebook: www.facebook.com/peter.britten.9
Twitter: www.twitter.com/peterbritten21a
Instagram: www.instagram.com/peterbritten
APPAREL –
All Peter Britten Racing apparel will be available for sale at their racecar trailer during events they compete in.
SPONSOR SPOTLIGHT – Amor Security and Protection
Armor Security and Protection was founded in 2012 and service the Rochester area and clients in Long Island and Manhattan. They are a full service security and private investigation company. For information on Armor Security and Protection, visit www.armorsecurityandprotection.com.
Peter Britten Racing would also like to thank Troyer, Sweet MFG, Wilwood, Integra, FK Rod Ends, Hypercoil, Winters Performance, AMI, JBR Motorsports, Flach Performance Products, Liberty Steel, Strange Oval and Andy's Speed Shop for their continued support.