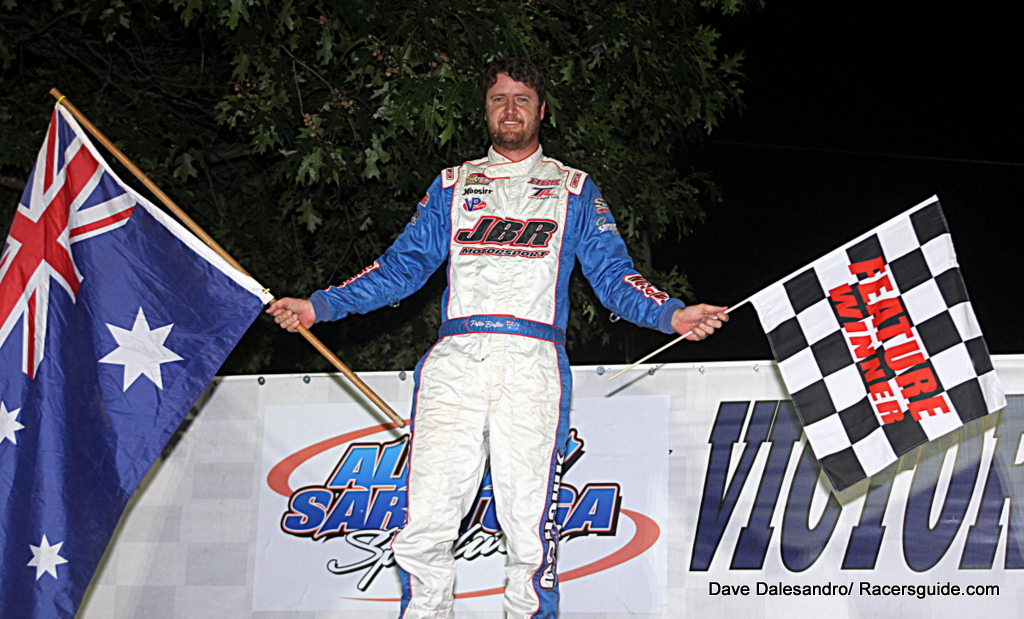 BATMAN FLIES TO VICTORY LANE; Adds to Point Lead Going Into Finale
Story By: Matt Keith/Albany-Saratoga Speedway
Photos By: Dave Dalesandro/RacersGuide.com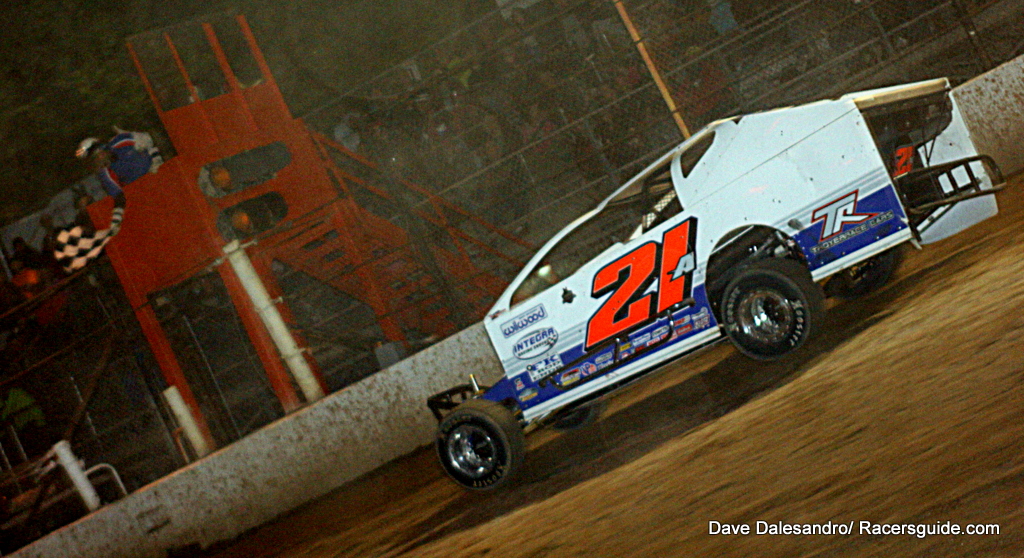 Malta, New York – "Batman" Peter Britten has been leading the points for much of the season at Albany-Saratoga in the Modified division. However, the Australian sensation had been unable to find victory lane until Friday night.
Driving his #21a that he normally campaigns on the Super DIRTcar Series instead of his usual Andy Romano owned no. 97 Troyer Britten was fast in the heat race and fast from the get go in the 35-lap Modified feature.
Elmo Reckner shot out to the early race but would relinquish the lead to Jessey Mueller on lap 8 as Reckner and Jimmy Cottrell made contact on the front stretch. Mueller, using the high side of the speedway shot out to a huge lead.
Meanwhile, the cream was starting to rise to the top as Keith Flach, Marc Johnson, Brett Hearn, and Kenny Tremont began working their way to the front of the field. Britten, who started in eighth made his way into fourth on Lap 12.
Just three laps later Britten moved by defending track champion Marc Johnson for second and began to try and run down Mueller. Mueller ran the high side of the speedway, while Britten brought his Troyer to the bottom of the Malta oval.
On lap 25 Mueller would jump over the cushion in the exit of turn two and Britten would rocket by for the race lead. From there, Britten pulled away for his first win of the season and sixth career win at Albany-Saratoga. In doing so he unofficially holds a 15 point lead going into the next week's final point race for the Modifieds.
Marc Johnson would get by Mueller for second on the final lap. Mueller would settle for third with Kenny Tremont and Brett Hearn finishing in fourth and fifth.
Chucky Dumblewski held off the charges of Luke Horning to win his second Pro Stock feature of the season. Horning has been in the race lead numerous times this season only to have something happen. It happened again as a car spun in front of him while leading. Horning had to settle for second with, Jay Corbin, Dan Older, and Norm Loubier rounding out the top five
In the makeup Sportsman feature from June 23, it was David Schilling holding off Brian Pessalano for his second win of the season. Pat Jones, Rocky Warner, and Chris Ronca rounded out the top five.
In the nightcap, it was Tim Hartman Jr. picking up his first win of the season in the "Sowle Trailer Repair Sportsman Series" 25-lap feature. Jeremy Pitts the defending champion held off Connor Cleveland who charged from 19th to finish third. Hunter Bates and Pat Jones rounded out the top five.
While many were using the top side of the speedway, Hartman methodically worked his way from 12th to 2nd by Lap 11 mostly using the bottom of the speedway. One lap later, Hartman moved into the lead and was never seriously challenged the rest of the way.
James Meehan won his third Limited Sportsman feature of the season and will graduate to the Sportsman division next week. Travis Billington was in second with Mike Block in third. Lance Harding who was substituting for Derek Bornt, who suffered a broken leg in a motorcycle accident, finished in fourth and Rob Lanfear rounded out the top five.
Randy Miller won the Street Stock feature for his sixth win of the season. Chase Aussicker made a late race run at Miller but had to settle for second. Joey Wilson was in third with point leader Al Relyea finishing in fourth and Mark Burch finishing in fifth.
Darryl "Socks" Hulbert Jr. won the visiting Mohawk Valley Vintage Dirt Modified Feature in a Modified that looked like that of the locally famous Mert "Socks" Hulbert, his dad.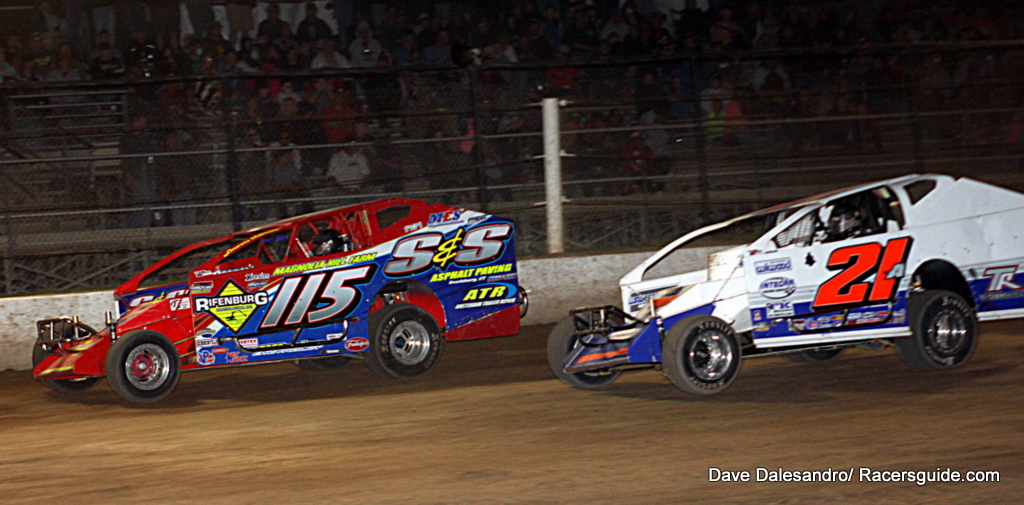 Coming up next Friday night September 1st, will be the final night of points for the Modified, Sportsman and Pro Stock divisions. All divisions will be in action including the 4 -Cylinder division. It will also be the final race of the "Sowle Trailer Repair Sportsman Series " as well as a Pro Stock "Featherfoot Warrior Series" race. Fireworks will fill the sky over "The Great Race Place" and there are sure to be a few on the race track as the track championships are up for grabs.
Racing will start at 7 p.m. Grandstand admission is $10 for adults and $2 for children under 11. Pit admission is $20 for members and $25 for non-members. Pit gates open at 4 p.m. Grandstand gates open at 5 p.m.
Malta Mudbits- A new addition for the fans this week at the Speedway is the Albany-Saratoga Modified cutaway car, numbered 32, in memory of track promoter Lyle DeVore's dad Stan. The car is in front of the main grandstands for fans of all ages to sit in and grab a photo and to get a feel of what it is like to sit behind the wheel of a Modified.
Modified point leader Peter Britten was behind the wheel of his own number 21a that he campaigns on the Super Dirt Series instead of his normal Andy Romano owned 97. "We just need to try something different," said Britten. "It obviously paid off."
Long-time photographer John Grady was on hand with his massive collection of vintage photos behind the grandstand.
Despite an additional feature and with no threat of inclement weather, the show was run off by 10:30 p.m
The back to school raffle for kids was held giving away several backpacks to the lucky winners.
For the 2017 schedule and up-to-date Albany-Saratoga Speedway information be sure to visit:
Online at www.albany-saratogaspeedway.com
Twitter at http://twitter.com/Albany-Saratoga@Albany_Saratoga
Facebook at http://www.facebook.com/Albany-Saratoga Speedway
Instagram at albany_saratoga
About Albany-Saratoga Speedway: Conveniently located at 2671 U.S. Route 9, Malta, NY 12020 the 4/10 mile dirt track is approximately one mile North of Exit 12 off I-87. Racing takes place every Friday night at 7 p.m. from mid-April to mid-September and features DIRTcar Modifieds (Big Block / Small Block combined), DIRTcar Sportsman, Limited Sportsman, DIRTcar Pro Stocks, Street Stocks and 4-Cylinders. "The Great Race Place" grandstand gate opens at 5 p.m.; pit gate opens at 4 p.m. The facility provides the ultimate fan-friendly location for motorsports entertainment including free parking and camping.