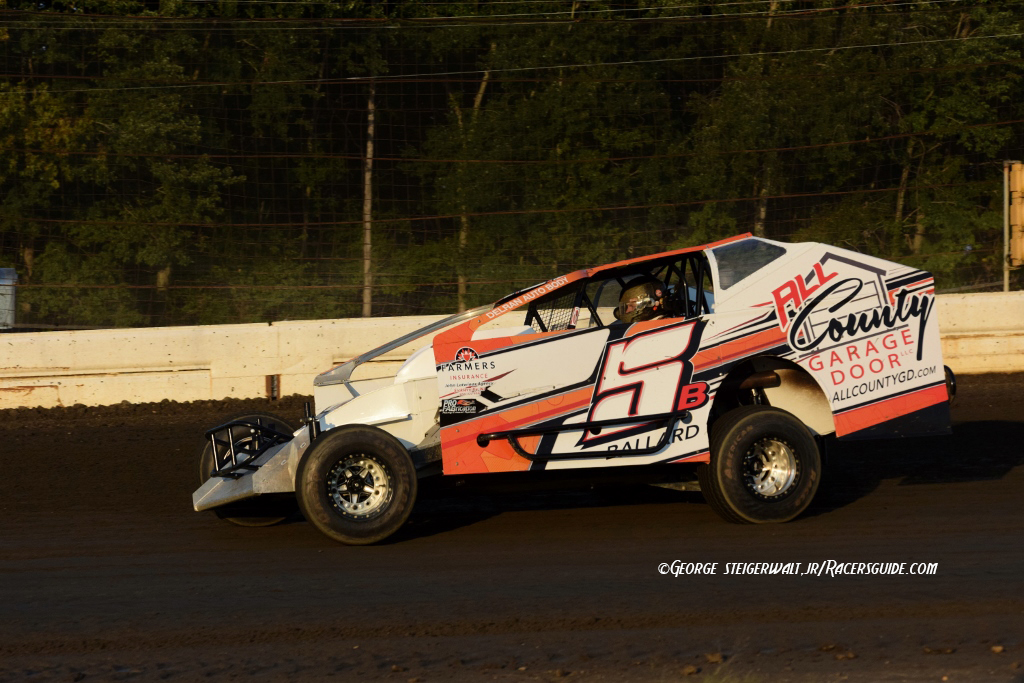 BALLARD STILL OPTIMISTIC FOLLOWING LATEST RACE
Story By: Mike Wisniewski/B&M Motorsports
Photos By: George Steigerwalt/RacersGuide.com
Sicklerville, NJ (October 1, 2018) – Although his latest finish was not up to expectations, Brett Ballard is still optimistic of his fast Big Block Modified. This past weekend, the Pennsville, NJ based driver entered the $10,000-to-win King of the Big Block race at Bridgeport Speedway on Saturday, September 29.
Ballard qualified for the 50-lap extra distance event by finishing fourth in his heat race after starting the contest in sixth. By virtue of his placement in the qualifying event, Ballard was one of a dozen drivers placed into a draw for the top twelve starting spots in the feature. Being the last of the twelve top qualifiers to draw their starting spot, Ballard was left with the ninth starting spot. While running in the top ten in the feature and with only four tours completed, Ballard was clipped by a competitor and spun in turn one following a restart. With some damage to the front end, Ballard entered the pits for a quick inspection. After running a few laps following the incident, he retired from the event on the twelfth circuit and was credited with a nineteenth place finish. "The incident bent the front axle and caused some other damage. Obviously, the car was not handling well after the spin and I decided to drop out of the race. It was not the finish I was looking for but my car was fast again tonight. With the success that I have had with it, I feel pretty confident going into the last portion of the season," remarked Ballard. He and his team are planning to compete at Delaware International Speedway on October 19 and 20 and Georgetown Speedway on October 26 and 27. His last race of the season will be at Bridgeport Speedway on Saturday, November 10.
Ballard's 2018 marketing partners include All County Garage Doors, the John Latwinas Farmers Insurance Agency of Sicklerville, NJ, Delran Auto Body, B&M Marketing Solutions, and Wiz Motorsports Communications. Several affordable and customizable marketing partnership packages are available for the remainder of the 2018 racing campaign and the upcoming 2019 season including the exhibition of Ballard's Modified at Motorsports 2019. Interested parties should contact Mike Wisniewski from Wiz Motorsports Communications at mikewiz1962@yahoo.com.
Wiz Motorsports Communications delivers customized and professional marketing solutions for racers and race tracks. To discuss your particular need, contact Wiz Motorsports Communications at mikewiz1962@yahoo.com.