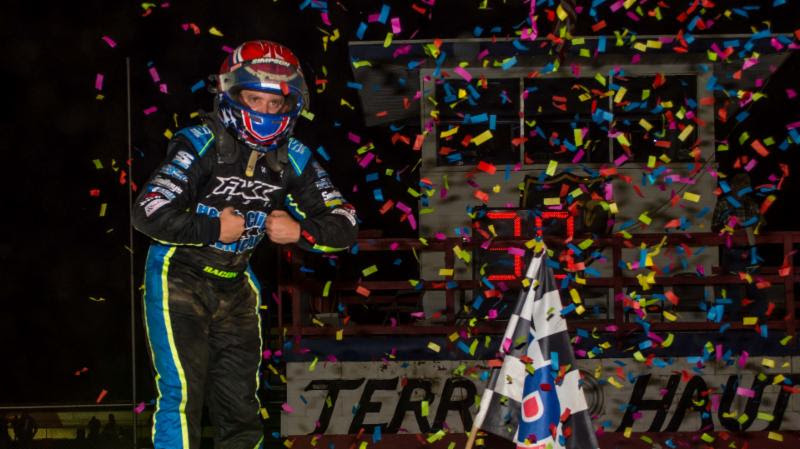 BACON POURS IT ON IN HURTUBISE CLASSIC VICTORY
Story By: Richie Murray – USAC Media
Photos By: Ryan Sellers/USAC Racing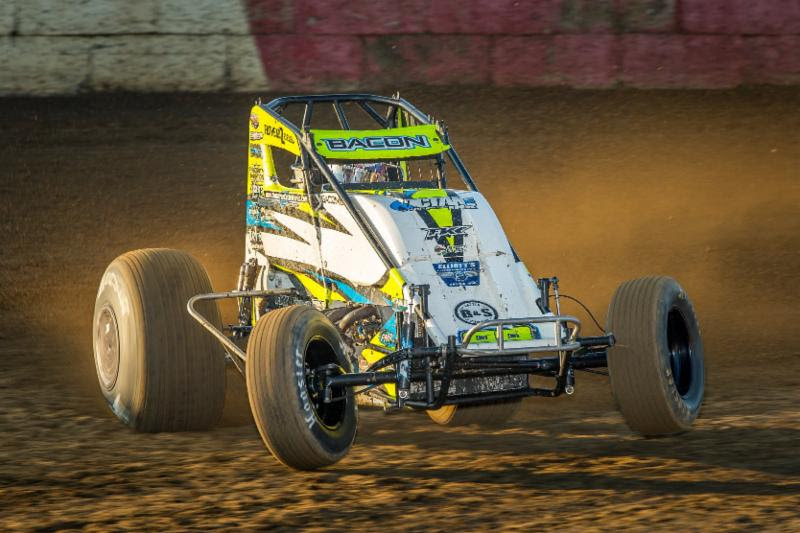 Terre Haute, Indiana………It's certainly been a whirlwind week-plus of highs for Brady Bacon.
Last Thursday, he picked up a victory worth $15,000 in the BC39 at the Indianapolis Motor Speedway. On Monday, he became a father for the third time with the birth of daughter, Linley. And Friday, he hit the jackpot once again, winning his second career "Jim Hurtubise Classic" USAC AMSOIL National Sprint Car feature at the Terre Haute Action Track.
"They say when it rains, it pours, and we needed some rain on our crops at home," Bacon said. "This has been a good little stretch. For some reason, new kids bring a lot of wins it seems like. We've won two championships the year the last two kids were born and now we got this one. We can win a lot of money from here to the end of the year with a lot of big paying races, so this is a good time to get momentum."
Bacon rolled off fifth in his own Brady Bacon Racing/Fatheadz Eyewear – Tel-Star Technologies/Triple X/Rider Chevy. Pole sitter Shane Cottle set the pace into turn one on the opening lap, but it was outside front row starter C.J. Leary who won the race to turn three to grab the lead where he'd remain for the first five circuits.
On lap six, Nick Bilbee and Josh Hodges tangled in turn one, sending Bilbee hard into the outside concrete to bring out the first stoppage of the night. Both were uninjured, but both were finished for the evening.
The caution closed the gap between Leary and the rapidly climbing Bacon for the lap six restart. Leary held the advantage when racing returned to green, but Bacon was close enough to apply pressure. Leary drifted a bit high on the exit of four and Bacon was there to capitalize on the bottom, ripping the lead away and, immediately, carving out a half-straightaway lead nearing the halfway point when Dave Darland slowed to a stop in turn two on lap 13.
When action resumed, second-place Robert Ballou was able to stay in touch with Bacon, bouncing along the bottom between turns three and four as he trailed five car lengths back.
The 2014 (Bacon) and 2015 (Ballou) "Hurtubise" winners were now set one/two with Bacon relentlessly attacking the top lap-after-lap, four wheels above the cush as Ballou put the chase on. But, with six laps remaining, Bacon nearly lost all those gains on the track and nearly gained a migraine, getting completely sideways between turns one and two. Bacon gathered up his mount and motored on, while Ballou was unable to erase any ground.
"We were kind of getting in above the cushion and got up a little too high," Bacon explained. "There must've been a big clump up there or some heavy stuff and it caught us and turned us sideways. Luckily, we were able to get it pointed straight."
What first appeared like a bout of misfortune turned into good fortune for the Broken Arrow, Oklahoma native as he simultaneously danced with lapped traffic with Ballou hot on the trail.
"I squeezed by the 11 car (James Lyerla) and there wasn't a whole lot of extra room," Bacon recalled. "I had all four wheels above the cushion. But when things are going your way, you can get by with stuff that maybe you shouldn't be able to. Sometimes that's just the way it works and I'm glad it's my turn right now."
Tenth-running Justin Grant's car went up in smoke with five laps remaining to bring out the final yellow. On the ensuing restart, Bacon had the buffer of a lapped car in Isaac Chapple between he and Ballou to break away with any increment of a gain he could pocket. Bacon was as precise as the arc of an Olympic high diver while Ballou got around Chapple with relative ease, but he was playing catchup now and Bacon had no intentions of getting run down on this night, holding a steady interval and never missing a beat down the stretch to win for the 22nd time in his USAC AMSOIL National Sprint Car career, tying him for 22nd on the all-time list alongside Rick Hood, Bubby Jones & Sam Sessions.
"We've struggled by my standards here this year," Bacon admitted. "We made some changes of what we thought would make it better and we really had a good racecar. I had a new shock on that we were trying tonight, and it was really good. We could stick anywhere we wanted at the beginning of the race and had a lot of grip into the center. That dictates your speed here, and I could carry momentum and not have to overdrive it to carry a lot of speed. We used our tire up a little bit, but that's kind of part of it here. I felt like if someone challenged me I could've gone a little bit harder, but it was nice to be able to get to the front as quick as we did."
Contingency award winners Friday night at the Terre Haute Action Track were Robert Ballou (Simpson Race Products First Heat Winner), Josh Hodges (Competition Suspension, Inc. Second Heat Winner), Dave Darland (Chalk Stix/Indy Race Parts Third Heat Winner), Kevin Thomas, Jr. (KSE Racing Products Hard Charger), Isaac Chapple (Wilwood Brakes 13th Place Finisher) and Carson Short (Roger & Barb Tapy 13th Fastest Qualifier).