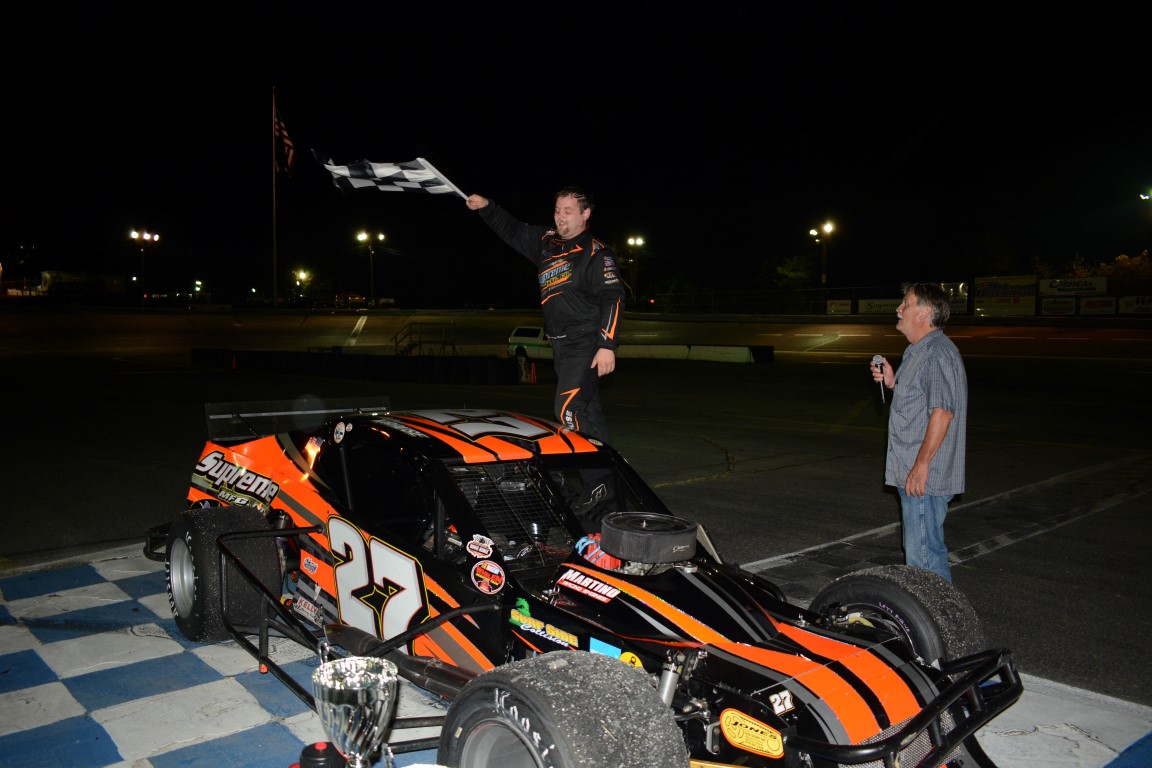 ANDREW KRAUSE WINS CLIFF KRAUSE MEMORIAL AT WALL SATURDAY
Story By: Jeff Gravatt/Wall Stadium
Photos By: John John Lane/Racers Guide.com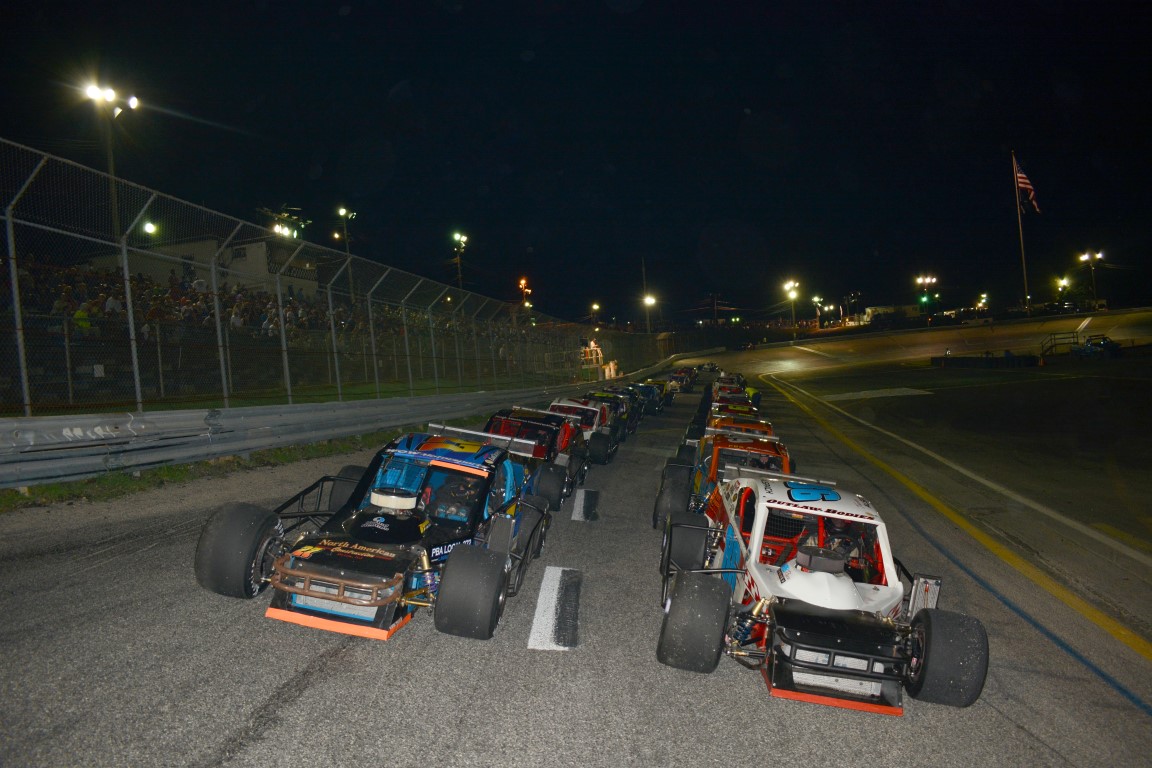 WALL TOWNSHIP, N.J. ~ In what could have been easily written as a Hollywood script, Andrew Krause of Holmdel overcame adversity to win the first ever Cliff Krause Memorial race at Wall Stadium Speedway Saturday night. Offering $7,127 to the 127-lap race winner, the Krause Memorial offers the richest payout on the 2018 All American Auto Group racing Series regular season for the Pete and Elda's Bar/Carmen's Pizzeria Modified stock cars.
Cliff Krause, who rescued the paved oval nearly a decade ago when he took over as the promoter along with his wife Diane, passed away of natural causes in January. His family continues to operate the facility.
Andrew Krause's effort started on a high note when he posted the fastest lap of 28 entries in time trials at 96.615 mph for a trip around the third mile oval. His first setback then came when a fan picked a 14 car inverted line up for the start of the race which relegated him to a fourteenth starting spot. Krause then started his march to the front, but that lasted just 10 laps before a broken power steering line sent him to the pit area for repairs. Krause returned to the the pack of the pack to attempt to get to the front.
Meanwhile a battle for the lead seemed to rage almost constantly as Lavallette's Adam LaCicero and Danny Bohn of Mooresville, N.C. took turns in the top spot in the early going. When Bohn left the race with shifter problems Steven Reed of Jackson took command and eventually wrestled side-by-side for several laps with Shaun Carrig of Little Falls before Carrig took the lead with an outside lane pass. With Carrig deciding not to bolt on a new tire when several others had or did, he slipped back a few spots after a lap 94 restart and Krause took the lead.
Krause then fought through a handful of late race caution flags and fought off the challenges of first Zack Alspach of Willingboro and later Derek Hopkinson of Toms River for the emotional win. Howell's Jimmy Blewett, who fought through his own share of on track troubles, crossed the line third, with Reed and Carrig wrapping up the top five.
"This one is for you Dad," Krause said after the victory. "We had that power steering problem early and I thought that was it, but my crew made the repairs. They never give up and that won us this race tonight. I'm just so glad that I can share this with my mom and my sister. But I am so sad that my father isn't here for this win."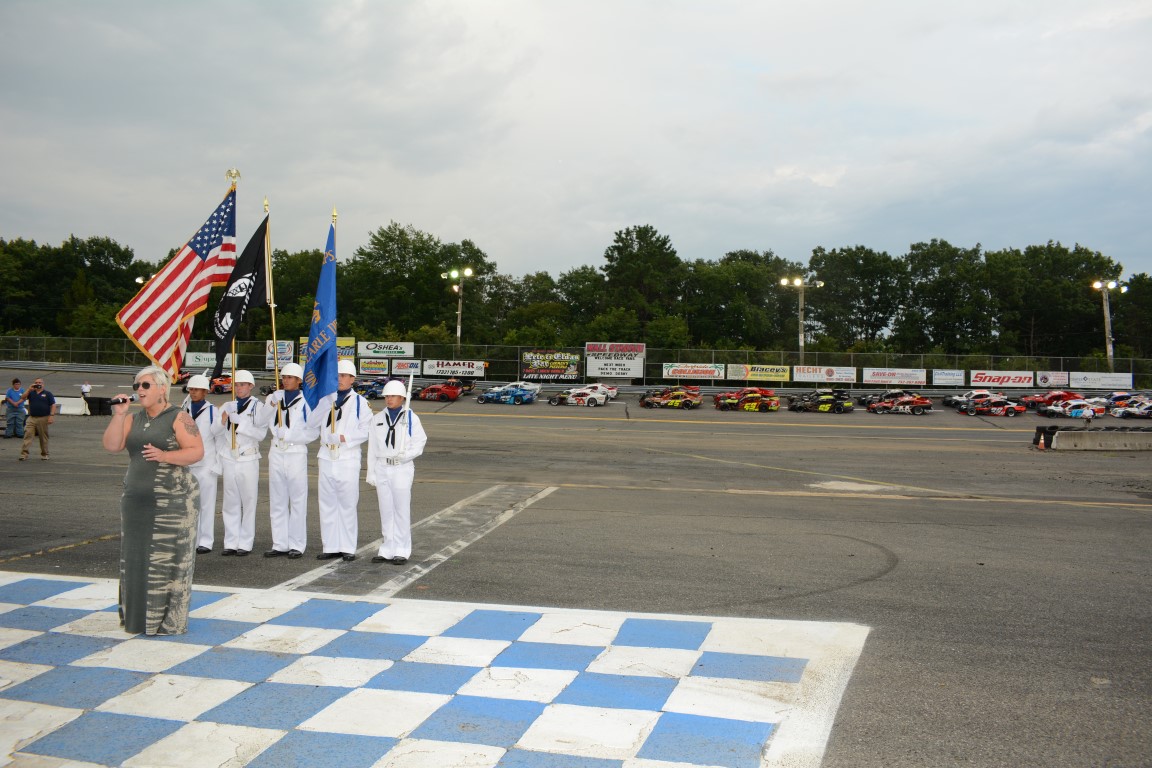 Kenny Green of Farmingdale won the companion 27-lap feature race for the O'Shea's Auto Repair Factory Stocks. Bryan O'Shea of Wall was the early leader until a slowing car blocked his path with just six laps remaining. John Bowers of Pt. Pleasant then slipped into the lead before lapped car woes spoiled his effort with two laps remaining. Green was then able to motor into the lead and battled Elliot Wohl of Beachwood to the checker flag. O'Shea, point leader Mike Montano of Freeport, N.Y. and Manchester's Scott Riggleman completed the top five.
Neil Rutt III of Jackson won his first ever main event in the 27-lapper for the Surfside Collision 4 Cylinder Stocks. Jeffrey Loesch of Neptune City was second, with Howell's Brian Osborn, Darianne McLaren of Edison and Hazlet's Chris Silvestri third through fifth.
Alex McCollum of Phillipsburg was also a first time winner in the Green Flag Driving Experience Legend Cars 27-lap main event. Vinny Troia of Browns Mills, Nick Van Wickle of Edgewater Park, Rob Hyer and James Van Wickle completed the first five.
The All American Auto Group Racing Series continues this Saturday evening (Aug. 25) on "Pack the Track Night," which offers a discounted $10 adult admission, a $5 ticket for youngsters 6 to 16 and free admission for kids five and under. The Center State Sportsman cars will race in a 50-lapper, while the Factory Stocks, 4 Cylinder Stocks, Legend Cars and the TQ Midgets are all slated for regular distance main event action. Once racing is complete a Demolition Derby will be presented. Grandstands open at 5:00 p.m., with qualifying set for 5:45 p.m. and feature race action set for 7:00 p.m.
Saturday night racing action continues through early October with schedule details at wallspeedwayracing.com.
Wall Stadium is located on Route 34 in Wall Township, N.J., just one mile north of Garden State Parkway exit 98 and Interstate 195 exit 35B. The speedway hotline number is 732-681-6400 and email address is ckmotorsports@aol.com.
MODIFIED
FEATURE – 127 Laps – 1. ANDREW KRAUSE, HOLMDEL, 2. Derek Hopkinson, 3. Jimmy Blewett, 4. Steven Reed, 5. Shaun Carrig, 6. Jonathan Mandato, 7. Eric Mauriello, 8. Roger Coss, 9. Zack Alspach, 10. Blake Barney, 11. Tommy Catanzaro, 12. Zane Zeiner, 13. Jason Treat, 14. Chas Okerson, 15. Eddie McCarthy, 16. Marc Rogers, 17. Kenny Van Wickle, 18. Trevor Alspach, 19. Adam LaCicero, 20. Jason Hearne, 21. Ricky Collins, 22. Dom Fattaruso, 23. Joey Jarowicz, 24. Danny Bohn, 25. Joey Merlino, 26. Chris Reynolds, 27. Matt Przemieski, 28. Tyler Truex
FACTORY STOCK
FEATURE – 27 Laps – 1. KENNY GREEN, FARMINGDALE, 2. Elliot Wohl, 3. Bryan O'Shea, 4. Mike Montano, 5. Scott Riggleman, 6. Richie Byrne, 7. Bob Haberstick, 8. Steve West, 9. Matt Badessa, 10. Gerry Koenig, 11. Tony Bartone, 12. Whitey Miller, 13. Robert Ptaszynski, 14. Nancy Riggleman, 15. John Bowers, 16. Tom Rajkowski, 17. Jon Browny, 18. Shanon Mongeau, 19. Kevin Flores, 20. Tim Majek, 21. Theresa Collins, 22. Matt Malachatka
4 CYLINDER STOCK
FEATURE – 27 Laps – 1. NEIL RUTT III, JACKSON, 2. Jeffrey Loesch, 3. Brian Osborn, 4. Darianne McLaren, 5. Chris Silvestri, 6. Nicole Razzano, 7. Cody Burbank, 8. Mike Lavery, 9. Billy Both, 10. TJ Graves, 11. Cody Mount, 12. Doug Ashford, 13. AJ Jadacki, 14. Jennifer Schultz, 15. Brian DeSarno
LEGEND CARS
FEATURE – 27 Laps – 1. ALEX MCCOLLUM, PHILLIPSBURG, 2. Vinny Troia, 3. Nick Van Wickle, 4. Rob Hyer, 5. James Van Wickle, 6. Bob Baltera, 7. Tom Everson, 8. Joe Przybylinski, 9. Roger Nickerson, 10. Bill Petrolino, 11. Rob Silver, 12. Luke Marzano 13. Peter Bruno