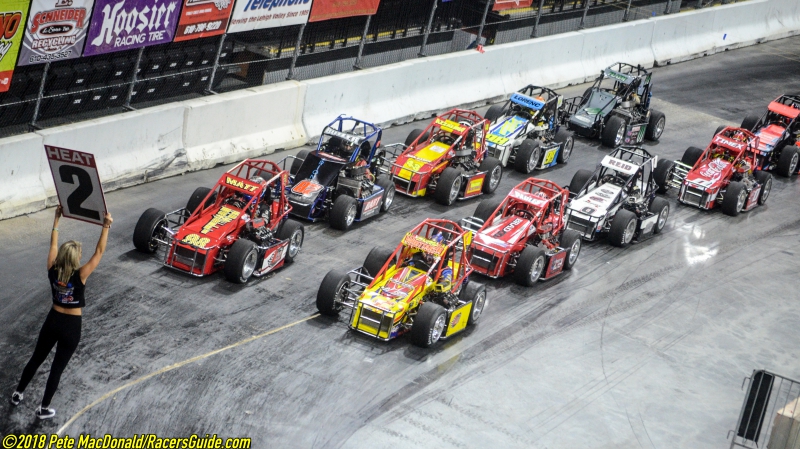 ALLENTOWN THREE QUARTER (TQ) MIDGET ENTRIES RISE DRAMATICALLY IN DAYS LEADING UP TO IRONTON TELEPHONE INDOOR RACING EVENTS PRESENTED BY BELFOR THIS FRIDAY AND SATURDAY, JANUARY 4-5
Story By: Ernie Saxton/Allentown Indoor Race
Photos By: Pete MacDonald/RacersGuide.com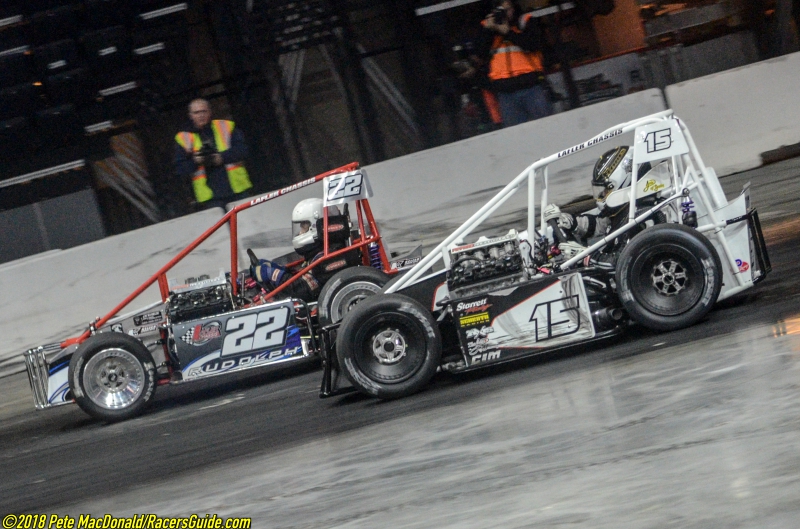 ALLENTOWN, PA January 2, 2019 . . . A rush of last minute TQ Midget entries over the Holiday Weekend has swelled the field for the PPL Center Allentown Indoor Race to four dozen – and counting – for this coming Friday and Saturday's Ironton Telephone Indoor Races Presented By BELFOR.
TQ Midgets are the headline attraction of a two-day racing spectacular inside the center city Allentown, PA facility on Friday and Saturday January 4-5, 2019 with two complete racing programs, back-to-back, including qualifying and feature events.
Doors open at 6:00PM with racing getting underway at 7:30 PM on Friday. On Saturday, doors open at 5:00PM with racing beginning at 7:00PM sharp.
The TQs will be joined Friday by Champ Karts, the lightweight, lightning fast, supremely agile vehicles that have always performed in crowd pleasing fashion in Allentown.
On Saturday, Slingshots will be the co-feature, the same Slingshots that race at the nearby Kutztown Fairgrounds and at other speedways during the outdoor season. A Fan Fest begins Saturday's program for ticket holders who chose the free option to meet drivers and see the cars up close before the racing begins.
Recent TQ Midget filings include that of Fremont, OH Sprint Car ace John Ivy, who last weekend in a two-day Indoor 600 Micro Sprint race meet in Fort Wayne, IN, won an unprecedented four straight feature races. Ivy has raced in the past with the Indoor Auto Racing Series Presented By VP Race Fuels will be driving a potent Laffler Chassis owned by Timex Morgan.
Also filing a late TQ entry for the Ironton Telephone Indoor Races was Andy Jankowiak of North Tonawanda, NY, a perennial contender who is coming off a successful 2018 season on the Race Of Champions Asphalt Modified Tour. Jankowiak won the Indoor Series finale last year in Albany, N.Y.
Former Albany-Saratoga Speedway Dirt Modified track champion Marc Johnson of Guilderland, NY is also a late entrant driving the Ken Sebring No. 21.
The father-and-son racing team of Ronnie and Cole Mullen of Brick, NJ have filed entries. Ronnie is a veteran of the sport and his teenage son Cole was named ATQMRA Rookie Of The Year for the 2018 outdoor season. Young Mullen won his first TQ feature last July 7 at Wall (NJ) Stadium, outrunning, among others, his father.
One driver who bears watching above others is Bobby Butler, the Milford, NJ Dirt Track Stock Car driver who was among the contenders to win last December's East Coast Indoor Dirt Nationals 600 Micro feature in Trenton, NJ.
Butler came from the last row in that race after fighting his way through four preliminary races to even qualify, then earned a solid finish. He will drive the same 600 Micro Sprint he used in that race to run in the Ironton Telephone Indoor Races, the only car-driver combination to attempt such a feat.
Tim Nye from Troutman, NC was also in the Trenton Indoor Dirt Nationals field but failed to qualify for that race. He has entered the Allentown race but will drive a purpose-built concrete track 600 Micro this weekend.
Past Allentown TQ A Main winners in the field for this weekend include Erick Rudolph, Ransomville, NY, a three time Series champion and second in 2018 Super DIRT Series standings. Rudolph won the December Dirt Indoor race. Justin Bonsignore, Holtsville, NY, who parlayed victory in last year's Friday night Allentown feature to the 2018 Indoor Series championship, then went on to win the 2018 NASCAR Whelen Modified Touring Series title and eight of the 16 races; NASCAR Cup crewman Ryan Flores, Cornelius, NC, who won the 2017 Indoor Series title and Sprint Car driver Scott Kreutter, Buffalo, NY, who was the Saturday Allentown 2018 race winner.
Though past TQ Midget race winners have been from outside the Lehigh Valley, PA area, a strong contingent of Eastern PA drivers have filed entries for this year's race.
Among them are rising star Briggs Danner, Allentown, PA; reigning ATQMRA Midget outdoor champion Matt Janisch, Nazareth, PA; multi-time past ATQMRA outdoor champion Ryan Tidman, Holland, PA; perennial Indoor contender Tim Buckwalter, Douglassville, PA; and TQ veteran Matt Roselli, Brodheadsville, PA.
Other Eastern Pennsylvania drivers who have entered are Pat Bealer, Lehighton, PA; Steve Craig, Levittown, PA; Chad Jones, Quakertown, PA; Kyle Lick, Lehighton, PA; and TQ Rookie Joe Toth, Upper Makefield, PA, an experienced Slingshot driver who will be making his first TQ Midget start in this race.
Champ Kart entries are approaching 30 for the Friday night race, hailing from eight states. Todd Crenshaw, Winchester, VA, and Mike Perry, Dighton, MA, and Zach Asklar of Newtown, CT are among those from the most distant locales.
Craig Whitmoyer, Hamburg, PA, winner of the recent East Coast Indoor Dirt Nationals in Trenton, NJ on dirt, will be among those to beat in the Saturday Slingshot events. Jared Silfee, Saylorsborg, PA, Anthony Raisner and Kurt Bettler, both of Hellertown, PA, Cody Kline, Bangor, PA, Dylan Hoch, Mertztown, PA, and Adam and Steve Svanda, both of Allentown, are among the prominent greater Lehigh Valley area entrants.
The Allentown races are the first of a three race 2019 'concrete track' series that make up the Indoor Auto Racing Series Fueled By VP Race Fuels season.
Following the Ironton Telephone Presented By BELFOR Allentown Indoor weekend, racing shifts to Atlantic City for the 17th running of NAPA Auto Parts Weekend, highlighted by the running of the prestigious TQ Midget Gamblers Classic. Event dates are Friday and Saturday, January 25-26, 2019.
The final event of the series takes place at a new venue, the New York State Fairgrounds Exhibition Center in Syracuse, NY. on Friday and Saturday, March 8-9, 2019.
Information for all Indoor Auto Racing Series events including a link for tickets, is available at indoorautoracing.com.
Tickets for Allentown Indoor race are available daily and on the day of the events the PPL Center box office. Tickets are also available by calling 610-347-TIXX.