[xyz-ihs snippet="Posts-Ad"]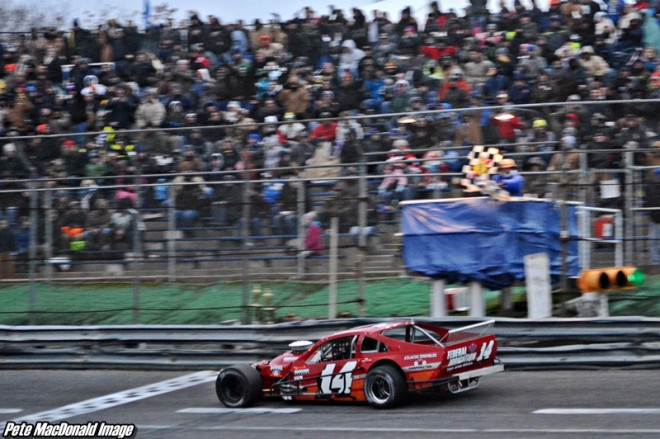 ALL-STAR FIELD EXPECTED FOR WALL STADIUM TURKEY DERBY
WALL TOWNSHIP, N.J. ~ If the quality and quantity of race cars at the November 14 Turkey Derby practice and the interest of other Modified stock car drivers can be any indication the 42nd running of the Turkey Derby stock car classic at Wall Stadium Speedway will feature an all-star field. The event is presented on Friday, Saturday and Sunday of Thanksgiving weekend and set during the daylight hours.
On hand for the November 14 practice and turning fast times were Tour Type Modified standouts Keith Rocco of Berlin, Ct., Nick Ladyga of Voluntown, Ct., Max Zachem of Preston, Ct., Austin Kochenash and Eric Kocher, both of Danielsville, Pa., Dave Sapienza of Riverhead, N.Y., Howell speedsters Jimmy Blewett and Eric Mauriello, Brick's Shawna Ingraham and Shaun Carrig of Little Falls. Although not practicing on November 14 hot shoes Anthony Sesely of Matawan, Ryan Preece of Berlin, Ct., Woody Pitkat, Ken Darch, Matt Hirschman, Les Hinckley, David Calabrese, Andy Jankowiak, and Doug Coby of Milford, Ct. have all expressed an interest in entering the 150-lap Tour Type Modified event.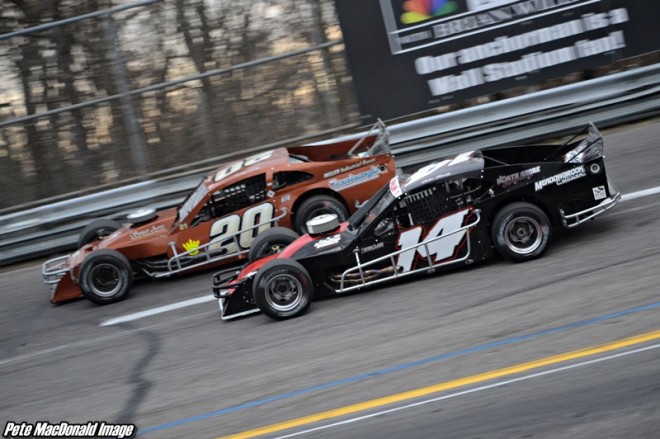 The speedway's own Downs Ford Modifieds were also well represented at the November 14 test session as newly crowned champion Steven Reed of Jackson, Freehold's Chas Okerson, Andrew Krause of Holmdel, Ken Matlach of New Hyde Park, N.Y., Zack Alspach of Willingboro, Justin Gumley of Howell, Jason Hearne of New Egypt, Jonathan Mandato of Toms River, Jackson's Jason Treat, Howell's Chris Reynolds and Sesely were all turning laps at top speeds preparing for the 100-lap feature.
Among the drivers contemplating entering both Modified races are Blewett, Mauriello, Ingraham, Carrig, Sesely, Hirschman and Alspach.
One more paid practice session will be held this Saturday November 21. Grandstand admission is free for the session, which will run from 11:00 a.m. until 4:00 p.m. Pit area gates will open at 9:00 a.m.
On Friday, November 27, day one of Turkey Derby, pit area gates will open at 6:30 a.m., practice will begin at 8:30 a.m. and grandstand seating will open at 9:30 a.m. Qualifying is set for 12:15 p.m. with feature racing scheduled to start at 2:00 p.m. The Snap-on Sportsman cars will compete in a 50-lap main event, the Green Flag Driving Experience Legend Cars will battle in a 30-lapper and the O'Shea's Auto Repair Factory Stocks and the Green Monster Insulation 4 Cylinder Stocks will each battle in 40-lap races.
On Saturday, November 28, the pit area will again open at 6:30 a.m. with practice at 8:30 a.m. and grandstands opening at 9:30 a.m. Qualifying will start at 11:00 a.m. with main events set for 1:00 p.m. The Tour Type Modifieds are set for a 150-lap, $5,000 to win feature race while the speedway's Down Ford Modifieds will compete in a 100-lap feature race that also offers $5,000 to the winner. Dirt Modifieds will also be on the Saturday card in a 50-lap feature, as will the Elite Maintenance Limited Late Models and the open cockpit Three Quarter Midgets. The TQ Midgets will race on the inner oval.
The Turkey Derby weekend will then wrap up on Sunday, November 29, with pit gates opening at 10:00 a.m., practice starting at 11:00 a.m., qualifying at noon and main events set for 1:00 p.m. The Legend Cars will be competing in a 40-lapper and the Factory Stocks racing in a 50-lapper. The 4 Cylinder Stocks are set for a 60-lapper on Sunday and Trucks are returning to the speedway for a 25-lap main event. A Demolition Derby will cap off Sunday's action.
S&D Bodyline is among those offering contingency awards for the weekend as are Driven Racing and Brice's NAPA Auto Supply. Downs Ford is sponsoring a portion of the Wall Modified purse while lap sponsorships for the weekend are still available by calling the speedway office.
A special commemorative Turkey Derby 42 sweatshirt will be available during the weekend and fans are reminded to bring small headset type radios to listen to the live call of the race events over the track's 90.1 FM frequency. Campers are welcome but they are urged to call the speedway office prior to the event to make mandatory reservations.
Fans are also reminded that speedway sponsor Woody's Roadside Tavern in nearby Farmingdale will host the popular Victory Lane Radio program on Friday evening with many of the racing stars stopping by for interviews.
Turkey Derby rules, registration forms, ticket purchase forms and more detailed information are all available on the speedway website at wallspeedwayracing.com.
Wall Stadium Speedway is located on Route 34 in Wall Township, N.J., just one mile north of Garden State Parkway exit 98 and Interstate 195 exit 35B. The speedway hotline number is 732-681-6400 and email address is CKMotorsports@aol.com.
[xyz-ihs snippet="Posts-Ad"]