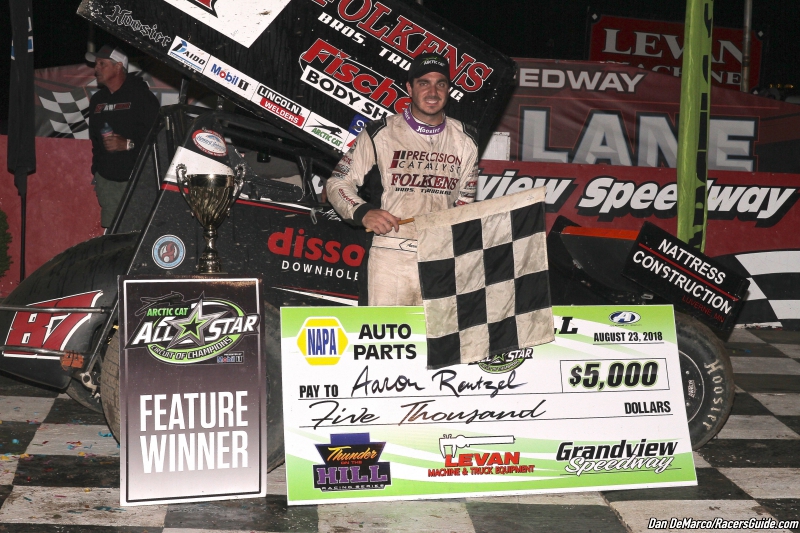 AARON REUTZEL DOMINATES ALL STAR SPRINT FEATURE AS BILLY PAUCH SCORES FIRST MODIFIED THUNDER VICTORY IN SMOKE ON THE HILL 2 AT GRANDVIEW THURSDAY
Story By: Bob Miller/TOTH
Photos By: Dan DeMarco/RacersGuide.com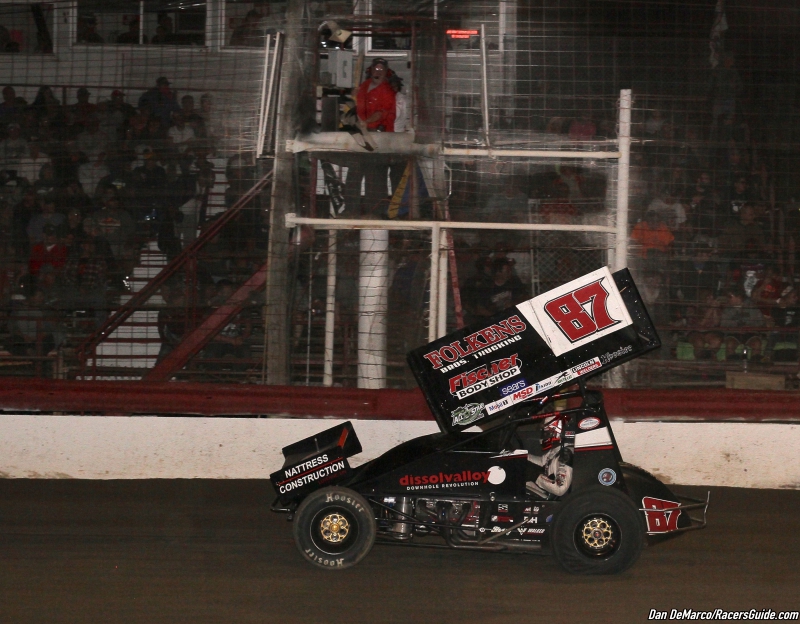 BECHTELSVILLE, PA (August 23, 2018) – A pair of first-time NAPA Auto Parts Thunder on the Hill Racing Series winners landed in victory lane Thursday night at Grandview Speedway when Levan Machine and Truck Equipment presented Smoke on the Hill 2. Clute, TX's Aaron Reutzel picked up his eighth Arctic Cat All Star Circuit of Champions win of the season and Billy Pauch – who holds eleven Thunder Sprint Car wins – picked up his first ever Modified Thunder win. Thirty sprint cars and forty-three 358 modifieds took part in the event that enjoyed sponsorship from NAPA Auto Parts, Levan Machine & Truck Equipment and Pioneer Pole Buildings.
"I've never had such good equipment in my life," Reutzel said after his 8th All Star win of the season propelled him into the points lead. "All of my wins this season are thanks to my team."
Reutzel led the field to the green, by drag racing side-by-side with Tim Shaffer down into the first corner of the one-third mile Berks County oval. Reutzel's No. 87 pulled away in dramatic fashion before a lap five yellow slowed the field.
Positions maintained on the restart and four laps clicked off before the red flag flew on the ninth circuit when the No. 44 of Trey Starks ended upside down after an altercation involving Tony Stewart and Lucas Wolfe.
Reutzel held control on the restart with a thrilling battle for second between Tim Shaffer and Paul McMahan while Greg Hodnett challenged Chad Kemenah for the fourth place position.
While Paul McMahan closed in on Reutzel's lead — all eyes were on Freddie Rahmer. The defending Thunder Cup Champion charged into the fifth spot just prior to the halfway point and into the third position just a few laps later.
Lapped traffic hindered Reutzel's momentum on the 20th trip around the Grandview Speedway closing the distance between the top five competitors. Reutzel held control through lapped traffic with a pair of driver duels behind him Paul McMahan and Freddie Rahmer battled side-by-side for second with Tim Shaffer and Kyle Larson in tandem competing for fourth.
The yellow flew on lap 27 when Shaffer spun while running in the fifth position.
Reutzel continued control on the restart with Rahmer on his rear bumper, while McMahan and Kyle Larson battled for the third position. Larson pulled around McMahan on the high-side – but the yellow flew relegating the Speedweek winner back to fourth position.
With Rahmer and Larson in a heated battle for the runner-up spot – making contact on the backstretch, Reutzel charged away with a sizable advantage and claimed his first NAPA Auto Parts Thunder on the Hill Racing Series victory. Freddie Rahmer came home in second, Kyle Larson finished in third, Paul McMahan in fourth, and Chad Kemenah in fifth.
The event started off on a high note with Aaron Reutzel smashing a 10-year track record set by Jeff Shepard on May 21, 2008. Reutzel's time of 11.243 was almost two-tenths of a second faster. Paul McMahan and Freddie Rahmer also set times under the original record with a 11.399 and a 11.402 respectively.
30 Arctic Cat All Star Circuit of Champions 410 Sprint Cars took time. Heat races were won by Spencer Bayston, Danny Dietrich, and Cale Conley. Tim Shaffer scored the victory in the Dash and Mark Smith won the B-Main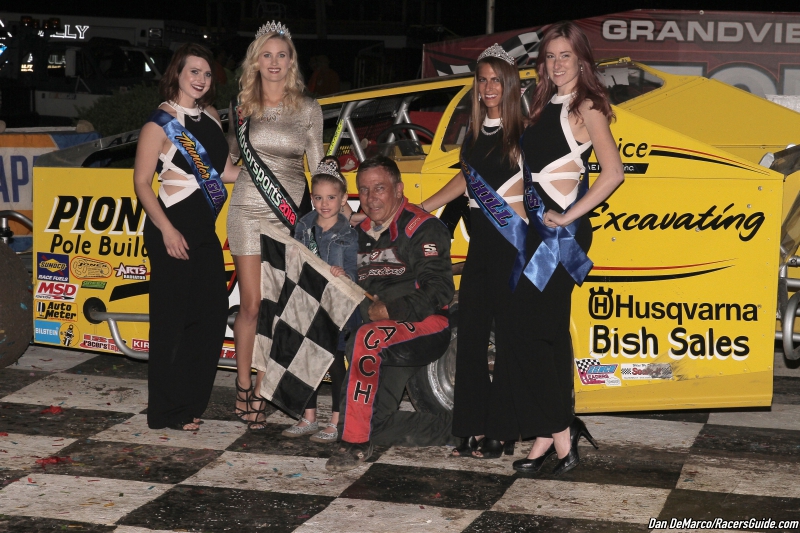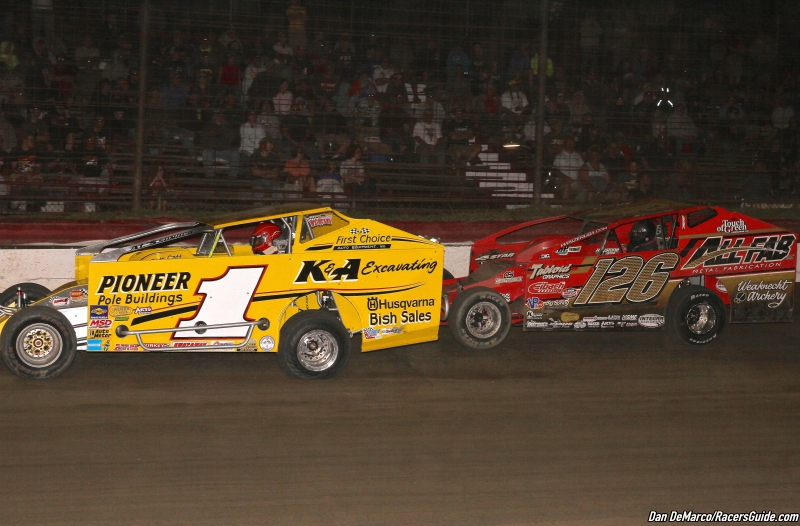 Frenchtown, New Jersey's Billy 'The Kid' Pauch scored his first NAPA Auto Parts Thunder on the Hill Racing Series Modified victory dominating the 30-lap feature event. Pauch started on the pole and lead brothers, Kevin and Brian Hirthler to the drop of the green.
On the fifth lap, Jeff Strunk powered to third from the seventh starting position and moved around Kevin Hirthler six laps later. Pauch approached lapped traffic on lap 12 before the yellow flag flew for the first time when Brett Kressley spun.
On the restart Pauch took control and held off Jeff Strunk. Strunk closed but couldn't muster enough to make the pass. Laps ticked off and Pauch claimed the checkered flag. Strunk settled for second, Kevin Hirthler in third, Duane Howard in fourth, and Ryan Godown in fifth.
NAPA Auto Parts Thunder on the Hill Racing Series returns on Saturday, October 13 for the House of Thunder Halloween Party featuring the 21st Annual Big-Block/Small-Block Modified Traffic Jam, Sportsman, and MASS 305 Sprint Cars.
For more information visit www.ThunderontheHillRacingSeries.com
Arctic Cat All Star Circuit of Champions 410 Sprint Cars
Time Trials: 1. Aaron Reutzel – 11.243 2. Paul McMahan – 11.399 3. Freddie Rahmer – 11.402 4. Greg Hodnett – 11.477 5. Spencer Bayston – 11. 485 6. Tony Stewart – 11.487 7. Kyle Larson – 11.488 8. Chad Kemenah – 11.502 9. Cale Conley – 11.512 10. Mark Smith – 11.518 11. Brock Zearfoss – 11.555 12. Tim Shaffer – 11.556 13. Trey Starks – 11.597 14. Danny Dietrich – 11.628 15. Anthony Macri – 11.650 16. Kyle Moody – 11.650 17. Ryan Smith – 11.664 18. Dave Blaney – 11.664 19. Ryan Taylor – 11.693 20. Alan Krimes – 11.694 21. Brandon Spithaler –11.725 22. Tyler Esh – 11.736 23. JJ Grasso – 11.745 24. Lucas Wolfe – 11.755 25. Jac Haudenschild – 11.804 26. Brandon Rahmer – 11.823 27. Carson Marcedo – 11.853 28. Tyler Ross – 11.890 29. Landon Myers –11.949 30. Brett Michalski –12.132
Heat 1 (10 Laps) – 1. Spencer Bayston 2. Chad Kemenah 3. Aaron Reutzel 4. Freddie Rahmer 5. Brock Zearfoss 6. Kyle Moody
Heat 2 (10 Laps) – 1. Danny Dietrich 2. Alan Krimes 3. Kyle Larson 4. Tony Stewart 5. Lucas Wolfe 6. Tyler Esh
Heat 3 (10 Laps) – 1. Cale Conley 2. Tim Shaffer 3. Greg Hodnett 4. Paul McMahan 5. Ryan Smith 6. Carson Macedo
Dash (6 Laps) – 1. Tim Shaffer 2. Aaron Reutzel 3. Paul McMahan 4. Cad Kemenah 5. Alan Krimes 6. Cale Conley 7. Danny Dietrich 8. Spencer Bayston
B-Main (12 Laps) – 1. Mark Smith 2. Ryan Taylor 3. JJ Grasso 4. Trey Starks 5. Anthony Macri 6. Dave Blaney 7. Brandon Rahmer
A-Main (35 Laps) – 1. Aaron Reutzel 2. Freddie Rahmer 3. Kyle Larson 4. Paul McMahan 5. Chad Kemenah 6. Danny Dietrich 7. Alan Krimes 8. Greg Hodnett 9. Ryan Smith 10. JJ Grasso 11. Cale Conley 12. Lucas Wolfe 13. Dave Blaney 14. Ryan Taylor 15. Carson Macedo 16. Kyle Moody 17. Anthony Macri 18. Tim Shaffer 19. Brandon Rahmer 20. Tyler Esh 21. Brock Zearfoss 22. Tony Stewart 23. Trey Starks 24. Mark Smith
NASCAR 358 Modfiieds
Heat 1 (10 Laps) – 1. Rick Laubach 2. Billy Pauch 3. Danny Erb 4. Craig VonDohren 5. TJ Lilly
Heat 2 (10 Laps) – 1. Duane Howard 2. Justin Grim 3. Brett Kressley 4. Colt Harris 5. Alex Yankowski
Heat 3 (10 Laps) – 1. Danny Bouc 2. Ryan Godown 3. Jeff Strunk 4. Kenny Gilmore 5. Frank Cozze
Heat 4 (10 Laps) – 1. Kevin Hirthler 2. Brian Hirthler 3. Ryan Watt 4. Mike Lisowski 5. Jared Umbenhauer
Consi 1 (10 Laps) – 1. Ryan Beltz 2. Louden Reimert
Consi 2 (10 Laps) – 1. Wade Hendrickson 2. Brandon Grosso
NASCAR 358 Modifieds (30 Laps) – 1. Billy Pauch 2. Jeff Strunk 3. Kevin Hirthler 4. Duane Howard 5. Ryan Godown 6. Craig VonDohren 7. Rick Laubach 8. Brian Hirthler 9. Danny Erb 10. Kenny Gilmore 11. Jared Umbenhauer 12. Danny Bouc 13. Ryan Watt 14. Mike Lisowski 15. Justin Grim 16. Louden Reimert 17. Alex Yankowski 18. Frank Cozze 19. Colt Harris 20. Brandon Grosso 21. Ryan Beltz 22. TJ Lilly 23. Brett Kressley 24. Wade Hendrickson