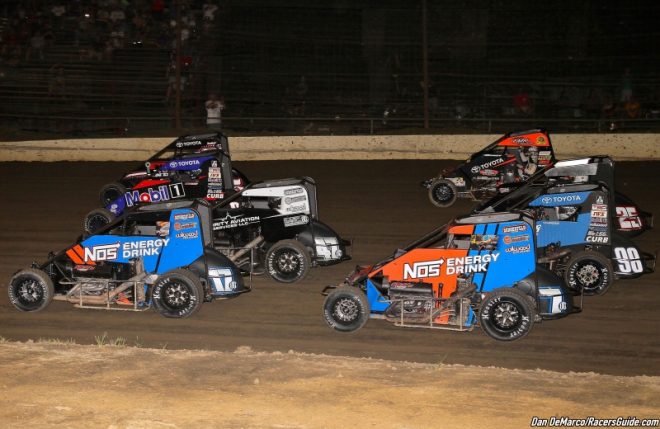 2019 USAC NATIONAL MIDGET SEASON IN REVIEW
Story By: Richie Murray – USAC Media
Photos By: Dan DeMarco/RacersGuide.com
Speedway, Indiana (December 5, 2019)………With the 64th USAC NOS Energy Drink National Midget season in the books, we reflect on the most balanced season in recent times in terms of the variety of venues and the number of teams and drivers who stepped to the forefront to compete at an elite level throughout the duration of the most expansive schedule of events in more than two decades.
Firstly, Tyler Courtney and Clauson/Marshall Racing earned their first driver and owner championship, respectively, in the USAC NOS Energy Drink National Midget ranks just one year following their 2018 USAC AMSOIL National Sprint Car championship. They're only the second driver/team combo to accomplish winning each of the titles in USAC's National Midget and National Sprint divisions in consecutive years following Josh Wise and Tony Stewart Racing's reign during 2005-06.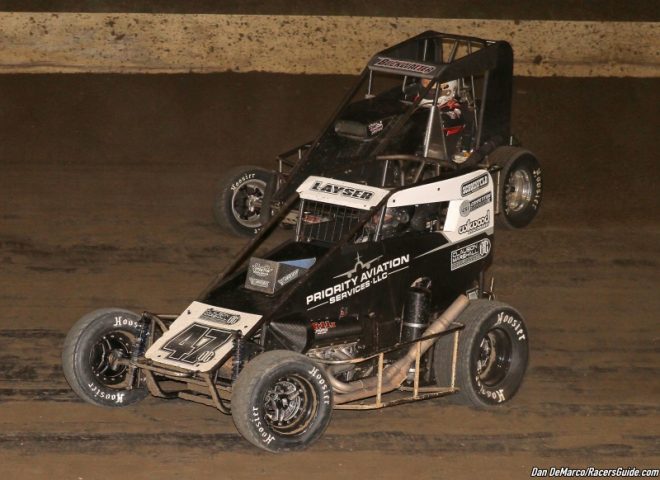 Courtney led nearly every statistical category with the series in 2019, including feature wins (8), laps led (175), top-fives (20), top-tens (26), fast qualifying times (8) and heat race wins (9). Courtney was the first USAC National Midget champion driver since Cole Whitt in 2008 to win the title without starting every feature run during the season after missing the transfer in late November's Hangtown 100 opener.
The Indianapolis, Ind. native's eight series victories this year were the most by any one driver since Jeff Gordon won nine in 1990. Courtney's 18 overall USAC National series wins in 2019 (8 Midget, 9 Sprint & 1 Silver Crown) are tied for the third most in a single season alongside A.J. Foyt's and Parneilli Jones' 1964 seasons and trail only J.J. Yeley's 23 National wins in 2003 and Foyt's 19 in 1961.
Courtney led the championship from start to finish following victories in the first two races of the season in Ocala, Fla., the first driver to lead the standings for the entire USAC National Midget season since Rico Abreu in 2014. He's also just the ninth driver to win two in a row to start the season with the series since 1956.
His two victories in the Sunshine State during February made him just the eighth driver to win the season opener and the series championship in the same season, and the second in a row following Logan Seavey in 2018.
In only his sixth start of the season, Courtney picked up his fourth win of the 2019 campaign in May at Tri-City Speedway in Granite City, Ill., making him the fastest driver ever to reach the four-win mark with the series.
Courtney's 179-point final margin of victory in the standings was the largest since Darren Hagen's 201-point advantage to conclude the 2012 USAC National Midget season.
Five first time USAC National Midget winners took the checkered flag this season with Cannon McIntosh (Southern Illinois Center), Chris Windom (Lawrenceburg Speedway), Jason McDougal (Jefferson County Speedway), Tanner Carrick (Sweet Springs Motorsports Complex) and Gio Scelzi (Placerville Speedway) capturing their initial series scores, the most in a single year since 2008.
The number of race winners with the series this year totaled 14, which is the most in a USAC National Midget season since 17 reached victory lane in 2008.
Cullman, Alabama's Kevin Thomas, Jr. won twice, first with a last lap, lap corner pass to win April's Kokomo Grand Prix at Kokomo (Ind.) Speedway, then scored again in November during Western World at Arizona Speedway.
Logan Seavey's Indiana Midget Week opening night victory catapulted him into the 2019 IMW title and served as the first of his three wins on the season which was the most by a reigning series champion since Rico Abreu in 2015. The Sutter, Calif. driver took additional wins during Mid-America Midget Week at Oklahoma's Red Dirt Raceway and Pennsylvania Midget Week at Lanco.
Ione, California's Justin Grant took RAMS Racing to its first USAC National Midget victory in June at Gas City I-69 Speedway during Indiana Midget Week. The following night, Tanner Thorson capped off one of the most incredible comebacks in USAC history, with wounds and scars still readily evident on his body after sustaining a broken left arm and right foot, a cracked sternum, broken ribs and a punctured lung following a multi-car incident just three months earlier, the Minden, Nevada native delivered the victory at Lincoln Park Speedway during IMW, after starting 15th, the furthest back any winner started in the series in 2019.
In minimal appearances, Kyle Larson was second behind Courtney amongst all drivers with four wins. The Elk Grove, Calif. driver won in June for Keith Kunz Motorsports/Curb-Agajanian in the series' return to the Dirt Oval at Route 66 in Joliet, Ill. following a 15-year hiatus.
Larson then brought out his own car for the final four races during the western swing. He pocketed a $32,000 payday in the richest USAC Midget event ever held, in November at Placerville. He followed up with two more victories at Bakersfield, Calif. and in the finale at Ventura, Calif. to become the fourth ever driver to win at least three Turkey Night Grands Prix.
That Thanksgiving night win marked just the third occasion in USAC National Midget history that a driver won the final three races to conclude the season (Billy Boat 1995 and Larson in 2012). Larson also became the first driver in 24 years to win three-straight USAC National Midget races in the state of California (also Boat in 1995).
Zeb Wise earned his second and third career victories in the Keystone State in July and August at Action Track USA and Linda's Speedway after capturing his first a year prior at Lanco in the same state. He finally broke through in the Hoosier state with a major triumph in the BC39 in September at The Dirt Track at IMS.
Chad Boat saw victory lane from both sides, first as a driver in August during Pennsylvania Midget Week at Path Valley Speedway Park, then again as a car owner/crew chief for Scelzi's win at Placerville. Brady Bacon, who scaled back to a part-time role with FMR Racing after three full seasons for the team between 2016-18, returned to his winning ways with the team in the Western World finale at Arizona.
In the end, with eight victories between Courtney and his Clauson/Marshall Racing team at Ocala, Fla. twice, Kokomo, Ind., Granite City, Ill., Bloomington, Ind., Fairbury, Neb., Rossburg, Ohio's Eldora Speedway and Wayne City, Ill., CMR snapped Keith Kunz Motorsports/Curb-Agajanian's seven year run of consecutive series owner championships.
Andrew Layser (Collegeville, Pa.) finished as the top Rookie in the standings (11th). Carrick, Seavey and Thomas were the lone three drivers to start all 31 series events. The most positions advanced by any one driver in a feature event throughout the series season was 19 by Kyle Larson (23rd to 4th) on the opening night of the Hangtown 100 at Placerville.
USAC NOS ENERGY DRINK NATIONAL MIDGET STAT LEADERS:
Driver Champion: Tyler Courtney
Owner Champion: Clauson/Marshall Racing #7BC
Rookie of the Year: Andrew Layser
Most Feature Wins: (8) Tyler Courtney
Laps Led: (175) Tyler Courtney
Top-Fives: (20) Tyler Courtney
Top-Tens: (26) Tyler Courtney
Fast Qualifying Times: (8) Tyler Courtney
Heat Race Wins: (9) Tyler Courtney
Feature Starts: (31) Tanner Carrick, Logan Seavey & Kevin Thomas, Jr.
Most Positions Gained in a Feature: (19) Kyle Larson (23rd to 4th on Nov. 19 at Placerville Speedway)