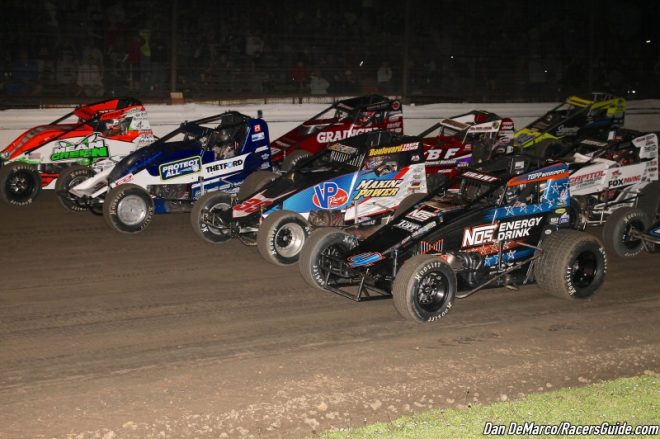 2019 USAC AMSOIL NATIONAL SPRINT CAR YEAR IN REVIEW
Story By: Richie Murray – USAC Media
Photos By: Dan DeMarco/RacersGuide.com
Speedway, Indiana (December 5, 2019)………In his eighth full season with the series, youthful C.J. Leary became USAC's newest first-time champion as well as the third youngest USAC National Sprint Car driver champion behind only Bryan Clauson and Levi Jones, who were both just slightly younger at the same age of 23.
In 2016, Leary became the first son of a past USAC Silver Crown winner (Chuck Leary) to win a race himself in that series. In 2019, C.J. also became the first ever son of a former USAC National Rookie of the Year (all series) to win a USAC National title. C.J.'s father claimed the 1993 Midget and 1995 Silver Crown Rookie of the Year honors.
Leary was also the second consecutive past USAC National Sprint Car Rookie of the Year (2012) to eventually capture the series championship following Tyler Courtney (2013). Overall, Leary is just the fifth ever driver to collect both USAC National Sprint Car Rookie of the Year honors and win the series title in his career along with J.J. Yeley, Tracy Hines, Josh Wise and Courtney.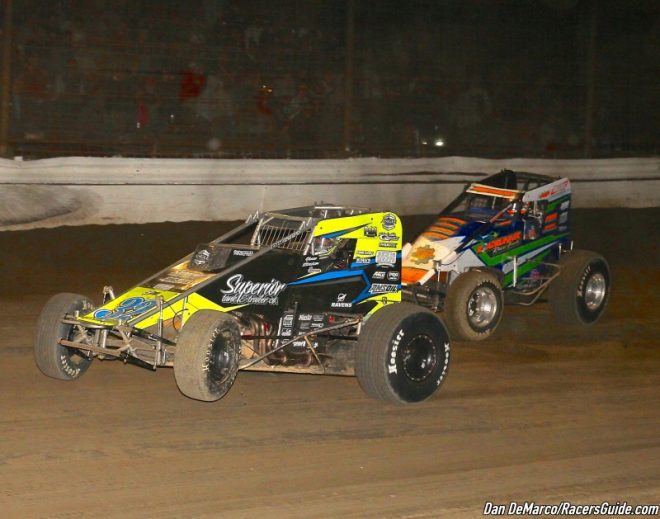 The beginning of the year marked a changeup for Leary, who joined Reinbold/Underwood Motorsports for their first foray as a team on the entire National trail. It's the second consecutive season that a driver and team's first USAC National Sprint Car race together came during their championship season, following Courtney and Clauson/Marshall/Newman Racing in 2018.
With a second victory coming in November's Oval Nationals at Perris, Calif., Leary's two victories are the fewest by a USAC National Sprint Car champ since Brady Bacon also had two in 2016. However, Leary was a stalwart of consistency, rattling off 21 straight top-tens to open the season and 32 top-tens in 34 starts. He also gained a myriad of points through qualifying where his 11 overall fast times were the third most in a single season in series history behind only Kevin Thomas, Jr.'s 15 in 2018 and Tom Bigelow's 14 in 1978.
En route to the series crown, Leary took over the point lead for good following a runner-up finish at Eldora Speedway on May 10, the earliest in a season any driver in the series has taken over the championship lead and held onto it for the remainder of the season since Levi Jones in 2011.
Despite taking the point lead that early in the going, Leary's 18-point final margin of victory was the eighth closest in the 59 previous years of the series, trailing only 2018, 1965, 2012, 2017, 1967, 2002 and 2005. Each of the three past championship races have been decided by 18 points or less following the 2018 "tie," awarded to Tyler Courtney over Kevin Thomas, Jr. based on a tiebreaker of most wins, and 2017 when Chris Windom defeated Justin Grant by six points.
Leary's first victory of 2019 came on the first weekend of the season during Winter Dirt Games X at Bubba Raceway Park in Ocala, Fla. He's the third consecutive driver, and fifth in the last seven years to win the championship after winning at Ocala.
Windom won the season opener, providing Goacher Racing its first USAC National Sprint Car win in 27 years, the first since Danny Smith's triumph at the Eldora 4-Crown in 1992. It was the first of four victories for Windom and the team with additional wins gathered at Granite City, Ill., Kokomo during Indiana Sprint Week and at Gas City, Ind.
Grant took the second night in Ocala on the way to four total wins, three points-paying, which included an ISW score at Lawrenceburg, Ind., his fourth career USAC triumph at the track, along with the Jim Hurtubise Classic at Terre Haute, Ind.. The Ione, Calif. driver also captured the 27-lap #GYATK Night non-points special event at Kokomo in August.
Courtney, meanwhile, led the series in wins for the second consecutive season. He's the first driver to do that since J.J. Yeley in 2002-2003. Courtney's 20 USAC AMSOIL National Sprint Car feature wins over the past two seasons equaled Yeley's mark in those two years, which trails only Pancho Carter's record 22 wins over a two-year span in 1976-77.
Courtney produced two "sweeps" with the series in 2019 in July at Terre Haute, Ind. and at Eldora where he recorded fast qualifying time, won his heat and captured the feature all within the same night. He's the first driver to perform two sweeps with the series in a single year since Yeley in 2003.
Courtney swept all three events at Eldora in 2019, and four-straight dating back to 2018, which marked the most consecutive USAC National Sprint Car wins by a driver in the history of the famed half-mile. He became the first driver to go undefeated in USAC National Sprint Car competition at Eldora since Jerry Coons, Jr. in 2009. Throughout 2019, he added wins at Port Royal, Pa., Plymouth, Ind., Smackdown at Kokomo, and back-to-back wins at Arizona Speedway's Western World to conclude the campaign with two-straight wins, the first to achieve that feat since Kevin Swindell at Manzanita Speedway in 2008.
Two-time series champ Brady Bacon of Broken Arrow, Okla. earned six victories in his return to the Dynamics, Inc. in 2019. He captured the Midwest opener at Bloomington in April, then proved to be the big money man following a $10,000 win at Grandview Speedway during Eastern Storm in June, then collected $25,000 with a two-night domination of Knoxville (Iowa) Raceway's inaugural Corn Belt Nationals, then opened the Oval Nationals with two successive victories during the first two nights at Perris in November.
Princeton, Indiana's Kyle Cummins' undefeated sprint car season at Tri-State Speedway included the Indiana Sprint Week and Haubstadt Hustler rounds at the track in addition to an ISW score at Putnamville, Ind. during the summer. Kevin Thomas, Jr., Cullman, Ala., also won a pair with a spectacular drive to a last-lap victory at Bloomington during ISW as well as the Fall Nationals in the Midwest finale at Lawrenceburg, Ind.
Kansas, Ill. driver Shane Cottle led only one lap this season, but it came on the final lap of a photo finish in the ISW opener at Gas City, his first series victory since 2013. Jason McDougal, Broken Arrow, Okla., notched his lone win of the series this year during Eastern Storm at Bridgeport, N.J. Thomas Meseraull provided car owner Tom Eades with his first career USAC National Sprint Car victory during the Smackdown opener at Kokomo. The following night, Logan Seavey, earned his first career USAC National Sprint Car feature win at Kokomo.
In May, Chase Stockon completed the Terre Haute trifecta with his first Tony Hulman Classic win in May following a Jim Hurtubise Classic victory in 2012 and a Don Smith Classic score in 2016. The Fort Branch, Indiana resident's September visit to Terre Haute was a milestone event as Stockon reached his 285th consecutive USAC National Sprint Car start dating to the 2012 season, breaking the record previously held by Levi Jones between 2004 and 2012.
Meanwhile, Dustin Clark's first night ever behind the wheel of a sprint car in competition came during the USAC National Sprint Car season opener in Ocala, Fla. The Washington, Ind. native made 18 starts and led the opening lap of September's Haubstadt Hustler at Tri-State. He was one of two Rookies to lead a lap with the series this season along with Evansville, Indiana's Stephen Schnapf, which also came at Tri-State, during his runner up finish during ISW in July.
USAC AMSOIL NATIONAL SPRINT CAR STAT LEADERS:
Most Wins: (9) Tyler Courtney
Driver Champion: C.J. Leary
Owner Champion: Reinbold/Underwood Motorsports #19AZ
Rookie of the Year: Dustin Clark
Most Laps Led: (223) Brady Bacon
Most Top-Fives: (25) Tyler Courtney
Most Top-Tens: (32) C.J. Leary
Most Fast Qualifying Times: (11) C.J. Leary
Most Heat Race Wins: (17) Tyler Courtney
Most Feature Starts: 7 drivers with 34
Most Times as Hard Charger (6) Brady Bacon