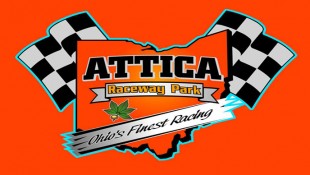 ATTICA, Ohio – The 2015 racing season at Attica Raceway Park is shaping up to be the biggest in the track's 27 year history with BIGGER shows and BIGGER payouts; enough to lure the top dirt track drivers in the United States.
"This is the 10th year that I've been Attica Raceway Park's promoter. I wanted to celebrate and thank all the race teams and wonderful fans who have supported this track and me for so long. This schedule does ALL of that," said John Bores, ARP Promoter.
"Ohio's Finest Racing" speedplant will payout over $675,000 in prize money including a $63,000 point fund in 2015.
"We've seen NASCAR stars race at Attica before like Tony Stewart, Kasey Kahne and Dave Blaney. With this kind of money on the line our great fans may see the next racing super star," said Rex LeJeune, ARP Director of Operations.
Attica's 2015 season has nearly every major touring group on the schedule including the new attitude All Star Circuit of Champions under Stewart's ownership; the World of Outlaws Sprint Cars; the Lucas Oil Late Model Series; the Kistler Racing Products FAST (Fremont Attica Sprint Title) Championship Series; the American Late Model Series; and the Attica Wayne County Late Model Challenge Series.
"While the specials offer our fans awesome racing, our weekly Friday night events are just as exciting, especially since the teams will be battling for a record point fund this year," added LeJeune.
It all begins on Friday, March 27 (rain date of March 28) with the O'Reilly Auto Parts 410 Sprints, Summit Racing Equipment UMP Late Models and Foster's Auto Body 305 Sprints to open the season.
The University of Northwestern Ohio All Star Circuit of Champions then come calling for the first of five appearances at Attica. The traditional HD Supply Spring Nationals will be held Friday and Saturday, April 3 and 4. The nation's oldest winged sprint car touring series has competed at Attica 104 times in the track's history.
The next appearance of the UNOH All Stars will be Friday, June 19 to kick off the 33rd Annual Ohio Sprint Speedweek which features 9 straight nights of racing across the Buckeye State.
The final events for the UNOH All Stars at Attica is another of the long-time fan favorites, the Attica Ambush on Friday and Saturday, Sept. 4 and 5. The event includes the Lucas Oil Late Model Series paying $10,000 to win on Friday.
"The Greatest Show On Dirt," the World of Outlaws Sprint Car Series makes a stop at Attica for the Kistler Engines Classic on Friday, May 29 for the $10,000-to-win affair.
For the seventh season, Attica will play host to the FAST Championship Series with 9 events for the 410 sprint series (Fremont Speedway also has 9 events). At season's end, the FAST champion will walk away with $10,000.
The JLH General Contractor FAST 305 Sprint Championship Series will also have five events at Attica and five at Fremont and rewards the overall champion with a nice payday at season's end.
"Attica and Fremont have worked very well together on this great series for our loyal weekly race teams. Rich Farmer (Fremont's promoter) has worked hard to keep it going after the dedication of Bryan Autullo, Scott Porter and Chris Kettman started and ran it for the first five years," said Bores.
And while the sprint cars have several big races on tap at Attica in 2015, the late models have their share of special events. Besides the Lucas Oil Late Model Series race, the American Late Model Series will visit Attica on Friday, April 17 and Friday, July 31.
And for the second year in a row, the new Attica-Wayne County Late Model Challenge Series – point races at both Attica and Wayne County Speedway – will be staged with a separate point fund. Attica will host the series on Fridays May 8, July 17, Aug. 7 and Aug. 21.
A change for 2015 will see Attica stick to its traditional Friday night racing following the Attica Fair. In previous year the track switched to Saturday nights following the fair as Fremont was dormant for the Sandusky County Fair. In 2015 races will be held Fridays Aug. 21 and 28 before the season-ending double-header on Friday and Saturday, Sept. 4-5.
"Last year we forced a few of our teams to choose between tracks by switching to Saturday night after the fair. That had an implication on some of our championship chases. We've always been known as a Friday night track and we will remain that in 2015," said LeJeune
And while the race teams have a lot of money on the line in 2015, Attica Raceway Park has several events to thank the awesome fans who make it all happen at "Ohio's Finest Racing" facility.
On May 1, June 5, July 3 and Aug. 7, hot dogs will only cost $1 and the traditional Fan Appreciation Night on July 3 will include four classes of racing for only $10 general admission.
Also, as has always been the case at Attica, kids 10 and under will get in free and Attica will give away a free bicycle during each event.
For more information and a complete schedule of events go to www.atticaracewaypark.com.
ATTICA RACEWAY PARK 2015 SCHEDULE
Friday,          March 27                 Construction Equipment & Supply Night – 410 Sprints, UMP Late Models, 305 Sprints (Rain date Sat. March 28)
Friday,          April 3                     H D Supply Spring Nationals – All Star Sprints ($3,000 To Win), UMP Late Models, 305 Sprints
       Saturday,      April 4                     H D Supply Spring Nationals – All Star Sprints ($5,000 To Win), UMP Late Models, 305 Sprints
Friday,          April 10                   Bazell Race Fuels Night – UMP Late Models, 305 Sprints, Dirt Trucks
Friday,         April 17*#               Kears Speed Shop / True Value of Woodville Night – 410 Sprints, ALMS Late Models, 305 Sprints
Friday,          April 24                   Fisher Performance  / Merrill Lynch Night – 410 Sprints, UMP Late Models, 305 Sprints
Friday,          May 1*                    Sutton Bank / Scouts Night (Dollar Dogs) – 410 Sprints, UMP Late Models, 305 Sprints – Open Pits
Friday,          May 8@                  305 Engine Builders Challenge ($1,200 To Win), ARP / WCS Late Model Challenge Series, Dirt Trucks
Friday,          May 15*#                Eric Phillips 27th Anniversary Classic – American Powersports of Findlay & Sandusky Night
410 Sprints ($3,000 To Win), UMP Late Models, 305 Sprints
Friday,          May 29                    World of Outlaws Sprints – Kistler Engines Classic ($10,000 To Win), UMP Late Models ($1,200 To Win)
Friday,         June 5*                    Croghan Colonial Bank / Tiffin Paper Company Night (Dollar Dogs) – 410 Sprints, 305 Sprints, Dirt Trucks           
Friday,          June 12*#                Burns Electric / Ohio Logistics Mid Season Championship Night (DOUBLE POINTS)
410 Sprints, UMP Late Models, 305 Sprints, Dirt Trucks
Friday,         June 19                    Ohio Sprint Speedweek – Ohio Cat / UBS Financial Services Night – All Star Sprints, UMP Late Models  
Friday,          July 3                      Baumann Auto Group Fan Appreciation Night – 410's ($3,000 To Win), UMP Late Models, 305 Sprints, Trucks
($10 General Admission – Open Pit Area / Meet the Drivers – $1 Hot Dogs, 50 cent Popcorn)
Friday,         July 10*                   Summit Racing Equipment / Central Ohio Farmers Night – 410 Sprints, UMP Late Models, 305 Sprints
Friday,         July 17@                 UUI Night – Attica / Wayne County Late Model Challenge Series, 305 Sprints, Dirt Trucks + Vintage Cars
Friday,         July 24*#                 Columbus Equipment Night – 410 Sprints, UMP Late Models, 305 Sprints, Dirt Trucks
Friday,         July 31*                   Smith Family Foods / Culy Contracting Night – 410 Sprints, ALMS Late Models, 305 Sprints, Dirt Trucks
Friday,         Aug 7*#@               Edward Jones of Clyde Night / Mike Neill Financial Advisor (Dollar Dogs)
410 Sprints, Attica / Wayne County Late Model Challenge Series, 305 Sprints, Dirt Trucks
Friday,         Aug 14                     NO RACING – ATTICA FAIR
Friday,         Aug 21@                 NBC Toledo Ch 24 Night – 410 Sprints ($3,000 To Win), ARP / WCS Late Model Challenge Series, 305's, Trucks
Friday,         Aug 28                     Kistler Racing Products Presents Mark Keegan Classic Season Championship Night (DOUBLE POINTS)
410 Sprints ($3,000 To Win), UMP Late Models, 305 Sprints, Dirt Trucks
ATTICA AMBUSH
Friday,         Sept 4                       Detroit Chocolat Presents Lucas Oil Late Models ($10,000 To Win) + All Star Sprints ($3,000 To Win)
Saturday,     Sept 5                       All Pro Aluminum Heads Night – All Star Sprints ($5,000 To Win), UMP Late Models, 305 Sprints, Dirt Trucks
 *F.A.S.T. 410 Sprint Point Races             @Attica/Wayne County Late Model Challenge Point Races            Twitter:    @atticaracewyprk
   #F.A.S.T. 305 Sprint Point Races                                                 ($1,500 To Win)                                                                www.atticaracewaypark.com
* Gates Open:    5:00 pm       Racing: 7:45 pm   (Friday Regular Events)                                                                Track Phone: (419) 426-8911
* Saturday Events:  Gates Open: 4:00 pm   Racing: 7:00 pm                                                                                       Track Phone: (419) 426-8910
* 410 Sprints & 305 Sprints – Hoosier Tires on all 4 corners                                                                                     Track Office: (419) 680-5606
* UMP Late Models – Hoosier Tires LM 20, 30, or 40 on all 4 corners                                                                     Track Office: (419) 681-2947
* Raceceiver Radio's & Transponders Mandatory                                                                                                Track Office: (419) 681-5556
* Mufflers required for 410 and 305 Sprints                                                                                                         Track Fax:     (419) 679-4242