Jeremy Wilder Holds Off Marc Johnson to Grab First-Career Modified Win at Malta
Story and Photos By: MATT NOLES / RACERSGUIDE.COM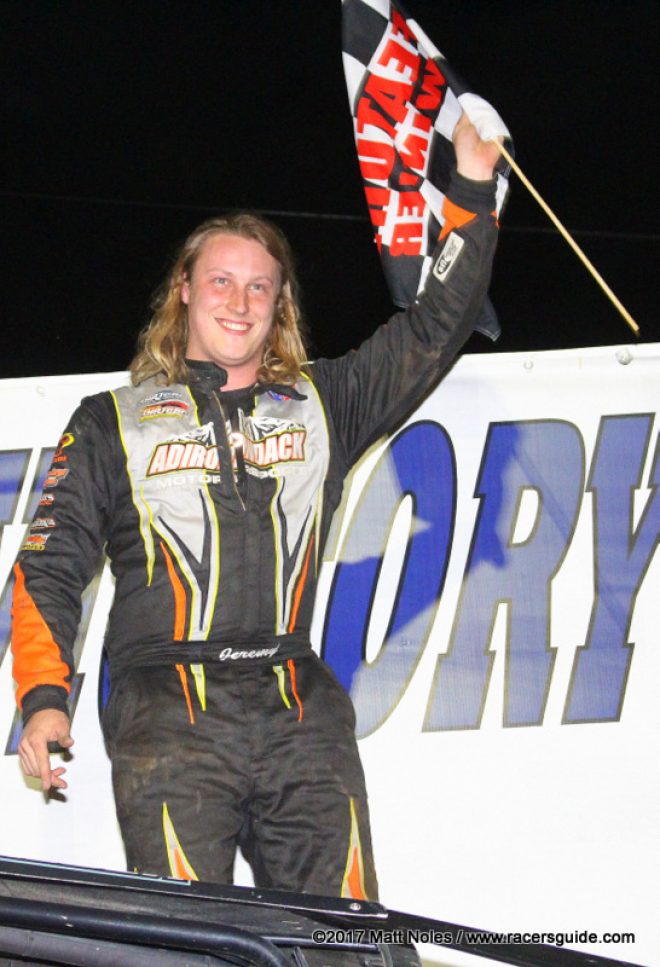 MALTA, NY- June 3, 2017- Winning your first modified feature event is a huge accomplishment for any driver; it's an even greater achievement when you defeat a defending track champion in doing so.
For young gun Jeremy Wilder, that's exactly how the story of his first-career modified triumph played out at the Albany-Saratoga Speedway in Malta, New York on Friday night. Not only did he have to hold off 2016 track champion Marc Johnson, he had to pass him after a late-race restart sent him back to the runner up position.
"That race was nerve-wracking," Wilder stated Friday night. "I was very nervous. When that caution came out and read the lineup over the radio and they said the No. 3J was second, boy, I thought I might have been a sitting duck."
He wasn't entirely incorrect as on the ensuing restart, Johnson rolled the center through turns one and two and took over possession of the top spot for the next three or four circuits. Fortunately for Wilder, he was able to reel him back in and reclaim the lead; a lead that he wouldn't give up for the remainder of the event.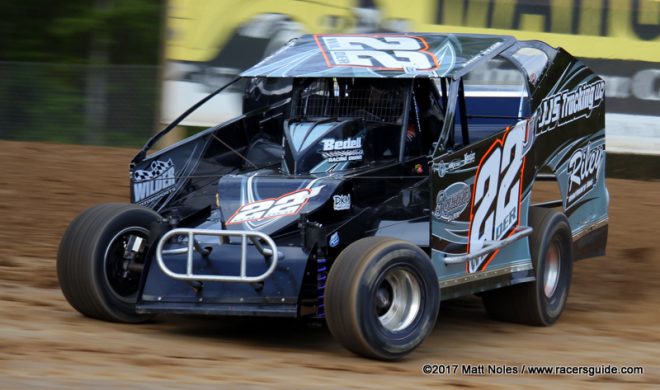 "We had a good car on the top of the track," Wilder continued. "And I knew that Marc [Johnson] was going to be able to roll the bottom well and I didn't want to give him the bottom on that restart but I felt like I was better on the top. He raced me clean and I was able to roll back around him like I tried to plan on doing. The top of the track was really fast."
Because of the way the track surface ended up for the feature, Wilder had his car setup exactly the way one would expect a driver with big-block power under the hood to do. That, for obvious reasons, was the deciding factor when the checkered flag flew at the conclusion of the feature.
"We kind of got a little lucky," He said. "The car came to us really well and then went away at the end a little bit; we got a little snug. We need to get our timing down a little better, we're still working on some handling stuff and we're getting better but there's still room for us to improve."
Though the outcome played out in his favor and his plan on leaving the bottom to Marc Johnson on the restart certainly worked as designed, Wilder still couldn't help but feel a small tinge of hopelessness and loss when he saw the back of Johnson's car pulling away from him for a handful of laps.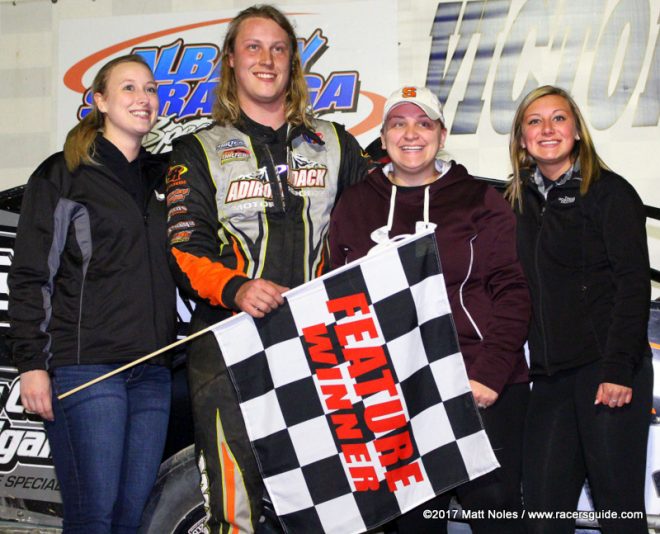 "I was definitely nervous when he passed me," Wilder continued. "But when he committed to the bottom I knew I was going to be in good shape. When he didn't take the top lane away from me, I was pretty confident after that and when we pulled even with him, I was pretty confident that we had a good car at that point."
Wilder may not have tasted the fruit of victory until this year at the 'Great Race Place,' but that doesn't mean he hasn't experienced his fair share of success at the Malta oval before. With a slew of top-five finishes in his small-block in years previous, it seemed to be merely a matter of time before the wins started to fall in his favor. However many more victories come his way, this one will always be one of the most memorable.
"This win has been a long time coming," Wilder concluded. "We ran a couple of full seasons here with our small-block and we ran well and we were always competitive and it took me a while to get the hang of the big-block but we still have a long way to go. I'm still learning and we're still learning as a team but for now, this is huge. For us to get this one out of the way is big. Now we're going to have to start towards the back and that's what it's all about. When we can start coming from the back to the front here, that's when we know we'll be doing something. We got this one out of the way, now we can go race."
Matt Noles is a contributing writer for Racer's Guide and Dirt Track Digest. He currently resides in Sprakers, New York and can be reached via e-mail at matt_noles@yahoo.com.