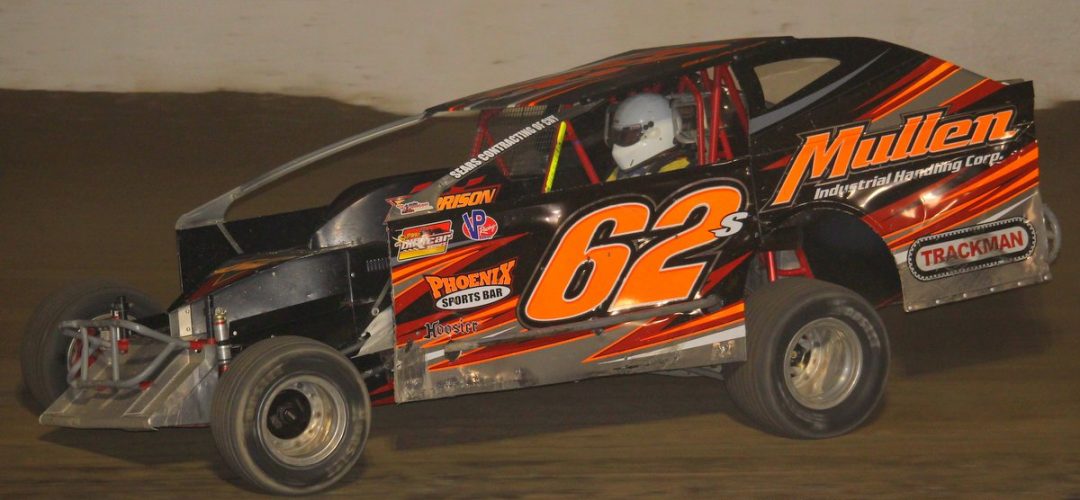 Tommy Sears Jr. Victorious in 'Win and You're In' 25-Lap Big-Block Modified Special at the Fulton Speedway; Grabs Final Starting Spot for Sunday's Billy Whittaker Cars 200 at Oswego
Story and Photos By: MATT NOLES / RACERSGUIDE.COM
FULTON, NY- October 8, 2017- Though the last chance qualifier for the Super DIRTcar Series big-block modifieds was run earlier in the afternoon on Saturday, drivers still had one more chance to grab the 41st and final starting position for Sunday's Billy Whittaker Cars 200 at the Oswego Speedway in Oswego, N.Y.
Sears – who fired from the 11th position on the grid – wasted no time in taking his Jerry Fay owned, Mullen Industrial sponsored No. 62s to the top side of the speedway and after a brief but spirited battle with fellow modified competitor Matt Hulsizer, Sears grabbed the lead on lap-15 and never looked back as he coasted to victory in the Dirt Track Digest 'Win and You're In' 25-lap feature event.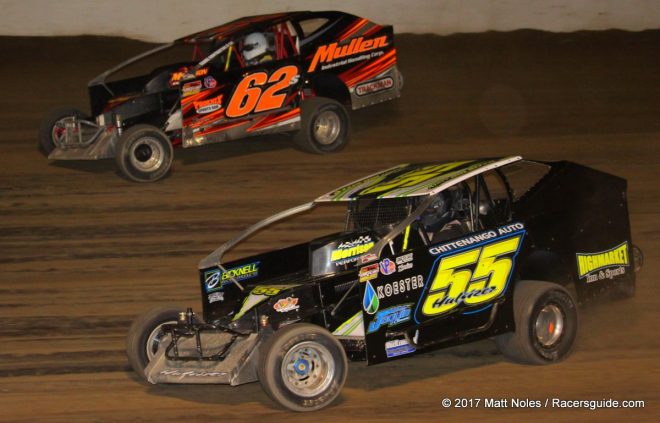 "Any time you get locked into that race [the Billy Whittaker Cars 200] it's huge," stated Sears in Victory lane Saturday night. "It's the biggest race around and we're going to race tomorrow."
Saturday night's victory wasn't the easiest by any means as the Fulton Speedway regular found himself starting mid-pack with a lot of traffic to work through in order to get to the front. Not to be deterred, he utilized the one weapon that all athletes enjoy having in their arsenal; home field advantage.
"It definitely helps when we race here every week," Sears explained. "We know how the track changes throughout the night. We weren't very good in our heat race; we made a couple changes that we would normally do on a regular night and that worked out really good."
Home field advantage isn't the only deciding factor between victory and defeat; knowledge and seat time also played a large part in going to victory lane on Saturday night for the eventual race-winner.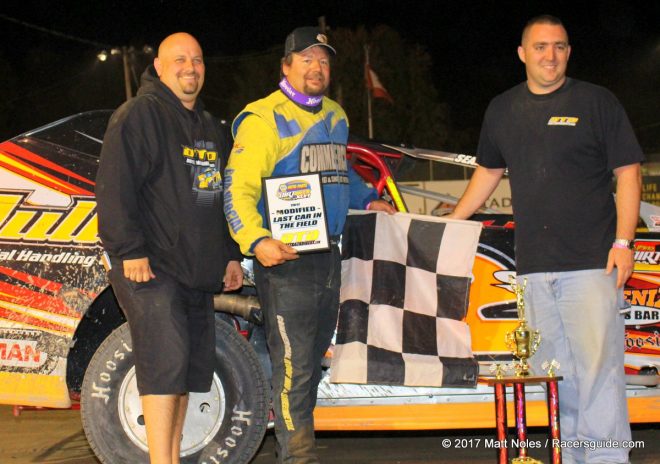 "The bottom is usually the fast way around here," stated Sears. "But the track was really good tonight. I was hoping that people would stay down on the bottom so I could get around them and if the track went away, I could go back down to the bottom if I had to."
Where the other 40 race teams that Sears will be competing against tomorrow have been preparing for the 46th edition of NAPA Auto Parts Super DIRT Week for weeks if not months, Sears and his race team will have literally hours to come up with some semblance of a game plan. It's a fairly tall order and yet it's one that the veteran pilot is ready to take on with enthusiasm.
"We don't know the plan yet but we're going to work on it when we get home," Sears said. "We're going to race. I just have to talk to my car owner into letting us race tomorrow. He's a great guy."
Saturday's triumph wasn't just another chance at making the field for the 200 on Sunday; it was also the chance for the driver who won the event to make history at the Fulton Speedway. With management announcing the decision to run small-block modifieds only in 2018, Tommy Sears Jr. became the final big-block victor for the foreseeable future at the famed speedway. Needless to say; grabbing one more checkered flag before the new era is ushered in is nothing short of bittersweet.
"To win the last big-block show is huge for me," concluded Sears. "I cut my teeth here racing in the lower classes and moved up and progressed here. It's actually sad for us because we don't have a small-block and I don't know what we're going to be doing next year. This has always been our home track and it's kind of sad for us. This win tonight is great for our family."
Matt Noles is a contributing writer for Racer's Guide and Dirt Track Digest. He currently resides in Sprakers, New York and can be reached via e-mail at matt_noles@yahoo.com.